Reply to LeaRae Parrill Espe's (67) posting
From Paula Fassett ('71):  White Bear Lake, MN
Hi Gary – and LeaRae….
I agree LeaRae, more of us 'readers' need to write something now and again!  I usually have little to nothing to contribute, but I do read the blogs regularly.
The Class of '67 reunion sounds like a great time – maybe it will spark some interest and other classes will plan reunions during that same time period.  I, for one, am going to try to be 'in town' that weekend, even though I'm not part of that class.  It's always fun to be in Dunseith when there's a 'happening' that people come back for.  I hope you have a good turnout!!!
And a belated Happy New Year everyone!
Paula
Reply to Armed forces reunions
From Don Aird:  Fenton, MO.
Getting together with men you served with is a real treat.  Every reunion more of our guys show up.
==============================================
Blog (550) posted on September 15, 2009
Posted on September 15, 2009
Funeral services for Greg Grimme – DHS Class of 68:
GREGORY GRIMME, 58, Katy, TX, formerly of Dunseith; died Sunday, September 6, 2009, in Tomball, TX. Funeral Thursday, September 17, 2009, at 2:00 p.m. at Peace Lutheran Church, Dunseith. Visitation two hours prior to the service at the church.
Sympathy to the Grimme's & reply from Luella Boardman Bjornseth (49):
Bottineau, ND
My sympathy to Gwen Grimme Eltz and her family in the loss of her brother Greg. I worked with Gwen at the college for several years and we were good friends.
Thanks Gary for passing on the remembrances from Bob's friends. Erling Landsverks stories brought back lots of memories. We didn't remember him ever playing football. I wonder if we ever got to watch any of his games. The stories made nice reading. The American Legion in Frazee had a really impressive graveside service for Bob after the church service.
Luella
Reply from Pete (65) & Verena Gillis:Dunseith, ND.
Message to Bev Morinvill Azure, HANG IN THERE GAL! Our thoughts and prayers are with
you and your family.
Pete & Verena
Condolences to Bill & Gwen Grimme
From Aggie Casavant (69): Fort Mill, SC
To Bill and Gwen Grimme,my heart goes out to you and your family during this most difficult time. I remember Greg well from high school. I lived in Houston Texas for 3 years,and am familiar with Katy Texas,which really makes Greg's passing so real.He was too young, it's all so sad. God Bless you all with peace in your heart in the days ahead,and alot of great memories of Greg. Sincerely, Ms. Aggie Casavant
Condolences to the Grimme family:
FromPete (65) & Verena Gillis:Dunseith, ND.
Gary,
We are sending our condolences to Bill Grimme and his family. We are very
sorry to hear of their loss.
We were in Fargo last week for 2 days, Pete had testing over there and is
in a little trouble again. They found a spot on his kidneys and his PSA
took a good jump. So they tripled his casadex for 8 weeks and if that
doesn't bring the PSA down, he will then have to start Chemo. So wish us
luck! We're gonna need it.
Verena
Sympathy to the Casavant & Grimme faimiles and reply
From Allen Richard (65): Midland, MI.
First, My deepest sympathy top Gerald Casavant and to the Grimme's. I'm stunned in both cases.
Second — to Margaret Seim Lawston—The story about Mr. Julseth. In early 1934 he rented a quarter section of land to a young man who was then 14 years old. That young man was my dad. Then at age 15, dad bought his first tractor, a McCormick Deering 15-30. (I have a story about the tractor too, but it may be a bit too detailed) Dad farmed that land until he was drafted in 1942. Later, another 1/4 section that Anton owned was available for rent. He contacted Dad and Dad rented it for several years. Some time in the 60's He contacted Dad because he wanted to divest himself of property in his later years. He was in his 80's at the time. He wrote Dad a letter with the price and terms. It was too good to pass up. The land is located about a mile south of where Ernest LaCroix lived, along the road to Currie school. Some of you who are a couple younger than me will recall it as a great party spot. Dad got tired of the beer cans stopping the disks on our grain drills. He somehow found out the name of one of the kids who used to frequent the spot. He asked her if it would be possible for them to put all the containers in a pile from that point on. A couple weeks later, when I went to cultivate the summer fallow I found a pile of containers about 3 feet high, and not a single can in the field.
When Dad died my sister Stephanie got that land. She once met Anton Julseth. I never had the privilege.
Allen Richard
Reply to Jeff Gottbreht – Reference #554 posted on 9/11
From Diane Fugere (75): Minot, ND.
Gary:
I have always known what a wonderful person "Big Jeff" is. He is a big teddy bear with a heart of gold.
Diane Fugere
Reply from Aggie Casavant (69): Fort Mill, SC
To Sharron Gottbreht Shen: Thank you for sharing your memories of 9-11. I found it very interesting how your son Ivan, and nephew Jeff were a part of that day. I had been to New York just a couple years earlier, and had taken pictures of the Twin Towers coming in on the ferry . Later that day, my brother Aime, his wife Brenda, and their daughter Vanessa and I were walking around down by Wall Street, when we came around the corner, and Aime said,"Hey Aggie look down the street. About a block down the street stood the Twin Towers rising high above all the other buildings. We didn't walk down there cuz we were all pretty tired. So I took my camera and clicked a few pictures off of the Towers. After 9-11 I took the pictures out to look at them, and it struck me just how big those Towers were, cuz even from 1/2 or a block away I still didn't get a full picture, like I think the top of the towers was cut off…(or it could of been just poor photography…) Anyway, Aime's daughter Vanessa lived and went to school there for like 4 yrs. If I remember correctly, Vanessa was walking past the first tower when it got hit. She said, she heard an explosion and her and the other people on the side walk looked up and saw smoke coming from the towers. When she got to work she told her co-workers, I think there was an explosion in one of the towers, and already her co-workers said, that a plane had ran into it…and the rest is pretty much history…evacuation of her building, smoke and ash inhalation, which she still has a problems as a result of, not to mention the emotional toll it took on her for some time…She since has moved out of New York City. It would be interesting to know if there are anymore people out there, from N.Dakota who were directly or indirectly connected to that day in New York City. We are so blest that Ivan, Jeff,and Vanessa made it thru it…..so many didn't… It's still all so sad,to think about when 9-11 rolls around every year.
Theirs a book titled "The Man Who Warned America" by an ex-F.B.I. agent, by the name of Bill O'Neil. It's not fiction…once you start reading it, you can't put it down, it will take you thru every emotion you've ever expierenced, and some that you never knew you had….the last two chapters will leave you in stunned disbelief…but with a resolve that we all can do something…that we have to do something…Aggie Casavant'
Reply from Dale Pritchard (63): Leesville, LA
Gary, On the old crank phones, all I remember is that Willie and Margie
Hiatt and your family were on the same line with us. Our phone quit
working early on, way before the SRT came into the picture, so we went
without. It was one of the few times that my Dad
wouldn't/couldn't/didn't fix something that was broke. We still had the
old phone when the farm was sold. Don't know what became of it. Dale
Reply/Picture from Marshall Awalt (51): Newport, NC
Here is a picture shot at Berdella. It is celebrating the end of world war I .You can't see much but they had a lot of people for that time.
Thanks for all you hard work.
Marshall Awalt class 51
Excerpt from Dick Johnson's message posted yesterday:
Berdella, ND–a store and post office– was located just
inside the gates here on our place
Copy of WORLD WAR 1 CELEBRATION AT BERDELLA,N.D.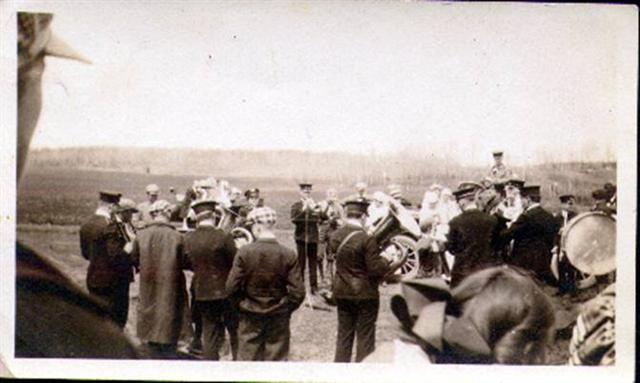 Posted by Ken Striker: Dayton OH
I thought your readers would be interested