Reply from Dennis Dubois ('63):  Minneapolis, MN
Nice to hear from you Gary. I'm sorry to hear about Bernadette. I am going on my annual trek to the Southeast part of the U.S. and I have contacted Bill Grimme in hopes of visiting with him while I'm in that area. He lives in Birmingham, Alabama and I plan on playing golf in that area at least a couple of days. I have taken it upon myself to play all the courses on the Robert Trent Jones Golf Trail. This year I will have played AT every venue, all 11 of them. I will then complete playing every course on the trail. Last summer I made a trip to Medora and met up with Carol Allard. We went to Dickenson and visited with Leland Stickland. It was a wonderful time. I go to dinner with Paula Fasset every so often. She lives about 20 miles from me. That is always so enjoyable. I know we've told each other the same stories many times over. Last summer I visited with Francis Poitra, the oldest son of Frank Poitra. I'll bet a lot of old timers will remember him. Agreat musician. He was a friend of Kicky McKay, Donnie Wittmeyer, Chuck Lindberg and Jackie Peterson. There that should get some discussion going. Have a great day everyone.

Message from Larry Liere (55):  Devils Lake, ND & Mesa, AZ

Gary

Looking back at some memories you posted and a 3 year old memory posted on Facebook in the attachment which was posted today.

I want to thank you for all the work you do to keep this blog going.  It is truly a great service to all of us that ever lived in the Dunseith area.

Having been a good friend of Conley Grimme I thought I may hear from the Grimme family but so far no contact.

My 2nd. grade picture (Attachment) I was lucky to hear from a boy and 2 girls that were in 1st. grade at the time of the picture.  This 2nd. grade would have graduated 1955 & the 1st. grade in the picture would have graduated in 1956.  My best friend in Dunseith was Barry Shelver and I did hear from David Shelver a few time.  I think David may Winter in AZ because I see his name signed as attending the North Dakota Picnic held here in Mesa.  David was just a baby when we moved from Dunseith but his son & my son went to basic training together for the Army Guard.  The last time I contacted Dave he sent an email stating he was very busy and could not meet.  I think he may be retired now and may have more time to meet.

Since I moved from Dunseith the only people I have seen in person are Barry Shelver, and Denise Leonard, who I met when Dunseith had their 100 city reunion. and General Murry who I worked with for over 30 years.

Thanks for the memories,

LARRY

Art Seim Auction
Reply from Vickie Vickie Metcalfe ('70):  Bottineau, ND
Gary & Friends of Dunseith,
3 Treasures of the LAZY JS 
As I stepped over to greet Art noticing  three items left on the auction trailer.
One was a collie and lamb print which  graced a bedroom at the Seim farm home for as long as I remembered.
(Later google a search about that print indicated).
It is from a painting by Walter Hunt  known for his painting of Collies.
It was entitled "Shepherds Call".
I said to Art, "Is that what's left and  you are keeping?"
Shrugging, He said, "NO' That's the things that  didn't sell."
I said   "Wow."
I was flooded with warm thoughts,  strong, beautiful childhood memories  of our  black and white collie cross dog,
Skip keeping watch and knowing I was safe.
And told Art i always loved that painting.
Art said, "Do you want that print? "
"You can have it,  I will give it to you."
"YES!  Thank you!"
I went over to pick the frame off the dusty trailer.
Next to  it were  two  pieces of  iron bar.
I picked them up saying" What are the two pieces of iron things, Art?"
He replied,  "Those were my dad's, they are the original Seim branding irons."
He said,  "You can have those too."
I said, " NO," "I will accept the print as a gift from you,"
" But, I will buy the branding  irons."   "I want  to own them  fair and square"
" Would  that be ok?"
He smiled and nodded.
I paid  him cash.
That is how I ended up with the best stuff from the Seim sale,
Art gifted  me with, "Shepherds Call".
I am the  owner of, the  LAZY JS branding  irons.
Thanks Gary, until later.
Vickie Metcalfe
==============================================
Blog (552) posted on September 17, 2009
Posted on September 17, 2009
Sympathy to Gwen & Bill Grimme
From Toni Morinville Gredesky (68): Farimount, ND
Gwen and Bill–
Please consider this my deepest sympathy on the loss of your brother Greg. His death brought back many memories of our childhood. There were so many kids in the neighborhood. Remember how we spent summer days outside all day? Greg was so incredibly intelligent and unique. He represents one of the reasons I am proud to be part of the class of 68.
Toni Morinville Gredesky

Sympathy to Gwen/Bill Grimme from Phyllis McKay (65): Auburn, WA.
To Gwen and Bill Grimme,
I am so sorry to hear of Greg 's passing. Words of sympathy can never capture the pain of losing a loved one. After losing my parents and little niece, I can only look forward to the day we will be reunited. You are in my thoughts and prays. Phyllis McKay
Message from Pam Wenstad Lane (78): Dunseith, ND.
Hi Gary,
I missed reading the blog in the last couple of weeks. I'm back HOME !! Been a long time, almost 25 yrs. Its nice to be around family again. Anyway, I was wondering if there are any friends out there that might have any insight on the history of the Willow Lake School? If there are any classmates around and years they went to the school? I myself did'nt go there but I know that Debbie did . Thats where she lives now. So, if you or someone out there could help me out I would greatly be thankful.
Pam Wenstad Lane (78)
Pam and All, I post all of these daily messages on the Dunseith Alumni WEB site. http://garystokes.net/default.aspx
I strip all email addresses and personal contact info when posting.
Reply from Nathan Richard (2000): Fairbanks, AK
In regards to the picture of C. Emerson Murry. Wow it is really cool to put a face with the name of the ND National Guard Fire Center (South Camp Grafton). Before moving up here to Alaska I have spent many days on that range qualifying. We are enjoying summer still up here. Last week it was still reaching around 70 which is great!
Nathan A. Richard
1LT, AD
Bravo Crew Sensor Operator
HHB, 49th MD BN
Unsecure: (907) 873-2222
Home: (907) 869-3563
Cell: (701) 330-6563
Larry Liere (55) and C. Emerson Murry (42)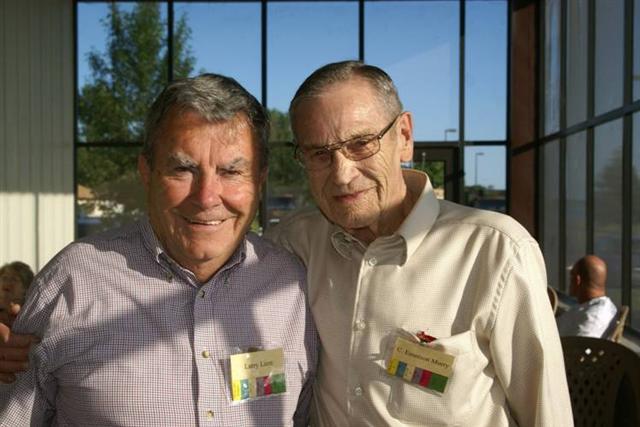 Reply from Larry Liere (55): Devils Lake, ND.
Gary
One more thing of interest about the Turtle Mountain Creamery. During WWII that little creamery had a contract with the Army and shipped a railroad box car load of butter I think every week. At that time just about every farmer milked and they would bring in cream to sell in 3 to 20 gallon cream cans. It is hard to believe that those farmers, that little creamery, with one churn could produce that much butter. Emerson and I were talking about this subject at the reunion. I remember they would box the butter in boxes about 2 foot square maybe a little smaller. Emerson thought the weight of the box was about 60 lbs. If anyone out there knows the size and weight of butter to make 60 lbs. you can prove us right or wrong. Even after shipping to the Army they still had enough butter to supply Dunseith, and the San Haven.
LARRY
Larry, how well I and a whole lot of our readers remember milking those cows and selling the cream to the creameries in Bottineau and Dunseith. My share of the milking was three cows morning and night 7 days/week. There were no vacations. My dad had a cream route that he ran twice a week for many years. He hauled cream from the farmers in the hills from #3 to Bottineau. Many of those farmers would invite him in for coffee along the way too. He loved to socialize and he also loved his coffee.
Reply from Vickie Metcalfe (70): Bottineau, ND.
Gary and friends;
Responding to blog# 556, Albert Peterson and the Lude Peterson's
were not related. Lude and Lillie Peterson lived across the road
to the north from my parents when they first purchased their primary
farm site from Bill Child's. The Child's were related to the Lude
Peterson's as were the Oakes who had moved on to Spokane,Washington.
Cliff Metcalfe, (Dad) waded in snow waist high walking down from Bob
Lambs (Grandpa's) to purchase the Child's place in May 1950. My
parents, lived for a couple months with Nancy behind Kelvin. Around
that time Bertha (Metcalfe) House was the Central telephone operator
at Kelvin, then Kathy Gregory, Eleanor (Metcalfe) Nerpel was the
operator as late as fall 1961. I answered the crank telephone the
one August day she called ,she said, "Tell your dad to call Eleanor
Nerpel"…I didn't Which.. I still feel guilty because as a 2nd
grader I forgot to tell Dad to return the call…Eleanor was calling
to notify him of his mother's (Grandma Rose's) death in Seattle.
> Previous to Carl Nelson,Albert Peterson owned the land to the
>north of "the flat" ,which is now owned by Mike Peterson. Various
>folks lived in the Albert Peterson shack, for short periods of time,
>Among them, Elmer and Sylvia Rush(mom's first cousin), and later,Ed
>and Celia Walter and their new baby Erna.
>
Albert Peterson, a bachelor,was brother to Christina Medlang,
also owned the land across the road to the south of the Seim meadow.
Odin Medlang sold that portion of Albert Peterson land to my
parents, it was their second land purchase… Dad and mom called it,
both "the flat" or "The Homestead".
> My sister, Nancy,commented to me about the questions Gary
>Metcalfe wrote in your blog. "Re. Gary's email about Albert
>Peterson. Does he realize it was "out on the flat". That's who our
>dad bought "the flat" from in the 1950's, just after we moved in to
>the Child's house.. There was a shack in the trees at the end of the
>field where we used to pick rocks . (The row of trees between the
>flat & the rock field.) every spring. He was Odin Medlang's mom's
>brother. I don't think he was related to Lude. But I'm not sure.
>When we were in Seattle, remember the story Aunt Leona told about
>him when he came to see Grandpa Metcalfe. He rode a old fat nag.
>When it was time to go he kept trying to jump up on the back of the
>horse but couldn't make it. The boys were all standing around
>watching. She was exasperated they did not help him. When he tried
>the last time, Aunt Leona ran around and gave his foot a boost up,
>he made it. She was pleased he was smiling and was exasperated at
>her brothers."
Later, Vickie
Reply from Gary Metcalfe (57): Forsyth, MO
Hello All, I do watch the news everyday and see the world changing drastically and I don't know how long it will last, but we can still go back in time and will continue too. My wife and I drove to Mt. View, Arkansas the other evening. There were six or eight groups of 5 to 10 fiddle players, guitars and other instruments. I can always find someone to sing, "All Around the Water Tank" for me, an old Jimmie Rogers yodeling tune. Then to Kingston, Arkansas the next week, they were singing on the square and toward the end had an open mic time. So our six year old granddaughter, Angelina, sang without music and I did one too. She said that I did good, that was the best part of that endeavor. Anyway, the people, the setting, no cop in the town, we camped on the square that night and when we woke in the morning they were singing for a different benefit, some thing for a motorcycle group.
We can go to Alaska and watch a mother bear catch a salmon from that clear, cold creek; hear the bones crack in that big fish and take it up to the tree where her spoiled cubs were hanging out. That was at Juneau, Mendenhall Glacier. We saw Alaska at its best, clear skies. No one seems to be able to convey the true beauty very well. She's a 10 for sure!
I won't say too much about that beautiful place called Seattle, other than that I love every bit of the area. The place where I saw two generations of N.D. people fulfill their life dreams. I surely noticed a change in scene from the earlier days with the gorilla family at Woodland Park Zoo. Now they have a more natural surroundings. It seems to me that they enjoyed putting on a show, especially the one that was a baby. If I were to guess I would say that that big, magnificent guy weighed about twelve hundred pounds, I could be off by 300 pounds or so. The big guy sat where he could keep an eye on us, the spectators and his family. When he put his big hand over his face and looked through his fingers at us, I felt he was thinking "if I could get out of here, I'd sure put the run on whatever they are. But, then again they sure are entertaining at that, bald heads, tennis shoes, large stomachs. I wonder where they are from?" And he has to observe them every day.
On a trip last week back from Arizona there was a scene similiar to one we as a family had seen 25 or more years ago in northern Arizona. It was early evening, the young sheep dog was bringing the flock home with a big smile and he was in the lead with a happy look on his face. The earlier encounter was an older, unkempt, three legged sheep dog. It was a very hot Arizona day and I thought a human being would have to be paid a lot of money for what he does from the heart.
If we can see the ocean one more time this year, we will be ready to start all over again next year. Maybe earlier next year!!!
Gary Metcalfe
y are