Bill and Joy Peterson family memories
From Margaret Metcalfe Casavant ('65):  Rolette, ND.
Happy 90th Birthday to Joy!  She and Bill were such great friends to my parents all the years they lived in the hills.   Sharon was a friend from the time we were wee little girls and of course, the boys Bobbie, Larrett and Scott.  In fact, I remember when the last two boys were  born!  Great memories of dances, card parties, and Ladies Aid in our homes with the Peterson's.  Uncle Martin was married to Bill's sister (Tootsie) Mary.  They were all part of my life growing up in Dunseith.
Whenever I see Joy at the Lutheran Church in Dunseith, she makes my heart happy because it brings back memories of Mom!
Such nice pictures!  One more reason why the blog is so important to me!  Thank you for sharing all these great events!
Margaret
Jim and Ella Metcalfe Family memories
Posted by Vickie Metcalfe ('70): d Bottineau, ND
Gary and Dunseth friends.
LOLA's Photos posted with Blog (2491) dated 2/15/2017
Lola 2. Ella with Geri, Jimmy and Gary in WA state in the '40's, 3. Jim leading his prize  at the barn on the  home farm in the '50s
Lola enjoyed connecting with people.
She was especially fond of a good visit with many neighbors, dear friends and family.
Lola took teasing in stride from my brothers who enjoyed her (blonde) reactions with quick laughter to their practical jokes. She was also known to have the ability to give a tease right back. 
Like Jim her father, Lola was assertive. She never was afraid to stand up and speak (share) her opinions. She had no tolerance for behavior, which hurt others, especially those she cared deeply about.
Like her mother Ella, Lola's home was open and inviting to extended family, friends and neighbors.  Strangers she met at the farm were not strangers long. She'd put on strong Norwegian coffee, treat or two from her reservoir of goodies and settled in to a good visit..
As Lola aged, her mannerisms became more like her mother. 
My siblings and I would comment to her on this point and she would glow with pleasure to be compared with similar characteristics of her mom.
Aunt Ella was not only a beauty on the outside.  She carried all the beautiful, positive qualities of character. 
My dad said when he was a boy; his big brother Jim was smitten with
Ella Evans and she with him.  Their love story endured many years and mutual respect was clearly evident to all of us throughout their lives.  
Picturing Uncle Jim and Aunt Ella together in my minds eye. Humming comes on my lips with a melody following  behind.  I first heard a melody at one of Jim & Ella's daughters (Helen) wedding celebration at the Odd Fellow's (?) Hall here in Bottineau. 
Leaving the hall with my parents the stars covered the sky on a warm summer night. Fainter and faintein  harmony  Jim and Ella's children gathered in song around a piano.
            "I Want A Girl Just Like The Girl Who Married Dear Old Dad"
https://www.youtube.com/watch?v=U1wlgS5ioaU
Thanks Gary!
Until Later,
Vickie L .Metcalfe ( FYI My God parents were Jim and Ella.)
Postings from Neola Kofoid Garbe:  Bottineau & Minot, ND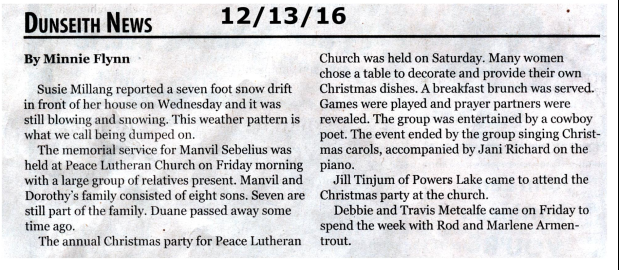 ==============================================
Blog (555) posted on September 20, 2009
Posted on September 20, 2009
Condolence to the Poitra family from Marge Longie Wilcox (56):Vancouver, WA.
Gary,
I would like to send my prayers and condolences to the Poitra family for their recent lost.
Marge Wilcox
Reply from Vickie Metcalfe (70):Dunseith, ND
THANK YOU. Dick and Gary for the information on our neighbors, the
Peterson's of Holmes Township.
My dad was between Bill and Duane in age. When dad lived with the
Seim's, Duane lived with the Carlson's. Dad was there from the
time he was 14 to 17. He left the Seim farm to join his older
brothers in Seattle along with Bill Peterson. Dad and Bill "
bached" together at Meyers rooming house for a year until he joined
the navy. Dad recalled many other hired folks a the Seims. Some
were were Jennie Nelson, & Louis DuBois. All the hired help that
ever worked at the Seim farm carved or wrote their in names in to
the wood close to the milk house in the barn. Dad or Art showed me
the many names that continued to withstand the test of time.
I recall mom and dad taking Nancy and I across the road to the north
to Lude and Lillies, where they would visit and would play cards
under the light of a kerosene lamp.
The article also made the connection as dad recalled it with the
Oakes family. While riding one of my trusty steeds ….(Byrd the
barn horse, Scout the Tennessee Walker…or Smokey…..the killer.)
I often rode over or around the original foundation of Oakes school.
Thanks Gary & Dicki
—
Vickie L. Metcalfe
Vickie, I think you are referring to some Peterson family info that Doreen Bailey sent to me with a personal message that I forwarded to Dick Johnson. I have posted A reply I got from Doreen about that very message below. Gary
Reply from Doreen Bailey:Tempe, AZ
Gary
I am happy if any of the information I have in Vance's research is of interest and or helpful for others who are searching for family connections/history.. I just did not want to send something that was not appropriate for the email newsletter.
Thanks for continuing to send me the emails. I admire your dedication to the newsletter, it certainly has brought joy and renewed friendships for so many, God Bless. Doreen
Doreen, We know that Vance acquired a lot of Dunseith/Turtle Mountain/Rolette county info with his research. When you see subjects discussed that you have info on, please share. Not being that familiar with the Peterson family, I forwarded that message to Dick. I am glad that he shared it with those he thought it would be of interest too. Thank you Doreen, Gary.
Reply from Carmen Leonard Richard: Rolette, ND.
I printed out the picture of Little Prairie Ladies Aid for Marie(Eurich) Beachler and she was able to identify almost everyone.
Back row:-Hannah Kirkwold, Ella Metcalfe, Arla Millang, Joy Peterson, Jesse Millang, Kenrose Medlang, Bertha Meyer, Agnes Solmonson ? Elenore Fauske, Velma Millang.
Front row: -Christine Carlson, Annie Nicholson, Hilda Strong, Martha Handeland, Clara (Seim) Anderson, Francis Espe, Ingrid Seim.
Carmen, Thank you so much for sharing this with Marie. I do not have Marie or any of her children listed in my records. I see she is a sister to Dave Jr. Eurich (deceased). I also see that another sister, Olynda Eurich, was married to Ydola Piegon, Colette Piegon Reid's mother. Colette, I had no idea that your mother was a Eurich. That makes you a first cousin to all of Dave/Winifred's children. Gary
Reply from Geri Metcalfe Munro (59): Fargo, ND.
Hi Gary,
I will list the ladies on this picture beginning with the back row (including some that were standing a little forward): Hannah (Tom) Kirkwold), Ella (Jim) Metcalfe, Arla (Art) Millang to the rt of Ella, Joy (Bill) Peterson, Jessie (Carl) Millang, Kenrose (Odin) Medlang, Bertha (Earl) Myer behind Agnes (Cliff) Salmonson) , Pat (Johnnie) Myer, then to the right in front of Pat, are Dorothy (Leonard) Millang and Velma (Cliff)Millang.
Front row is Christine (Pete) Carlson, Mrs. Fred Nicolson, Hilda (LeRoy) Strong, Martha (Oliver) Handeland, Clara (Leslie) Sime, Frances (Elmer) Espe and Ingrid (John) Seim.
I think Dick Johnson's guess of 1948 was probably closer than my guess of 1951–my family moved to the farm from Seattle by the time
Margaret was born in 1946 and they joined Little Prairie Lutheran Church. I have pictures of the pastors who served our congregation.
Geri
Reply from Dick Johnson (68): Dunseith, ND.
Gary and Friends,
In the picture of the Ladies Aid, they should be as follows:
Back row–L-R Arla Millang, Jessie Millang, Bertha Myer, and Pat Myer
Middle row–Hannah Kirkwold, Ella Metcafe, Joy Peterson, Kenrose
Medlang, Agnes Millang, Dorothy Millang, and Velma Millang.
Front row–Christine Carlson, Annie Nicholson, Hilda Strong, Martha
Handeland, Clara Sime, Frances Espe, and Ingrid Seim.
Gary—I'm sure the Metcalfe girls will know all these ladies and
respond too. After reading the story, it appears the picture was
actually taken in 1954. The roster with the picture shows another date.
Stan Salmonson found the picture in the Dunseith history book on page
318, for those who want to read the story. Thanks Gary!
Dick
Back Row: Arla Millang, Jessie Millang, Bertha Myer, and Pat Myer
Middle: Hannah Kirkwold, Ella Metcafe, Joy Peterson, Kenrose Medlang, Agnes Salmonson,
Dorothy Millang, and Velma Millang.
Front Row: Christine Carlson, Annie Nicholson, Hilda Strong, Martha Handeland, Clara Sime, Frances Espe, and Ingrid Seim.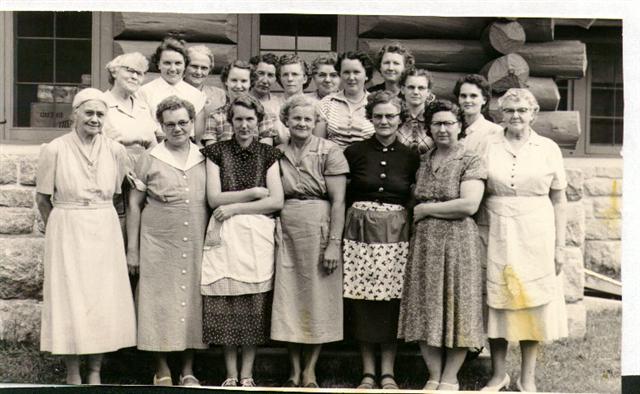 These are some pictures that we took on the cruise. The flash was not set to go off on our camera when these were taken so they are not the best pictures. Gary
Cheryl Haagenson (71)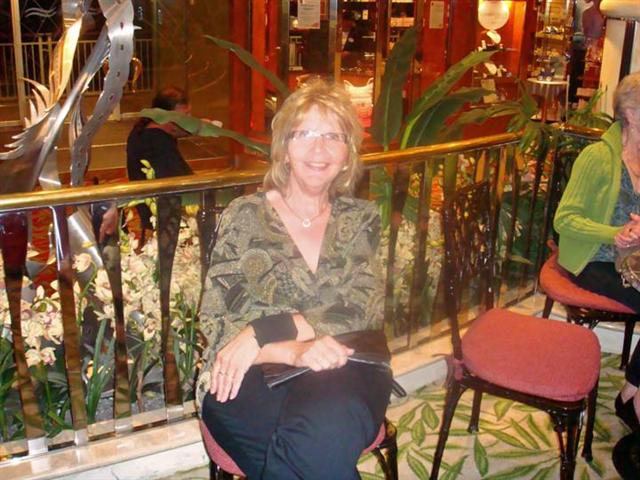 Geri Metcalfe (59) and Chuck Munro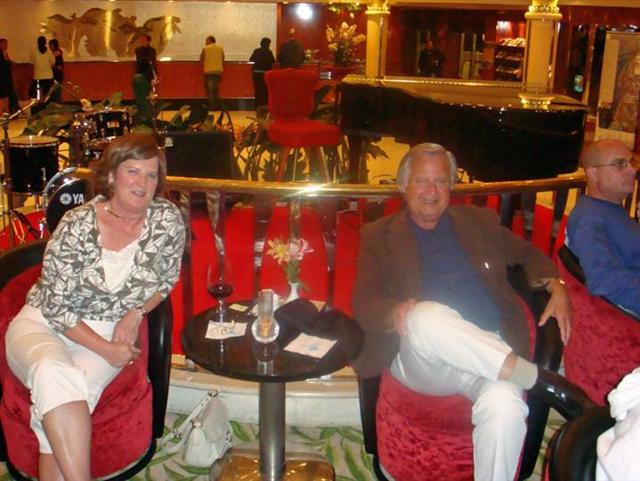 Gary Stokes (65) Lorette Berube Leonard and Bernadette Stokes