Good day folks,
I didn't get a blog posted this past Wednesday, sorry about that.
I'm a bit strapped for time this morning here in the Philippines too, so Elwood's passing is the only thing I will be posting with today's blog. His funeral is Friday, so I need to get this out today.
Several days ago Bernadette fell and injured and fractured her left arm and shoulder. This is the X-ray reading.
"IMPACTED FRACTURE IN THE LEFT HUMERAL NECK. 2. SOFT TISSUE SWELLING AROUND THE LEFT SHOULDER."
 From what I read on line, I don't think she will require surgery. Only a sling. We will find out this morning though when we take her to the Hospital orthopedic clinic.
Elwood A. Fauske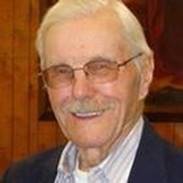 August 21, 1920 – February 26, 2017
Share this obituary
Send Flowers
ELWOOD A. FAUSKE
Elwood Albert Fauske, age 96 of Bottineau, died Sunday, February 26, 2017 in a Bottineau health care center. Funeral services will be held on Friday, March 3, 2017 at 10:00 A.M. in the Grace Lutheran Church in Bottineau. Burial will  be in the Ackworth Cemetery of rural Dunseith.  Visitation will be held on Thursday, beginning at 1:00 P.M. with a  private family service at 7:00 P.M. in the funeral home.
Elwood Albert Fauske, a son of John and Anna (Ludvigson) Fauske, was born on August 21, 1920 at Rock Lake, ND. At a young age he moved with his family to St. John, ND. On October 31, 1942 he was married to Eleanore Hiatt at Bottineau. After their marriage they moved to Thompson, ND. In 1946 they moved to Dunseith where Elwood began farming. He also worked for the Rolette Count Soil Conservation as a heavy equipment operator. In 2001 he retired from farming and they moved to Bottineau. they have resided there since.
He was a member of Grace Lutheran Church of Bottineau. Elwood enjoyed hunting, playing cards and making homemade ice cream.
He is survived by daughters, Connie (Bob) Monte, Fr. Myers, FL, Carrole (LaVern) Rude Vancouver, WA, Beth (Al) Duncan of Yorkville IL and Arlinda (Tom) VanEynde of Yorkville IL; sons, Russell (Glenda) Fauske of Bottineau and Brian (Deb) Fauske of Minot; 15 grandchildren; 34 great-grandchildren; 3 great-great-grandchildren; sisters Lydia LaCroix-Beck of Gilbert, MN and Ruth Clark of Valley City, ND.
Elwood was preceded in death by his parents, a brother, David; a sister, Naomi and a son, Steven.
SERVICES
Funeral Service
Friday, March 03, 2017
10:00 AM
Grace Lutheran Church
Bottineau, ND 58318

Gary's Comments
I was so saddened to hear of Elwood's passing. I mean really shocked. When I saw and visited with Elwood, numerous times, in July 2015 his physical health seemed to be very good. I'm so glad I had those many visits with him the month I was there in 2015. He remembered days gone by pretty well, so that is what we chatted about.
Elwood and Eleanore (Stubby) have been close family friends since long before I was born. They were like family. Our families became even closer, in about 1962, with their move to the Johnny Hiatt farm, now known as the Fauske farm. They were our only neighbors to the north. Elwood assisted my dad with many farming tasks. When dad retired he from farming he rented his whole farm out to Elwood. My guess is Elwood probably farmed the Stokes farm for 15 or 20 years. My dad often commented that Elwood was one of the best farmers ever. If my folks ever had a problem, Elwood was always there to help. Never did he refuse or complain, she would just show up with a cheerful smile.
Elwood will be missed. We extend our condolences to his entire family.