Identify Picture
As I was going thru the Dunseith Alumni Website I notice a photo was photo on the front page—-or title page—Do you have a name to him or anything about his family ?
I am doing research of Dunseith and Bottineau and learning of families there—here is his photo
God's Blessings
Thank you –Pastor Shepherd
Reply to Stokes Twins
From Marlys Hiatt ('71):  Dunseith, ND
Those precious babies are so beautiful and to be born 100 years after your dad – WOW.
Marlys Hiatt
School Social Worker
Gary's comment
Sorry Marlys for the late reply. I just noticed I had not yet replied.
Thank you so much for the nice compliment.
Brydon and Bryce Stokes: Born 9/2 and 9/3 2015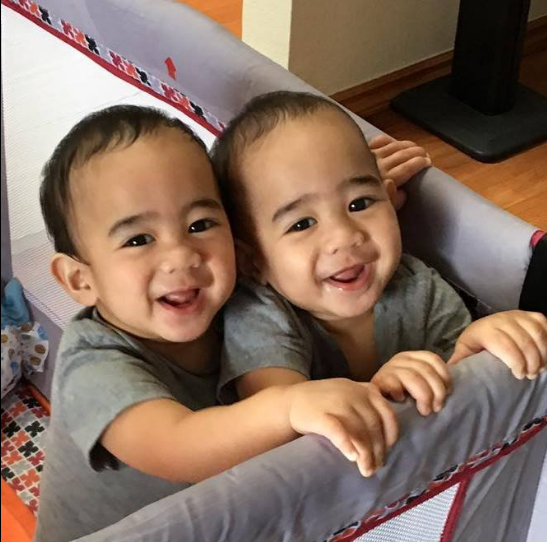 ==============================================
Blog (603) posted on October 26, 2009
Larry Took's (71) email address: Souris, ND.
From Cheryl Haagenson (71): Dunseith, ND.

Gary will you please add Larry Tooke ( 71) to the distribution his email is

thanks for keeping this up, See you in Feb 2012.
Cheryl Haagenson

Larry, it's great having you on board. Your family was a big part of Dunseith in my days.

Cheryl, We are so looking forward to seeing you in Feb 2012 on our next Dunseith Alumni Cruise. The Alaska Cruise was so much fun and this one will be even better now that we know the ropes. Gary

Erling Landsverk

Reply from Lois Lilleby Fielding (51): Prescott, AZ

To Erling Landsverk: Thank you for your very descriptive and absorbing story. I wanted it to go on and on! I don't believe I ever knew Harry Larson, but I wish there were more of his kind today teaching our grandchildren. Lois Lilleby Fielding, Class of 1951

Erling Landsverk

Reply from Brenda Hoffman (68): Greenville, SC

Dear Erling,

I loved your story. Please let us know when your book of short stories is available for purchase.

Brenda

Erling Landsverk

Reply Dick Johnson (68): Dunseith, ND.

Gary and Friends,First, to Erling Landsverk, very good memory and great story. Although
I never attended a rural school, my dad taught several and I did go with
him on occasion. He always said the kids from a rural school really
learned their lessons because they had the lessons from all eight grades
for all eight years. As the younger ones listened, they learned the
older kids lessons as well. I do remember going to a program when Agnes
Berg was the teacher at one of the rural schools. I think it was
Wetherelt but it could have been Beaver Dam–I was real young, maybe
4-5. They had a bunch of fun things to do for the kids and the parents
and then had a drawing for some door prizes and I won a red slide open
pencil box. I don't know how many folks younger than me know what a
pencil box was? It was made like a match box but larger. I treasured my
prize as it was the first thing I ever won! Several of the things that
all rural schools always had were a globe, large maps of the world, and
a picture of one of the early presidents–usually Washington–on the
wall. In the back was usually a crockery water cooler with a lid. We
lived in town so I started school in the big old white school building.
I had many good teachers over the years but I always liked Mrs. Conroy
the best. She, too, had a way of making class interesting and had us
looking forward to the next day. She was also strict but almost never
had to do much in the line of discipline because everyone respected her.
There are still people who confuse respect with obedience. Teachers can
demand obedience but they have to earn respect from the kids. I do
remember one time we got a new girl from a boarding school in South
Dakota. When Mrs. Conroy told her to do something, she swore at Mrs.
Conroy—BAD! Mrs. Conroy walked around her desk and grabbed her by the
hair and then picked up a meter stick and took her in the small room
just off the fourth grade room. We heard whack,whack, whack,whack! The
door opened and the girl went back to her desk. Mrs. Conroy came out and
threw the meter stick in the trash can by her desk–in three or four
pieces! We had no problem with the deal. The girl deserved it for saying
what she said to Mrs. Conroy–and I still feel that way!I would
certainly have deserved it if I had said it.We have come full circle now
and can't understand why kids are unruly and mouthy. We can always give
them some sort of tranquilizing drug to lessen their aggression. Of
course if a teacher spanked a kid now, lawyers would be in the school
the same day filing charges and counselors would be called to help the
kid cope with the trauma. What a mess! Thanks to Erling and Gary!Dick

Folks, for some reason Erling's story did not get attached as a Word document in yesterday's message so I have re-attached it with today's message.

Erling has published a book too. I know that his cousin, Sharon Landsverk Beckman who works as a checker at Jerry's Jack & Jill in Bottineau, has copies. Other than that, I'm not sure how to get copies. I'm hoping Erling can provide us with that info.

Erling, This was a beautiful story. Many of us are looking forward to reading the short stories you are working on too. You do not let your handicap of being blind prevent you from doing the things you love to do with your writings and music. You are a remarkable guy, one we for sure all look up to. Gary

Prevoulsy posted with message 180 on 08/03/08

Message/Picture from Gary Morgan (54):

Gary & All,
Attached is a snapshot of the entire 1950 football team that my mother took after we had beaten Belcourt in our first game of the season. We had previously thumped Towner in a practice scrimmage so we were on a roll. Back row: Billy Leonard, Marshall Awalt, Clayton McKay, Bob Leonard, Jerry Blake, Don Hiatt & Stephen Renault. Front row: Gary Morgan, Eddie Leonard, Dick Morgan, Jerry Williams, Glen Williams & Don Hosmer. White jersey: Barry Shelver. We only had 12 game uniforms so Barry, being only a lowly 8th grader didn't get one. However, in the next game, against Leeds, Stephen got his nose broken, a not uncommon occurrence in those days, and was out for the season. This was a good thing for Barry cuz now he got a game uniform. I don't know why Bill missed the team picture. This was the first football team Dunseith fielded since before the war and we took our lumps. We played Belcourt twice so got two wins but were humiliated by Leeds 60-13 and also beaten by Rolla, Towner and Bisbee twice for a record of 2-5. We were competitive in all but the Leeds game.
The next year, we won our first two games but in the second one, against Rolette, Don Hosmer's head met Eddie Leonard's knee and they were both knocked out of action. Since we only had three subs to start with, including 90 lb. Barry Shelver and 75 lb. Gary Woodford, we had to cancel the rest of the season.
Janice is right. Old school friends are special.Gary Morgan

Back row L to R: Billy Leonard, Marshall Awalt, Clayton McKay, Bob Leonard, Jerry Blake,

Don Hiatt & Stephen Renault. White jersey: Barry Shelver

Front row L to R: Gary Morgan, Eddie Leonard, Dick Morgan, Jerry Williams, Glen Williams & Don Hosmer