Picture Identified
Reply from Carol Allard ('65):  Sidney, MT
Gary,
This picture is of my dad, John Allard.
Carol Allard

Reply from Dick Johnson ('68):  Dunseith, ND
Gary.
    I am quite sure that's John Allard.
Dick

Reply from Mel Kuhn ('70):  St. John, ND
Gary,
The man in the picture is John Allard. He is my uncle. He is Carol's dad I'm sure she will fill you in.
Mel
Reply from LeaRae Parrill Espe ('67):  Bottineau, ND
I am pretty sure the picture is John Allard.

Reply from Jay Vonorny ('66):  Dunseith, ND
I am quite sure it is an Allard, contact Dawn and Larry Allard
Reply from Larry Nagel (DHS Teacher): Shields, ND
To whomever,
He might be one of the Robert boys (that is pronounced  French) I am not sure, but if  related to Alfred Cote  family that built the round barn  South of Dunseith.
Larry Nagel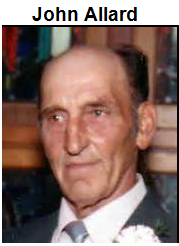 Message from Aggie Casavant ('69):   Modesto, California
Hi  Gary, finally  got  down to  the  library  and  have  been  sitting  here  really  enjoying  everyones  stories.  I  especially  enjoyed  the  story  that  Dick  told  about  Mrs. Conroy and  giving  that  girl  that  swore  at  her  the  "what  for". Just  as  I  was  leaving  the  house  this  morning  to  come  to the  library  there  was  this  kid  on  the  news whining  to  the  t.v  cameras that he  wasn't  going  to  be  allowed  to  walk  with  his  class  at  graduation cuz  he  worked  over  the  asst. principle. They  said  there  are  1000 class mates  and  friends  who  are  marching  and  protesting  to  let  him  walk…..Seriously….he should  be  in  jail  for  assault….  ….  Jeri Neamyers  post  about  Don Johnson was  so  nice  to  read. Alot  of  nice  memories  of  better  days…."Where have  all the  flowers  gone…..  Thanks  Gary  for  hanging  with  us…. Aggie.
Round Barn
Reply from LeaRae Parrill Espe ('67): e Bottineau, ND
The round barn was owned by Pat and Johnnie Myer.  I believe their daughter Holly Myer Wheeler is the current owner.  It has been on the register quite some time.  Pat had the barn redone before she passed away and I am sorry I can't remember what year that was.
Posting of the Day
Hee Haw Classic.
Grandpa Jones and Tennessee Ernie Ford were True Classics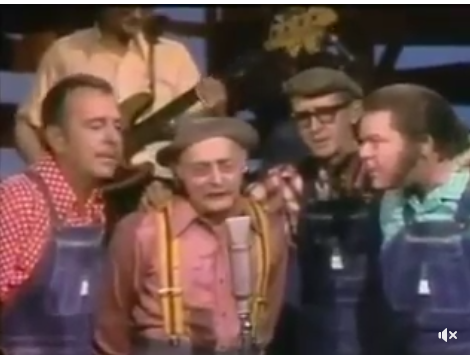 https://www.facebook.com/heehawdiner/videos/1844087039150340/
==============================================
Blog (604) posted on October 27, 2009
Marie Iverson Staub's (60) husband, Marvin, passed away.
From Marie: Seattle, WA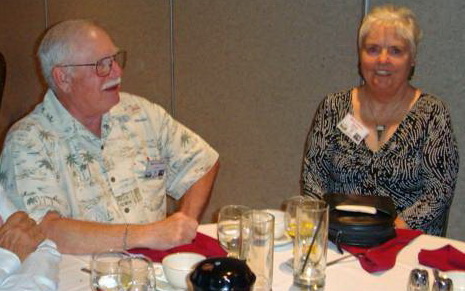 Gary,
Just wanted to let you know my husband Marvin Staub, who you met at the Seattle reunion passed away on October 18th. He had heart problems but you are never prepared for something like that. We were married for 43 years it's going to be difficult for sometime without him. I will even appreciate your e-mails more now. I know he talked to Bernadette at the reunion and she invited us to come visit and he was thinking about it but it won't happen now. I am blessed, as I have two great boys and a lot of good friends. It's just going to take some time.
Marie Staub
Marie, We are so sad to hear of Marvin's passing. Yes, I remember both of you well from the Seattle reunion on July 24th. I know Bernadette had a nice chat with Marvin too. Being at the reception desk, she spoke more one on one with everyone than I did. You must have been at the same table as Phyllis McKay and her friend Leo. Marvin was sitting next to Leo in this picture.

Marie, It's tough loosing a loved one. We know this is a really hard time for you. Our condolences are with you. We have not forgotten you. That invitation still stands for you coming over to visit too.

Gary & Bernadette.

PS – Marie is related to the Iverson's in Bottineau. They are close relatives.
San Haven
From Lois (Bev Morinville's friend, originally from Rolette, that she met at the Log house in Dunseith): Helena, MT.
Dear Gary,
Please keep up the wonderful news about San Haven from you and your friends' memories! I read and forward the wonderful written memories to my cousins also! I think we all in that area had someone at the "San" at one time or another during those early years!
Again, I so appreciate the news and hope to read more! Lois Tweten
Reply from Luella Boardman Bjornseth (49): Bottineau, ND.
Gary thanks for keeping on sending the alumni news. It is really interesting reading all the things different ones are remembering of the years past. I wonder if Erling remembers how to play steal stiks? I can rember playing it when I went to the old country school but don't rember the rules. We used to have lots of running games at recess and everybody got to play. keep up the good work.
Luella
Folks, Luella is married to Ralph Bjornseth. Ralph was a mechanic at the International dealership in Bottineau for years. Following his employment there, he and Clem Helgeson teamed up and did 'on sight' overhauls all over the country. Those guys were some of the best Diesel mechanics of all times. Ralph's dad was Jacob Bjornseth. Their home place was 1 3/4 miles west of us up in the hills. Ralph's sister's, Gladys and Viola, married, twins, Albert and Alfred Rude. LaVerne Rude, Albert/Gladys boy, is married to Carrole Fauske (66). I have know all these families, well, my entire life. Great folks. Some of you know Virgil Rude too. His folks were Alfred/Viola. Gary
Request from Delmer Fugere, Son of Lois (Hiatt) & Orelle Fugere
Bonney Lake, WA
Hello Gary, I sure enjoy reading the blog. I mentioned the blog to Dale Evans (Mary Petersons Son) He would like to be added to the list. His email isThanks, Delmer Fugere
Dale, With your Dad, Martin (Deceased) having been a brother to Ella (Jim) Metcafle, that would make you a first cousin to Gary Metcalfe and all of his siblings. With your mother being a Peterson, you are first cousins to all the Peterson's and of coarse Howard and Vida (Peterson) Hiatt's siblings. That's a lot of folks, a big percentage of whom are on our distribution list. I know I've missed a few too. I found an address listed for you in Algona, WA. Would this be your correct address? Algona I believe is near Renton/Auburn. Gary
Thank you / Reply from Erling Landsverk (44): Portage, WI
Hi Gary and everyone:
Thank you Gary and Lois Fielding, Brenda hoffman and dick Johnson for your kind words. I don't deserve them, but I will take them. Lois, was Arnold Lilleby your father, I knew him quite well, Dad bought all his gas there as well as other automotive repairs.. When you people make comments about Dunseith on Gary's Blog, its just like old home week.
Gary, you mentioned my book, well as I have said before, its not fair or right to use this great community get together for any other purpose than to stay connected. Anyone can get in touch with me with a short E Mail and I promise to get back to anyone who is interested. As for myself, I am not any different, (I like to think) than any other North Dakotan. I just do what I need to do, and am proud to be associated with all you folks.
Best wishes to Everyone!
Erling Landsverk
Henry Boppre's Obituary posted by Neola Kofoid Garbe: Minot & Bottineau, ND.
Ann Boppre Perry's (72) Reply: Dunseith, ND.

Hi,

I have been gone so didn't get this until today.

Yes, Dick, was right. Henry and my Dad were brothers. Now there are
only 2 left out of 11.
Dad and Henry were married to sisters (Ester and Mary James)Dick's cousins
on the Stretzel (SP) side. Ester died and Dad married MOM, so my sisters
are double cousins to Henry's children.
My sister, Donna, is married to Walter Weaver, Judy's brother.