Roger Hiatt from Rolette
Posting from Dale Pritchard ('63):  Leesville, LA
Gary,
I spent the last 8 years of my service time, 78 to 86, at Dyess AFB, Abilene, TX.  Sometime between 80 and 82, a new guy showed up on the flight line.  He had just come in the from Clark AB, Philippines.  The first time I saw him I noticed that his name was "Hiatt" and he was almost a mirror image of Albert Hiatt.  In talking to him, he said his first name was "Roger" and he was originally from Rolette.  Based on his similarities to Albert Hiatt, I started naming off what I thought were his aunts and uncles.  Needless to say, he was surprised.
Gary's Comments
Dale, in my growing up day's I claimed to have known every Hiatt, but Roger I didn't know. I'm very sure some of our readers knew or know him and can fill us in on who he is. I'm very curious who he is too and which Hiatt family he belongs to?
Dennis Lafloe (Cheryl Counts Lafloe '71) Passed away
Obituary posted by Neola Kofoid Garbe:  Bottineau & Minot, ND
Dennis Lafloe
November 09, 1947 – June 12, 2017
Dennis Lafloe, age 69 of Dunseith, passed away on Monday at a Rugby hospital.  His funeral will be held on Monday at 10:00 am at St. Anthony's Catholic Church near Belcourt.  The wake will begin on Sunday at 5:00 pm with a prayer service at 7:00 pm at the church.  Burial will be at the church cemetery.
Dennis Peter LaFloe, Sr. a son of Robert & Rosalie (Davis) LaFloe was born on November 9, 1947 in Belcourt, North Dakota, the youngest child in a family of 4 sisters and 5 brothers. Dennis was a change of life baby and this title stayed with him throughout his life, especially with his aunties and as a child they called him the little miracle. He was treated with so much love and respect, but he surely deserved it because Dennis was always respectful and gracious toward others.
On November 6, 1971 Dennis married the love of his life, Cheryl Counts, and together they had three beautiful children, Denise, Dennis, Jr. and Christopher. Family was so important to Dennis and it showed because they not only had their own children but he also helped Cheryl in raising and providing for Cheryl's brothers and sisters, Myrna, Karen, Yvonne, Dale, Bobby and Susie in a home full of love. Dennis appreciated the family he was given throughout his marriage. Dennis surely enjoyed camping trips, picnics, family and friends get togethers with his kids and yes, those wonderful grandchildren. Dennis was his grandkids biggest fan when it came to watching them playing in sports such as basketball and football games. Each of his grandkids hold a special place in his heart. Dennis openly spoke of how his life was a better place because of his children and especially his grandchildren and great- grandchildren. Love is beautiful, yes it is especially with family. Dennis cherished and loved his family. Ella (Chi-Chit) and your husband Alvin, you know how much Dennis loved you and how you shared a special bond with your brother. Your memories together will forever be cherished. The many nieces and nephews, there are many, and he loved each every one of you dearly.
Dennis worked hard throughout his life and during the early years of his career, he worked for his brother-in-law, Jerome Aberle, putting in water lines and water wells throughout South Dakota. Dennis received job training as Heavy Equipment Operator and specialized as a Finish Operator. Dennis built many roads throughout his career in North and South Dakota and Minnesota, which meant one of his sons was by his side working with him. He worked for various construction companies throughout his 49 year career but some he was most proud of were Close Construction, Gratech Constructions, Dunnick Bros. Construction, Roadmakers Construction, Harris Construction and most recently with Farden Construction.  Due to a health issue, Dennis retired 2 years ago. Dennis thought highly of his only daughter-in-law, Kellie, and his only son-in-law, Chris Schroeder. Dennis was a member of St. Anthony's Catholic church and was a very strong believer in his faith. Dennis will be lovingly remembered and missed by many.
Dennis is survived by his loving wife of 45 years, Cheryl, and daughter, Denise (Chris) Schroeder, and his two sons, Dennis Jr.(Kellie) of Belcourt, and Christopher of Dunseith, 4 grandchildren, Cole (Cassandra) Schroeder, Johnna LaFloe, Hunter Rose Schroeder and Tate LaFloe and 2 great-grandchildren, Schieyer Makoti Hart, Willow Donna Schroeder, and his second family who he loved and raised as his own: Terrance(Myrna) DeCoteau, of Dunseith, Leslie (Karen) Davis of Dunseith, Dale (Peggy Poitra) Counts, of Minot, Robert (Vicky Morin) Counts of Belcourt, Fabian (Yvonne) Strong Jr., of Coon Rapids, MN and his loving sister, Ella (Alvin) McLeod of Belcourt, and two very special sisters-in-law: Rita LaFloe of Rolette and Leona LaFloe of Belcourt, North Dakota.
Dennis was preceeded in death by his parents, Robert and Rosalie (Davis) LaFloe, sisters, Evelyn Delorme, Angela Allery, Christina (Tina) Aberle, brothers, Louis LaFloe Sr., Lawrence(Gil) LaFloe Sr., Charles (Chuck) LaFloe Sr., infant brothers: Ralph and Frank LaFloe and grand-children Lane and Coy LaFloe and brothers-in-law Jerome Aberle, Jack Allery, and Norbert Delorme and sisters-in law Colleen Reinhardt and Susan (Tipton) Counts.
The family would like to invite everyone to a meal in the church hall immediately following services.
At this time Dennis' family would like to thank everyone for the kindness of words and prayers during this difficult and sorrowful time. Arrangement made by Nero Funeral Home of Bottineau, North Dakota.
Adventures
Posting from Vickie Metcalfe ('71):  Bottineau, ND
I've rather enjoyed many travels across Montana through the years.  The Flatlands East to Mountains  West, North on the Highline 2  to South on 94.  Hiking  the Missouri Breaks to riding horseback  the Bob Marshall wilderness to a high Mountain glacial lake.  Marveling smells of bubbling hot sulphur springs to watching herds of elk or antelope boing-boinging across prairies.  Usually, accompanying me are my loves; history, nature, laughter, eagerness  to listen to tales, and a cousin or  someone  who enjoys life with a childlike heart.
Today, while reading the Montana Standard online, I was caught up in the tales about the horrible Butte mining disaster, which occurred on June 8, 1917. I thought of miners working in treacherous conditions and how they must have felt as the perilous event unfolded. The horror they faced knowing they were doomed to buried deep in the bowels of the earth.
I was hit with a  recall of the  heavy feeling of foreboding. I  once experienced many years ago exploring the Lewis and Clark Caverns on a cousin road trip to Western Washington with my cousin Elaine.  We saw the exit sign, Lewis and Clark Cavern.  She said,  "Hey, that may be really interesting".  I said to Elaine, "Do you remember, What's the difference between a stalagmite and a stalactite?"   She said, "Lets go see."
Elaine drove to the entrance, we got out and paid our fees. We followed the guide who scrambled down to a little motorized cart  on narrow rail,  getting in with several  other people, away on fun little ride into a tunnel… a ways more into the mountain.  We then were instructed to exit the cart crawl through a hole.  (Not fun) Yep, we crawled  along single file,  on hand and knees through a  skinny little tunnel through rock. Down, down, down disturbing skittering stones often stabs of pain from sharp stone.
Suddenly! Feeling of foreboding hit! My chest got tight, my stomach started to turn. I wanted out.  NOW!  Home to ND.  I need a guide line to keep me safe.
But, I put on my face my silent 'thoughtful look'.
We crawled on our bellies _into ,"Wow, a  warm sunlit cavern. Dust motes floated down from somewhere above the formations of silent, fragile, stone icicles. Some up! Some down! Trickling water.
Damp cold!
My cousin, Elaine was a person who always exuded confidence and serenity. That day, she kept me centered. All around us were  the U of Montana 'Earth Science' people. They kept wandering, looking excited and talking scientific terms .
While, in my mind, I continued to call the protruding ups and downs… 'icicles'. My thoughts, "There we've done that, saw it.  Now, lets get out of here!"   Finally, the guide got the others rounded up. I might have been first in line. Crawling up the tunnel was harder work! UffDa. Huff, puff breathe.
I was ever so happy to be out of that cavern with feet planted on sweet terra firma.  Once again, Elaine and I were on interstate looking for another adventure.
After that crawl into the bowels of the earth with Elaine,  I was absolutely sure,  I did not want to go down again. Or teach Earth Science.
In the many years since then, I've done road trips with _ my kids _a.k.a children of my siblings. I have  always been  quite  determined for each of them to have an educational experience.   I never wished to repeat the cavern experience.  I          never again  want to take the Lewis and Clark Exit.   Today, reading about an event in 1917,  I was  awakened  of a fond memory of Elaine.
And I  wonder… about the strong  feeling  of foreboding those 166 miners must have felt 100 years ago down in the bowels of the earth.
Thanks Gary.
http://mtstandard.com/news/local/a-split-second-in-butte-changed-the-course-of-mining/article_95f6ac4d-407b-5d5a-831c-657da326dddf.html
Letter from Lee Stickland ('64):  Dickinson, ND
Gary,
90 degrees here today.  We are in bad need of rain.  Farmers have begun to sell their cattle as there is no green grass.  SW ND is cattle-country so it is sad to see the wheels of economics turn, adversely.
I would have a bad case of ulcers if I were a farmer and had all my assets in the ground, awaiting the throw of the dice of the weather.
Then, there is always the WHITE COMBINE, HAIL.  The cost of insurance is just a cost that needs to figure in each year, regardless.  Of course, a guy could GO ALL IN and not insure and find out later what is left.
Darrel has a daughter who works in Mayo at Rochester.  She has her Doctorate in Pharmacy and therefore has a very good job at one of the hospitals.  Dean has two (2) daughters.  The oldest, Sara, is a missionary for the faith that we three (3) boys practice and believe in with all the merits of our folks.  The younger daughter, Susan, is married to Scott and they have a son, Justin and a daughter, Kari.  Scott is a helicopter pilot and gives narrated tours of the Grand Canyon.  They live in Henderson, NV.
Both Dean and Darrel work at the craftsmanship of fixing homes, making additions, adding walkways, i.e., down to the puget sound.  Dean also makes violin bows and is well-known in the vastly-expanding area for his excellency.  He has sold bows for as much as $1600 each.  Dean is the finite guy of the Stickland's.  He has retired from Boeing, who I believe absorbed the company who at one-time made the engines for the space shuttle, Rockdyne.
Nice talking to ya, Gary.  I did attempt to use the MESSENGER but I am less-than computer-savvy and not very patient.
See you on the next turn-around.  I was in Boston  April 20-25 and Eric and drove thru New Hampshire and to Maine.  I now have Vermont to visit before I will have been to ALL states of the union. Enjoyed seeing Paul Revere's home, being in the church where he signaled from.  It was interesting, there are no pews.  Families had boxes, compartments with seats, some padded, some not, some on all sides, some not, with a name plate on the outside of each door.  The minister spoke from a quite elaborate pedestal in one corner for the benefit of acoustics.
Oh, Gary, one more story.  When I was getting ready for a talent show on the 3rd of March, I was tuning my guitar and the bridge, the portion where the strings enter the top of the instrument on the right side, popped up.  BINGO.
Sent it away to the ALVAREZ company for repair.  Got it back 3 months later.  NO CHARGE.  21.88 hours of labor and an extensive list of things that were done, as listed on the work order.  I had forgotten what I paid for the guitar so I called the local fellas here in town, where we also bought our son's $4000 piano in 1983, and learned that I had paid $1953 in 2007.  Which computes to a bit over $2300 in today's dollars.
On the day I got my guitar back, I promptly wrote a letter of THANK YOU to the person listed on the Work Order as the craftsman who had done the work.  Too often, people assume that such repair cost are built into the cost of purchase,  That may be but it does not say a hearty TKU to someone who spends a lot of time making things rights.
I will quit, this time   Lee
==============================================
Blog (606) posted on October 29, 2009
Posted on October 29, 2009
Landsverk's book
Comments from Dick Johnson (68): Dunseith, ND.
Gary and Friends,
The last couple of nights I have been reading Erling Landsverk's
book, ' My Dakota Years'. I have to say it was most interesting to me to
read about the life of his family through the depression and the war.
This is a great documentation from first had experiences. Erling has
done a really good job of remembering so many of the small details that
make his book hard to put down. It is a 'must read' for anyone
interested in the early days, 1920s through 1940s, here in the Turtle
Mountains. Thanks Erling, your book is one of my treasured pieces of
local history! Thanks Gary!
Dick
Florence Pladson update following her car accident
Message from Neola Kofoid Garbe: Minot & Bottineau, ND
July 09:
Florence, Keith & Becky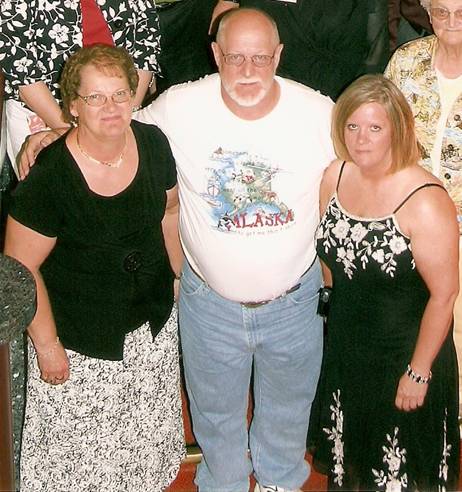 I visited Florence today for a short time (I was on my way to meet Wally for supper.). The lady whose daughter was injured in the same accident, was visiting her when I arrived. I chatted a bit/left caramels for both ladies and left. Florence looks/sounds very "good". She said "they" are checking into her going to the Bottineau Hospital for therapy, if they have room for another patient. She would, of course, like to go there. If not, she'll most likely be transferred to the former St. Joe's building in Minot. Apparently, that's where Trinity's rehab is now.
I don't know if you want to post this, but if you do, please check with Tina Pladson Bullinger before you do. I want my info to be correct, and also that it's OK to post it.
Thanks.
Neola
Reply from Florence's Daughter
Becky Sime Coles (82): Spokane, WA.
Gary,
That sounds accurate to me. I spoke with my mom this afternoon and she sounded in good spirits. She says the only pain that she really has is the burning in her hand and up to her elbow. This is most likely due to the regeneration of the nerve in that area. They have had her up and sitting in a wheelchair and it is quite exhausting after having been in the hospital bed for so long. She is hoping to be moved to the facility in Bottineau but as of today they did not have a spot for her. Her doctor has advised her that he doesn't want to move her until the pain in her hand/arm is better. She has a long road of therapy ahead of her bur her spirits are good and her goal is to be up and dancing again in time for New Years!
She passed on her thanks to the people that have sent emails, cards, flowers etc. She said the messages brighten her days.
I would like to thank all of you as well for your thoughts and prayers. Keep the positive thoughts and prayers coming for all that were involved in this terrible accident.
Becky
Message/Picture from Vicky Bergan Dietz (82): Princeton, Minnesota
Hi Gary,
The following picture is of Randy Haavisto, Son of Vicky Bergan-Dietz (1982 DHS) and grandson of David and Glenda Bergan Dunseith, ND. He has enlisted with the United States Marines Corp, we are all so very proud of him. He arrived in San Diega, California , Camp Pendelton, Monday eve, 10-26-2009 for Marines Boot-Camp. We are looking forward to an awesome reunion when he completes his training camp!
Thanks!
Vicky Bergan-Dietz
Vicky Bergan Dietz (82) with her son Randy Haavisto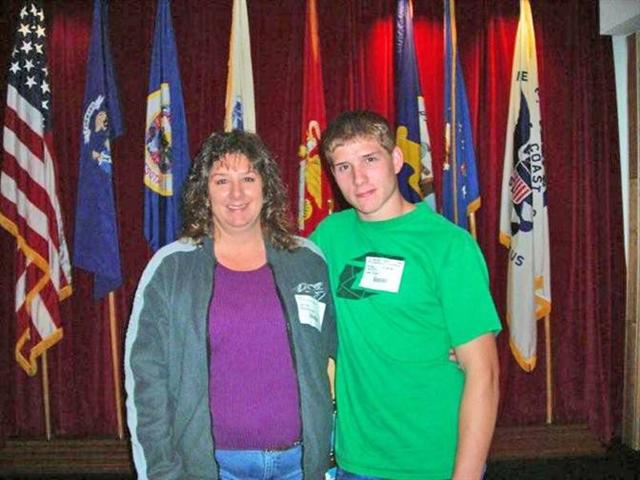 Pictures from the Achieves
Clarence (Deceased) & Mary Ann Hagen

Willard Haagenson & Mary Ann Hagen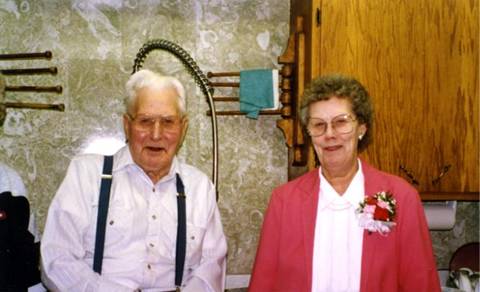 Article written by Gary Woodford (55)