Roger Hiatt
Reply from Vickie LaFontaine Hiatt ('73):  Grafton, ND
I never knew a Roger Hiatt
Roger Hiatt
Reply from Rod Hiatt ('69):  Bottineau, ND
I guess that I had never heard of a Roger Hiatt either. When I get into town, I'm going to ask my Aunt Stubby if she would know. Another one of those things that I wish I would have listened to my Dad more when I was younger instead of thinking I already knew it all.
Reply/History
From Kay (Lund) Hildebrandt: K Murrieta, CA.
Note: Kay was a Cousin to Robert, Corbin and Winifred (Eurich) Pritchard. Her mother was a Thompson
Gary,
I'm one of your silent readers, but never miss a day.  My grandmother was Candace Thompson (daughter of Anthony and Esther) Grandma Candace married Charles Torbert, farmer in Minnesota.  Their daughter, Margery, married Hugo Lund.  My Dad was considerably older than my Mother, and a few of the letters today reminded me of some of his experiences before he and my Mother married.
He was one of those miners trapped in the Anaconda copper mine in Butte.  He had graduated from high school in 1915 and with his $5.00 graduation gift, he and a friend rode the rails from Minnesota to Montana, looking for adventure.  A little guy, but friendly, the miners in line waiting for a job took a liking to him, and talked the boss into hiring him.  He was a 1,000 feet down that day in 1917, but close to an elevator shaft, probably in the adjacent mine, the High Ore.  One of the lucky ones.  The miners went on strike after that; out of a job; the war started, and he was called to duty.  He missed his bus, was considered awol, and marched into Camp Lewis in Washington at gunpoint.  Off to France and the battle of the Meuse-Argonne.
He returned to Butte, but family called.  He and several brothers spent the next seven years in Manitoba, attempting to raise wheat on land that had never been touched by a plow.  Their first house was the chicken coop.  They finally had acres of wheat, almost ready for harvesting.  No insurance against inclement weather in those days, and they were hailed out.  Home to Minnesota, where he and Mom met and married–just in time for the Depression!  But they were hard workers, and eventually had a profitable flower shop/greenhouses, and retired to California.
Thanks for the great blog, and the opportunity to share my little family history.  Kay (Lund) Hildebrandt
Kelvin Homemakers Club Cookbook
Posting from Lynette Honsey:   California
Note: Please see Gary Stokes' comment at the bottom of this posting.
Hi Gary ~~~ just a quick question.
Thanks,
Lynette  (Honsey)
An old cookbook I received from my mom.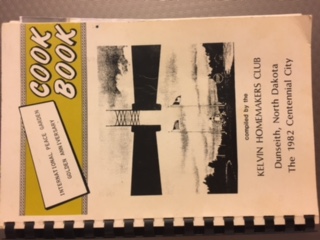 Is this lady, Elaine Stokes, related to you?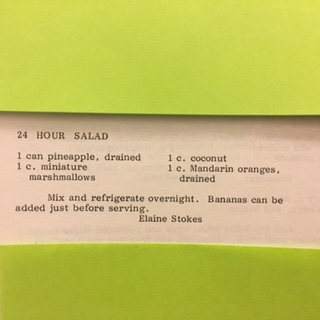 You just sent a picture of this lady in your email.  Now I know who wrote this recipe.
I've never heard of buttermilk in Lefse.  Sounds good.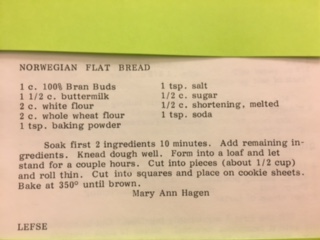 Gary Stokes comment:
Note: Lynette is the daughter of Leonard and Lois Peterson Honsey.
Yes Lynette, Elaine was my mother. This cook book brings back so many memories of the Kelvin Homemakers club that my mother and so many others, of your mothers too, were members of. I believe the club is still active today too. In my childhood day's the Kelvin Homemakers club was very large with many members. They had their monthly meetings in the member's homes. It was always a full house. Do any of you remember the Secret sister thing that they had each year. They sure had each other guessing as to who their secret sister was.
Melba Alice Lund passed away
Obituary posted by Vickie Metcalfe ('7 Bottineau, ND
Gary & Friends of Dunseith,
Please  note the passing of Melba Lund.
Melba worked for  Marie Allard at the Beauty shop on Main Street.
In those years, I believe she roomed  many years at the Martha Handeland home..
My mom was one of Marie's first "girls".
As WWII  was concluding, Mom traveled with her 'Pop' to Yakima WA finding work as an elevator operator.
Mom  was always quite  frugal and saved  her  money  to further her education upon her return to ND.
She  lived with 4 other young women  one winter in a Fargo apt while they attended NW Beauty College.
After completing the course, Marie hired  Mom.
Mom left Marie's when she married  dad  in 1947 and moved to Washington.
Returning to ND,  Mom continued cutting hair for  friends and  neighbor's.
Mom often  shared she enjoyed many experiences of working for Marie.
Over the years, many young ladies  came to work in Dunseith at Maries Beauty Shop.
Marie told mom most of the   gal's' worked  about a year  leaving  to get married.
But, Melba was  one who stayed with Marie for a greater length of time.
Thanks Gary.
Vickie
Obituaries
Melba Alice Lund
(July 11, 1947 – May 28, 2017)

Guest Book | Sign Guest Book | Send Sympathy Card

Melba Lund, age 69, of Dunseith, ND passed away on Sunday, May 28, 2017 at her home.

Melba Alice Lund was born on July 11, 1947 in Stanley, ND to Leonard L. and Alice Amanda (Person) Lund. She was raised in Stanley and completed her education there as well, graduating from Stanley High School in 1966. Melba worked as a beautician in Dunseith for over 30 years. She enjoyed working at "the plant" in Dunseith until she retired after 15 years. Melba liked knitting and needle work, gardening, fishing, and spending time with her nieces and nephews. She loved hearing stories of how they were doing. Melba will be lovingly remembered and greatly missed.

Melba is survived by her sister, Vanda (Louis) Wander of Moorhead, MN; nieces, Denice (Rick Bertram) Wander of Moorhead, MN and Nancy (Jerry) Kapaun of Park Rapids, MN; great nephews, Jared Jenstead, Avery Kapaun, and Baylor Kapaun; great niece, Ramsey Kapaun; and cousins, Anna Person, Allan Person, Rose Person (Mrs. Clarence Person).

She was preceded in death by her father, Leonard L. Lund (1971), mother, Alice A. Lund (1989), infant brother, Lyle Lund, nephew, Dean Wander, niece, Janelle Wander, grandparents, aunts, uncles, and a cousin.

A gathering in Melba's Memory will take place on Thursday, June 1, 2017 from 1:00 p.m. to 3:00 p.m. at Elick Funeral Home, Rolla, ND. A private family burial will take place at White Earth Cemetery, White Earth, ND.

Elick Funeral Home, Rolla, ND.
==============================================
Blog (607) posted on October 30, 2009
Folks, our place is like a bee hive this morning. We have guys here replacing screen doors on our house, screens on the outside kitchen, and several windows in the house. We also have another crew installing outside ceramic tile and another crew installing some decorative planters on part of the cement wall around our property. These folks need my attention, so today's message will be kind of short. Gary.
Reply to yesterday's picture
From Evon Lagerquist (77): Dunseith, ND.
Gary, I think the man in the last photo with Mary Ann Hagen is Elvin Haagenson……
Evon, you are so right. That is Elvin, Cheryl's dad, not Willard. That was my mistake. Thank you so much for the correction. Gary
Elvin Haagenson & Mary Ann Hagen