David Wurgler, 71, Rugby, died Tuesday at a Rugby medical center.
(Anderson Funeral Home, Rugby)
Folks,
I was so saddened and so shocked to hear of Dave's passing. I will post more details and his obituary when they become available.
Dave was with the DHS Class of 1964, one year ahead of me. I remember him so well from our high school days. He was always very short for his age, but from what I understand had a growth spurt after HS. The last I saw Dave was in 1965. The past 10 years we have exchanged a number of email messages, but we were never able to connect seeing one another during this time.
Dave was well like and popular in our HS days. I know the same followed him through life too. He will be missed. We extend our condolences to all of his family.
Gary
Dave Wurgler: DHS Class of 1964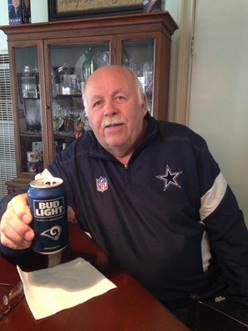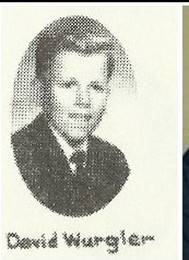 Past memories and the present
Posting from Ginger LaRocque Poitra ('65): Belcourt, ND
Hi everyone!,
I would guess everyone is readying themselves for Christmas. A special time , a busy time of the year. Getting ready for family get togethers with the people we care and love most.
I know that my son Todd and I have been very consumed in decorating. For the children. Grandchildren,  great-grandchildren.
The past years my inability to do things for myself has caused everything to to be left to Todd and daughter Michaela.
This year I am doing better, health wise,  not so I am able to do everything without help but my family is always here for me. I  don't know what I would do without them.
Our home is almost all decorated on the inside.
I have always decorated our home on the inside and helped with the outside as well, Anthony and I would work together with the tree decorating and other decorating outside, when the children were young. Later they were out there helping. I always enjoyed helping with this task.
This will be my second year without my husband, Anthony, I miss him just as much if not more than I did last year. That will never change, the love I feel for him is still just as strong. With him here I  enjoyed getting our home ready more for this special time of the year. We got engaged on Christmas Eve 1964.
Our children and grandchildren miss him terribly still. Anthony  was our rock. The void he left in our lives is undescribable!
We have been forced to sojourn on without him, no one is ever ready to do this it's a never ending hurting loss. Losing a husband, father and grandfather. Oh, we say we are fine, or ok, but all we want to say is , I miss him and will never be ok or fine I still hurt, I still love him, I miss him being here, I miss his smile, his laugh, his love, his understanding what we feel. We just miss him,  he is in our hearts, in our minds, in our thoughts everyday every night every minute!
Ginger (LaRocque) Poitra Class of (1965)
I  would like to thank you Gary for getting our class together, which helped us getting to know each other.
I would also like to say that I am happy to have gotten to know people from other classes, thank you other classes for that chance as well.
Life is to short and I for one am sorry for not being closer to all of you throughout all the years, years that have been wasted even while we were in school.
I have found that I could have been a close friend to so many. Now here we are our lives coming to an end here on earth.
I am happy I can still say to you all I am so very glad that you all were in my life for the time we did know each and everyone.
Thank you all so much from the bottom of my heart.
I want to say to the families of the classmates who are gone to be with our Lord that I am sorry for not having to get to know them. I have at least gotten to know them through you all.
T'was Magic
Posting from Vickie Metcalfe ('70):  Bottineau, ND
 Gary and Dunseith Friends,
The snow is upon us here below the foothills of the Turtle Mountains As the  local radio I am currently tuned to, plays Country interspersed with Christmas music. I catch myself recalling past December's. Magical times!
As a wee child I lived with my family in a small two bedroom house. (The original was built by John Randin or Bill Childs) There was no running water. Water had to be drawn from the well and carried  up the hill to the house by dad or mom. The drinking water was in a communal drinking bucket  with a big dipper  located over the wood box in the entry room In the early darkness of the morning, Mom  and dad  got up first, fired up the wood stove and put the coffee on. They would take a cuppa before dad went out the door to the barn south of the house.
The  house was heated  sparingly; oil burner in the living room and a 1/2 wood 1/2 electric cook stove in the kitchen. We girls would wake in chilly rooms, get up,  run and look to see if  Jack Frost came in the night and painted the windows.
Mom  always bought a 'real' evergreen tree in town.  She set it  to thaw in the big entry way, After it had thawed and was set up in the living room, She began to pulled out  a box of treasured ornaments from a high closet shelf. We'd  spend a whole afternoon decorating it.. I loved throwing the silver glittering icicle  stuff up high in to the top.
The Sears Roebuck and Montgomery Ward Christmas catalogs, by the this time in December  were  quite worn.
Wish books was  our  family's favorite winter reading.
Mom made  many loaves of homemade bread each week.  She used Dakota Maid Flour purchased at Hosmer Store or Bedard's Red Owl.   She always preferred cake yeast she purchased from Herman Martinson at  the Snow White Bakery.
Mom would slice the bread on an oak cutting board, never throwing away a crumb.
What of the crumbs?
She would gather crumbs, and scatter them outside the door on the packed snow for the birds.  Birds were waiting,  gathered in the trees. Flew down and feasted.
Mom would  peela  huge kettle of potatoes after putting a pot roast in the oven.
Hey!
My family had agrarian roots.  Potatoes and meat about every  main meal! By mid morning the kitchen was  wonderfully  wood heat, toasty warm with tantalizing smells. Whenever the kitchen got too warm mom would open the back door……..which had no screen.
On this fine December morning. Without warning, lying into the open back door, through the kitchen, through the dining room and through to the far east corner of the living room. A flock of chickadees!  We  followed watching in amazement as they settled onto the Christmas tree amid the colourful lites,  silver tinsel, decorations and the angel. Mom said,  "Leave them be.
They birds sang in unison,   "chick-a -dee." CHICK-A-DEE, CHICK-A-DEE
After a time,  they rose up as one, in a bunch and flew out the the rooms through the door from whence they came.
T'was God's MAGIC!
I wish you all a moment like……. this  is  the season.
Thanks.
Vickie Leona Metcalfe 12/6/2017
==============================================
Blog (655) posted on December 17, 2009
Adrian Mongeon:
Reply from Margaret Seim Lawston (54): Citrus Heights, CA
Hi Folks, I get up each morning looking forward to reading the blog. In answer to Gary Metcalfe, Adrian Mongeon's Dad, Pete Mongeon was my Mom's Uncle and I remember him well .He was a nice Great Uncle, but it was his wife Anna who I knew better. She and my Grandma Ingrid Seim loved to get together and talk and argue local Democratic politics. At time things got pretty heated. One with a Norwegian accent and one with a French accent.
Andrew Bergan Picture:
Reply from Jan Bergan Evans (66): MONTICELLO, MN
Gary who sent the pictures of Andrew Bergan? This would have been my dad Claytons grandfather Wonderful
Jan, Mary Eurich Knutson (62) provided those pictures.
Pritchard/Bergan Pictures:
Reply from Dale Pritchard (63): Leesville, LA
Good Morning Mary (and Gary),I have the picture of them outside the log building but can't find it
right now. Those were the good old days? I don't think so! I think
the picture was probably taken in 1912, buy more likely 1913 because my
dad was born April 22, 1911. I have heard two versions about the
building, one was a cabin (whose?) and one was a smoke house. Take your
pick. I had never seen the "Rough Riders" picture. Interesting. Sorry
I missed you when I was home last month. It was going to be then or not
at all.
Dale
Dale, It is very early morning here for me too in the PI, 12:15 AM, as I received your message that just came across my screen. The difference is that it's Wednesday morning for you folks and Thursday morning for me. It's about time for me to call it a day. Gary
Bill Fassett CD:
Message from Susan Fassett Martin (65): Spearfish SD
Paula made me a cd of Dad singing and playing his guitar. She could probably get copies to anyone that would like one, Dad sang a lot of what he called plumb pitiful songs, because someone was always dying in them. He also knew a lot of railroad songs, as he worked on the railroad in Montana before the war. I have a lot of history if anyone is interested. Dad wrote all his memories along with the history and pictures. I wish I had payed more attention when I was younger.I remember Minda Haagenson, Dick Rybacek, and there are so many other colorful characters from the Turtle Mt area. Love to hear the memories. Merry Christmas to all and may God bless you in the new year.
Hugs, Susan
Dick Johnson's (68) reply to Colette Hosmer (64): Dunseith, ND.
Gary and Friends,In reply to Colette Hosmer's question. Your Dad's Jeep could very
well be a '54. They didn't change the looks much from '47-'60. I
remember him driving his Jeep and also Lucien Bedard driving a brown one
that was nearly identical except for the color. They both hunted ducks
up by our farm and were frequently seen going or coming in the Jeeps. I
think your dad had a big black lab that retrieved ducks for him, if I
remember right. They and the Lamoureux brothers and Dale Gottbreht had a
favorite spot between Horseshoe Lake and Sucker Lake on a little hill
where the bluebills would fly over. There is still shotgun shell brass
on the ground there. The shells were paper with a brass base so the
paper is long gone, but I constantly find brass whenever I walk in that
area. There was a common courtesy of stopping in at the farm to tell
Grandpa that they would like to hunt ducks. Many times they would come
back with a couple cleaned ducks or some other small token of gratitude
for letting them hunt on the land. I remember them giving Grandpa some
Prince Albert tobacco once and he was very grateful for their gesture.
He never expected anything in return, but this really showed their
honest gratitude.
I do remember the old sleeping bags. I still have one that is goose
down and is stamped U.S. on the front. Mom ordered it from the 'Sioux
Falls Army- Navy Store' and I first used it in 1960 to go to camp in
Minnesota. I have used it many times and once slept in it in Wyoming up
on Black Mountain around 9000 ft. I wore all my clothes but was actually
not cold, although we were told later that the temperature was way below
zero that night. We were hunting elk in the Bighorn Mountains in
November.We hung a tarp over a pole between two trees and made a
makeshift tent, but no heat. It gets cold up that high on a clear night.
That old sleeping bag did its job! Thanks, Colette, for the interesting
insight on your camping adventures! Good memory! Thanks Gary!
Dick
SmieaHaimour-Himour (67):
Reply from Claudette McLeod (80): Dunseith, ND.
Thanks, Eileen and Dick for the info, I was young but for some reason or another, I always remembered her. Thanks to you as well Gary for all you do. I would also like to wish everyone a Very Merry Christmas and a Blessed New Year..
Claudette McLeod
Claudette, you are so welcome. Smiea was very sincere when she said she remembers you and would love to hear from you. She would love to hear from any of the Dunseith Alumni. Her phone number is (403) 556-1799. Smiea seems to be a very sharp gal and with her act well together too. Gary
George Albert & Smiea Haimour-Himour (67):
Reply from Ely Eller Robert (74): Everett, WA.
Hi Gary……
George Albert is my grandfather, Samia is my step-aunt. Two years after my real grand mother Agnes was killed in a car accident in Oct of 1960, Grandpa went back to the old country, as he called, Syria and found a new wife. Her name was Fatima. Samia is her daughter from a prior marriage. When Grandpa brought Fatima, or "Sittie" as we called her, that was Grandma in Syrian, she brought Samia over here with her. Samia was only in her teens hen she came here to the United States. She enrolled in Dunseith Hight School & Graduated, but I'm not sure what year. She went to college, I think, for a short time, then got married to a guy from Calgary, Albert. She moved there with him and had 4 children.
It is so weird, she just happened to call me this morning. By the way, Thanks Gary, she told me she had got my phone number from you. I hadn't hear from her since Grandpa died in 1979, so I guess that would be 30 years ago. She lives in Grand Forks, British Columbia. She said she just retired from nursing and that she has 6 wonderful grand children.
Since my Mother was an only child, Samia is the only Aunt I knew, on my Mother's side. And her Mother was the only Grand Mother that I ever knew as well!
Thanks Again….
Ivy Eller Robert (74)
Ivy, We can thank Eileen Brudwick for finding your connection to the George Albert Family and bringing it to my attention. I had not yet received LeaRae Parrill Espe's message posted below, when I called Samiea. I had no idea of your relationship. I was surprised when I read what Eileen send me with the next posting below. This is how I knew your relationship with Samiea when I called her. Samiea was very surprised that I knew you when I mentioned your name. She did not waist any time calling you that is for sure. LeaRae mentions, in her letter posted below, Smiea being a little older when she graduated with their class of 67. From what Smiea told me that is absolutely correct. Smiea said she was placed in a grade level based on the English skills she had coming to this country in I think 1961. Smiea told me she is currently 65 years old. I think most of the class of 67 folks are currently about 60 years old.

Folks, We are so fortunate to have Eileen Brudwick, Mike's wife, on our distribution list. Mike and Neola are first cousins. Eileen has a big percentage of the Rolette & Bottineau county folks, with all their relationships, in her genealogy data base. What she doesn't have she finds. She's got search engines that can find a whole lot of info for whatever it is she is searching for. If Eileen can not find something, it probably can not be found. Thank you Eileen for all that you have provided and do for us. We truly do appreciate you. Gary
Eileen Brudwick's reply: Fargo, ND.

Gary,

I guess I have an incorrect spelling for Smiea's maiden name. I haven't been able to locate anything further about her, and to be honest, I didn't document my information about the Albert family, so have no idea where I located the information about Fatima & her daughter, Smiea.

George & Agnes (Warren) Albert's daughter, Emma Albert married, Herman Eller, and they have a daughter, Ivy (Eller) Rober't. She married Russell Rober't.

Eileen
Smiea Haimour-Himour (67):
Reply from LeaRae Parrill Espe (67): Bottineau, ND.
Dear Gary,Dick is correct about Smiea- she is the step daughter of George Albert. She
came with her mother from Lebanon and was 18 when she joined our class in
8th grade. She wanted to get an American education and four years later she
graduated with us at age 22 or 23. She was married right out of high
school! Her husband was also named Haimour, but as she explained to me in
2007 one of the families took a different spelling. When I spoke with her
by telephone she seemed quite happy to hear from me and said that a new
grandchild was expected so she couldn't consider coming to the reunion.
George Albert's first wife was killed in a car accident, I believe on the
hill coming from San Haven to town. I believe Charlene came upon that
accident. (Maybe I have that wrong??) Anyway George's daughter Emma was
married to Mr. Eller, can't remember his first name. My mother remembers
Emma Albert attending Dunseith HS when she did, but she was not in her grade
and I believe mom said she didn't graduate from there. I believe the Ellers
had four daughters Carol, Bonnie, Julie and Ivy. Bonnie died of colon
cancer less than a month before my brother Clark in 2006. Julie Dahl lives
near Bottineau and was a cook's helper at Bottineau HS, not sure if she is
still working this year. One of Julie's nieces named Jody Eller stayed with
her and went to HS in Bottineau. Julie was not in touch with Smiea. I'm not
sure where Carol and Ivy live, but they may be on your email distribution
list. I believe all those girls are younger than I am.
At that time before the reunion, I thought maybe I could get a lead on
Smiea's whereabouts from Ronnie Hassen who owned the Golden Rule in Rolla.
I can't remember just how I got her number, but I had to call a few times
before I caught her at home. I talked to her son on one call. If she has
email I would like to have it.
Whenever I talk about growing up in Dunseith, I mentioned that we had such a
melting pot compared to say Bottineau. With the Cubans at San Haven,
several store keepers from the Muslim countries of Syria and Lebanon (Sy
Kadrie, Emil Hassen, and KC Sine) plus the Hassen Murrey and George Albert
families, plus Native Americans, all blending in with the Norwegians, French
and a few Germans and British Isle people we truly had diversity.
I remember we would ask Smiea about her religion and she brought her Koran
and told us a few things.
Later, LeaRae PS Please add Terry and I to the reunion list. Also
our belated sympathy to Bernadette on the death of her brother. It sounds
like there are great and deep rooted traditions in the Philippines.
Hopefully, it is a way to bring the families close. Take care.
LeaRae, Thank you so much for your sympathy of Jose's passing. I have added you and Terry to the master reunion list.

No one can deny the diversity we had at Dunseith High School. You have summed it up so well and Vickie Metcalfe too, in prior messages.