Dave Wurgler Condolences
From Vickie Metcalfe ('70):  Bottineau, ND
Gary and Dunseith Friends,
I also am saddened to read of the passing of Dave Wurgler. For the past number of years I have taken my dogs to Rugby Veterinary. Once , I  stopped for fuel  at Tesoro  before leaving Rugby. There was a guy who recognized my  last name on the cheque blank. He introduced himself as Dave Wurgler. He was a pleasant person who'd visit a bit  about news read on  the Dunseith blog. inquire and  share and  reminiscence.
I extend sympathy to his family.
Vickie
Dave Wurgler Condolences
From Marlys Hiatt ('71):  Dunseith, ND
I am so sorry to hear of David Wurgler's passing.  I will be keeping his family in my thoughts and prayers.  Special condolences to Peggy and Joan.
Marlys Hiatt
Dave Wurgler Condolences
From Bob Lykins (60's DHS Teacher):  Hutto, TX
Gary,
Sorry to learn about David.  I remember him well as that tosseled hair kid who always seemed to have that pleasant, friendly smile.  Around me he was always very quiet.  As I recall he was a pretty decent athlete as well.  My heartfelt condolences to the family.
Bob Lykins
Dave Wurgler Condolences and Memories
From Ginger LaRocque Poitra ('65):  Belcourt, ND
After retiring he worked at Tesoro station there in Rugby for a time. We enjoyed visiting with him a bit on our stops. Always friendly.
Yes he did have a growth spurt, I think he never looked older, always the same.
I  missed not seeing him to visit with when he no longer worked at Tesoro. I did occasionally see him as we drove by his home, if he would be outside his home doing something in his garage.
Now I will miss him forever in my lifetime.
It is so sad.
My condolences to his wife and family. May God bless you and keep you so you will all be able to get through this very trying time.
Ginger Poitra Class of 1965
Dave Wurgler memories
Posted by Allen Richard ('65):  Midland, MI
So sorry to hear about Dave.  Mom, Dad, Stephanie and I used to stop at the corner every Saturday night on our way home— even before the Wurgler's took it  over.  We were not BEST friends,  But we were always darned good friends, all the way back around 30 years ago when I last gassed up at his station.  Ant all the smack talk about MOPARS and Chevys.
RIP, Dave.  I am very sad.
Allen.  


Dave Wurgler's Granddaughter 'Miss Teen Super Model USA 2011'
Posting from Ken Striker (Striker Historian): Dayton OH
David Wurgler…his granddaughter Rachael Allickson was Miss Teen Super Model USA 2011.  She was d/o Kevin and Teri Allickson of Rugby This from your blog 2 Aug 2011.  Kevin has ties back to Wm Elmer Striker.
Basic Training 1969;  B Company 2nd Battalion 2nd  Brigade, Ft. Lewis, Washington
Posting form Larry Hackman ('66):  Bismarck, ND
Gary
I saw Kenn Torgerson of Bottineau, name under the (death notices) in yesterday's paper, it brought back memories of our time at Ft. Lewis, Washington.
It is sad that there have been so many family members and friends passing.  My condolences to all their families.
I have included a picture of Kenn and my basic training company.
Most of these fellows are from North Dakota.  I Had their names written on the back of the photo but not where they were from, so the towns shown with the names are from memory.  We look kind of rumpled and the shine is gone from our boots as they just had us low crawling through the saw dust pits (pits a couple  100 ft. square surrounded by power poles "seemed a lot longer and maybe were" and then filled with saw dust) and then ran us back to the barracks for this photo.  The drill sergeants usually had every trainee crawl through these saw dust pits until everyone was exhausted, while they stood on the edge  visiting or planning our day of running and doing push-ups (I wish I was in that good of shape now).  A Drill Sergeant would  occasionally stop visiting and run out into the pit and kick some trainees butt because he had it too high in the air, after all you wouldn't want to get your donkey shot off..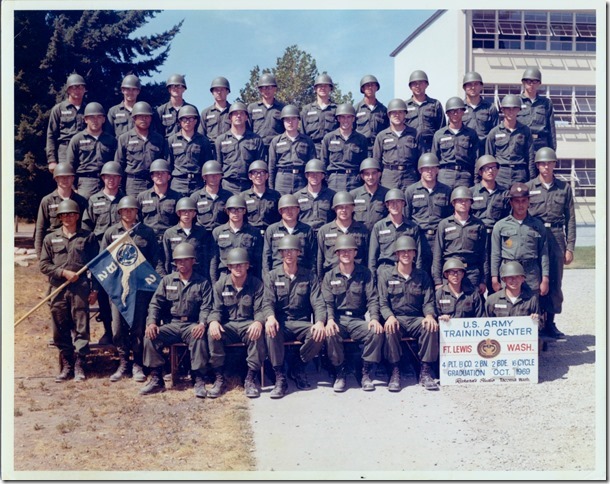 Basic Training 1969;  B Company 2nd Battalion 2nd  Brigade, Ft. Lewis, Washington
Moto – B-2-2 When the going gets tough, the tough gets going.
Lt. to Rt. – top to bottom
top. Bear@ Jamestown, ND, Kunkel, Miller @ Mohall, Merrill, R. Torgerson, Cassidy, Hoff, McCabe @ Steel,ND, Washington @ Chicago, Carlson.
Congalton, Blue Earth, La Rocque @ Dunseith,ND, Huber @ Westhope, ND, Rusin, Smith, Randish @ Mohall, ND, Mazich, Dunlap
Prouty @ St John, ND, Bartschi, Adams, Kitzman @ Towner, ND, Sims, Davies, Padilla @ Puerto Rico, Campaigne, Castiglione, Maschoff
Kreitinger, Weidner, Grzekowiak, Lykken, Hackman @ Dunseith, ND, Schulz, Dodge, Jones, Drill Sargeant Mandez – asshole.
Sison @ Philippines, Klopfenstein @ Chicago, Jacobson, Curry, Kaufman, Barmoen, K. Torgerson @ Bottineau, ND.
Maybe a few of these fellows will be recognized and we will find out where they are now.
Thanks,
Larry
==============================================
Blog (656) posted on December 18, 2009
Posted on December 18, 2009
Thank you From the Azure Family:

The Azure family would like to thank all of Bev's friends and family for
being so supportive in our time of need. And also to those who sent kind
words, cards, and prayers not only while mom was in the hospital but also
at her wake and funeral. Also a special thank you to those who followed
Bev's last wishes and to those who have brought figts and helped at the
luncheon and dinner. We are very thankful and appreciative for all your
kindness and friendship.

Sincerely with great thanks-
The Azure Family

From Dianne Rober't Johnson (76): Rolla, ND.

Gary,

Thank you for doing all the postings in E-mail, it's nice to read about the old days & any current news. I for one, really enjoy your daily postings.

Wishing you (& to everyone) a "Merry Christmas & a Happy New Year".

Dianne Johnson

Reply to LeaRae Parrill & Ivy Eller:

From Ele Dietrich Slyter (69): Dunseith, ND.

Wasn't George Albert's daughter, Emma, married to Herman Eller? And if I am not mistaken, Herman may have had another wife before Emma. I think, and Bonnie correct me if I am wrong, that Leonard Eller, who lives near Rolla, is Herman's son.

ele

Reply from Eileen Brudwick: Fargo, ND.

Thank you very much for the compliment, Gary!!  It's nice to know some of you feel I'm so great!! 

Eileen

Eileen, You are so welcome. Gary

Reply from Roger & Connie Zorn Landsverk: Bottineau, ND

Hi Gary,

How are things @ the Stokes' .I was reading the Dunseith news & By reading it I gathered you guys had alot of fun in high school.We had alot of fun during our high school days. My sister Linda, myself & one of my friends like to date some of the Forestry guys. We partied alot. We drank alot of wine. It's a miracle none of us got picked-up for DUI'S. We were good girls during the week but sometimes naughty on the week-ends.

I talked to Evon Lagerquist last-evening & she explained to where the Stokes lived in the hills on the Ackworth road. Please excuse my spelling. I've been up in that country in the summer time & it's very pretty.

take care

Connie

Folks, Connie's dad was Leo Zorn. She is a cousin the Sharon, Myron and Marlys.

Willow Lake Road.

Folks, I am posting this picture for reference to several email messages that are posted with today's message.

This picture, of the willow lake road, was taken on top of the Ackworth Cemetery Hill looking south. The Cemetery is to right and our former yard, the Bob Stokes farm, is to the left from where this picture was taken. Bottineau County is one mile to the west (right) on the road at the bottom of the hill. Highway 43 is one mile south from the intersection. The trees that can be seen farthest south in this picture are adjacent to Highway 43. The original site of the Ackworth School was a half mile east (left) from the intersection. In 1981 the school was moved and is now located 1/8 east from the intersection behind the trees on the left. Gary

Note: Clarence Hagen owned 3 quarters of the section of land to the south and west of the interestion. The other quarter was the Pederson place. Elmer Lindberg's farm and property, in Bottineau county, was adjacent to the west of this section. Elmer's sister was Alice McKay.



Sam Pederson family reply:

From Luella (Boardman 49) & Ralph Bjornseth: Bottineau, ND.

Hi Gary!

You asked about Paul Pederson. He was married to Marlene Rude (Kenneth Rude's Sister). They are divorced and Ralph thinks he is either in South Dakota or Montana. Sam Pederson's children were Oscar (deceased), Eileen (don't know if she is still living), Melvin, Paul and probably 2 other boys. Ralph hears from Melvin every year at Christmas time. He lives in Spokane. Mrs. Sam Pederson was a sister of Jennie Handland so any of the Handland girls could tell you the history of that family. Ralph remembers Sam as being a very big man. They evidently moved around a lot and had moved out to Washington. He came back here at one time and worked for Carris Vandel. Ralph thinks he was working for Carris when he died. I hope this answers a few of the questions.

Luella

Follow up reply from Luella:

Gary

We talked to Glen Rude this noon and he said Paul died about 10 years ago. He doesn't remember where he was living at the time or where he is burried. Another boy in that family was Lowell and Ralph thinks he is still living. That is all for now.

Luella

Folks, The Sam Pederson Farm was located 3/4 mile west (right) and on the south side of the road from the interesection at the bottom of the hill in the picture above. The Jacob Bjornseth farm now owned by Ralph & Luella is located 1 3/4 miles west on the north side of the road from the interesection in the picture. That is where Ralph was born and raised.

Luella, This answers a whole bunch of question for me and I know others too. I had no idea that Mrs. Sam Pederson was a sister of Jennie Handland's. I have her daughters Beverly, Muriel & Lorraine in my records, but they do not have email addresses. I found Melvin Pederson's phone number in Spokane. I will call him in the morning, my time, before sending this message out. Thank you so much Luella and Ralph for this info. We'd love to hear more from the rest of you that knew the Pederson family too. This is one bit of history that will be captured and recorded that could have been lost. Thank you Gary Metcalfe for bringing this family to light. Gary

Pritchard Picture & the Thompson Place:

Repy from Marlys Hiatt (71): Dunseith, ND.

Hi Gary,

I really enjoyed the information on the blog today. I do have a couple of
questions and a little more information. Is the little boy in the picture
with the cabin identified as Robert Pritchard the same Robert Pritchard
that lived down the road from your family and across the lake from my
family? Dorthy Pritchard's husband? If it is then it is pretty amazing to
me to see the person I thought of as an older man when he was just a
toddler. I guess we all start out that way.

Also about the Thompson place. Was that the land straight north of where
we grew up. If I am remembering right it was the land where my father,
Norman Hiatt, would put his stock cows for summer pasture. Every so often
we would all go up to take a head count to make sure all the cattle were
okay. There were times we had to walk through the pasture to find them
all. I remember being quit young and walking with grandma Margie when we
came upon some old buildings that had not been lived in for quite a while.
Grandma Margie told me that was the house where Ella (Thompson) Pladson
had lived when she was a little girl. Grandma then went on to tell me
about what hard working and good little girls Ella and her sister were.
If I remember the story right Ella's mother was handicap and unable to
make bread so she would tell the little girls how to do it and they had to
stand on chairs in order to make the bread because they were so little.
My memory is a long way from being reliable so if I Have this wrong please
let me and all the other readers know. In my minds eye I can still see
how the buildings looked and remember how special my grandma thought those
little Thompson girls were. Would this then be where boundary lake is
located? I remember hearing my father talk about boundary lake but I do
recall knowing exactly where it was.

There is a story that occurred which I know to be true. It happened in
the spring and we were on that family outing to check the cattle in the
North pasture or as it was sometimes referred to as the Thompson place.
As Vickie and I were walking through the woods I got tired and sat down
for awhile and got more that a little rest. As some of you might have
already guessed – wood ticks.

Some questions came up about Paul Pederson. I believe this is the same
man that worked for my dad, Norman Hiatt. This was before I can remember
but I heard many stories about him all of which were good. I believe my
parents thought a lot of him. The last time I remember seeing him was at
my cousins wedding in Montana. I do remember going to see his baby girl
that was named Marla but I do not remember his wife's name or the name of
his in-law's. I do think they were from the Metigoshe area and I believe
that Marla still lives in Bottineau but I do not know her last name. I
don't think that marriage lasted very long.

As Dick always says – any additions or corrections to this information is
always welcome. As I think about this I am aware of how foggy some of my
memories are.
Marlys

Folks, Norman & Irene Hiatt, Marlys' folks, lived 7/8 of a mile east (left) from the intersection in the picture above. The Thompson place that Marlys talks about in her message was located a mile or so north of their place. The Robert Pritchard farm was located 3/4 of a mile to the south of the intersection in the picture above. Evon Lagerquist is currently living on that place.

Marlys, you are absolutely right, that was the Thompson place located a mile or so north of your place. There are no roads other than for field roads to that area. Because there were no roads I was never back in that area. I left ND before the snowmobile days too or I would have probably explored that area in the winter on snowmobiles. Folks will have to correct me if I'm wrong, but I think, as you mentioned, that is where Ella Thompson Pladson and Esther Thompson Tangen were born and raised? Their mother was a sister to my grandfather Frank Stokes. Rab Lake is the lake in that area. Boundary lake is located a little farther west in Bottineau County. The willow lake road, going thru some fields, ends on the Canadian line. From that point, on the line, Rab lake is about one mile east, Hartley lake is located about 1 mile west and boundary lake about 2 miles west. Folks please correct me if I'm wrong.

That is the Robert Pritchard that you knew in those pictures that Mary Eurich Knutson posted yesterday.

Pritchard/Pladson relationship:

Reply from Keith Pladson (66): Stafford, VA

This is in response to Dale Pritchard's and Mary Knutson's recent comments and a comment from from Dale several months ago.

Dale, several months ago you mentioned to Gary Stokes, that you weren't clear on the connections between my family (and Gary's) and yours. I think Mary has helped to clear that up. If I remember correctly, Ida Thompson was my Mom's Aunt on her Dad's side. So that makes my Mom, Ella, a first cousin to your Dad, Robert (and of course Mary's Mom, Winifred). The biggest difference was age. Since my Mom was born in March of 1923, she was 12 years younger than your Dad. I believe your Dad and my Mom's oldest sister, Ester, were the same age. I'm not sure what the age difference was between Mary's Mom and my Mom, but I think it was somewhat less. Interestingly, my Mom was quite close to your older sister Shirley. My siblings and I saw Shirley and her family several times while we were growing up. And Shirley continued to visit Mom often in Bottineau after my Dad, Eldon, died. That, of course, was all through my Grandfather's family the Thompsons.

Gary Stokes' connection to my family was through my Grandmother's (Mom's Mother's) side — the Stokes'. My Mom's Uncle, Frank Stokes, adopted Gary's Dad, Robert.

Thank you Mary for bringing this up. Very interesting stuff.

Finally, a question to my classmate, Janet Bergan Evans. Does this mean that your ancestors lived in or near the Ackworth community?

Thanks Mary for bringing this up — very interesting.
Keith

Folks, The Eldon Pladson family, Keith's family, moved to Keith's mother's sister place in about 1962, located several hundred feet to the right half way up the hill from the intersection in the above picture. Esther Tangen, sister to Keith's mother Ella, owned that property. That property was formerly owned by Keith and my Great Grandfather, William Stokes.

Keith, you explained the relationships well. I will take a stab at answering what I know about the Bergan family. Do you remember Oscar Bergan. He and Sylvia lived several miles north and west of your place when your family lived on the Zieman place west of Salem church. Oscar was an uncle to Janet Bergan's dad. Mrs. Erick Bjornseth, Bertha, was also a sister to Oscar and Janet's grandfather. Erick and Bertha Bjornseth lived about 1/2 mile north of #43, 2 miles or so from the Rolette/Bottineau county line. They lived west of Sander Johnson's. That's all I know about the Bergan family. Janet or some of the others can maybe fill us in with the history of where the Bergan's were raised. It must have been in that general area. Gary

Reply form Lee Stickland (65): Dickinson, ND

Gary

I see my grandmother, Mae Striker Stickland to the extreme right on this picture of Sylvia and Oscar. I recall being at Oscar and Sylvia about 50 years ago, when I was 13. So 50 minus 13 would make me 37 now ? Or have I lost my touch with numbers ?

Thanks so much for YOUR informational blog which I read in its entirety each day. Lee

Lee I have reposted that message. This is perfect timing with the Bergan family being mentioned in today's blog. Gary


Previously posted:

Subject: (471) Dunseith Alumni..
Date: Thursday, May 28, 2009, 12:24 AM


Striker/Bergan pictures & Striker History provided by Ken Striker: Dayton OH

Wm. Striker & his children on his 81st Birthday, 1943

L to R: Georgia, Gladys Brill, Della Lockhart, Lee, Vernie, Erman, Mae Stickland, Cora Lockhart & Ellen



Gary's comments

I think this picture was taken of Oscar & Sylvia on their golden anniversary in 1979? I'm kind of thinking they had their celebration at the Christian Center at Lake Metigoshe. This is exactly the way I remember them. They were a great couple. They had no children. Oscar was a brother to Clayton Bergan's father. Sylvia Lockhart Bergan's mother was a Striker. Oscar & Sylvia lived a few miles east of Lake Metigoshe and several miles north of #43. They lived close to Bernard Kavlie and Lars Sivertson. John & Pat Frykman are currently living in that area too. Gary

Oscar & Sylvia Bergan