Gary/Bernadette Stokes' 39th Wedding Anniversary
Message from Ginger LaRocque Poitra ('65): Belcourt, ND
Hi Gary and Bernadette,
I would like to wish you both a belated happy anniversary.  For December 3rd. 39 years I believe.
God Bless you both
Ginger
Gary's Reply
Thanks Ginger. You are right. We celebrated our 39th Wedding Anniversary on December 3rd. Next year will be our 40th.
Bernadette's condition has taken a turn for the worse too. For the past month or so she just isn't snapping back like she normally does. We don't dare let her walk alone, even in the house, for fear she will lose her balance and fall. Her speech is really affected now too. The dementia is starting to take it's affects now also.
Rod Hiatt Shows of one-of-a-kind gun
Posting from Neola Kofoid Garbe:  Bottineau & Minot, ND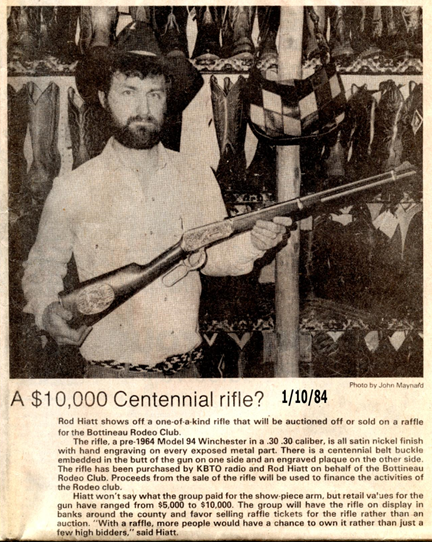 Reply to Larry Hackman's (66) Army Basic Training Photo
From Vickie Metcalfe ('70):  Bottineau, ND
Gary & Larry H. and Dunseith friends,
I worked with Ken Torgerson at Central School here in Bottineau for a time a  few years back .
Kenn carried a  warm smile and  was  jovial and kind. to the children and staff.
In his quiet way, he was always a  patriotic  and  proud American Veteran!
May he rest in peace.
Vickie M.
Message to Dick Johnson and Gary Stokes
From Neola Kofoid Garbe:  Bottineau & Minot, ND
Hi Guys,
Because I'm moving to a different apartment, I'm looking through boxes and boxes of paper items: saving some/shredding some/throwing some.  I found this postcard. I have no idea why I have it.  As you can see, it was mailed to Miss Clara Johnson from G. A.  I thought Scott Wagar might be interested in using it for his "Nostalgia" photo in the Courant.  I'd appreciate any info you can tell me about this picture, which I'll pass on to Scott. 
My memory isn't worth a hoot these days, so I don't remember if I've heard you, Dick, are related to MISS Clara Johnson.  Do either of you know who G. A. might have been?
Thanks,
 Neola
Dick Johnson's Reply
 Neola and Gary,
    Clara Johnson was my Grandma Myrtle Johnson Olson's older sister and was married to Albert Berg, the parents of Alvin, Martin, Amanda, and Arla Berg.  This is sure an interesting part of family and Ackworth Community  history.  I'll attach a couple pictures of the Bergs from long ago.
                                    Dick Johnson's Photos of the Berg Family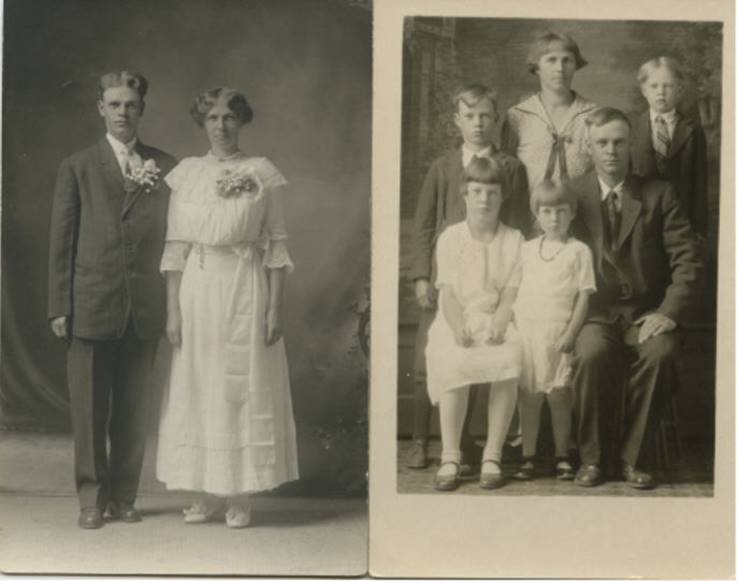 Neola's reply to Gary Stokes
 You are right about who Clara was; Martin Berg's mother.  I know their farm was a little west of Sander Johnson's grocery/milk store.  I stayed with Martin/Alice when they lived on the "James Johnson Place";  sometimes we would go to Sander's in the evening/get ice cream.  Martin used to scare me by saying Sander might take out his glass eye.  I wasn't very old at this time–before Carol was born–so I wasn't looking forward to this. LOL
Neola
Bakken Name associated with the Bottineau Area
Reply From Dale Pritchard ('63):  Leesville, LA
Gary,
As far as you know, is the "Bakken" name ssociated with the Bottineau area?
Also, I came across the following obituary while doing some genealogy research.  I was looking for a Lois I. Roberts in Mississippi/Louisiana and Google gave me Lois Jean Roberts instead.  Lois was probably a 1961 graduate of Bottineau High School and was apparently married the first time to a Leland Henderson with a second marriage to Jesse Bert Roberts. I don't know where either marriage took place, whether in the Bottineau area, the Seattle area, or somewhere else.  She apparently moved to Seattle when she was about 33 years old.  Does any know her, or know of her?
LOIS JEAN (GESSNER) HENDERSON ROBERTS
23 Feb 1943 – 18 May 2014
Lois Jean Robert died peacefully in her home in Marysville, Washington on December 25th, 2014.  She was born in Bottineau, North Dakota in 1943.  She moved to the Seattle area in 1976.  She was an amazing woman with an amazing laugh and love of life.  In lieu of flowers, please consider making a contribution to Providence Hospice of Snohomish County.  Lois is survived by her loving and devoted husband, Jesse Bert Roberts, her children Leland Henderson, Jerry Henderson, Lissa Knox and Pam Cope as well as her step children Dan Roberts and sherine Gardiner; her mother Carol Gessner, sister Lynn Gessner and many grandchildren and great grandchildren.  Bert would like to thank all the family and friends for the incredible support they provided over the last year.  Services will be held at the Quil Ceda Creek Ward, 5212 7th Ave. NE in Marysville on January 10th at 1pm.
Published in The Seattle Times on Jan 4, 2015
Thanks, Dale Pritchard
==============================================
Blog (657) posted on December 19, 2009
Posted on December 19, 2009
Albert & Eller families:
Reply from Ivy Eller Rober't (74): Everett, WA.
My Mom and Dad were Herman & Emma Eller. Dad was married to Laura Azure Eller first, she died after giving birth to a son named Thomas. He was pre-mature, 3 months early. He died when he was a week old. Laura had gotten a sever infection, complications from the birth. She died 3 weeks after Thomas did. They are buried at St. Anthony's Church Cemetery, approximately 5 miles east of Dunseith, along with Rose, who died when she was nine. Laura & Dad had 9 children together, Gladys, Leonard, Herman Jr., Elizabeth, Leo, Margaret, Richard, Rose & Thomas. A couple of years after Laura's death, Dad married my mother Emma Albert (Father: George Albert, Mother: Agnes Warren Albert). She was the only child. Mom & Dad had four girls, Julie Eller Dahl, Carol Eller Djarlais, Bonnie, & me (Ivy). Mom died in 1976 and a couple of years later, Dad married Georgaleen (I don' recall her last name). Dad died in 1984 and "Georgie" died a few years later. They are buried in the ST. John Cemetery. Of the 13 children Dad had, there are only 7 of us still living. I am the youngest of the bunch. It's funny, when most of then were alive, we haven't ever been all in the same place at the same time.
Smiea is my Mom's step-sister. Grandpa had went back to Syria to find a new wife a couple of years after Grandma had died in a car accident on the San Hill. It was actually right at the entrance where the gulf course is now. Grandpa's 'new wife' was Fatima. Smiea is her daughter. Grandpa died in 1979. Him, Grandma, & Mom are all buried together at Riverside Cemetery. Fatima died about 3 years ago, according to Smiea and is buried some where in Canada near where she lives. I lost touch with Smiea & Grandma (Fatima) after Grandpa had died. To tell the truth, I had spoke to her almost a year ago for a few minutes, then again, less than a week ago. I haven't really gotten caught up with her on her life yet. I plan on going to visit her next summer. She lives in Grand Forks, British Columbia. (I think) I do have her number & will call for directions.
I hope this answers some of the question about my family…….
I want to wish everyone a very MERRY CHRISTMAS & HAPPY NEW YEAR……….be safe everyone!
Alumni Reunion in May:
Reply/Requests from Cheryl Haagenson (71): Dunseith, ND.
First of all "Merry Christmas"I hope everyone has a safe and blessed Holiday. Let's start looking for photos so that we can bring a boat load of them to the "Get together" in May.
Add Janet Haagenson Sedlacek and Bernd Sedlacek. Thanks Gary
Cheryl Haagenson
Cheryl, I have added Janet and Bernd to the master reunion list. I have posted the latest updated copy of those planning to attend the reunion at the bottom of this message. Gary
Obituary
Beverly Lynn Azure
(February 23, 1956 – December 6, 2009) 
BEVERLY AZURE
Mass Of The Christian Burial was held for Beverly Azure, age 56 of Dunseith, on Saturday at 10:00 A.M. in the St. Michael's Catholic Church in Dunseith. Burial was in the St. Louis Cemetery also in Dunseith. The Celebrant for the Mass was the Reverend Father Jeff Eppler S.O.L.T. Special music was provided by Monica Nadeau. Honorary bearers were Floyd Dion, Arnold Morgan, Craig Richards, Duane Morinville, Ken Marmon and Jerry Gredesky. Casket Bearers were Darren Opstedal, Bill Krause, Dale Juntunen, Kent Cote, Lyle Olson and Paul Messner.
Beverly Azure, a daughter of Joe and Frances (Hanson) Morinville, was born in Bottineau on February 23, 1953. She was reared in Dunseith and graduated from Dunseith High School in 1972. On August 16, 1980 she was married to Clarence Azure at Dunseith. Following their marriage, they lived in various places such as, Manheim, Germany, Colorado Springs, Colorado, and Fort Knox, Kentucky. She was a homemaker until 1992 when they moved back to Dunseith. Bev worked at the TMC for several years. She most recently worked at the Log House in Dunseith.
Bev enjoyed beading, painting, and spending time with her family. She also enjoyed going to concerts and gardening. She taught Sunday school for several years and was an active member of the St. Michael's The Archangel Parish in Dunseith.
Beverly passed away on Sunday, December 6, 2009 in a Minot hospital.
She is survived by her husband, Clarence of Dunseith; daughters, Shonda and her husband Matthew Campbell of Minot and Shannon Azure and her special friend Steve Catalano of Grand Forks; sons Cody Azure and his wife Diana, and Jason Azure both of Grand Forks; a grandson, Chris Scott of Minot; sisters, Debbie Marmon of Miles City MT and Toni Gredesky of Fairmount, ND; a brother, Duane Morinville of Dunseith.
Beverly was preceded in death by her grandparents and parents.
Replies from Gary Metcalfe (57): Forsyth, MO
Reply to Gary Stokes
Gary, it is coming back to me now, Sam Pederson was married to Jennie Handland's sister, who must have died young and left four or five children. The ones I remember were Charles, Lowell and Paul. Charles with the curly hair was Jennie's favorite.
To Margaret Seim Lawson
Now the story makes more sense. My dad said Eva was working on Edwin's attitude, so she said "EDWAA, Be a good boy or you won't be able to go see Uncle Pete." Another one was that Pete told my dad that he exactly the same name as a very famous baseball player. He said, "My name is Pete Mosho and his name is Joe Dimosho." For those who don't understand French very well, the ball player was Joe DiMaggio!!
Thanks everyone. Sue and I will be gone for the next week or so. Hope all of you have a Merry Christmas and wonderful family memories of Christmas 2009. Gary Metcalfe
Story from Dick Johnson (68): Dunseith, ND
Gary and Friends,
There is a cute movie that usually plays every Christmas Day. It's
called 'A Christmas Story' and is about a kid named Ralphie who wants a
BB gun for Christmas. My BB gun story is not as good when it gets to the
ending. George and Lela Cota were working at the Peace Garden in the mid
50s and one time when we were visiting them at the caretaker's
residence, George brought out an old BB gun that had been his son,
Gary's, and gave it to me. I was about 6 at the time. He told Mom that
it wouldn't shoot BBs any more but still made the noise. It was a Daisy
with a wooden stock and I was really proud of it. My grandparents lived
upstairs in our house in Dunseith and sometimes Grandma would keep an
eye on my cousins and me. One day this was the case and my cousin Doug
Warcup and I were out in the yard playing with my prize BB gun when he
asked if he could shoot it? He cocked it and aimed it and just before he
pulled the trigger, I noticed he had the lever down. This is a NO-NO
with those old guns. I said, "NO"—Bang! The lever slammed shut on his
fingers when the gun fired and put a small cut on his finger. He did
what any 5 year old would do, ran to Grandma screaming about his finger.
She did what any grandma would do, asking what happened? He said , "The
BB gun did it". She did what most grandmas would do and assumed he had
been shot. I tried to explain but she called my grandpa up at the Garden
Tap (he was the owner) and told him I shot Doug with that damn gun. I
remember Grandpa came walking briskly down the alley and as I was trying
to explain what happened, he grabbed my BB gun and whacked it on the
ground a couple times until it flew in two pieces and then threw it in
the garbage barrel and headed back to work. That was the worst feeling I
had ever had up until that time. Everything went from bad to worse and
none of the people involved did anything they shouldn't have done, given
the circumstances. Obviously it is burned into my memory because of the
way it all went wrong for me that day. I lost my prize possession over a
mistake. Ralphie gets his gun—I lose mine. His story is better! Thanks
Gary!
Dick
Correction to yesterday's message from Lee Stickland (64): Dickinson, ND
Gary,
I do stand corrected. The lady on the far right of the picture re:Oscar and Sylvia is indeed Ellie Striker. Yes, the third from the right is my Grand mother. Sorry.
I have many memories of Lee and of Erman Striker, whom are barely visible on this picture. They must not have had the digital camera with this day. Lee
Wm. Striker & his children on his 81st Birthday, 1943
L to R: Georgia, Gladys Brill, Della Lockhart, Lee, Vernie, Erman, Mae Stickland,
Cora Lockhart & Ellen