Reply from Rod Hiatt ('69): Bottineau, ND
Gary
I remember ordering this rifle from a gentleman in Texas who did all the engraving and fancy work for us. I don't remember who actually won the rifle, but I know at one time it was on display at the Bottineau Courthouse. It was a big money maker for our Rodeo club at the time. The only thing I don't recall is who the hell is that young guy in the photo using my name?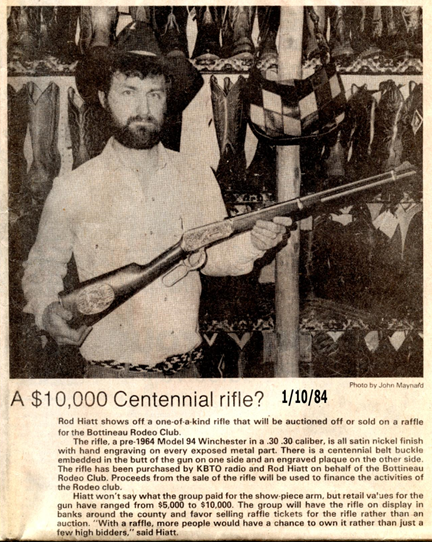 DHS Classes of '55/'56
Reply from Larry Liere ('55):  Devils Lake, ND
Gary
Did you ever get 100% on the red names or ?? ?
If you did get 100% I missed the posting somehow so could you please send another copy if you made one.
            LARRY
Gary Stokes' comments
Larry, No we did not.
Folks, we need some help with this one. Thanks
the names are in order L to R on the Photo.
We've only got two left to identify in this photo and the first names of the Tennacore girls.
Folks, We can do this
DHS Classes of '55/'56
Back: Viola Hobbs, Barry Shelver, Larry Liere, Bob Hosmer, ??, Darlene Rohrer, Arline Lamoureux, Ann Lamoureux, ??
Front: ?? Tennacore, Bob Dailly, ?? Tennacore, Janice Leonard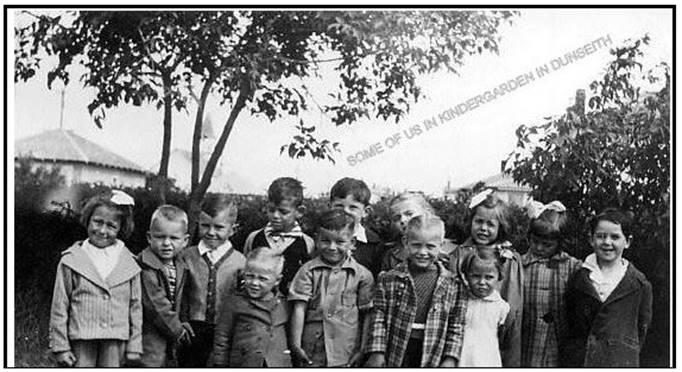 ==============================================
Blog (658) posted on December 20, 2009
Folks, When Bernadette's brother passed away, his son, who was living with them on Mindanao, brought his family here. He has a daughter 3 years old and two boys ages 5 & 6. These kids are super bright. They have had limited access to using computers pretty much only being able to watch and observe others while they are on computers. We have two used Acer laptops that we purchased when were back in the states that we have set up for the local kids to use. When we turned these three kids loose on these laptops, they had them fired up and into the internet in a heartbeat including the little 3 year old girl. With her two brothers on the Laptops, Bernadette let her use her computer. She didn't need any instructions to get into and navigate the internet. She was into her favorite kid site in no time. These 3 kids are teaching their first, second and third degree cousins, who have not shown quite as much interest up until now, in computers. These 3 kids are waiting for me to get up each morning so they can get in the office and on the computers. When they get too noisy, I transfer them, with the computers, to the porch outside. The 6 year old will be in first grade next year. All three of these kids have learned English pretty well and are pretty proficient in reading and writing all of which they have learned from the computers and watching TV. Gary

Pederson Correction:

From Evon Lagerquist (77): Dunseith, ND

Gary, Lowell Pederson is the brother of Melvin's that lives in Spokane, and Arizona in the winter……..

Evon

Evon, Checking my notes from when I talked to Melvin Pederson, your are absolutely correct. I'll bet your mother, Leola Hiatt Lagerquist, remembers the Pederson family pretty well. When I talked to Bev Handeland Hamnes, cousin to the Pederson siblings, she said Charles' nick name was Sonny.

Reply from Keith Pladson (66): Stafford, VA

Gary,

Three comments:First, we didn't get the high number of 26″, but we did get about 18″ at our house. It ranged between 14 and 20 for the DC area. And yes, it is wet, heavy snow. We have a wide driveway and I did finish shoveling it out. But, now I ache all over even in places I'd forgotten I had. Biggest problem is that even when we get out of our development, we can't get anywhere because they have yet to plow most side streets, etc. Is the weather in the PI very humid? I personally don't care for that 40 below stuff anymore, but I also am not crazy for the summer weather we get our here where we get so many hot, humid, sticky days and where if we are lucky it might get down into the low seventies at night. (Many nights it stays in the low eighties – yuk!)

Secondly, we used to go swimming in Peterson Lake every summer when we lived on my Aunt Ester's place (Note my spelling.). That lake was right on the county line and one mile west of our place. Is that lake named after the family you have been discussing? I always thought if was Peterson, but perhaps I was/am wrong and it's Pederson Lake. If so, how did that naming come about? For that matter, how about Hartley Lake and Sand Lake? Were they named after early settlers in their respective areas? As an aside, Peterson/Pederson Lake is also the lake where my brother, Clarence, drowned in 1972.

Third, maybe you shouldn't post the SSNs for people who are deceased. I know they are gone, but with all the problems with identity theft now, why give anyone a leg up? And as far as your readers are concerned, I really don't think if makes a difference to us if that data block is missing. Just an observation for what it's worth.
Keith

Keith, We have high humidity but not sultering. Our relative humidity is normally about 75%. The evenings are always very nice and comfortable. It gets dark between 5 & 6 o'clock year around. I like never ever having to put on a coat or wearing long sleeves to keep warm.

The good old Pederson Lake. I sure did my share of swimming in that lake too. Yes, that lake was named after the Sam Pederson family we have been discussing the past several days. Melvin Pederson told me they used to live on the south side of the lake, I think probably where we used to go swimming. I remember well when your brother Clarence drowned in Pederson lake. That was such a tragedy. If I remember correctly they found his body near the NW side of the lake? Our swimming beach was on the south side. The lake is pretty small, so he may have swam over to that area.

I am not sure how Boundary, Hartley, Rab & Sand lakes got their names. Boundary and Hartley both run into Canada. Rab I think runs almost to the line. Gary

Christmas Greetings:

Form the Almo Pladson (68) family: Ontario, CA

We've been hard at work perfecting our dance moves. Just click on the links below and turn up the volume!

Note: When the site comes up wait a few seconds for the video to start playing do not click on the down load.

Merry Christmas!

Almo, Christie, Wyatt and Hunter

Hip Hop Pladson elves:

Country Pladson elves:

Disco Pladson elves:

Almo, It's been nearly 45 years since I have seen you, but after seeing you in these Video's, I sure recognize you as belonging to the Pladson family. These are great video's. You are all such great Dancers too! Gary

From: Tracy Zeiler Fennern
E-mail:

Message:
Please add me to your email list. Thanks. Tracy

Tracy, I have added you to our distribution starting with today's message. I believe your parents are Lyle (61) and Sharon Pearson (62) Zeiler. I'm assuming your were with the class of 82, give or take a year? I think in those years the kids from your area were going to Bottineau? I found an address for you living in Elizabeth, CO. Would that be a good address for you? Thank you so much for this request. Gary

Gottbreht Christmas memories:

From Sharren Gottbreht Shen (59): Everett, WA.

The treasured memories of Christmas past make wonderful reading; thank you Erling for your major contributions and thank you Dick Johnson for the mention of community Christmas concerts that I too recall. The snap of snow and cold would just add to the fun and warmth of family exchange be it gifts of good eats or an item dearly wished for. Grandma Evelyn Gottbreht made the season exceptional for her son Dale and daughter Arla every year. Preparations would start months before with a carefully tended flock of geese. Aunt Arla Gottbreht related this story to me.Dale was about 14 years old and he and the hired hand were left in charge of the home place [Ernie Gottbreht ranch today]. Chester Sager worked for George Sr in 1930; he was age 17, about the right age for gaining wisdom from experience. Evelyn had Elderberry wine newly bottled and set aside in her earthen cellar for the coming season of colds and flu. The wine was still somewhat green but would be excellent by Christmas. Dale suggested to Chester that they might past the afternoon with a sampling of his mom's wine. After several nips, the boys became both soft and bold. Dale had a 4×10 shotgun and bragged that he could shoot the head off a goose. Grandmas geese had run of the yard and Dale proceeded to behead the entire flock of 10/12 geese. Grandma was beside herself and I am sure the influence of alcohol was weighed and condemned. The pluck and draw event must have stretched far into the night.

A Mrs. Altman had given Mary Louise Tennancour LaFrance, Evelyn's mother, a Blue Ribbon Cook Book in 1912, according to the inscription on the back cover. Evelyn loved this book and her comments are written on many pages; she has written "Very good" beside the Roast Goose entry. The 1952/55 picture of Evelyn and goose was taken at Arla's apartment in Grand Forks, ND.

Peace and happy children and grand children around your table! Thanks Gary, Sharron

Dale Gottbreht's Mother:

Evelyn Gottbreht