Gary Stokes Posting
Early Christmas this morning at our house.
These are some, not all, of the kids that live next door. They live within 30' feet of our house. They are Bernadette's sister's Husband's siblings grandkids. He has 4 brothers, one sister and his mother that all live in four houses within 30' of our house. Their kids never left home. They just moved their families in with their parents. Filipino Style. Their parents just added more rooms on top of their houses. Not sure where the next generation will live though. These kids don't have beds. They sleep on the hard floors. They never need covers in this climate.
Our place is all fenced, so we have our boundaries. Unless invited, these kids don't come into our area. Bernadette's nieces and nephews kids, some of whom live on our side, are free to come and go into our place and our house.
We have about ½ acre totally enclosed with 7 buildings and  8' high solid cement walls.
I didn't have my camera focused right when taking these pictures. I took them too fast not allowing the camera to focus.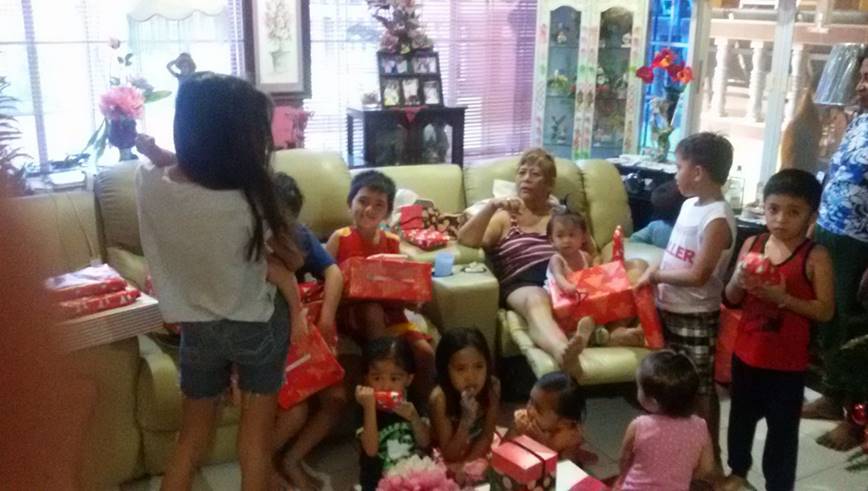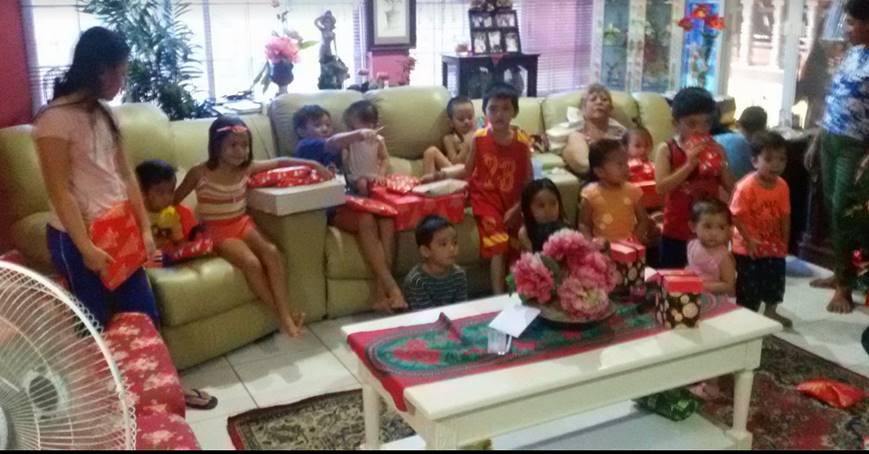 Posting from Ginger LaRocque Poitra ('65):
Hi
So many have lost someone who is very close to us. I know how hard it is. For me I lost my husband last year 2016 in March. It hasn't gotten easier for me. I know our 3 children miss their dad, our grandchildren miss their Grandpa.
We miss him being here physically so very much but we know he IS here in our hearts,  in our thoughts, in our memories,  when we see something that reminds us of him, we are reminded daily of words he said, funny things he has done, how hard he'd laugh when he heard or saw something funny.
We are all going through this,  those of us who have lost husbands, wives,  parents,  sisters,  brothers,  friends,  sons,  daughters, grandchildren,  grandparents,  some their pets.
Guess What!!! They get to be right there with our Lord Jesus! They get to celebrate His birthday right by His side! Aren't they all so very special!
Let us wish a Merry Christmas and Happy Birthday to our Lord Jesus.
God can you bless us, help us to do all you want us to do everyday.
We all want to see our loved one's who have gone before us.
Please keep all our families well and everyday,  in whatever their endeavors are over the holidays  and daily. Thank you God. We love you.
Ginger ( LaRocque) Poitra  Class of '65
==============================================
Blog (659) posted on December 21, 2009
Posted on December 22, 2009
Thank You:

From Toni Morinville Gredesky (68): Farimount, ND

Gary,

I just wanted to take a minute and thank everyone who attended the prayer service and funeral for my sister, Bev. It was truly wonderful to see so many family and friends and hear the incredible stories about Bev. She was a loving, generous person who opened her home to all. You could do no better than to have Bev as your sister and friend.

My parents died long before my daughters could get to know them. Megan was with me, and she was so moved to have so many people speak to her about Bev and my parents.

Thanks again to everyone.

Toni Morinville Gredesky

Reply to yesterday's message:

From Pam Fassett Faust (65): Lilburn, GA

Gary – Isn't it kinda scary? These kids can access information and can find stuff that we never in our wildest dreams even thought about. When we were "kids", we played ball, chased each other around, ran the neighborhood, rode our bikes, spent time with friends, annoyed our parents and our friends parents (and were disciplined by them in many cases), and were just kids being kids. The internet is a wonderful thing, but I don't think it's best for the children. Kids need to be kids (or maybe that's just an "old fashioned" way of thought). Since I have no children, maybe I'm just being too paranoid. But I wonder about "the way of the world", so to speak. Thanks for all you do on this blog. We all appreciate you.

Pam

Reply from Mary Eurich Knutson (62): Dunseith, ND.

Hi Gary / Dale

Yes, Dale, I was disappointed that I missed you. Your mom said you walked in about a half hour after I walked out.

Question – If Andrew Bergan was Clayton's grandfather what was his dad's name? I had always thought Oscar and Clayton were cousins. Also regarding the cabin on the picture- I thought it could have been a root cellar. That is a garden hoe in Bergan's hands and it must have been his building as he wouldn't take the hoe to visit a neighbor.

zI pulled the Bottineau County Atlas to see if I could find anything of interest cause I knew there was a Bergan Lake somewhere out there. I'm sure those Lakes derive their names from the first homesteaders. I found it right north of Peterson Lake. I wonder if that Peterson Lake is where Sam Peterson's place was only the spelling differs from the name Gary mentioned (Pederson). This is also the case with the Bergan vs Bergen lake. Brian and Carrie Johnson live a little to the NE of Peterson Lake on the north side of the road and it looks like Bergan Lake would be right behind their house. Paulette Efimenko lives right on the west side of Bergan lake. I'll send more pictures as I run across them. Mary K

Mary, Clayton Bergan's dad was Louis. Louis, Oscar, Bertha (Erick) Bjornseth & Julia Trent were siblings. In my day, Erick and Bertha lived west and a little north of where you live, several miles east of Salem church. Julia Trent lived in Bottineau. Julia was very well known in the Bottineau community. Julia's daughter, Barbara Trent Riehm, lives in San Diego, CA. I have included a picture that Barbara sent to me of her with her husband Charles who has now passed on. I am including Barbara with today's message as well. She may be able to shed some light on some on these things we are talking about. I will also forward her that message with those pictures you sent a while back too.

From your description, the Bergan lake would be the lake that is located just south of the former James Johnson buildings. Melvin Pederson told me the Bergan's lived on the west end of that lake. My guess would be that is where the lake got it's name. I have seen Bergan spelled Bergen too. I'm sure it's all the same family.

I always thought the Pederson family name was spelled Peterson too, until I was putting together the Ackworth Cemetery list. Olaf Pederson (1861-1938), Sam' dad is buried in Ackworth. I'm assuming he was the original Pioneer of that family. Melvin Pederson told me their family originally lived on the south side the Pederson/Peterson lake. Most maps list that lake with the spelling "Peterson".

I'm thinking that is probably a spelling error that has been copied over and over.

I just looked at the original homestead listing of Willow lake Township and it lists Olaf Person as the owner of the 1/4 section adjacent to Pederson/Peterson lake. I know that Person is a misspelling. It should be Olaf Pederson. It also lists Louis Bergan as the owner of 1/4 section one mile north of the Ackworth cemetery, now owned by the Fauske's. Gary

Charles and Barbara Trent Riehm



The following pictures/messages were previously posted with message 207 on August 30, 2008

Picture/Message from Evie Gottbreht Pilkington (65): Irvine, CA

Picture was sent to me today from my cousin's wife Tangee Brunsell of Bottineau, guess there are free Wondrasek photos at the museum in Bottineau. Rachel Berube's wedding 1965

Evie Pilkington

949-246-6984

RACHEL BERUBE, CECILE BERUBE, AND EVIE GOTTBREHT 1965



Picture/Message from Evie Gottbreht Pilkington (65): Irvine, CA

Hi Gary,

I wanted to share this picture of my Mom and Dad, thought my old friends would enjoy it. This was taken, summer of 1938, in Thorne, ND – my Mom was raised in Thorne. This was the summer before they married. I especially miss them the month of August. Dad died suddenly Aug 29, 1961, 45 years old and Mom died Aug 15, 2005, 88 years old. They produced 8 children, 35 grandchildren and 21 great-grandchildren and counting……

Thanks Gary

Evie

Alma and Dale Gottbreht 1938



Reply from Sandra Zeiler Vandal (62): Elk River, MN

Hi Gary,
I'm up at Nancy Hosmer's place. She showed me the picture
taken so long ago. The kids names' are from left to right are
Dawn,Teri, Kelly and Todd. Order of birth, Todd, Dawn, Teri and
Kelly. When Kelly was five, we had Heather. Who knew way back
when we would have twenty grandchildren and one great
grandchild. Mike remembers your Dad having to pull him out of
the ditch, once. I think he had to pull Dad out, too. Folks are
coming to Mn. with us for a few weeks. We will enjoy catching up
on the e-mails. Thanks a lot, Sandra

Pictrue L to R:
Back: Sandra & Mike
Front: Todd, Dawn, Teri & Kelly