Judy LaCroix McGuire ('59): Brain Cancer  Update
Janel posted a new Journal entry, "Mayo Oncology Visit," on Judy 's CaringBridge Site.
Visit the site to read the Journal entry
Journal entry by Janel Kess — 2 hours ago
Judy's visit went well today at Mayo. Larry, Judy, Mark and Janel (kids) were able to ask all their questions and had a good conversation with the oncologist. We got to see the MRI and it actually shows signs that the radiation and the chemo treatments did what we hoped. Her MRI shows what would be expected if the cancer was destroyed and the body is trying to rid itself of what remains. Her difficulties and hospitalization a week ago was likely due to all the added pressure on the brain while it's trying to heal from the radiation (the brain is a contained system and added fluid makes it freak out.)
They are hopeful Judy will regain her strength and maybe even get back to post brain surgery/stroke (which was pretty good). She will taper off her steroids and we will watch to see how she responds. The Doctor wants to give her a few weeks to regain strength. Then she will begin another chemo treatment. This chemo is generally well tolerated and her type of cancer usually responds well to it for while. They think it is worth trying and if the negative out weighs the positive she can stop.
This was wonderful news and so good to hear after a rough couple weeks! At the same time we are aware this is a terminal cancer. There is no known cure for this brain cancer. The ONLY way Judy will be cancer free is when God choses to heal her. We know one day Judy's body will be restored and made new. We just don't know if it will be while she is with us here on earth or in heaven. So we will continue to pray and are confident that God has gone before Judy and our family. He will prepare us for what's ahead and we will enjoy each moment right now.
Prayer Request:
– Complete healing!
– Regaining strength
– Endurance for Larry as he takes care of her
– Wisdom as Judy and Larry move forward with treatments and many decisions in care
Thank you to the MANY who have been praying! We feel it and are encouraged by your steadfast spirit to pray fervently for Judy and her family.
==============================================
Blog (720) posted on February 19, 2010
Commercial Hotel
Reply from Lloyd Awalt (44): Bottineau, ND.
hi Gary I will see if I can answer the question on the commercial hotel. Yes the Hurst family was a owner at one time . Charley Watkins took care of it for awhile, then Gassman's had it and they sold to Grimme's. We lived in Tom Cassidy's house on the corner west of the hotel Mrs. Grimme and my mother were very good friends. They visited together allot. We lived in Tom's house from 1932 to 1941. My dad had the dray line from 1931 to 1946. So we knew where every one lived for we hauled every thing imaginable. Hope this helps a little Lloyd Awalt.
Gerald Sylvester LaRocque's death:
From Ginger Poitra (65): Belcourt, ND.
I haven't seen a writing about my cousin Gerald, Sylvester LaRocque he
passed away Friday February 12, 2010 in a Minot hospital. His wake
services is tonight February 18th at St. Michael's (formally St. Louis)
Church in Dunseith, with funeral Friday February 19th 2010. Sylvester
was 63, and the son of Jerome and Alice LaRocque, of Dunseith. Some of
the siblings are Bernice, Ronnie, Jackie, Jeanette, Linda, Brian,
Richard, Debbie, Annette, Joy, I just can't remember the one brother.
Sylvester had one adopted child Shiloh.
Ginger, Neola sent me the following Death notice for Sylvester. I did not realize he was your cousin. We are so sorry to hear of his untimely death. Our condolences are with you and his family. He was so young. Gary

Sylvester LaRocque

(July 22, 1946 – February 12, 2010) 

Sign Guest Book | Send Private Condolences Send Flowers

SYLVESTER G. (DUEL) LAROCAUE Sylvester (Duel) LaRocque, age 63 of Dunseith, died Friday at a Minot hospital. Funeral services will be held on Friday at 10:00 A.M. in the St. Michael's Catholic Church in Dunseith. Burial will be in the St. Louis Cemetery also of Dunseith. A wake will be held on Thursday beginning at 4:00 P.M. in the St. Michael's Catholic Church with a prayer service at 8:00 P.M.
Sgt. Terry Rishling's Obituary & Funeral
Posted by Larry Liere (55): Devils Lake, ND & Arizona
Gary
I receive these because I am a retiree. Since he is from Belcourt, ND I thought it may be of interest.
LARRY
Retirees in the area are encouraged to be at the Fargo ariport to pay respects as the casket for Sgt Rishling is being unloaded.
> FARGO, N.D. – The remains of Sgt. Terry Rishling are scheduled to arrive in
> Fargo on Thursday, with visitation at Hanson-Runsvold Funeral Home that
> evening.
>
> Sgt. Rishling died at 6:04 p.m. (CST) Feb. 10 (1:04 a.m. Feb. 11 Kosovo time)
> from apparent natural causes while serving in Kosovo with the North Dakota
> Army National Guard. Sgt. Rishling, 38, was a team leader for Third Squad,
> Third Platoon of Alpha Company, 231st Maneuver Task Force, serving in Kosovo
> with Multi-National Battle Group East, Kosovo Forces 12, on a NATO
> peacekeeping mission.
>
> The plane carrying Sgt. Rishling's remains is scheduled to arrive on Delta
> Flight #7307 at Fargo's Hector International Airport at 4:21 p.m. Thursday.
> The North Dakota National Guard's Military Funeral Honors and the North
> Dakota Patriot Guard will be on site to pay respects as the casket is loaded
> for transport to Hanson-Runsvold Funeral Home, 215 S. 7th St., Fargo. Viewing
> and visitation will take place at the funeral home from 6:00-8:00 PM.
> Memorial service: Saturday, February 20 2010, at 10:00 AM, at St. Anns
> Catholic Church, Belcourt, ND.
>
> A memorial ceremony took place Monday in Kosovo, where Sgt. Rishling's fellow
> Soldiers remembered him as a dedicated Soldier and jovial role model who
> placed family first and looked after his team members as if they, too, were
> family.
>
> Sgt. Rishling is survived by his wife, Nancy A. (Gailfus) Rishling (Fargo);
> and daughters Sophie E. Rishling, 8, (Fargo) and Courtney M. Rishling, 20,
> (Belcourt); and his parents, John and Gloria Rishling, of Belcourt, N.D.
>
> WHAT: Arrival and transport of Sgt. Terry Rishling's remains and viewing at
> the funeral home
> WHERE: Fargo's Hector International Airport and Hanson-Runsvold Funeral Home,
> 215 S. 7th St., Fargo
> WHEN: Plane arriving at 4:21 p.m. Thursday with viewing expected to from
> 6:00-8:00 p.m.
> COORDINATION: The family has requested that media be allowed at the airport
> and funeral home, but has asked that no interview requests be granted.
> —
> WHAT: Memorial service
> WHERE: St. Anns Catholic Church, Belcourt ND.
> WHEN: Saturday February 20, 2010, at 10:00 AM.
From Trish Larson Clayburgh (73) Fort Collins, CO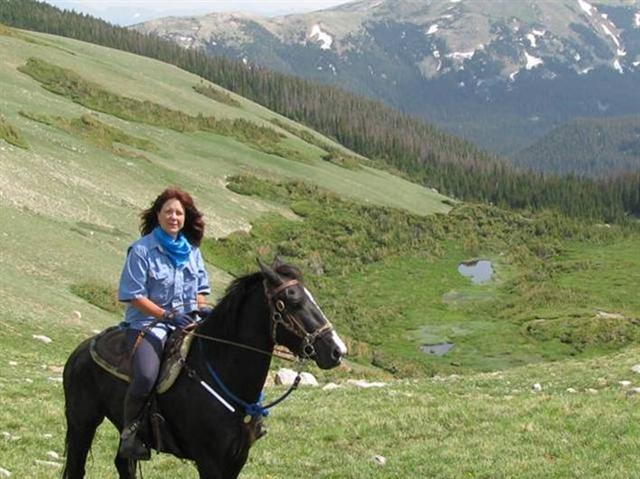 Subject:Wild Ride begins 101010
Hello Gary! I thought I would drop you a line to let you know that I have set a date for my departure on horseback to Buenos Airies, Argentina. I will leave Estes Park, Colorado on 101010 (October 10, 2010). After a lifetime of dreaming and planning, it is finally almost time. Anyone that knows me well can tell you that I have been horse crazy my entire life. This fall I will realize my dream to become a "Longrider", or as I prefer to be called, an "equine vagabond".
This summer I will continue to train and prepare for the long journey of more than 9000 miles with my three horses, Maggie, Magic, and Midnight. My wonderful canine partner, Wiley Coyote will accompany us as well. I have many things to do before I go. The first priorities are to get my website up and get sponsors on board.
I am currently writing letters to business leaders and corporations who might be inspired by my story enough to lend financial or material support.
If I obtain enough funding in time, I would like to "warm up" with a 1000 mile ride back to my home town reunion in North Dakota this May. I am also planning several training rides this summer in Colorado, and I hope to have enough money set aside by spring to be able to leave my nursing job and train full time.
It's a busy time, but I thought you and your family and friends might like to be the first to learn of this news. I will send you my website link as soon as I go online with my daily blog. I will be keeping my patrons, family, friends, and followers up to date all summer with stories, photos, videos, and accounts of planning tasks, outfitting, training, and adventures leading up to the big ride through Mexico, Central, and South America.
Thank for your interest in my journey, and please let me know if you have any questions or suggestions or know of anyone who might like to offer any kind of support be it emotional, spiritual, financial, or anything else!
I will largely depend "on the kindness of strangers" to achieve my goals, but I hope that anyone who chooses to offer any kind of assistance to me will be rewarded by feeling they are an intrinsic part of the accomplishment.
Feel free to send this on to anyone who might find my equine travels to be of interest.
For the fun of it,
Trish Larson Wild, RN, PhD
"We all have our oceans to fly. Risky? Maybe…. But what do dreams know of boundaries?". -Amelia Earhart
Trish, We are so happy for you with your life time dream becoming reality. It would be nice if you can make our reunion. We are looking forward to seeing you. Gary