Jim Banish, Janet Kalk's husband, Passed away.
Posting from Al Lopez (Barbara Kalk '65):  Minneapolis, MN
I wonder if you knew Jim Banish, he married Janet Kalk, well Jim passed away yesterday.
Al Lopez.
Gary's comments
Thanks Al for letting us know.
We extend our condolences to Janet and the rest of her family.
Joseph "Jim" Banish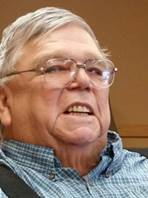 August 25, 1938 – June 18, 2018
Joseph "Jim" Banish, 79, West Fargo, formerly of Milnor, ND passed away June 18th at Moorhead Rehabilitation and Healthcare Center.
Joe was born Aug 25th, 1938 to Joseph L and Ethel (Baumann) Banish in Cayuga, ND. Joe attended primary school at Hermann #2 before attending Lidgerwood High School and graduating in the class of 1957. Joe spent one year at NDSU studying Ag Tech prior to returning to work on the family farm.
In the summer half of the year, Joe worked on road construction projects before making it his primary profession. In 1963, while on a long term project in northern North Dakota, he met Janet Kalk. On July 30th, 1966 they were married at St Louis Catholic Church in Dunseith, ND. From there they lived in Milnor, ND for 32 years prior to transitioning to the Fargo metro area.
Joe worked 27 years in road construction before being injured and discontinued road work. He also served a combined 12 years on the Milnor City Council as well as Mayor. He served on St. Arnold's church council as well as trustee, a Boy Scouts committee member, and is a Knights of Columbus Honorary Life Member.
Joe loved fishing, hunting and especially tinkering with small motors.
He is survived by his wife of 51 years Janet, 3 sons Daren and James, West Fargo and Brian, Bloomington, MN; sisters Shirley (Ray) Jawaski, Adrian, ND; Marie (Tim) Kempel, La Porte, IN; Clarence, Wheatland, WY; Dana (Sandra) Banish Cayuga, ND; Robert (Carrie) Banish Milnor, ND; sister-in-laws Helen Banish, Fargo, ND, Karen Banish, Florissant, MO.
Joe is preceded by his parents; two brothers John Banish, Cayuga, ND; Paul Banish, Florissant, MO; sister Sonja Sperle, Napoleon, ND; sister-in-law Eugenia Banish, Wheatland, WY.
Visitation will be held at Boulger Funeral Home Thurs Jun 21st at 6pm with a prayer service immediately following at 7pm. Funeral Service will be held at Holy Cross Catholic Church Fri Jun 22nd at Noon. Burial is at Holy Cross Catholic Cemetery South also on Friday.
Seeking Info on Pat Beardstail show: Genevieve "Genny" Belgarde and David Belgarde
Tim Hyke: Stewartville, MN
Reply from Neola Kofoid Garbe:  Minot, ND
Hi, Gary.
This is a portion of the reply I received from Rod Romine's daughter concerning if Rod Romine might be able to provide information about Pat Bearsdale to Tim Hyke.  Hopefully, Rod will contact Tim.
Rod Romine's daughter reply:
"I will forward your email to dad and if he can offer any insight he can contact Tim Hyke."
Neola
VETERANS GROUP (2nd Posting)
Posted by Todd Poitra (Ginger '65 Son)
VETERANS GROUP
PLACE: ROLLA CITY HALL
DATE: 24 JUNE 2018
DAY: SUNDAY
TIME: 1PM – 5PM
Open to all Rolette County Veterans and active military. All branches of the military welcome to attend. USMC/ARMY/NAVY/USAF/COAST GUARD, to include all National Guard and any Reserve personnel. Also immediate family members will be welcome. Spouse/dependents. Widows and widowers of vets that have not been remarried.
The purpose of the vet group is to educate our veterans on any Federal/State/County programs or medical services the veteran may be eligible for. To keep our vets informed about changes and current happenings with existing programs. We also will answer any questions our vets or family members may have as it pertains to the needs of veterans.
As of now, no meals will be served but we will  try to have light refreshments available. Also watch for times and dates for our monthly meetings in the local paper or our local radio station.
THANKS TO OUR VETERANS FOR YOUR SERVICE.
Rolette County CVSO –
==============================================
Blog (721) posted on February 20, 2010
Sylvester LaRocque (Relatives)
Reply from Denise Lajimodiere: Moorhead, MN.
Ginger, the other brother is Curtis, married to Debbie Cree. Duel LaRocque is a first cousin. Alice his mom, and my mom Lola Lajimodiere were sisters. The were Plantes or LaPlantes.
Posted by Neola Kofoid Garbe: Bottineau & Minot, ND.
SYLVESTER LAROCQUE
July 22, 1946-Feb. 12, 2010

Sylvester Gerald LaRocque, 63, Dunseith, died Friday, Feb. 12, 2010, in a Minot hospital.
He was born July 22, 1946, to Jerome and Alice LaRocque in St. John. He married Shirley Myers on Oct. 17, 1975, in Rolla.
Survivors: wife; daughter, Shylow LaRocque, Dunseith; sons, Christopher Martin and Shane Martin, both Kansas City, Kan.; three grandchildren; sisters, Bernice Poitra, Linda Poitra and Jackie LaRocque, Debbie LaVallie, Joy Myers, Jeanette LaRocque, Annette Lunday and Sherry LaRocque; brothers, Ronald, Richard, Curtis and Brian.
Funeral: Friday, 10 a.m., St. Michael's Catholic Church, Dunseith.
Burial: St. Louis Cemetery, Dunseith.
Prayers service: Thursday, 8 p.m., in the church.
Wake: Thursday, 4 p.m., in the church. (Nero Funeral Home, Bottineau)
PO Box 821
Dunseith, ND 58329-0821
(701) 244-5338
Posted by Neola Kofoid Garbe: Bottineau & Minot, ND.
LAURA STRIETZEL
Nov. 24, 1911-Feb. 16, 2010

ST. JOHN Laura Victoria Strietzel, 98, St. John, died Tuesday, Feb. 16, 2010, in a Rolla hospital.
She was born Nov. 24, 1911, to Clyde and Emma Sager in Richland County. She married Otto Strietzel on June 15, 1934, in Rolla.
Survivors: daughter, Loretta Mayer, St. John; three grandchildren; three great-grandchildren; sister, Hazel Berg, Fargo; brother, Harold, Devils Lake.
Funeral: Saturday, 2 p.m., St. John Presbyterian Church, St. John.
Burial: Rolla City Cemetery, Rolla, in the spring.
Visitation: Saturday, two hours prior to the service, in the church. (Elick Funeral Home, Rolla)
Filipino poverty with families in need of assistance:http://garystokes.net/SponsorFilipinoFamily.aspx
Message from Brenda Hoffman (66):
I don't know how many of you remember some of the stories Gary has posted about the poverty of the Philippines, but one of his posts (or was it a personal communication?) struck a cord. I was in the midst of the usual frantic Christmas preparations when he wrote that most kids in the PI don't get Christmas gifts – their families barely have enough money for fireworks. Additional info from Gary indicated that many of the PI children are starving or malnourished. I asked Gary how I could send some money to a family with small children and he and I set up the following system:
I sent Gary a check at: Gary Stokes, PSC 517 Box RS/CC, FPO AP 96517-1000
Gary transferred my check into PI currency
Gary and Bernadette purchased food with the money and delivered it to the family in the pictures pasted below.
In the last few years, I have been hesitant to donate money to charities because I'm never certain that the dollars I donate will be used to help the people I want to help – I would rather volunteer my services. Gary altered that picture for me. He and Bernadette make sure that the children receive the food.
A bag of rice costs $14 for 25KG; $28 for 50KG. A $28 bag of rice will probably last a family of 8 for a month. Rice is the staple of all of their meals.
Most families have no stove to cook on so they set a pot on stones and cook with wood.
My thought was that anyone who might be interested in helping feed a family – particularly one with small children – might send Gary $5, $10 or whatever amount. And maybe, just maybe, those of us from the Dunseith area could sponsor one family or even a few families. Bernadette's sister works in social services in the PI and could help us target the poorest of the poor. The family I helped lives right behind Gary.
Gary added that he would make sure that contributors would get recognition at the Barangay level – the first level of government in the PI and of course receipts, etc to be used for US income tax purposes.
Brenda
Gary's reply and comments:

Folks; Brenda did send me a check of which I cashed and exchanged for Peso's. With Brenda's donation Bernadette and I purchased Rice and food and gave it to this family, pictured below (follow link posted above). 100% of the money she sent was used to buy food for this family. This family was so happy and elated to receive this donation. They are a family of 8 that live in a 5′ X 7′ house. They, like so many families in this country, often go without meals, for lack of food. There is no welfare in this country.

With Brenda's suggestion, we would like to help more of these folks. Bernadette and I are willing to purchase food and give to the needy families in our area with the donations sent. 100% of your money will be used to buy food or requested items for these folks. I will keep an updated listing posted on the Dunseith Alumni Website of the total moneys collected and how they were spent with pictures and listings of the recipient families. Individual donations will not be listed separately. We feel individual donations should remain silent. For United States Income Tax rules, we will keep detailed records, of individual contributions, of all moneys collected and where they were spent.

Please see pictures of some of the needy families on the next tab of this site (link above) that we will be giving our donations too. If you'd like to help a specific family, please let us know with your donation. If you have specific requests for your donation, please let us know that too.

I have a United States FPO address that you can mail your donations too. A regular US postage stamp is all that is required. The Mailing address is

Gary Stokes

PSC 517 BOX RS/CC

FPO AP 96517-1000

I will reply to each and every donation with an email message that we have received the donation. For those I do not have an email address for, we will make a personal phone call letting them know their donation has been received.

Thank you Brenda for your inspiration in seeing this thru. I am always amazed with how happy go lucky these folks are that have virtually nothing. These folks are always so very friendly and more often than not have a smile on their face.

Gary
Adventuresome night
For Verena (Pete 65) Gillis: Dunseith, ND.
Hey Gary,
I had quite an adventuresome night, had not been feeling very good for a
few days. Tried to get into the Dunseith Clinic and they were all full,
tried Belcourt Hospital, sat there for over an hour and you know me when I
have to wait too long for something….well, pardon the french but the
poop hit the fan, lol. I finally had to go to administration and boy did
they catch it. I was feeling dizzy, lightheaded, having chest and back
pain, my left arm was hurting, and my neck and jaw were misbehaving too.
What a day! Well, I ended up storming out of there and told them I was
going somewhere else and they would be receiving the bill. Of course,
that didn't happen since I couldn't get in anywhere anyway. I told Pete I
would go with him this AM to Rolla when he went to take care of Little
Pete's pickup. Anyway, started getting ready for bed, about 10:00 pm,
just couldn't get comfortable, so got back up and told Pete, I don't think
we should wait for tomorrow, call Brandi and see if she will take me. So
did that, then I called IHS and they told me they would be sending an
ambulance since they have all the necessary equipment in case of cardiac
arrest, wow! Anyway, ambulance gets here, begins the blood pressure
routine, tried to put an IV in but of course these little night crawlers
of mine kept ducking on them, (I have terrible veins). Then the one guy
starts to get real loud, 213 over 137, huh? I say, "is that my blood
pressure?" "Yes it is young lady." Oh oh, I'm in trouble, I thought to
myself, remain calm….into my mouth comes a nitro. I then pulled out my
cell phone and called Brandi letting her know everything that was
happening, "Holy …." was her reaction to how high my blood pressure was,
OK Mom, just relax, Dad and I are on our way. So here I am riding around
in this big old ambulance at 11:00 pm at night, pretty rough ride too.
Someone happened to be driving down our road at this time and of course
had to report to the Garden Tap where our Harold was. Then the calls
started coming in and we weren't even home, lol.
Longer story short, got to the hospital, got hooked up to an EKG,
meantime, blood pressure is going down gradually, still trying to get IV
into me, night crawlers still won't have that, lol. Did blood work,
X-Rays-very thorough doctor. In the end, seems my hiatal hernia was the
culprit and the blood pressure meds were not working for me. This was
about 5:00 am. OK, so what now, I am tired, I hurt and I just wanna go
home to sleep. Wait, gotta get that ole GI Cocktail first, yum, yum.
This numbs my esphagus-they then gave me a shot on the hip to relax me,
tells me I need to start relaxing more. Me? LOL. "I can't", I say, "got
a benefit on Saturday for Snowball Poitra who has stomach cancer. Been
having these just about every week for someone." Why? I was asked.
"Because my husband and I have been fighting this horrible monster for 14
years, we know the expense of driving back and forth, the cost of the
chemo or radiation, whatever it is they are having, IHS does not help
everyone so there you go, answer your question?" "Yep."
Well ya'll, hope this wasn't too boring, tried to make it as adventurous
as I could, lol. I look forward to hearing from you.
"Can't get a good girl down"
Verena 

Verena, We need you well for this reunion. You can't get sick on us like this. A friend of mine that I used to work with had a hiatal hernia problem too. Twice that I know of they hauled him out of the shipyard to the hospital and put him in ICU only to find out it was his hiatal hernia acting up. Gary
From Allen Richard (65): Midland, MI 48640
In case anybody thinks people in the Frozen North don't mean business—–
Allen