When Are Dunseith Days?
Question from Vickie Metcalfe ('70): Bottineau, ND
Gary,
I know the annual Dunseith Rodeo were  this past weekend, Friday and Saturday,  (June 22 & 23)
Annual St. John Days festivities  are  also this weekend.
Rolla Ragtop will be next weekend.
I was asked by someone, out of the area,  when are  Dunseith Days?
Hopefully someone will kindly respond.
Thank You.
Vickie M.
Dawn Allard ('74) – Recipient of "Employee of the year award"
Posted by Vickie Metcalfe ('70):  Bottineau, ND
 Hello Gary and friends of Dunseith School,
            Congratulations Dawn (Gregory) Allard  DHS '74,
regarding a  recent article which is news worthy to all  former classmates.
            Dawn  (Gregory) Allard,  former  DHS graduate is  the head school cook featured in the attached Bottineau Courant clipping.
Last fall I  told her, "Dawn,  Every time I look at the school  menu,  it  seems you're cooking food kids actually  like to eat."
Dawn   replied "That's why were here."  
           "We are here  for the students".
My thought , 
            "Yep Dawn, Right answer!    
No matter what kind of stressful day,  whenever one has a  good meal  created by a HAPPY cook  it makes a day go much  better."
 Dawn,
Thank you  for  coming in smiling every morning  at 4:00 a.m.  to create kid friendly meals, and double thanks for   greeting  each child as someone special.
Until later, 
 Gary's comments
 Congratulations Dawn. Well Deserved.
 I remember you so well from the your days and many years too, working at the Bottineau Bowl. My folks ate there evening supper there for many years. Of course dad was often in there many other times during the days too having coffee and visiting with you and his other friends too. He thought the world of you of which he told all too. You guys clicked well. You were one of his drawing cards for going to the Bowl. We will be forever grateful for your friendship and services to our parents. They idolize you. I know you will always remember the burnt toast too.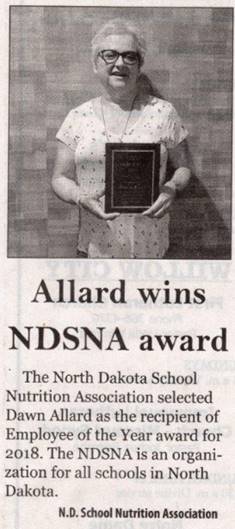 Shirley McCloud obituary
Posted by Vickie Metcalfe ('70):  Bottineau, ND
Gary and friends of Dunseith,
Sincere sympathy to the McCloud  family on the passing of Shirley McCloud.
Our class and other  DHS classes  attended school with many  of her McCloud  siblings. 
          I believe, the class of '70  (Kenny was her  younger brother).
I seem to  recall homecoming  while decorating  the class  float.
          Kenny entertained with his guitar.
Thanks Gary.
Until Later,
 Vickie L. Metcalfe
Shirley's Obituary
Shirley Yvonne McCloud
June 10, 1940 – June 14, 2018
Shirley Yvonne McCloud, 78 of Devils Lake, ND passed away peacefully on Thursday, June 14, 2018 in Buxton, ND in the loving care of her daughter Mary and Red River Hospice.
A Memorial Service, Rosary and Scripture Service for Shirley will be held on Friday, June 22, 2018 at 6:00 p.m. at Gilbertson Funeral Home Chapel with visitation from 4:00 p.m. until 7:00 p.m. A private burial will be held on Monday, June 25th  at St. Mary's Cemetery, north of Dunseith, ND.
Shirley was born at the family home in Bottineau County on June 10, 1940 to Collin Joseph and Agnes Mable (Houle) McCloud. The second oldest of 17 children, she attended boarding school in Wahpeton, ND and Flandreau, SD, graduating from Flandreau Indian School in 1958.  She met her husband to be Phillip "Skip" Longie at Flandreau, eventually marrying in 1960 and making Chicago, IL their home for the next seven years.  During this time, two children were born to them, Phillip Duane "Skip Jr." and Nancy Cheryl.  In 1967, Shirley and Skip moved to Devils Lake where a third child, Mary Kay was born.  They ended their union in 1972.
Shirley chose to remain in the Devils Lake area to raise her children and spent most of her adult life here apart from two brief stints in the Belcourt and Dunseith areas to care for an aunt and her mother during their declining years.
In 1992, Shirley began a relationship with special companion Edward "Eddie" Larson where they shared a life and brought together two families until Eddie's passing in 2003. She remained close to Eddie's children and their families up to the time of her passing.
Shirley had a varied work career with the most tenure at Sioux Manufacturing Corporation, Turtle Mountain Corporation and lastly with Devils Lake Public Schools working at the Central Middle School, where she eventually retired from in May 2017. She also worked part-time at the KC Hall every Tuesday for Taco Night.
Shirley was a hard-working individual who had many friends and was always willing to help anyone that needed a hand. She was always willing to volunteer her time and was one of the cornerstones of her large family, often being the organizer of the large family gatherings.  She loved and was especially proud of all her grandchildren and great grandchildren, always interested in their lives and accomplishments.  Even close to the end, it was her grandchildren and great grandchildren that would lift her spirits either through pictures, videos or in-person visits.  While Shirley will be missed greatly by all she touched, she will be especially missed by her close siblings and her three children.
Shirley's loving family include her children, Phillip "Skip Jr." (Cheryl) Longie of Phoenix, AZ, Nancy (Hyllis) Dauphinais of Phoenix, AZ, and Mary (Kevin) Longie-Bailly of Buxton, ND; eight (8) grandchildren: Jonathan (Brittany) Dauphinais, Alyssa (Craig) Longie, Brett Gaspard, Orion (Melissa) Dauphinais, Jordan Longie, Hyllis Dauphinais, Jr., Alexander (Sarah) Rask and Zoya Longie; three (3) great grandchildren: Isabelle Anderson, Quinn Goo and Harper Dauphinais; siblings: Ernest (Sally) McCloud, Peter McCloud, Sylvia Haakenson, Donna (Kenneth) Johnson, Leland McCloud, Clayton (Marilyn) McCloud, Clinton McCloud, Kenneth McCloud, Bonnie McCloud, Dale McCloud, Collin (Germaine) McCloud, Jr., Colleen (Arthur) Cartwright, Byron (Lynn) McCloud, Kevin (Louella) McCloud and Ann (Tom) Cartwright; as well as many nieces & nephews.
Shirley was preceded in death by her parents, her toddler sister Viola, and her special companion Edward Larson.
==============================================
Blog (72) posted on February 21, 2010

Memories of and condolences to the Laura (Sager) Stretzel family:

From Vickie Metcalfe (70): Bottineau, ND

Gary,

A few years ago, My sister-in-law Deb gave me a photograph.

Mrs. Laura Stretzel had just entered the nursing home in Rolette.

In her collection of memorabilia she had a photograph she handed to a

granddaughter and instructed her to give it to one of Lottie

Metcalfe's family. Deb in turn gave it to me…………Deb says it

was because I am the keeper of the family history…….I treasure this old photograph, which my mother verified of

her maternal grandparents,Holmes Township Rolette County residents.

Mom also identified her great Uncle Welch, her mum Sylvia, aunt

Ocie and their brother Carl circa early 1900's. My mom's

grandparents Sam and Elizabeth (Welch)Wicks came to ND from Iowa in

a covered wagon They were long ago friends of the Sager family.

I always wanted to go see Mrs. Stretzel and thank her in
person but regretfully, we all know good intentions are not always
followed by actions.

My sincere sympathy to the family of Laura (Sager) Stretzel.
Thanks. Vickie Metcalfe

Message/Picture from Dick Johnson (68): Dunseith, ND.

Gary and Friends,Quite a while back, Trish Larson Clayburgh said she had never seen my

dad, Don Johnson, with anything but a clean suit of clothes. I mentioned

that he did get dirty often and just never went anywhere without

cleaning up. Last night I ran across some old pictures of us that were

taken back in 1952 here at the farm. Both pictures were taken the same

day. It is nearly impossible to do any part of farming without getting

dirty, at least not the way we farm. Most folks never knew Dad even

farmed at all, thinking he was just a teacher and was always dressed

with a suit and tie. Such was not the case! These pictures are of Dad

and Grandpa Hans and me, taken in the shade of the trees, at a lunch

break in the field, and me at age 2 back in the yard later in the

day—yes I got dirty even then! Thanks Gary!

Dick