Don Johnson Memories
From Bill Hosmer ('48): Tucson, AZ
Dick Johnson,
I really enjoyed reading about your Dad, Don.  I was two years behind him in the Dunseith school, but we played basketball , and shared the friendship of all of us who  lived in that time. There was no other male with the voice that he had and impressed us  at different events and celebrations.  I believe he was the handsomest guy that ever attended our school. Besides all of his attributes I mention, he was a good friend and I will never forget  him and Bernice. Respectfully,
Bill Hosmer
Dunseith Days schedule
Reply from Cheryl Larson Dakin ('71):  Bedford, TX 
Hi Gary and all
I am so  happy to see that Dunseith Days will take place during my trip to ND this summer. I just made reservations for the first week of August and then opened this email. Yay!
Cheryl Larson Dakin
Dunseith Days schedule
Reply from Vickie Metcalfe ('70):  Bottineau, ND
Gary, Verena, and Friends of Dunseith,
I am most appreciative of your response Verena.
I know many folks  from a distance  read the Dunseith Blog.
Accommodations  this time of year, can be difficult to find.
(during the summer  area  motels are booked for wedding guests)
Thanks, Verena and Gary …….. many times, you are the social committee.
Later. Vickie
Lisa Counts-Ogden Obituary
Web Link posted by Vickie Metcalfe ('70):  Bottineau, ND
http://www.elickfh.com/obituary/lisa-counts-ogden
Sincere sympathy to the family of Lisa Counts-Ogden.
            "She was a happy, joyful person who always had a smile on her face…"
was used to describe her in the obituary.  It is  comment describing  Lisa's disposition perfectly.
I know this to be true  because,  I knew Lisa as an elementary student.
I hadn't t seen her for years, then a couple years ago, she sought  me  out at at the local Wal -Mart.
Lisa  told me she had completed college  and was a teacher, and  she still loved  to read. I was  delighted! She shyly said, "I wanted to tell  you because  I  knew you'd be proud of me." O my garsh  she blessed me,  touching my heart.
Bless  the memory of Lisa Counts Ogden.
Most Sincerely,
Vickie L. Metcalfe
(former 3rd grade teacher)
Ballard Locks
posting by Vickie Metcalfe ('70):  Bottineau, ND
https://www.youtube.com/watch?v=u8D1mwchrCA
Gary and friends of Dunseith,
Aww to see this!
Many folks in my family and   folks of my parents generation relocated to WA, after the Great Depression, looking for  WORK. During WWII they worked on ship building  etc.
My dad enlisted in the navy there.
After WWII my dad and several uncles worked  construction.
At Seattle, Dad and Uncle Emil trained  in their profession.
They apprenticed, became journeymen then master Plasterers.
They were well acquainted with  the Pacific North West.
People  from North Dakota often gathered  yearly for North DAkota picnics.
They kept  relationships, and raised  baby boomers.
I don't think the North Dakotans  gather any more for yearly picnics.
One of my uncles wanted me to apply for jobs at Boeing.
He told me, "North Dakotan's were known for their work ethic."
I never applied. I couldn't see myself …. a happy person in a city.
However I love the Pacific North West
The smells of wood mills, the salty sea air combined with  tangy lush pine I enjoy visiting.
I went to the Locks  various times with Washington Cousins.
What a  great interesting  sight to see!
Washington Cousins always  took time for  me and  gave me the gift
of   many adventures exploring such great places like the Ballard Locks!
They opened their doors to adventures for……. the next generation,….. my kids a.k.a.  my nieces and nephews.
Later,
Vickie Metcalfe
==============================================
Blog (724) posted on February 23, 2010
Posted on February 23, 2010
Reply from Trish Larson Wild (73): trishclayburgh@yahoo.com FORT COLLINS, CO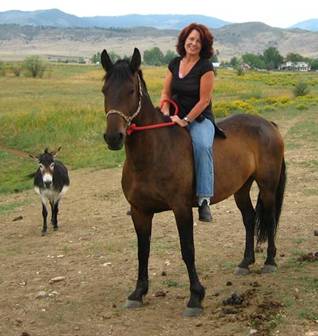 Hello everyone! Gary, I have to thank you again. I have heard from old friends and new via your daily missive and I'm so in awe of the heart and spirit of the north dakotans who carr for each other. I haven't had time to respond yet to each individually because I've been worrking non stop lately, but I sure will soon and want each person to know how much I appreciate your support! Mr Metcalfe, I sure appreciate your comments and you bet I will keep in touch with all my nodak friends through this daily blog of Gary's. All is going very well and I'm hoping to ride in to dunseith for the reunion. It might be a case of "kicking out the ladder", but I'm just about ready…
I think this blog is quite unique in the world, and Gary, I'd like to thank you again for the effort you put forth to bring us all together.
By the way, I have officially changed my name to Trish Larson Wild,
I hope to live up to the name!
Blessings to all of you….
And I have to say, I think the class of 73 rocked! I know we had fun….
Trish
Trish, we are excited to see you come riding in on your horse all the way from Colorado. What an undertaking an adventure. How many days do you think it will take you to make this trip? Once you get to Dunseith, you'll have the ride back too. Gary
Interesting article on Jay (66) and Lola Metcalfe (68) Vanorny:
http://www.areavoices.com/ag-at-large/?archive=2009-02
Posted by Bill Grimme (65): Birmingham, AL.
Mikkel Pates, reporter/columnist for Agweek magazine of Grand Forks, blogs from Fargo, N.D., about ag issues in North Dakota, South Dakota, Minnesota, Montana, Manitoba and Saskatchewan. His postings and ag-at-large column are designed to support the development of successful entrepreneurial farms and agribusinesses.
Religion, farming and freight — at the border
I couldn't help but stop and chat with Jay Vanorny of Dunseith, N.D. He lives on the west side of U.S. Highway 281, just a bit south of the Canadian boarder.
Vanorny told me he's primarily in the cattle business. He started out in 1966 with 250 ewes, but in 1968 sold those and went into cattle. Both he and his wife Lola used to work at the San Haven Sanitorium, until it was abandoned in the late 1980s. "I took my retirement and bought more cows," Vanorny says. He's at about 100 cows now — a kind of "Heinz 57", with some Gelbveih and Charolais. "Mostly black and black-and-white faced," he says.
But there's a couple of other interesting things.
First, there's that farm shop you see behind Vanorny. It's actually the old church that used to sit near the Little Prairie Cemetery. The congregation started in 1907 and the church was built in 1910. The church was abandoned in the late 1950s or early 1960s. In the 1980s, he bought the building. "Them old Norwegians had lots of nails and lots of time," he said, describing the cans upon cans of nails he pulled from the subfloor so he could use the building for a farm shop. And the attic area of the church has enough lumber to build a house.
Second, there's a 40-by-60 foot steel building — a freight depot. Vanorney and his wife operate Border Depot Shipping Services — a holding place, if you will, where U.S. shippers who don't want to go into Canada send things. Then, a Canadian shipper comes and gets it and goes through Customs. It started several years ago when a sister-in-law, working as a broker, wanted to get soem packages into Canada. It just kind of grew gradually as a second job, and last year, Vanorny built a new building.
"Nothing is too big or too small," Vanorny's motto is. "You name it, I think I've seen it," he says. "Boats, snowmobiles, cars, appliances. Plants."
Now that's what I call diversifying the farm.
He also operates a freight service in which U.S. shippers who don't want to cross the border drop items. Canadian shippers will come across the border, pick up the items and go across.
Posted by: mpates on 2/22/2009 at 10:12 PM | Comments (0) | Permalink
Pictures Posted by Mary Eurich (62): Dunseith, ND.
Hi Gary
I thought this at first might be Ackworth School reunion/picnic of some sort but then I don't know if the school had a bell on top and all the men
are dressed in suits and hats so maybe it's a church doings
I've scanned the picture with a magnifying glass and cannot positively identify anyone. Maybe all the kids are our parents.
The picture with the family on the porch are identified as
the John Johnson & family and Mr & Mrs Bog – Bog's golden wedding anniversary – neighbors. Turtle Mountains. Is this the same Johnny Johnson family originally talked about from up in this area or was their more than one of them too?
The single man is labeled Casper Johnson 1928. If theres a connection – I don't know. I always think there is somebody out there with the same pictures that will know the answers. Thanks. Mary K
This is what is written on the picture. Does anyone have any idea which Johnson family this would be. Have any of you heard of the Bog's?
"John Johnson & family and Mr & Mrs Bog – Bog's golden wedding anniversary – neighbors."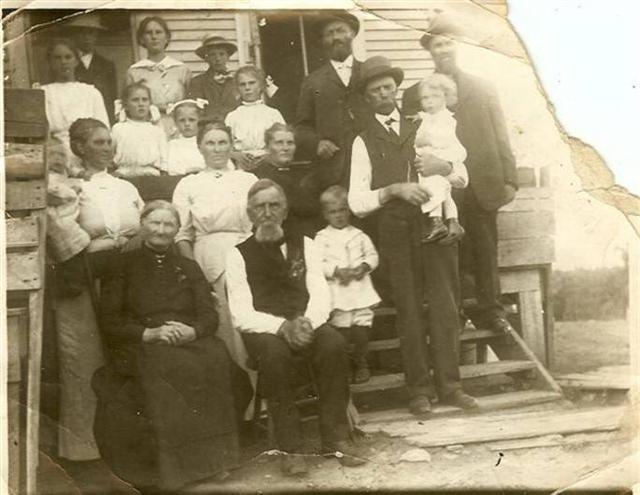 There is a Casper Johnson (1872 -1937) listed on page 260 of the Bottineau Centennial book. He was married to Hanna Haagenson. Hanna died in 1926. He Later Married Lydia Erdman and lived in Minot. Anna (Mrs. Joe Sebilius) and Clara Hanson were Casper/Hanna's daughters. Could this be the Casper Johnson in this picture? Gary
Casper Johnson 1928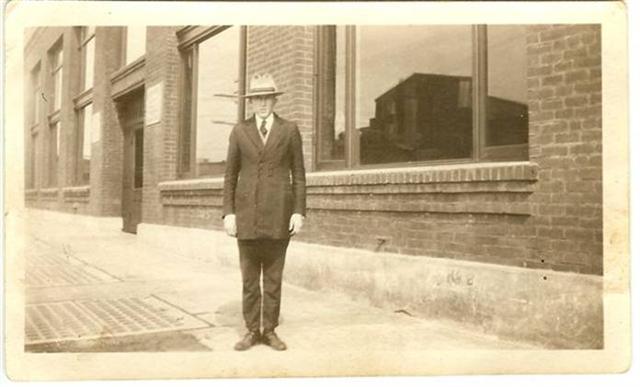 This could very well be the Ackworth school. I remember a tree on the other side of the school in that exact spot. Of coarse in my day, it was much larger. Ackworth had a bell too. Folks, please let us know what you think, if this is Ackworth or not? In the back of my mind, I think I remember seeing this same picture in some of my folks old pictures and it was labeled Ackworth. We'd like some comments on this one. Thanks, Gary