Reply to Bill Hosmer ('48)
From Dick Johnson ('68):  Dunseith, ND
Gary and Friends,
I just want to tell Bill Hosmer thanks for the nice complements to my dad and mom.  They also had a deep mutual respect for you Bill and were proud of the achievements you made as a kid from a small town growing up and doing exceptionally well in the Air Force and beyond.  I still have the articles about the Thunderbirds that Mom saved out of the newspaper.  As far as Dad's singing,  I always wondered when he really started singing?  It never occurred to me that I should have asked him?  Not too long ago,  I found a clipping that my grandmother had from a church program in Towner ND where they lived from 1933-1944 and there was an acknowledgement that "Donald Johnson sang a song accompanied by his mother on the piano."  That would have put him somewhere in grade school, so he started pretty young.  He had boxes of funeral cards and wedding cards from those he had sung for over all the years.  I still have those too.  Thanks again Bill and thanks Gary!
Dick
Judy LaCroix  McGuire (DHS '59): New Journal Entry on Caring Bridge Site
https://www.caringbridge.org/visit/judymcguire2/journal/view/id/5b4159b42cd9af890ecccdd6?utm_source=JEN&utm_medium=email&utm_campaign=JEN+email&token=ZXlKMGVYQWlPaUpLVjFRaUxDSmhiR2NpT2lKSVV6STFOaUo5LmV5SjFjMlZ5U1dRaU9qWTFOekExTkRZc0luSmxjMjkxY21ObFNXUWlPaUkxWWpReE5UbGlOREpqWkRsaFpqZzVNR1ZqWTJOa1pEWWlMQ0owZVhCbElqb2lhbTkxY201aGJDSXNJbWx6YzNWbFpFRjBJam94TlRNeE1ERXhNall6ZlEuYzF5S3F6RVBXQ1lmQWR1bHpwTTBrbHc0QW8yRU43UWd0Y3MzRXRMYmVsWQ%3D%3D&utm_content=visitsite
Journal entry by Lynn Negaard — 9 hours ago
We watched mom grow weaker and less responsive in the past 24 hours …we were not sure what the cause was other than it's must be related to the tumors or the treatments she's had.
Around noon we decided she needed to visit the ER to evaluate the situation.  All her vitals are good.  They did decide to admit her to the hospital here in Litchfield.  Around 5pm she "woke up" and has been more alert but is still weak.
They are going to try the steroid treatments again which were very helpful last time.  She will be in the hospital until she is stronger.
We'll bring her down to Mayo this Tuesday and Wednesday for a planned visit.
She fell almost two weeks ago so you can see her bruises in the pictures… old news for us but maybe not for those who haven't seen her.
Evelyn Ardell Nelson Kriz (DHS '44) Obituary (Abe Nelson's Daughter)
Posted by EdnaMae Nelson Olufson-Smith
Hi Gary:
I have never met you, but enjoy being included in the Dunseith blog.  Attached is my sister, Evie's obituary.  I was sad to see Marie Parrill's obituary last month.  My two older sisters, Lauretta and Evelyn, were best friends with Mildred and Marie.  If I get this attachment to you, I will try later with some pictures when Ramona and I visited them in 2015.
Thanks,
EdnaMae
Posted by EdnaMae Nelson Olufson-Smith
This photo was also in July 2015.  Our two older sisters (both deceased now) were best friends to Mildred and Marie Parrill.  We had a special coffee time at Marie's home.
Marie and Thurman Parrill lived on our farm when they were first married.  Abe moved into Bottineau to work with a brother from 1947-1950.  Carlyle graduated from Bottineau High School in 1951.  LaVonne (Vonnie) and I lived with our aunt and uncle, Art and Christine Lokken.  Thanks, EdnaMae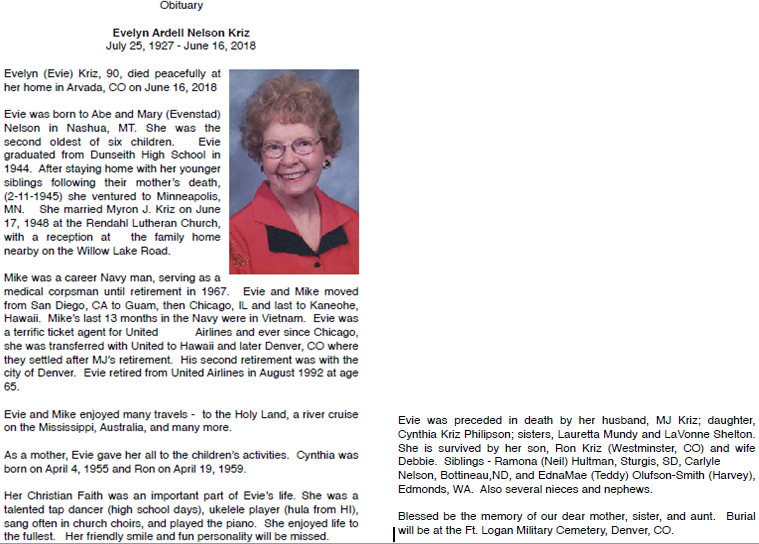 Gary:  This is one of two photos I will send.  The summer of 2015 Mona and I were back in ND for a Nelson reunion.  So we went to see old friends.  Mona and Joyce Hagen were best of friends.  I was pleased to see Joyce again in 2017 when visiting another "old" friend at Good Sam in Bottineau.  Ramona is 88 years old and her husband Neil Hultman is 89!  They live in a beautiful log home between Sturgis and Deadwood.
I will be 78 on the 30th, so I guess we are all "old" now.  Thanks, EdnaMae
Peace Garden Events/July 14, 15
Posted by Neola Kofoid Garbe:   Minot, ND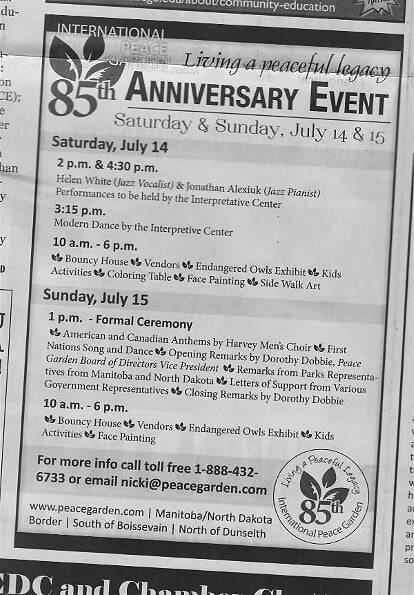 ==============================================
Blog (725) posted on February 24, 2010
Posted on February 24, 2010
Dan Morgan, Former DHS Teacher, passed away:
From Judy Morgan: Edgeley, ND
H. DANIEL (DAN) MORGAN
Graveside services for H. Daniel (Dan) Morgan, Edgeley, ND formerly Wishek, ND will be held in the spring at Milnor Lutheran Cemetery, Milnor, ND.
Dan Morgan, son of John and Anna (Schiffner) Morgan was born June 19, 1937 rural Englevale, ND. Dan grew up and attended school and graduated from Lisbon High School. He attended Valley City State University earning a BS in education. Dan was married to Judith Nelson October 8, 1955 at Milnor, ND. Dan taught in several North Dakota schools before moving to Wishek in 1970 where he taught for four years. Dan and Judy owned and operated J'S Gift Shop and Craft Supply in Wishek. He continued to teach throughout North Dakota until 1987 while pursuing graduate work in Physics and Math. Dan also worked for North Dakota School Assemblies and the National School Assemblies. In 2003 they moved to the DJ Ranch west of Edgeley, ND where he continued to live until the time of his death. Dan was a member of St. Luke Lutheran Church at Wishek, ND. Dan will be remembered for the love of his family and friends, teaching and a lifetime love for his horses.
Dan died February 22, 2010 at his home under the care of Prairieview Hospice. He was 72 years old.
Dan is survived by his wife Judy; one son Scott Morgan, Rosholt, SD; three grandchildren; Richard, Abigail and Daniel S.; two sisters, Eva (Wally) Buckmiller, Tonasket, WA; Mary Jane Gullingsrud, Minot, ND; three sisters-in-law, Mavis Morgan, Ottertail, MN; Iris Barta, Moorhead, MN; Marvel Stockstad, Milnor, ND; one brother-in-law, Steven Nelson, Minneapolis, MN; two Godchildren, Susan Morgan, Louisville, KY; JoAnn (Bob) Gray, Atlanta, GA; two aunts, Rita Bachman, Pierce, NE; Marie Bachman, Renton, WA; several nieces, nephews and cousins. He was preceded in death by his son, Richard and infant son Daniel C, an infant daughter, parents, brothers, George and James, step-father Herman Jensen, and five brothers-in-law. Visit www.dahlstromfuneralservice.com to sign online guest book and share memories. Dahlstrom Funeral Home of Wishek ND entrusted with arrangements.
Bottineau Centennial Book:
Request from Kay Hildebrandt (Cousin to the Pritchard's & Thompson's):
Gary, Could someone please tell me how I can obtain a copy of the Bottineau Centennial Book? City, historical society, or ? Thanks, Kay Hildebrandt
Kay, I'm sure some of our readers can help you with this request. Folks can order the Dunseith Centennial Book from the Security State Bank in Dunseith or the Log Cabin. Gary
Reply to Ackworth School Picture:
From Florence Hiatt Dahl (50): Anchorage, AK
I went to Ackworth 7 years–those sure look like the windows I looked out of a zillion times. I remember a car went by pulling a horse–the horse died right by the school………………I..remember the anger–even as child–I KNEW the idiot had killed that poor animal..
Reply to Ackworth School Picture:
From Marlys Hiatt (71): Dunseith, ND.
I'm thinking the school could be achworth. I remember there was a bell
and a tree in the same place but much larger. The one thing that is
missing is the big steps on the front but maybe the people are covering
them.
Marlys Hiatt
Reply to Ackworth School Picture:
From Dale Pritchard (63): Leesville, LA
Gary / Mary,
I would say it's the Ackworth school. It's position is correct in
relation to the road, it did have a bell, the tree is right although
considerably smaller, and the road seems to be a little higher than the
level of the school which is correct (unlike the Willow Lake school
which was higher than the road). I believe the hill in the distance on
the left was behind Willie Hiatt's barn. I remember we had a small barn
on the back right of the school lot which wouldn't show on this picture.
I guess it was a souvenir of when kids rode horses to school. I don't
remember the tall windows. Maybe it was remodeled somewhat before our
time. Surely all those kids did not go to school there at the same
time. I remember an average 12 – 15 of us back then and, although we
had room to move around, most of the room was used.
Mary, Thanks for sharing the old pictures. I have never seen a lot of
them before now. When moving around as much as I did for so long, one
tends to keep from collecting a lot. But that's our regret in later
years. Keep 'em coming! We have snow in the forecast again for
tomorrow. If the forecast is right, it will be the 3rd time this year.
Very rare. The usual is once every 3 to 4 years.
Dale
Dale, Florence & Marlys; I so agree with both of you that this is Ackworth. About the time I started school in Ackworth, in 1953, I remember those windows being replaced with shorter windows. I remember all the talk about how much it changed the appearance of the school. Marlys, I remember well those steps being replaced. It was about the time you started school. I know Mrs. Phelps was our teacher at the time. In my day we had an oil burner stove for heat. In the years before my time they had a wood stove. I also remember the barn in the school yard. In my dad's day, the kids rode their horses to school. Margie Hiatt often talked about how disgusted she was with my dad for eating all the raw eggs that her chickens laid in that barn. Dad loved his raw eggs and burnt toast. Gary
Bog Family:
Reply to picture posted yesterday from Eileen Brudwick: Fargo, ND
Hi Gary,
I just happen to know something about the Bog family! Ole & Eli Bog are the parents of: Anna, Knud, Ellen Carolyn Bog Smulan (wife of Ole Theodore Olsen Smulan), Bertine, and Oletha Bog Johnson (married to John M. Johnson), Oletha died in National City, San Diego County, California in 14 January 1967. She & John had at least 7 children.
Ole Theodore Olsen Smulan is my husband Mike's 1st cousin three times removed. Small world isn't it! I am happy to see this picture of the family! It's one I didn't have. The golden wedding celebration was 25 June 1913.
Thanks again Gary for all you do!!
Eileen
Casper Johnson:
Reply to picture posted yesterday from Eileen Brudwick: Fargo, ND
Gary,
Casper (as far as I know) is an adoptive son of John & Olette (Bog) Johnson. Casper Adolf Amundson was born, 9 November 1908 in Bottineau County, North Dakota and died, 6 November 1986 in San Diego County, California. He was married to Peggy ??
Eileen
Thank you Eileen. You can sure solve a lot of unknows with the resources you have. It's great!
Folks, do any of you remember the Bog family or this Johnson family? I'm thinking they may have lived in the Willow Lake township area possibly on the Bottineau County side? The Brudwick's lived west of Rendahl church in Bottineau county. Gary
Axel Johnson's first wife Mary:
From Dick Johnson (68): Dunseith, ND.
Gary and Friends,
Gary Metcalfe is right. Axel Johnson's first wife, Mary Olson
Johnson, died in the flu epidemic of 1918. He actually was also sick
with the flu and had to lie in bed with her for a couple days after she
died because he was too sick to get up. This is what my grandmother
related to me many years ago. Not very many people survived if they
contracted this deadly disease. Little Prairie Cemetery has an area in
the northeast part of the cemetery that is filled with victims of the
flu. Cliff Salmonson told me that grave digging crews worked day and
night and took turns warming up at Millang's farmhouse across the road
from the cemetery. We have had to leave this part of the cemetery 'as
is' because we have no idea how many or where the graves are for sure.
They buried victims through the winter and just moved over a bit and dug
another grave. The dead just kept coming and coming, according to Cliff.
If you look in any local cemetery, there are always dates of death in
1918 and the victims are of all ages, young and old alike. This was from
the flu epidemic. Thanks Gary!
Dick
Reply from Trish Larson Wild (73): FORT COLLINS, CO

Hi Gary, Wow. You really went back in the archives for the photo of me on Magic, my gelding. I thought I better send a couple of more recent photos of riding in the Rockies. You asked how many miles a day I could ride. Of course it depends on many factors including terrain, weather, fitness, weight, breed of horse, etc. A common conservative long distance mileage to keep horse and rider sound, fed, healthy and happy is about 25 miles per day, 125 per week, 500 per month. I think I can do a bit better than that on the route to North Dakota, for a number of reasons. Therefore, if I'm going to do it, I would like to leave by April 1, which doesn't leave much time because I'm already committed to travel to Costa Rica from March 3 to 9. I'm heading down to that beautiful country to further develop some contacts and scope out my future route through the rain forest and swamplands of the north. I don't know if I can pull everything together in time to make the trip to North Dakota, but I am going to try. It all depends on how quickly my website comes together and sponsors come on board. I have been encouraged by the feedback, invitations, and interest from your readers, so I'm hopeful it will all work out. Mainly, I'd like to do it because I think it would be fun and a good challenge. I'm off work in the ER the next two days, and I'm hoping to get my website up. With some luck and elbow grease, I think I can get it done – or at least get a good start. Does anybody out there know a good web marketing consultant? In the meantime, here's a link to a website I developed for people interested in losing weight. I lost 40 pounds this past year and so many people asked me how I did it, so I just made a website that tells the story. The reason I'm sharing it is because there is a good photo of my Morgan mare, Miss Maggie on there. If I make the reunion, I will be riding her most of the way. She is the bomb! Plus, there is info on healthy weight loss, which might be interesting to people. The system I used is called a Raw Food Diet, which is healthy and was easy for me to follow, Anyhow, for anyone interested, the link is livingarawfoodslife.blogspot.com. Well better call it a night! Big Thanks to everyone who has written to me to offer encouragement. I need all the help I can get! By the way Gary, I am texting all this on my iPhone so please feel free to correct any typos you might notice. Not that I worry any of my former teachers might be reading this or anything (lol). To finish up, here's another timely quote from my heroine, Amelia Earhart: ."