Posted by Neola Kofoid Garbe:  Minot, ND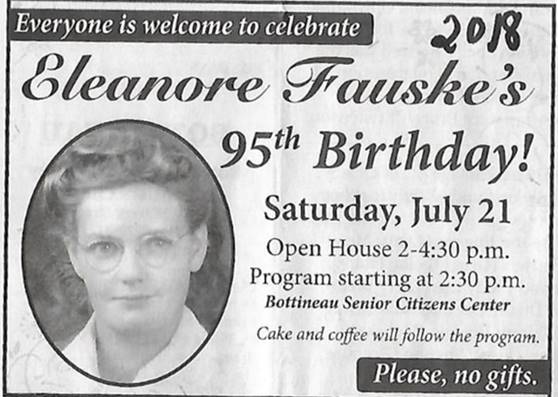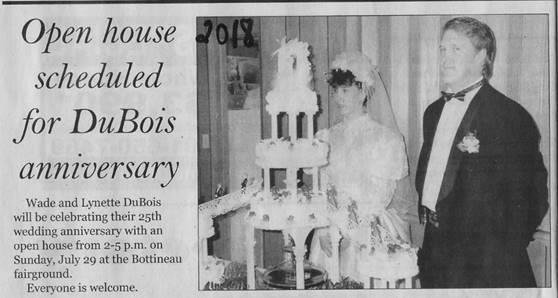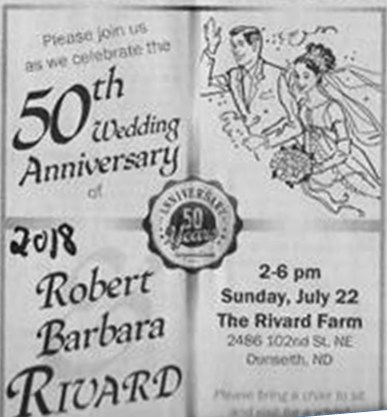 Dale's – 3 years ago today
Henry Hackman ('66) Enjoying a Dale's Jumbo burger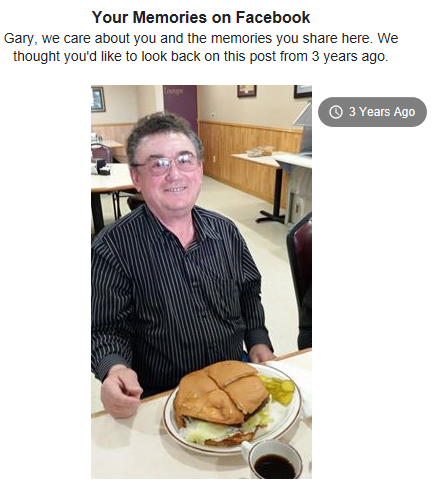 Daniel Luther Lovaas Obituary
Posted by Kaye Lystad-Kirk:  Fargo, ND
Hi Gary,
Doreen (Larson) Moran had mentioned Danny Lovaas' death and had asked about retrieving an obituary for him.
I had heard of his death from my aunt Joan (Emerson) Wall as she is friends with Danny's wife, Eunice (Larson) and was in their wedding. I'm also pretty certain that Doreen is related to Eunice.
At any rate, I found a link to Danny's obituary at a funeral home in Bella Vista, Arkansas, where Lovaas' were living:
Gary's comment.
I believe Eunice Larson Lovaas is a sister to Doreen Larson Moran's Father (Ledolph Larson).
Daniel Luther Lovaas
June 17, 1927 – June 28, 2018
Daniel Luther Lovaas, 91, of Bella Vista, Arkansas died peacefully Thursday, June 28, 2018 at home. Daniel was born June 17, 1927 in Taylor, Wisconsin to Grace and Olaus Lovaas.
Daniel served in the U.S. Army and worked as a finish carpenter in the construction business.
He was preceded in death by his parents and his three brothers: Orren, Henry and Paul.
Daniel is survived by his wife, Eunice; daughters: Patricia, Linda, LeAnn (Joe) Cisneros, Kathy; son, Bradley and grandchildren, Erin and Matthew Cisneros.
A memorial service will be held at 10:00 a.m., Saturday, July 7th at United Lutheran Church in Bella Vista. Lunch and a time of fellowship will follow the service.
Memorials may be given to the United Lutheran Church.
Arrangements are provided by Bella Vista Funeral Home & Crematory, Inc. On-line condolences may be made at www.funeralmation.com.
SERVICES
Memorial Service
Saturday, July 07, 2018 10:00 AM
United Lutheran Church 100 Cooper Road. Bella Vista, Arkansas 72715
==============================================
Blog (730) posted on March 1, 2010
Reply from Virgil Rude: Minot, ND.
Hello Gary,
Thanks for sharing the pictures of Ackworth School and my old school
which was named "Happy Hill School " which was later given to Homen
Township as a town hall when the school was closed. My mother attended
Ackworth and I believe your father attended at the same time. As ever,
Virgil R
Virgil, I wasn't aware that you mother, Voila Bjornseth Rude, attended Ackworth, but with the Pritchard's and other close neighbors of hers having attended Ackworth, it stands to reason that she would have too. Gary
Reply to Kenny Nerpel's posting posted yesterday:
from Allen Richard (65): Midland, MI
I've been to that general area several times since leaving ND for MN, DC and MI. It is always beautiful, and driving in some of the areas of Appalachia are as challenging as they are fun and educational. I've done those trips with Susan and her parents, Susan, Alaina and my older kids, and just for the hell of it when we lived in DC. There is a beauty there that is unequaled anywhere.
A rendezvous is not a bad Idea— Say Gattlinburg — Dollywood? And there is always Nashville!!!!!
Allen
International Peace Garden – Connie Peterson Lagerquist (74):
Posted by Vickie Metcalfe (70): Bottineau, ND.
Note article in todays Minot Daily
http://minotdailynews.com/
BORDERLINE BEAUTIFUL
Connie (Peterson)'74 Lagerquist (daughter of Lorraine and Duane Peterson)
Connie Lagerquist, staff horticulturist, maintains many plants during

the winter months at this International Peace Garden's greenhouse.

Lagerquist also starts new plants from seed each winter that are

destined to be transplanted throughout the Peace Garden
Athlete of the Week photo posted yesterday:
Reply from Vickie Metcalfe (70): Bottineau, ND.
Gary,
Please note: athlete of the week photo in the Bottineau
Courant posted in the blog, The three seniors are all hockey
teammates.
Myles Brooks is the son of Kristy (Hagen) and Larry Brooks,
grandson of Orville and Gloria Hagen. Another Hagen grandson, Cody
Brooks in grade 10 is one of the goalies for the Bottineau Hockey
Team.Vickie
Vickie, I know Kristy Hagen Brooks. She and Larry live on the Former Elmer Lindberg farm located about a half mile into Bottineau County on Highway 43. Elmer was Alice McKay's brother. This is where she was born and raised too. Gary
Confirmation picture posted by Neola Kofoid Garbe: Bottineau & Minot, ND.
Deb Brudwick Sapp is Neola's first cousin. Rodney Parrill's parents are Thurman and Marie Parrill. Brenda Hiatt Parker's (73) parents are Freddie and Margo Hiatt.