Great Caption
From one of Bill Hosmer's (48) Postings: ftrpilothoz@gmail.com Tucson, AZ
"It is better to be thought a fool
then to open your mouth and
remove all doubt".
==============================================
Blog (741) posted on March 12, 2010
Question from Bob Lykins (Former Teacher): Hutto, TX
Gary,
How much does it cost to support a family of 8 in your village with food for one month?
Bob Lykins
A family of 8 with younger children can have a balanced diet for about $100/month. Rice is their staple and a good filler. A 50 KG (110 LBS) bag of rice will last about one month for a family of 8 with younger children. Rice is their main coarse for all meals. A bag of rice costs about $28. A rice diet alone without much other food tends to create pop bellied malnutrited folks. Gary
Mustang Car:
Reply from Dick Johnson (68): Dunseith, ND.
Gary and Friends,
Brenda's memory of the early Mustangs is appreciated. The way the Mustang that I had came to us, is a story in itself. Dad bought a lot at Lake Metigoshe in 1956 for $500. He moved a small cabin to the lot by himself and with the improvements had probably a couple hundred dollars more invested. Nine years later we were kind of burned out with the lake deal and a fellow offered to trade Dad the blue and white Mustang, even up, for the lake cabin. The car had around 1100 miles on it and was worth around $3400 so Dad jumped on the deal. When I graduated in '68, he gave me the car with a couple stipulations. I had to stay at the farm and feed the cattle and watch the new house they had just moved there and also trade him my brown and gold '57 Ford Fairlane 500. I drove the Mustang to college in Bottineau for two years and had racked up about 75,000 miles on it. I traded it to Leo Lamoureux for his '67 Ford LTD in 1970. Jay and Gayle Lamoureux bought the Mustang and Gayle still has it, the last I heard. I was told that she had it professionally restored in Arizona. Someday I would like to see it again. In the late '70s, Mom said she would like to have another Mustang. I was doing a lot of car stuff and ran into a kid in Bottineau who was just putting a 'for sale' sign in the windshield of a blue '68 Mustang fastback. He was asking $1000 and I had $830 in my billfold—he took it on the spot! Mom drove the Mustang to work at the bank until she died and now I still have the car in the same condition as it was in 1980. It needs a paint job and maybe tires as it has the same tires on it yet. We start it twice a year, spring and fall, and drive around the farm a bit and run it back inside the quonset. The original owner, at least the guy I bought it from, has made several trips up to see it and once made an offer that is well over 10 times what I paid him, but it's still here! My son has a '68 Mustang GT and I also have some other Mustangs, but this one is quite special to me. It brings back good memories. Attached is a picture of my first Mustang–the 64 1/2. Thanks Gary!
Dick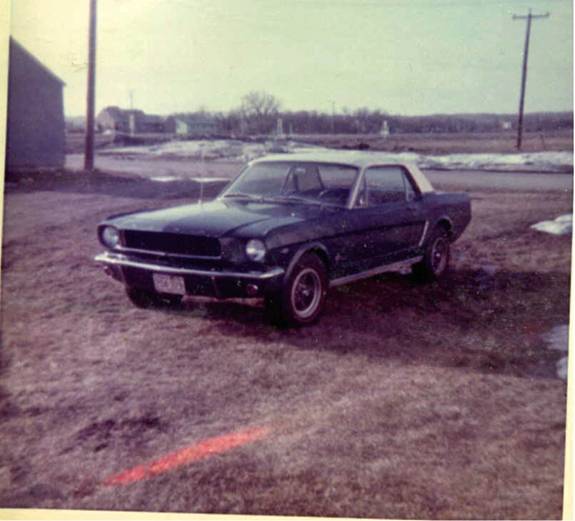 Lillian Houle:
Posted by Neola Kofoid Garbe: Minot & Bottineau, ND.


Marvin & Alida Christenson:
Posted by Neola Kofoid Garbe: Minot & Bottineau, ND.
Remembering the Dirty 30's: Courant, July 19, 1992
Marvin/Alida are the parents of Marlys and Duane. Marlys passed away a couple of years ago. Duane and his wife, Helen (Rivard), live in Bottineau. Alida lives at Good Samaritan in Bottineau. Alida is the daughter of Hjalmer/Irene Pederson, sister of Lloyd.
Neola
Neola,
Duane, Marvin & Alida's boy is married to Helen Rivard from my class of 65. I have known that family my entire life. We all belonged to the Metigoshe Lutheran churches. I know many of you probably Remember Duane Christenson too from our younger days. Gary