Posted by Vicky Metcalfe ('70):  Bottineau, ND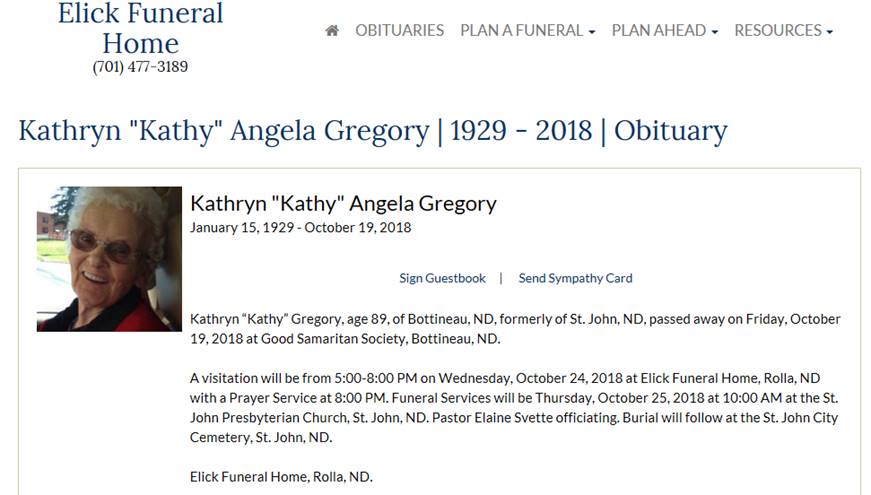 Gary's comment.
So sorry to hear of Kathy's passing. We extend our condolences to all of her family. She was one of the Turtle mountain anchors indeed. She will be missed.
I spoke to Dawn Yesterday. She will be sending me her Obituary when they have it ready.
Delores Faine – DHS class of 1969 Obituary
Posted by Vicky Metcalfe ('70): Bottineau, ND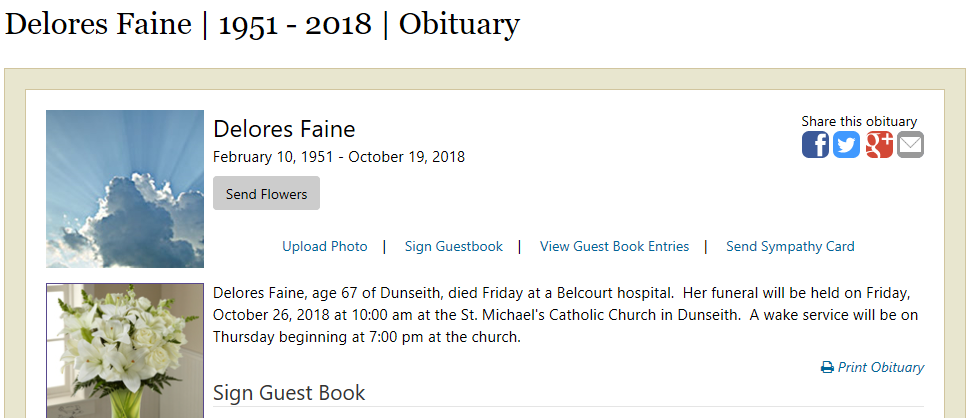 ==============================================
Blog (749) posted on March 20, 2010
Correction from yesterday:
Question from one of our alumna:
Have you ever heard about the Raymond Burr and Fess Parker hunting trip in Turtle Mountains – both movie stars who may have been on a hunting trip in the Turtle Mountains at some point? I never have. Wonder if it's true?

Larry Nagel (Former Teacher): Shields, ND
Message from Floyd Dion: Dunseith, ND.
Hi Gary
What a nice surprise, Larry Nagel visited us today, we had a nice talk about his stay here in Dunseith and telling us about his life at home. He lives on a farm and he still teaches school three days a week Hs is supposed to be retired but he keeps getting deeper and deeper into different jobs, like school bus driver , on the board of cenex, on the board of student drivers,etc
He comes to Bottineau every year to have his income tax done.
Larry was my teacher in typing class, as I did not take it in high school, I worked in the office at Pride Dairies and had to do typing, He was a very good teacher and still is good.
I hope Larry will be here for the reunion.
We sure enjoyed seeing Larry after all these years
Floyd
Ed Milligan:
Memories from Ardys Bakken Horner (former teacher): Detroit Lakes
Hi everyone, we are home after 4 weeks in Arizona, came back to cool weather but much less snow. My first husband, Arv Bakken, used to hunt and walk our German Shorthair up in the hills, looking for agates, arrows etc while the dog ran….one day he found a large spear point which he took to Ed Milligan for identification…he declared it quite old and is still in our collection….Ed was always a good source of information and stories. Ardys Horner
Ed Milligan:
Memories from Keith Pladson (66): Stafford, VA
Gary, This in in response to Dick Johnson's input on Ed Milligan. I too remember him. Before I entered the US Army (April 3, 1969), I was managing what was then the HiWay Mobile Gas Station in Bottineau. I had worked there for a couple of years and Mr. Milligan became a frequent customer of mine. As I recall he had an early model T-Bird (that's when the T-Bird was considered a 2 door sports car – maybe a 64 or 65 model or such). Anyway, what I mostly remember about him was his absolute conviction that there had been early European visitors to the Turtle Mountain area. Though I do not now remember him mentioning the mooring stones, I do very well recall him telling me on more than one occasion about the cave in the foothills and the Gothic stonework. It's interesting that I had pretty much forgotten all about Mr. Milligan and the cave and such until Dick mentioned it. I too, remember Mr. Milligan as being a bit older than the picture you posted in an earlier edition of your blog. Thanks Gary, Keith Pladson (66)
Ed Milligan:
Memories from Cheryl Larson Dakin (71): Bedford, TX
HI Gary Boy, the list for the reunion has sure grown. I wish we could be there, but won't be able to come up until July this year. Ed Milligan was also a renowned sociologist and taught that subject at the Forestry. I took his class in 1971. As Dick has said, he lived so much history and his place at the lake was filled with found artifacts and ceremonial headdresses and things presented to him from different tribes in the area. He was so interesting to talk to and knew so much about so many different subjects. Cheryl Dakin
Ed Milligan:
Memories from Allen Richard (65): Midland, MI
Ed Milligan was one of my all time favorite teachers — rivaling Lincoln Jerstad, ob Likings and Ben Grossman.
Allen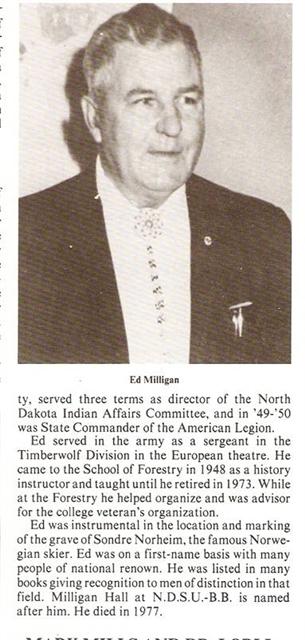 BIOGRAPHICAL SKETCH
Edward Archibald Milligan was born on June 14, 1903, at Michigan, North Dakota, the son of Robert and Emma (von Evers Gennamt Behme) Milligan. He attended Mayville Teachers College in 1927, and then became a teacher of history and anthropology at the North Dakota School of Forestry in Bottineau, North Dakota from 1927-1934. Milligan conducted archaeological and ethnological research among American Indians in North Dakota from 1934- 1940.
He served in the U.S. Army from November 14, 1942, to September 2, 1945. Milligan served in the European theater, received the Bronze Star, and separated at the rank of Sergeant. After his separation, he attended the University of North Dakota, receiving a Bachelor of Science degree in Education in 1947. He also obtained a Master of Science degree in Education in 1948. From 1948-1972, he was head of social sciences and instructor at North Dakota State University in Bottineau. From 1972-1977, Milligan was curriculum coordinator of the Turtle Mountain School of Paramedical Technology in Bottineau.
Milligan's teaching, writing, and research centered around the history of American Indians in general, and the tribes of North Dakota in particular. In pursuit of this interest he was also associated with several anthropological digs in the Upper Midwest. He also served in an official capacity on several boards and commissions, including the North Dakota Indian Affairs Commission.
Other interests of Milligan included the American Legion (North Dakota Department Commander); the Timberwolves (104th Infantry) Association (Past President); the Sondre Northern Fund, Inc. (Executive Director); and the North Dakota State Historical Board (Board member and President).
Edward Milligan died in 1977.
Allen Richard's (65) Work email address
Folks, Allen is one of the folks that is having problems with AOL converting some of these daily messages into Zip files. He as asked that I also include him with his work email address. He also asked me to post his work email address as well.
Gary
Update from DeAnn Gottbreht: http://www.caringbridge.org/visit/deanngottbreht
Friday, March 19, 2010 12:15 PM, CDT
I would first of all like to say Thank You! Thank you to everyone for all of your support. Thank you to all of you who worked at my two benefits and all who donated food and supplies. Thank you to all of you for your gifts and cards. Thank you for all of your prayers. I am sorry that I will not be sending out Thank You cards to each of you personally. It really means a lot to my family and I to to have all of your support!
Connor is really doing great! He is our little miracle! He is weighing in at 5lbs 1.9 oz today. He is also eating most of his feedings out of a bottle now. I can't explain how amazing it was to hold him and feed him from a bottle for the first time! He got out of the incubator he was in and into a crib earlier this week as well. Now his proud parents can finally hold him as much as we want! He really seems to be improving every day. I hope to be able to take him home in 2 weeks at the most as long as he keeps improving. We are so thankful he is doing so well. He is not on any oxygen or IV's but does still have a nasal feeding tube so he can get his full feeding if he decides he doesn't want to eat his whole bottle. He eats about an ounce and a half for each feeding. He hardly fusses at all except when mom changes his diaper and when he is wide awake and ready for his bottle! It is hard to believe he is already 3 weeks old!
On Tuesday I had a port put in. It was a quick out-patient surgery. What it is is a device just under the skin near my collarbone that the nurses can use to give me my chemo drugs through and also draw blood from. The port is hooked directly into a vein in my neck so I just have to be poked with a needle once to access the port each time. They used it on Wednesday for my latest blood draw and chemo treatment and it was almost painless. Much easier than having my arm poked and poked for IV's. My veins were starting to get pretty scard from being used so much. The chemo went pretty well. I get pretty exhausted by the time I am done with it but I go home and rest after and am usually feeling better by the next day. Should be only 8 more of this type of chemo treatments to go! Staying in Fargo this whole time Connor has been in the hospital sure has made getting to all of my doctor's appointments much easier. The nice weather we have been having lately sure helps too. Hopefully winter is over!
Take care everyone and stay in touch. I love hearing from all of you!