Condolences to Carmen Myer's family
From Randy Kelly ('69): St. Paul, MN
So sad to hear of Carmen Myer's passing. My condolences to his family. I had the pleasure of singing with him in a boys quartet for Mr. Johnson. He had a great sense of humor and an infectious laugh. He was always nice to everyone. I know he will be missed
Condolences to the Gregory Family
From Jeanie Tooke Berger ('75):  Mandan, ND
To the Gregory family I'm sorry to hear about your mom passing. Thoughts and prayers to you all.
Jeanie Tooke Berger
Kathryn "Kathy" Angela Gregory | 1929 – 2018 | Obituary
Posted by Vickie Metcalfe ('70):  Bottineau, ND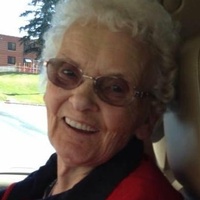 Kathryn "Kathy" Angela Gregory
January 15, 1929 – October 19, 2018
Sign Guestbook|
View Guest Book Entries|
Send Sympathy Card
Kathryn "Kathy" Gregory, age 89, of Bottineau, ND, formerly of St. John, ND, passed away on Friday, October 19, 2018 at Good Samaritan Society, Bottineau, ND. Kathryn Angela "Kathy" Gregory was born on January 15, 1929 in Edmonton, Alberta, Canada, the daughter of Camille and Mathilda "Tillie" (Peterson) Maginel. Her family moved to Wenatcher, Washington while she was an infant and then to Ellsworth Township, ND where she completed her education at Ellsworth and Dion Lake schools. In 1940 she moved to Hutchinson Township in the Turtle Mountains and worked at St. Andrew's Hospital in Bottineau, as a waitress in Grand Forks, Rolla Garden View Café, and Dale's Café, and also at San Haven near Dunseith until its closing. Kathy was united in marriage to George M. Gregory on February 18, 1956 in Rolla. They lived for at short time in the Turtle Mountains, Glenburn, Dunseith, and Kelvin where she was a switchboard operator, living on the George Gregory family farm which they later purchased and lived for many years. Kathryn loved to visit with family and friends, traveling, listening to music, reading, and gardening. She was a member of the St. John Presbyterian Church and the Dunseith American Legion Auxilliary. She will be lovingly remembered and greatly missed. Kathy is survived by her children, Dawn (Larry) Allard of Dunseith, Twila (Martin) Peterson of Dunseith, Jason (Penny) Gregory of Minot, and Lori (Randy) Abrahamson of St. John; daughter-in-law, Joyce Abrahamson of Washington; grandchildren, Shawn Gregory, Melody (Fred) Lemke, Kevin (Kristen) Allard, Donovan (Shawna) Allard, Timothy (Megan) Allard, Michelle Peterson, Monica (Greg) Gussiaas, Terri Peterson, Tiffany (Seth) Bercier, Kent (Desiree) Abrahamson, Kelly (Kayle) Abrahamson, Kasey Abrahamson, and Kamille Abrahamson; great grandchildren, Garrett (Jessica) Rude, Kathryn Lemke, Olivia Lemke, Kooper Allard, Kynzie Allard, Cody Allard, Ashtyn Allard, Kamryn Allard, Morgan Allard, Cole Allard, Harrison Allard, Elliott Allard, Madalyn LaVallie, Jaren Peterson, Devan Peterson, Addyson Gussiaas, Alayna Gussiaas, Brantley Gussiaas, Rylan Bercier, Brooxyn, Bercier, Quinly Bercier, Natalie Abrahamson, Ty Abrahamson, Tyler Abrahamson, Desmond Abrahamson, Knox Abrahamson, and Danika Abrahamson; great great grandchildren, Maddy Grandbois, Ian Rude, Abel Rude, and Lilleth Lemke; sister-in-law, Helen Meyer; and numerous nieces and nephews. Kathy was preceded in death by her parents, her husband in 1995, son, Terry Gregory, brother, Joseph Maginel, sister, Lavina Mayes, half-brothers, Vernon and Arlo Keil, half-sisters, Gladys Ebel, Agnes Erickson, Eleatha Christenson, and Thelma Keil. Casket Bearers are Grandsons, Kevin Allard, Donovan Allard, Timothy Allard, Kent Abrahamson, Kelly Abrahamson, and Kasey Abrahamson. Honorary Bearers are Granddaughters, Shawn Gregory, Melody Lemke, Michelle Peterson, Monica Gussiaas, Terri Peterson, Tiffany Bercier, and Kamille Abrahamson. Music by Dick and Brenda Johnson. A visitation will be from 5:00-8:00 PM on Wednesday, October 24, 2018 at Elick Funeral Home, Rolla, ND with a Prayer Service at 8:00 PM. Funeral Services will be Thursday, October 25, 2018 at 10:00 AM at the St. John Presbyterian Church, St. John, ND. Pastor Elaine Svette officiating. Burial will follow at the St. John City Cemetery, St. John, ND. Elick Funeral Home, Rolla, ND.
Sign Guest Book
Kathy Gregory Memories
From Vickie Metcalfe.
Gary and Dunseith Friends,
            I extend sympathy to the family of Kathy Gregory.
            Recalling my  pre school childhood, 
I do remember Kathy's days as the Central operator for  telephone services here in the hills. 
She lived and worked at the little house  office which overlooked Lake Lyde, on Hiway #3 N.
just a wee bit  south of Kelvin Store.
            At that time,  Mom told us curious sisters,  my older sister and  I,  "Kathy is  a friend."
            And they were friends of  youth,  of days gone bye in the Carpenter Lake neighborhood, as young mother's, 
 to days of mothers of teens  attending  and graduating Dunseith School,  to  serving  together at funerals  and   later days  as silver haired ladies  riding senior  bus.
            And I? 
Dawn,  I cannot recall your mom, Kathy  ever saying an unkind word.
            Kathy Gregory exemplified  the word…….K I N D.         
Sincerely, 
Vickie L.  Metcalfe
==============================================
Blog (750) posted on March 21, 2010

Judy Johnson from Wolford:
Reply from Lee Halvorson (Les Halvorson's sister): Williston, ND.
Hi, I am Lee Halvorson, a 1965 Wolford High School graduate, and Les Halvorson, now living in Bottineau, is my brother. Les mentiioned to me that you requested information about Judy Johnson in the emails that you send out. I graduated one year after Judy Johnson; her and my mother, Eleanor "Eddie" Halvorson were best friends and I believe classmates during their school days in Wolford. Dora Connover Johnson, Judy's mother, moved to Kalispell, MT., sometime during the 60's. The last I heard of Judy, sometime during the late 80's or early 90's, I believe that she was living in either Prescott or Flagstaff, AZ. By the way, I would enjoy receiving your blog emails…as it seems you have developed something really interesting for those of us from the Wolford, Rolette, Dunseith, Nanson, Omeemee areas. Thanks.
Lee
Lee Halvorson Auctioneer Broker High Plains Auction & Appraisal Basin Brokers

Lee,
What a wonderful surprise hearing from you. With today's message I have added you to our daily distribution.
I too am a 1965 graduate, but from Dunseith. You probably know a lot of my class mates. Evie Gottbreht, also from our DHS class of 65, is the one asking about Judy Johnson. Do you by chance know Judy's current last name? Do you know if her mother is still living? It would be nice if we could locate her. Evie has previously asked about Judy, so I know she'd love getting in contact with her.
You too, Like your brother Les, are and auctioneer. Les and Myra live directly across the street from my brother Bud and his wife Debby in Bottineau. We'll be staying with them with our trip back to the area in May.
Ed Milligan:
Reply from Neola Kofoid Garbe: Minot & Bottineau, ND
Hi Gary,
I agree with everyone who says Ed Milligan looks so young–he looked much older when I took class from him at the School of Forestry, 1958-1960. The date was my error. Sept. 3, 1975 was stamped on the back of the picture. I usually check to see if it is an actual date, or if it is a "copied by" date. This date is a "copied by" day. I guess the old brain was taking a break when I added the date!! LOL!!
In one of the classes I took from Mr. Milligan, I was the only girl in a class of Korean Vets. That should have been a girl's idea of heaven. However, I was a very naive girl, and when Mr. Milligan would say anything that might cause me to blush, the vets turned to look at me, and then I really blushed. My mistake was sitting in the front row the first day of class, and I had blushed several times at comments that were made. After the first day, I did NOT sit in the front row; that's why the vets turned around to see if I was blushing. They were great fellows. It was a fun year. If my memory is correct, except for the nursing students, this particular year, there were 3 girls enrolled–at least for one of the quarters, maybe more. I'm sorry to say I still blush very easily.
Neola
Ed Milligan:
Reply Dick Johnson (68): Dunseith, ND.
Gary and Friends,
It appears Ed Milligan made quite an impression on lots of people. Dale is correct about Ed's car too—it was a baby blue '65 T Bird with a black vinyl top. I think he lived in the Woods Hotel on the west side of Main Street. One winter quarter I stayed in Bottineau and went to college. I used to walk from Brander Street uptown to Saunders Cafe once in a while for a supper meal. Ed walked over from the hotel and ate there often. His T Bird was nearly always parked in front of the cafe, across form the hotel. I remember how he nearly always wore his maroon and black vets club jacket, the same as the student vets. He was proud of his association with the club. After reading about his unit, the 104th Infantry 'Timberwolves', I am starting to understand the name he called his place at Lake Metigoshe. It was called 'Timberwolf Up Milligan Manor' and Ed had a 'stuffed' wolf in a glass enclosure above his entrance gate. Now it makes sense.
I remember a story Ed told us in history class that really had everyone listening closely. He said there was a blizzard in the early 1900s and Bottineau came to a complete stop. A guy rented a room on the third floor of the Stone Hotel and stayed there for three days as the storm raged on. The heat finally gave up and the hotel froze up on the second day. On the third day the guy got out of bed and went over to the window overlooking Main Street. Ed said the guy took a coin and scraped the frost off the inside of the window and looked down on the street below. The only life on the entire street were two jack rabbits and one had the other one by the ears trying to 'jump start' him! I remember the whole class was on the edge of our chairs until the punch line and we all went, "AH, ED—–What the hell!" Ed just stood there, expressionless. He got us!
Somewhere we have an article about Ed Milligan and some of his interesting historical findings (opinions) about this area. I will locate it and post it—it's interesting! The picture of Ed with the head dress is most surely not from 1975. My guess is 1940 or before. The date is probably from a reprint of the picture. Thanks Gary!
Dick
Message from Donna Wenstad (75): Amado, AZ
Gary,

Greetings from Arizona! Just to clear things up your listing for the reunion shows Melvin (Pete) Wenstad and Arliss Wenstad Spline as Pam's brother and sister, they were actually our family's cousins. Their parents were Lawerence and Lela Wenstad, our (Pam's & mine & 6 others) were Oscar and Elberta Wenstad. I remember fondly their family (there were 13 children if memory serves me) coming to our farm-we always had more then enough players to play softball.

Thanks for all the memories shared thru this site!

Donna Wenstad

Donna, That is my mistake. I know that Pam (78) is your Sister. Melvin and Arliss are Diane's brother and sister. I'm not sure how I made that mistake, especially when Diane is the one that requested for them to be added to the reunion list. I have made the correction. Thank you so much, Gary.
ND People:
Message from Erling Landsverk (44): Portage, WI
Hi Gary and All You Great North Dakota Folks!
I simply had to tell you how proud I am of those folks in North Dakota, especially the people in and around Fargo and up and down the Red River. It makes me smile kinda knowingly to myself when I hear some news reporter talking to someone working at the area where the flood is expected. Instead of a lot of crying and wringing of hands and calling for help, the folks out in the Fargo area just say "yah, we are filling sand bags, and there is lots of high school students, and college students volunteering along with people from our on the prarie and all over North dakota. and we really appreciate it" When questioned if they are going to be able to avoid a serious flood? They simply say that they are pretty sure things will be okay It was the same last year. People from other states can look to the . Fargo folks for an image of real independence with a calm humility so very apparent to anyone who visits the great state. Perhaps the high plains, with its hard winters, and unpredictable summer weather along with the tradition of the early settlers has created a breed of people that are far above average and an independent spirit without equal.
Think I'm bragging about North Dakota? You bet I am.
Erling Landsverk
Did the Vikings make their way to the Turtle Mountains a thousand years ago?
Reply/Discoveries from Colette Hosmer (64): Santa Fe, NM
Hi Dick,
I also found your information about ancient Lake Agassiz and the Vikings fascinating. I "googled" the information and found some interesting accounts — one example:
http://newsarch.rootsweb.com/th/read/NORWAY/1998-05/0895621228
The theory was also "debunked" in another posting. In any case, I had never heard of Lake Agassiz and found lots of very interesting stuff on the web about this particular era in our geological history.
Thanks,
Colette
Question about Raymond Burr and Fess Parker's hunting trip in Turtle Mountains:
Reply from Ardys Bakken Horner (Former Teacher): Detroit Lakes, MN
I heard about these men hunting in the Hurdsfield, ND area for bird hunting… there were quite a few Hollywood types who came to the Dakotas to hunt while we lived there, raymond burr did it regularly so maybe he brought friends with him. Ardys Horner