Gary Morgan (DHS 1954) Obituary
Posted by Vickie Metcalfe ('70):  Bottineau, ND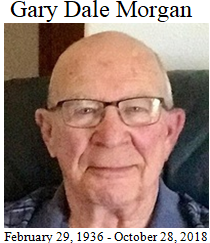 Sign Guestbook|
View Guest Book Entries|
Send Sympathy Card
Gary Dale Morgan, age 82, of Bismarck, ND died October 28, 2018 at Sanford Hospital surrounded by his loving family.
A memorial service will be held at 11:00 am Friday, November 2, at Parkway Funeral Service, 2330 Tyler Parkway, Bismarck.
Burial will be at Fairview Cemetery, Bismarck.
Gary (McGee) was born on Leap Year, February 29, 1936, to Kenneth and Marjorie (Watkins) Morgan in Bottineau, ND. He was raised in Dunseith and graduated high school in 1954. He was a member of Sigma Chi Fraternity while attending UND, where he received a Bachelor of Education degree in 1958.
On June 9, 1957, Gary was united in marriage to Mary Lou Axtell in Noonan, ND. Before beginning his career with U.S. Customs, he taught and coached for four years in McClusky and Drake, ND. Gary moved his family to Portal, ND in 1963, where he worked as a US Customs Inspector. They moved to Detroit, MI in 1969 for two years before moving back to Portal as Port Director. After 30 years of service with US Customs, Gary retired, and they made their home by the lake in Garrison, ND.
He was involved in the community serving on the Portal City Council, Burke Central School Board, and the Presbyterian Church Board. He enjoyed coaching basketball, football, and track, as well as officiating football. Other passions included reading and history. He enjoyed spending time at the lake, fishing, traveling, playing softball, watching his children and grandchildren in their sporting events, and spending time with family and friends.
Gary is survived by his wife, Mary Lou of Bismarck; his five children: Pamela Christianson and her children, Lee (Heather) Christianson, Trisha (Jon) Reis, Morgan (Derek) Hauck, Bismarck, ND, Mark (Sheila) Morgan, Stanley, ND, and their children, Ashley (Kyle) Nichols, Stanley, ND, Brittany (Cody) Uran, Piedmont, SD; Robert Morgan, Mandan, ND and his daughter, Heather (Art) Flores, Cheyenne WY; Stacy (Chad) Willer of Bismarck, ND, and their children, Cory (Emma) Ploof, Columbia, MO, Christopher Wilson, Bismarck, ND, and Caden Willer, Bismarck, ND; Laurel (Josh) Wenger and their daughter, Harper Wenger, Bismarck, ND; sisters-in-law: Gini Morgan, Pelican Rapids, MN and Shana Morgan, Falkirk, ND, and many great grandchildren, nieces, and nephews.
Gary was preceded in death by his parents, Kenneth and Marjorie Morgan; brothers, Richard and John Morgan; and grandson Camden Willer.
SERVICES
Memorial Service
Friday, November 02, 2018 11:00 AM
Parkway Funeral and Cremation Service 2330 Tyler Parkway Bismarck, North Dakota 58503
Delores Faine ('69) Memories
From Sue (Gary '57) Metcalfe: Forsyth, MO
Thank you Gary for sharing this.  I worked with Delores Faine at San Haven and had so much respect for her and how kindhearted she always was.  She loved the residents as well as local kids. In need.
==============================================
Blog (752) posted on March 23, 2010
Mustangs:
Reply from Don Lamoureux (75): Bethel, MN
I'm a little behind on the mail. I doubt my mom replyed about your 64 1/2 mustang. It ended up for sale at the Lamoreux Bros. garage. I beleive the story was mom wanted it bad, but dad (Jay) wasn't about to hand it over, it was for sale. So mom went to the bank, got approved for the loan, and bought it. So it really was hers, not "theirs". WhenI was a senior, Dad overhauled I "got it". Great car . It sat at Hank Thorstenson's (the druggist after Shelvers) for the 4 (5) years I was at school. After graduation, went back to Hanks to get the car. It smelled funny, pulled the back seat out, a mouse nest with mice in it. While I was trying to figure out what to do with them, his black lab took care of the problem with one gulp. Thanks. We put a new battery in it, changed oil, and drove it from there to Wickenburg AZ. Got married down there, and Liz and I drove it back towing a Uhaul to Mpls. Drove it there. Went out to drive it after Memorial weekend, stolen out of the parking lot. We were distraught. Cops found it in Isanti county north of the cities miunus the 4 barrel carb and header. Had to scrounge like hell to find one.
After that mom came up and got it with a friend of hers, and it is restored. Beautiful, and living a rust free life in AZ.
Don Lamoureux (75)
Raymond Burr & Fess Parker:
Reply from Lloyd Awalt (44): Bottineau, ND.
Gary, in reply to Raymond Burr & Fess Parker, they were in Dunseith hunting. I'm not sure where all they hunted. I think it was about late 40s or early 50s. I didn't meet or see them. Lloyd
Ed Milliagan – Fess Parker:
Reply from Gary Metcalfe (57): Forsyth, MO
More about Ed Milligan….I guess he had an interest in Native American history all right, as he kept the road hot between Bottineau and Belcourt the years I worked at Dale's. He had a couple of good teachers that I knew of. Old Pat Gourneau at Belcourt forgot more than most people new about Native Americans. Another source that Ed used was an old Dutchman by the of Henry Klebe. More people may have known his son, Egon Klebe. At least I think he was Dutch and he did have a great sense of humor.
Doug Striker and I spent some time locating rocks in the Turtle Mountains to be used at the Peace Garden. We ran into ole Henry one day and he told us he has just buried a couple of wheel barrows of war clubs under an old oak tree. He was tickled to death to think that some young adventurers would find them and say, "there sure must have been a lot of Native Americans around here." He lived in the Metigoshe area and I think he donated his life's collection to a museum in Bismarck.
By the way Fess Parker just died last week.
Gary Metcalfe
Reply from Dale Pritchard (63): Leesville, LA
Gary,
Is there Global Warming? You couldn't prove it by me! I think it's more like Global Cooling. We got our 4th snowfall of the season yesterday and it didn't get much above 35 degrees all day. Normal snowfall here is about once every two or three years. I haven't forgotten what it's like to be on the receiving end of an abnormal Winter like many of you in the North have experienced this year. The forecast for today is 67 degrees.
Dale Pritchard
Fauske – Lutheran Confirmation Picture:
Reply from Aimee Lagerquist (97): Boulder, MT
I typically don't write…but the second tall slim guy in the back is Clifford Halvorson…next to him is Albert (his brother). Directly in front of each of them (the ladies) is Alma Christianson Halvorson and Emma Christianson Halvorson their wives.
Aimee Lagerquist
Aimee,
Alma & Emma Christianson Halvorson would be your Grandmother's (Florence Christianson Williams) sisters.
Florence Christianson Struck is also a sister to your Grandmother. She is currently living in the Oak Manor Apartments in Bottineau.
Your parents are Lori Williams Lagerquist (75) and Ray Lagerquist (70):
 Aimee, We love hearing from you and everyone else. You mentioned one time that you share these daily messages with your folks. We welcome their comments and contributions too. Thank you so much for sharing. Gary
Fauske – Lutheran Confirmation Picture:
Reply from Bobbie Slyter (70): Wichita, Kansas
Gary
In the photo from Russell Fauske, I believe that is Clifford Halvorson isn't it. and in the third row second from the left is my dad Freddie Hiatt, I am not positive but the guy in the third row second from the right isn't that a Nerpel
Fauske – Lutheran Confirmation Picture:
Reply from Susan Fassett Martin (65): Spearfish SD
RE: picture–It looks like a church gathering. Front row L to R=Betty Nerpel, Kate Fassett, Dorothy(?) Kraft, Charlotte Lang , ?, Poepple 2nd row–Larson, Cynthia Johnson, Dorothy Fassett, ?,?,?,? Back row–?, Rev Lovaas, Freddie Hiatt, Clifford Halvorson, Alma Halvorson, Halvorson, Halvorson, Darrel Fassett, Raymond Nerpel, ?. Pastor
Fauske – Lutheran Confirmation Picture:
Reply from Pam Fassett Faust (65): Lilburn, GA
Gary – I'm sure you will get lots of replies to this photo. In the 1st row, second woman from the left is my Grandma Kate Fassett; second row, 3rd from the left is my Mom, Dorothy Fassett; in the back row, 2nd from the right is my Dad, Darrel Fassett. I'm sure Mom or Dad could tell you on what occasion this photo was taken. I haven't a clue. Thanks again for all you do!
Fauske – Lutheran Confirmation Picture:
Reply from Darrel Fassett (47): Boynton Beach, FL
The group picture in this message is a Lutheran Confirmation group from the mid 50's. The ones I know are: 1st row-Betty Nerpel, Kate Fassett, Annie Hill, Charlotte Lang, Dolly Hagen ?, and unk. 2nd row-unk, Joy Peterson, Dorothy Fassett, unk., unk., unk., unk.,. 3rd row-unk., Freddie Hiatt, Alma Halvorson, ? Halvorson, Raymond Nerpel, Bob Stickland. 4th Row-unk. Minister, Cliff Halvorson, ? Halvorson, Darrel Fassett and Lloyd Hill. Joy Peterson or Murl Hill could probably name them all. Darrel
Folks, I have labeled this photo with the replies we have gotten so far. We still have a few in question and unknowns. Please reply with any corrections you think should be made. The two gals on the right in the 2nd row have not been identified. Hopefully some of you may have an idea who these gals are. Also please comment on those in question. Is that Bernard or Eldon Hiatt in the 3rd row? We'd like to have the correct identifications of those in this photo for our Achieves. My guess is that this picture was taken in about 1946, give or take a year or two. Gary
4th Row: Rev Lovaas, Cliff Halvorson, Albert Halvorson, Darrel Fassett and Lloyd Hill.
3rd row: Eldon or Bernard Hiatt, Freddie Hiatt, Alma Christianson Halvorson, Emma Christianson Halvorson, Raymond Nerpel, Bob Stickland.
2nd row: Jackie Larson, Joy Stickland Peterson, Dorothy Strietzel Fassett, Dorothy Hiatt Swanson?, Irene Stickland?, ????, ????
1st row: Betty Eurich Nerpel, Kate Fassett, Annie Hill, Charlotte Lang, Dolly Hagen?, and Ella May Poepple Vogsland?