Note: Bernadette is at the point now where I need two helpers along to assist getting her in and out of the car, going to the bathroom, with her eating, etc.
 We had our three helpers and two kids (Great Niece and Nephew) along with us for this dinner.
 Picture Clockwise: Mirasol, Bernadette, Tata, Tyler, Gary, Marites and Shikira
Tata and Marites are married to brothers. Bernadette's sister's husband is their brother.
Mirasol's Husband is Bernadette's Nephew, son of her brother.
Tata has been with us for 15 years, Mirasol 6 years and Marites 1 year.
Not Pictured is Aldren, Tata's husband. He takes care of the outside cleaning and Maintenance. Mr. Clean
 For Bernadette, I am the number one person in her life.  Number 2 is Tata.
We are so fortunate to have such good help.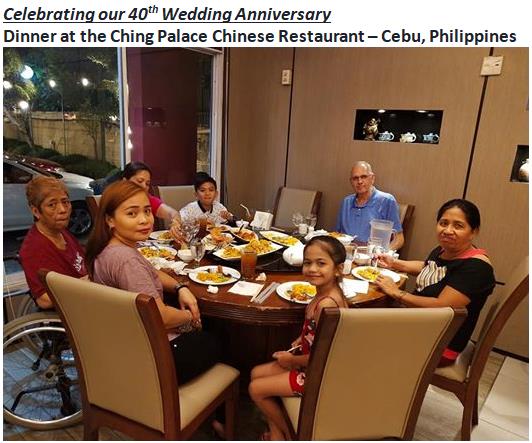 Posted by Neola Kofoid Garbe:  Minot, ND
Jeanne Henry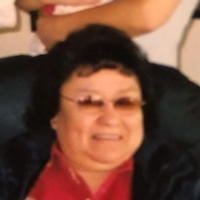 Jeanne Henry, age 74 of Dunseith, died Saturday at a Minot hospital.  A memorial service will be held on Thursday at 10:00 am at the Eagle Heart Cultural Center in Dunseith.
 Jeanne M. Henry, a daughter of Flora Henry Norquay and Ralph Poitra, was born on January 20, 1944.  She was raised by her grandparents, Joseph and Eliza, learning the Ojibway language and jingle dress dancing.  She married Richard Parisien and they traveled to France and many other places.  Together they had 4 children; Bridget, Richard (Son), Darren and Liza Jo.  She later met Eutimio Hernandez and lived in the Grafton Area for years before returning to Dunseith.
 She loved spending time with her family, especially her grandkids.  She also loved spending time with her many friends, drinking cold ones.  She loved the casino and went whenever she could catch a ride. 
 She is survived by her children, Bridget Gonzalez of Dunseith and Liza Jo (William) Poitra of Dunseith;  grandchildren, Tessie, Kadence and Tariza all of Dunseith; great grandchildren, Angelique, Emily and Lloyd all of Dunseith; siblings, Donna Norquay of Fargo, Darlene Enno of West Fargo. Elvis Norquay of Rolette and Lora LaVallie of Belcourt.
 In addition to her parents and grandparents, she was preceded in death by her sons, Richard (Son), and Darren and siblings, Lester, Leslie, Ted, June and Linda.
 The family would like to thank everyone for their support.  Words cannot express how grateful we are.
 Arrangements were with Nero Funeral Home in Bottineau.
==============================================
Blog (757) posted on March 30, 2010
Folks,
Bernadette and I got back from our week-end excursion to the northern end of this Island (Cebu) last night. We had a fabulist week-end. There were about 25 of us from here that went up for the house warming of our friends who recently built a 2nd home up there right on the beach. They have 2 1/2 acres with about 400 feet of ocean front property up there. They built a beautiful home on this site. They wined and dined us all week-end of which we did not expect them to do. On Monday they had about 100 folks in attendance for their house blessing followed with a meal, under tent covers, on the beach. They are originally from England. Unlike the beaches down here, they are pure sand up there. From here it takes about 3 hours to get up there. We were a caravan of 6 cars coming back last night.
When we arrived, the lady of the house along with her friend went with us to show us our hotel. On the way over the lady of the house, our friend, says to Bernadette, "Do you know who my friend is?" who was sitting with her in the back seat of our car. Of course Bernadette had to ask because she did not know. Our friend says this is Imelda ILanan. Bernadette took a double take when she heard that. Imelda was a famous actress here in the PI for many years in Bernadette's growing up days. He daughter, Maricel Laxa Pangilinan, is a current well known actress here in the PI as well. We didn't say anything to the rest of our friends who Imelda was until Monday. We were hoping something would be said who she was, but there wasn't. Imelda and her husband Ben are such friendly folks too. On the 3rd day, Monday, we got the conversation going with Imelda along with our friends with who she is. Needless to say, they were quite surprised. I know everyone like me, went home and googled both Imelda and her daughter. It's a small world.
Gary
Bill Berube (69) Passed away: From Crystal Fassett Andersen (70): Walhalla, ND.
It is with great sadness and many tears that I regret to inform everyone,that Bill Berube passed on to a better place today. He will be remember many times over and greatly missed by many friends and family. Keep the Berube family in you prayers. God Bless Crystal Fassett Andersen
Posted from Bill Berube's Carringbridgde site:
Saturday, March 27, 2010 12:27 AM, CDT
Haagenson family info request posted on our Website:
Hi,
Nice web site – seems like a close community!
I'm looking for descendents of Hans Haagenson, who lived in Dunseith (died 1941). His sister was my great-grandmother, Minnie. We don't know too much about Minnie's family since she moved with her husband, Martin Donaldson, to St. Paul, then to Portland, Oregon. Would appreciate if you could put me in touch with any Haagensons from Dunseith, perhaps we are related. Would help me fill out family tree.
Thank you,
Elaine Cuyler (formerly Donaldson) Portland Oregon
Reply from Elaine to Gary
I'm hoping that someone remembers Elvin's mother and other family members corresponding with my great-grandmother, and perhaps has old letters or photos. I do know that they exchanged letters – that's how I found that Minnie's name was Haagenson, was on an old envelope from Dunseith. Minnie's family photo album was destroyed in a flood, according to a cousin. So we're hoping that we can find maybe even one photo of Minnie and her husband.
My sister named her daughter Maren – picked the name off family tree that I put together after researching census records, etc. I believe Maren Haagenson's grave in Dunseith simply says, "Mother" on it.
Thanks again,
Elaine
AOL Converting messages to Zip files:
Message from Duane Woodford (57): Winston Salem, NC
Gary, this is the last message that I received.
Duane
In a message dated 3/26/2010 2:59:32 A.M. Eastern Daylight Time, writes:
[The message and any attached files have been turned into a ZIP attachment. Once downloaded and unzipped, open it with a word processor or text editor for reading.]
 Duane,
It appears that AOL is converting email to ZIP files if they are over a certain size. I try to keep the files sizes down with these daily sendings too. The message that got coverted was pretty small being only 388KB. I post all these daily messages on our website as well. http://garystokes.net/default.aspx
Gary
Update from DeAnn Gottbreht: http://www.caringbridge.org/visit/deanngottbreht
Last week was a stressful week but it ended with some great news. The results of my PET Scan were negative! Finally a light at the end of the tunnel. It looks like my cancer is pretty much gone and that there isn't anymore anywhere else in my body. I spent most of the week expecting the worst so when I got my results on Friday I was on top of the world. I also had my latest chemo treatment on Friday and it went well. Only 7 more to go!
Connor is doing well. Up to 6lbs already! He is changing so fast. His face has really filled out and his body is starting to fill out as well. To be released from the NICU he needs to be able to eat all of his feedings from the bottle. He has improved at this but still needs more time. Some days he eats almost every bottle and others he eats about half. It sounds like he will be in the hospital for a couple more weeks. He also has a problem with reflux that the doctors are trying different things to get under control. I don't want him rushed at all. He wasn't due until April 23 so if he needs 2 or 3 more weeks in there that is fine with me. I looked forward to when we can finally take him home though!
I hope you all have a Happy Easter!
Art Rude Productions:
Message from Art Rude (71): Bismarck, ND.
Hi,
I just thought I would try let everyone know on my email list, that I am closing down the current artrude.com website. This is the third time, as after a while it gets very cumbersome, and as I am not a professional webpage person, I make mistakes. After a while there are enough things to be redone, it makes more sense to just start over.
Plus, I was paying to much for the previous host. I paid for a commercial package I never used, which was really stupid on my part. I tried it, it didn't work for me, but then I neglected to drop it or change carriers.
Anyway, I made the switch to Mac, and so now is the time to change everything. Starting to really enjoy the Mac, and many functions are just so much easier, but there is a lot of work to be done, converting files and what not.
At any rate, I hope you enjoy my website, www.artrude.com but it will be gone shortly. A new website will arise out of the ashes in the not too distant future, at the same address.
With the Mac, I wanted to get into better video productions, and so I have started that process. If you go to utube, and type artrudetv, or Art Rude TV, that's what you will get. And if you check out some of the videos there, you can see the difference in production and quality on the earlier video compared to the new. There is a lot to learn, but I'm having fun with it, and hopefully you will enjoy the videos. I hope to add another every week, and two when I am able.
Enjoy.
Peace and Power,
Art
Thanks for checking out Art Rude Productions,
webpage address: www.artrude.com
and Art Rude TV at: artrudetv on Utube!
Arla Hall (Former Dunseith teacher) & Neola Kofoid Garbe:
Picture from Neola Kofoid Garbe: Minot & Bottineau, ND.
Hi,
This picture was taken at Mrs. Hall's 90th birthday open house last summer. The open house was held at United Parish Church in Bottineau. Mrs. Fay Benson took this picture. I'll be sending a picture of Mrs. Hall and several of her former students who were at her open house at the time the picture was taken. I've asked a few people for help in identifying two ladies in the picture. When they are identified, I'll send the picture.
Many of you who receive this picture are also former students of Mrs. Hall. She is doing very well. She's a little hard of hearing, but otherwise does very well. She still drives. She attended our class of '57's 50th reunion in 2007 at the Norway House. She lives in one of the apartments on the east end of Bottineau. Go east from the First National Bank to the last apartment on the street; this is Mrs. Hall's apartment. Her address is:
829 5th St. E
Bottineau, ND 58318-1463
Mrs. Fay Benson took this picture/the one I'm going to send later. Many thanks to her!
Neola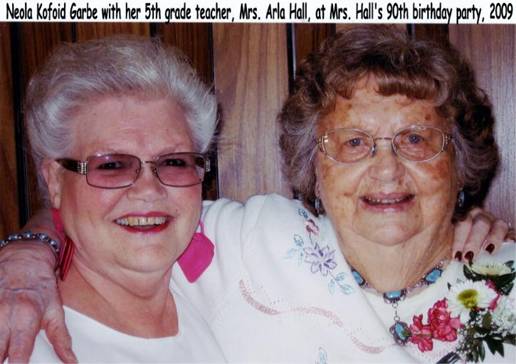 Dunseith Alumni Reunion Catered Dinner:
Roast Beef, Mashed Potatoes and Gravy, Corn, Bacon/Lettuce Cauliflower Salad, Dinner Roll and Dessert for $10.00 per plate.
Verena has calculated $5.00 per head to cover all miscellaneous expenses. This includes the Facility, Security, decorations, table covers, several cakes, the hiring of a clean up crew the following day, etc
Note: Verena would like the Dinner Payments early to help with her planning.
For those of you desiring the catered meal, please send your payment of $10.00 Plus $5.00 ($15.00 total) per person payable to
Verena Gillis
PO Box, 785
Dunseith, ND 58329
(701) 263-3302 C(701) 378-5167