Aldrin and Tata (Married couple) – Our full time helpers
I wanted to share this nice picture of Tata and Aldrin that was taken at a wedding they attended yesterday. I captured it from Facebook.
Tata and Aldrin have been with us for 15 years.  Aldrin takes care of the outside cleaning and maintenance. Tata's primary duty is taking care of Bernadette. She also helps with all the other house hold chores and cleaning too. Both Tata and Aldrin are super clean and super neat. Everything is in its place. Aldrin is very good with painting and repairs too. They are a super friendly well liked couple of good character. Next to me, without a shadow of a doubt, Tata is the closest human being to Bernadette. Both Tata and Aldrin know us and our moves very well.
Besides Aldrin and Tata, we have two other helpers too, Mirasol and Marites. Mirasol's hours are from 8 to 5 and Marites' hours are from 4 to 9 PM. Mirasol does the house hold cleaning and chores. She also assists Tata with taking care Bernadette. Marites' sole job is to be with and take care of Bernadette. From 9 PM to 8 AM each and every day are my duty hours.
Gary
==============================================
Blog (758) posted on March 31, 2010
Bill Berube's (69): Obituary
Posted by Eileen Brudwick: Arizona
http://www.montgomerystryker.com/
William G. 'Bill' Berube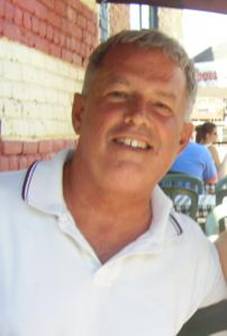 Tuesday, March 30, 2010
William G. "Bill" Berube, 58, Laramie, died Friday, March 26, 2010, at his home. He was born July 12, 1951, in Santa Paula, Calif., the son of Fortune and Katherine (Keefe) Berube. He began school at St. Sebastian's Elementary School until the fourth grade, when the family moved to Dunseith, N.D., in 1960. He graduated from high school in 1969. He earned a B.S. degree in elementary education at Mayville State University in 1973 and was the recipient of the Distinguished Alumni Award. He earned his master's degree from North Dakota State University in 1980. He attended the University of Wyoming, where he earned his doctorate degree in 1985, and then he moved to Gillette, returning to Laramie in 1994. At that time, he took a professorship at the University of Wyoming and was able to receive the Distinguished Alumni Award on April 23.
He married Sherilyn Karlstad on Aug. 19, 1977, in Mayville, N.D. He had a love of his family, education, sports and his profound love for the development of the human spirit within all people, especially young children.
He was a member of St. Paul's Newman Center and a recipient of the Ellbogen Award.
He was preceded in death by his parents; his stepmother, Alice Evans Berube; a brother-in-law, Ronald Reynolds; a step-sister-in-law, Linda Evans Carlson; and a step-nephew, Luke Evans.
He is survived by loving family, including his wife of 32 years, Sherilyn Berube of Laramie; his children, Brooke Y. Berube, Katherine A. Berube and Kelsey A. Berube, all of Laramie and Teri L. Simpson and her husband, Chris, of Chehalis, Wash.; his siblings, Tom Berube, Jim Berube and Cecile Reynolds; step-brothers, Jim Evans and his wife, Cheri, Tom Evans and his wife, Jan, Frank Evans and his wife, LaRae, Mike Evans and his wife, Patty, and Pat Evans; and his three grandchildren, Kennedy, Tanner and Grace Simpson. Also surviving are numerous aunts, uncles, nieces, nephews and cousins.
Funeral liturgy will be at 10 a.m. Wednesday at St. Paul's Newman Center with the Reverend Fr. Carl Gallinger, celebrant. Interment will follow in Green Hill Cemetery.
A celebration of his life will be at 2 p.m. Wednesday at the Hilton Garden Inn.
Visitation will be from 2-7 p.m. today at Montgomery-Stryker Funeral Home.
Memorials may be made to the William Berube Memorial Scholarship Fund in care of the UW College of Education, 1000 University, Dept. 3374, Laramie, WY, 82071.
Services are under the direction Montgomery-Stryker Funeral Home.
Condolences to the Berube Family from the Rober't's:
Posted by Dianne Rober't Johnson (76): Rolla, ND
Our condolences go out to the Berube families.
Dianne (Rober't) Johnson
Vikings:
Posted by Dick Johnson (68): Dunseith, ND
Gary and Friends,
I will post this last section of the story and study of the Vikings possible travel to the area. For those who would like to read the entire book, I think it can be bought through the Spectrum office supply store on Main in Bottineau or probably from the bookstore on the Dakota College-Bottineau (School of Forestry) campus. There are many more technical articles and descriptions that may not be of interest to the entire readership here on the blog. It is interesting to those of us with the defective history gene that makes us ponder these ancient things. Thanks Gary!
Dick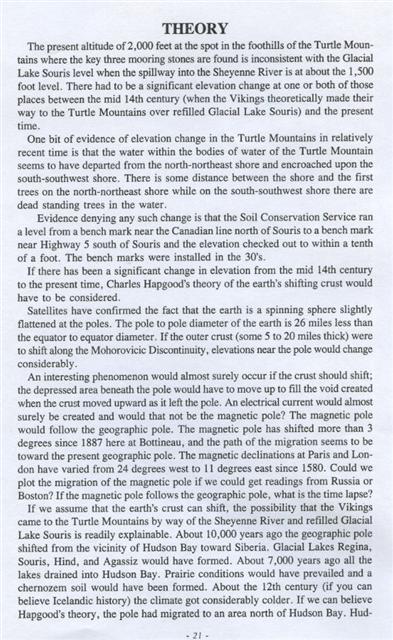 Ed Milligan:
Picture posted by Neola Kofoid Garbe: Minot & Bottineau, ND.
Hi Everyone,
I happened to find this picture of Ed Milligan, which I took in app. 1959. As you can see, I missed the front of the truck. Uff da!! This is the way I remember Mr. Milligan. I attended the Forestry 1957 Winter Quarter-Spring Quarter 1959.
Neola