Posted by Neola Kofoid Garbe: Minot, ND
Evelyn Jean (Hanson) Pladson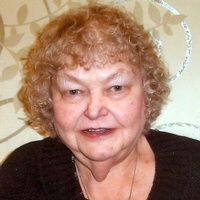 Funeral services for Jean Pladson, age 79 of Bismarck formerly of  Bottineau were held on Saturday, January 12, 2019 at 2:00 pm at the Lake Metigoshe Christian Center.  Officiating at the service was Pastor Cole Bentley.  Jacque Marum was the pianist and special music was provided byBobbie Jo Vandal and Joe Mechtenberg.  Casket bearers were Chris Vandal, Tyler Pulkrabek, Joe Mechtenberg, Jeremy Sheldon, Bruce Pulkrabek and Lance Obrigewitch.  Burial will be a the Salem Cemetery near Bottineau.
            Evelyn Jean Pladson, a daughter of Bert and Olga (Petterson) Hanson, was born on October 4, 1939.  She was baptized at Nordland Lutheran Church and confirmed at First Lutheran Church in Bottineau.  She attended Hilton School #3 before moving to Bottineau with her family in 1947.  On November 19, 1955, she married Duane Pladson.  Three children were born to this union James, Deb and Becky.  They lived in the Turtle Mountains near the Canadian border.  Besides farming, Duane also worked as a carpenter and later started his own construction company and Jean was the secretary.  Duane built them a beautiful home on the shores of a lake in the northeast corner of Bottineau County.  Duane passed away in 1988 at the age of 54.  Jean remained in their home until moving into the Good Samaritan Center in Bismarck in 2010.  She had a strong work ethic her whole life and she survived the rugged winters and all that country life entailed.
            She was a member of the Salem Lutheran Church and later the Metigoshe Lutheran Church.  She taught Sunday School and was active with the WELCA.  She held many church offices through the years.  She was the chairwomen of decorating the new Christian Center was the first women elected to the church council. 
            Jean always knew who Jesus was and she loved him.  She loved God and depended upon the Holy Spirit as she lived out her life.  She lived in the peace, presence, power and love of God.  She counted blessings everyday.  As she was blessed she blessed the lives of others.
            She took a deep interest in family reunions and in 1992 she organized 2 family reunions.  The reunions continue today on her mom's side.
            She worked several places through the years, she worked Dakota College in Bottineau, San Haven State Hospital.  She was a retreat hostess at Metigoshe Ministries, Business Basics Secretary and she was also a broker agent at the Dunseith Port of Entry.
            Jean had a love for music.  She was instrumental in getting Charley Pride started.  He still visited with her when he was performing in the area.  The other artist she spent time with and worked to promote was Loretta Lynn. She also enjoyed playing quitar.
            School was a real enjoyment to her.  Her education continued in 1985 when she went to NDSU-Bottineau and received 2 associate degrees. She was also  on the Dean's List every quarter.
            Jean had a happy nature and enjoyed people and gatherings.  She was a good cook and baker.   
            Beginning Experience became a very important group to her.  She attended Level 1 shortly after her husband died.   She soon became the facilitator in Bottineau and Rugby.
            Her children, grandchildren and great grandchildren were the love of her life.  She also loved the residents and staff at the Good Samaritan Center, her pastors, congregation or anyone who crossed her path.       
            She enjoyed gardening, had a beautiful yard, writing, music, hunting and fishing which she enjoyed with Becky.  She was a deep thinker and enjoyed books especially her Bible.
            Jean passed away on Monday, January 7, 2019 at a Bismarck hospital.
            She is survived by her daughters, Deb (Bruce) Pulkrabek of West Fargo and Becky Vandal of Bismarck; grandchildren, Brooke (Joe) Mechtenberg, Tyler (Brittany) Pulkrabek; Kasey (Jeremy) Pulkrabek, Chris (Bre) Vandal and Bobbi Jo (Lance) Vandal; great grandchildren; Teagan, Aria and Ivy Mechtenberg, Jasmine Schildberger and Hayley Vandal
            In addition to her husband and parents, she was preceded in death by her son, Pastor James Pladson, infant sister, Marilyn and numerous aunts, uncles and cousins.
            Arrangements were with Nero Funeral Home in Bottineau.  Friends may sign the online register book at www.nerofuneralhome.net.
Deb/Jean/Becky Copied/pasted from FB I think I have the girls identified correctly.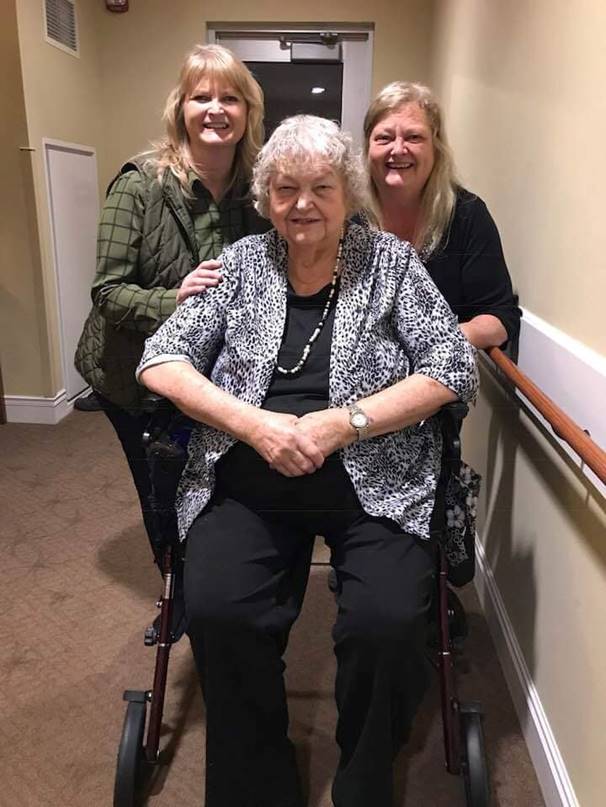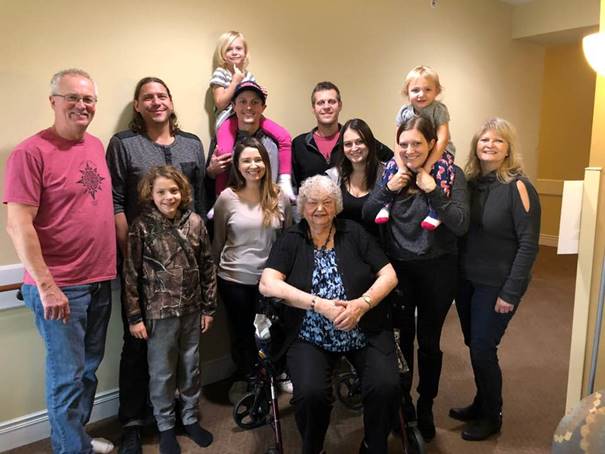 Sprouting Potatoes under the Wolf moon
Posted by Vickie Metcalfe ('70):   Bottineau, ND
https://www.bbc.com/news/av/uk-wales-46803379/peter-rabbit-the-bunny-who-is-best-friends-with-sheep
https://www.bbc.com/news/av/uk-england-lancashire-45536348/magpie-and-whippet-s-unlikely-friendship
Gary and Dunseith friends,
FYI  the above BBC; I enjoyed looking  for things  that give me a smile,  on  c-o-l-d—–JANUARY DAYS.
Good news. No shoveling   this a.m!
There is a  shining sun  and no wind here in in the great white  frozen North Dakota.
I  am excited to  look for the Wolf Moon in the morrow.
This morning, I took Lochbuie to see his friends at tractor supply.
If I don't get him out and about oft and again,
He sneaks away and  starts digging up carpeting from under my bed.
H guess, he thinks, "I really should not  mind as new wood flooring would benefit the place"
A social dog, Lochbuie  needs to get out and see people  or he becomes a  rather  recalcitrant terrier.
How  many of you remember cold days of winter when our mums provided  us with extra chores…….?
If I was back at the farm….in days gone by I'd be sprouting potatoes  the root cellar.
I will be  looking  for  the Super Blood Wolf Moon.
Our branch of the Metcalfe's love  that old print,  "Lone Wolf on aHill" overlooking a town.
My Dad liked it so much.  It reminded him of Wolf Point MT and  the art and and writing of Charles M. Russell .
Vickie Metcalfe
"Former of the hills" neighbor
Posted by Vickie Metcalfe ('70):  Bottineau, ND
Friend of Dunseith Gary_ et al,
This information____ was shared with me by a "former of the hills" neighbor, 
Thinking of the folks in our famiies.
Many were raised in ND and iived sometime in the range  of 1900-2000.
Wow for changes they experienced! 
I'm remembering;  many of our friends and neighbors "of  the hills" like my family who  didn't get indoor plumbing  or telephone until the 1960's.
Some like the Anthony's never did.
(Hmmm. I wonder, if they  knew they living off the grid?)
My Dad and all of his siblings were born at home with the exception of Aunt Jean.
Keeping this stuff in mind is helpful working on genealogy.
Until later,
Vickie Metx calfe
1918
"Well done, is better than well said."  Benjamin Franklin
The year is 1918 "One hundred years ago." What a difference a century makes! Here are some statistics for the Year 1918:
The average life expectancy for men was 47 years.
Fuel for cars was sold in drug stores only.
Only 14 percent of the homes had a bathtub.
Only 8 percent of the homes had a telephone.
The maximum speed limit in most cities was 10 mph.
The tallest structure in! the world was the Eiffel Tower.
The average US wage in 1918 was 22 cents per hour.
The average US worker made between $200 and $400 per year
A competent accountant could expect to earn $2,000 per year. A dentist earned $2,500 per year. A veterinarian between $1,500 and 4,000 per year.
And, a mechanical engineer about $5,000 per year.
More than 95 percent of all births took place at home.
Ninety percent of all Doctors had NO COLLEGE EDUCATION! Instead, they attended so-called medical schools, many of which were condemned in the press AND the government as "substandard."
Sugar cost four cents a pound.
Eggs were fourteen cents a dozen.
Coffee was fifteen cents a pound.
Most women only washed their hair once a month, And, used Borax or egg yolks for shampoo.
Canada passed a law that prohibited poor people from entering into their country for any reason.
The Five leading causes of death were:
Pneumonia and influenza 2. Tuberculosis 3. Diarrhea 4. Heart disease 5. Stroke
The American flag had 45 stars …
The population of Las Vegas, Nevada was only 30.
Crossword puzzles, canned beer, and iced tea hadn't been invented yet.
There was neither a Mother's Day nor a Father's Day.
Two out of every 10 adults couldn't read or write And, only 6 percent of all Americans had graduated from high school.
Marijuana, heroin, and morphine were all available over the counter at local corner drugstores.
Back then pharmacists said, "Heroin clears the complexion, gives buoyancy to the mind, regulates the stomach, bowels, and is, in fact, a perfect guardian of health!" (Shocking?)
Eighteen percent of households had at least one full-time servant or domestic help…
There were about 230 reported murders in the ENTIRE U.S.A. !
I am now going to forward this to someone else without typing it myself. From there, it will be sent to others all over the WORLD all in a matter of seconds!
It is impossible to imagine what it may be like in another 100 yea
=============================================
Blog (764) posted on April 6, 2010
Mike & Sandra Zeiler (62) Vandal's grandson is having lung Surgery: From Mike & Sandra: Elk River, MN
Hi Gary, Grandson Matthew is having surgery tomarrow morning at the U of M. We have prayed for an Easter mircle and am confident everything will go well. Surgery will remove two spots from L. lung and in a week they will remove one spot from the R lung. He will be in the hospital approx. three days for each surgery, couldn't do both as it would be to hard on Matthew. Of course the lab results can come back clean for cancer, but with type of cancer he had, the
isn't taking any chances. So, yes, prayers are more then welcome and very much needed. God is listening, and all will be answered. Thank you. Mike and Sandy
Mike and Sandra, We know this has been an up hill battle for Matthew. Our prayers are with him. Gary
Reunion: Reply from Ron Longie (65): Yakima WA
Gary,
I hope this note finds you and Bernadette well, I am writing to inform you that I will not be making the reunion in May, my sister Patty is a school teacher, and wants very much to go back with me when I go so I opted to go when she gets out of school in June. I will miss seeing all of you as a group but will see some as individuals when I get there.
Ron
Ron, We understand, but we will for sure miss you. Gary
The following is from the Achieves of July 2008
From Bev Morinville Azure (72):
Vickie, I am so thankful you told us the story about how the church got its name WOW it is good to know the history…You made a tear come to my eye as I read this and caught not only my feeling as a teenagers back them but I am sure many others. As we watched about the war back then i remember thinking how can they turn there back on out boys. I remember when they said the war was over and the church Bells rand around town. Debbie and I were so excited to know it was over. once again thank each and every soldier that has served . COME ON PEOPLE lets hear it for our men and woman out there defending our freedom !!!!!!!!!!!!!!!!!!!!!!!!!!!!!!! Sharon i know the feeling when you live on forgein soil isn't the feeling amazing when your feet hit the ground of the GOOD OLD USA
Picture/Message from Sandra Zeiler Vandal (62):
 The picture of Arnold and Lorna was taken while we were up in Rugby for Arnold's b-day. At the same day, we went to see Connie Peterson and Blair Tandeski at the folks' old farm. They really appreciated Connie and Blair's hospitality. Take care, Sandra and Mike
Arnold and Lorna Zeiler at the Lodge in the Peace Garden.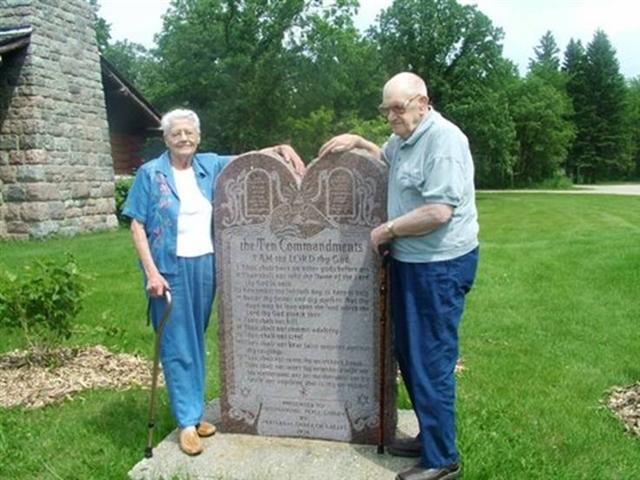 Folks, The messages from here to the bottom of this email all relate to the 1950 Dunseith squad football picture that was provide by Glen Williams.
From Florence Hiatt Dahl (50):
Mercy……….58 years ago a picture of the Dunseth squad…Picture 52. The faces all look familar, but the only one I can put a name to is my brother Don, number 2. A bunch of good looking fellows…..
From Janice Leonard Workman (56): Janice_Workman@earthlink.net
Hi Gary, in the football picture Glen Williams sent #1 is Bob Leonard, # 10 is Clark Crum, #9 Barry Shelver, # 4 Gary Morgan, #5 Dick Morgan, #12 is Marshall Awalt. I think that #8 is Don Hosmer, #11 is Jerry Williams and #2 could be Don Hiatt, I also think that Glen Williams knows all in this picture because he is either # 6 or 7. Oh, yes Kick McKay could be #6 or 7 also. My 3 older brothers, Bill, Bob, and Ed were on one of the 1st football teams Dunseith had in the early 50's. On the same team were the Morgan boys, Dick and Gary and the Williams boys, Jerry and Glenn. There was an article in one of the papers about all those brothers, probably the Turtle Mountain Star or the Dunseith Journal. I don't see Bill at all on the picture, and #3 could be Ed, but he isn't smiling and not wearing glasses, so I can't be sure. It also looks like someone, maybe a coach is smudged out of the picture on the left. The team played 6- or 9-man. These days, when you see a football team picture, even in high school, there are many more players than in this picture. I think Auburn High School has about 50 or 60 on their team. Of course it's a much bigger school also. Anyway, when Dunseith started it's football program, I was not in high school yet. In the picture, Barry Shelver was probably a freshman. When I got into high school, Mr Jerstad was the coach and the cheerleaders always got to go to the away games, but we didn't have buses, so we rode with whoever. What fun those days were!!!
Janice Leonard Workman
From Bonnie Awalt Houle (56):
Good Morning Gary,
The football picture sure brings back lots of memories. This picture was taken only shortly before Eddie Leonard went into the San Haven with TB.
#12 Marshall Awalt, #10 Clark Crum, #8 Don Hosmer, #11 Unknown, #9 Barry Shelver, #1 Bob Leonard, #2 Unknown, #4 Gary Morgan, #5 Dick Morgan, #6, #7, both unknown, #3 Eddie Leonard. Was the coach a fellow named Mr. Blake?
The stories of the Military Men from our community are wonderful, we have no idea what they have been through. Marshall was in Korea, and also in Vietnam twice, he never talks about his experiences. From the medals he has earned we know he did what was expected of him to the best of his ability and then some. Thank God for small town boy across the country who have given their all so we can life in peace.
Bonnie Awalt Houle (56)
From Dick Johnson (68):
 Gary and Friends,
I sure you will get several IDs on the football picture. I will throw in my guess. No. 1–Bob Leonard 4–Gary Morgan 5–Dick Morgan 7–Kick McKay 10-Clark Crum 8–Don Hosmer 9–Barry Shelver? 6–Bill McKay? 2–? 11-? 12-? 3–?
Jerry Williams is probably one of the players, if he has the picture. Gary Morgan will know these guys are!
Dick
From Ellen (Graff-58) Myrick:
 Some names/gueses od 50 football team: 12 ?, 10 Clark Crum, 8 Bob Hosmer, 11 ?, 9 Barry Shelver, 1 Bob Leonard, 2 Don Conroy, 4 Gary Morgan, 5 Dick Morgan, 6 & 7 Glen and/or Jerry Williams, 3?
 Ellen (Graff-58) Myrick
Photos/message from Glen Williams (52):  
Gary this is a "cleaned up photo"that I eamiled you before….someone said they could not recognize anyone….maybe this will help….It was the 1950 squad…and Bob Leonard was number 1…now who else do you recognize?
Glen Williams
(1) Bob Leonard, (2) Don Hiatt, (4) Gary Morgan, (5) Dick Morgan, (6) Glen Williams, (7) Kick McKay, (3) Ed Leonard
(12 Marshall Awalt, (10) Clark Crum, (8) Don Hosmer, (11) Jerry Williams, (9) Barry Shelver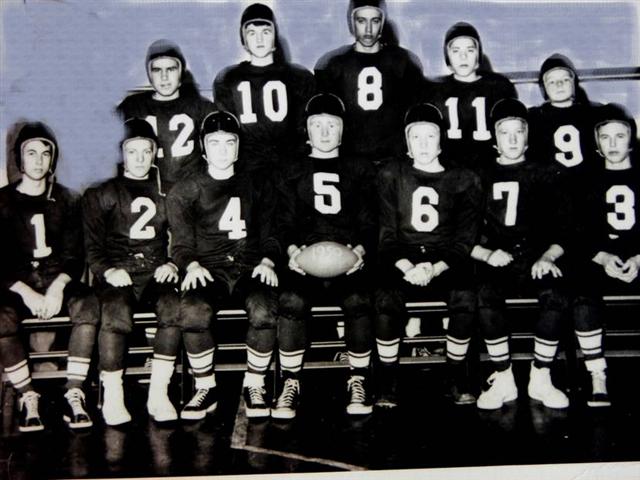 Gary.. The attached 2007 reunion photo pictures four guys who were members of the 1950 football team…can you you match the 1950 football individual team members with the individuals in the 2007 photo…????
No looking back now…!!!!
Glen Williams
Picture L to R: