Good day everyone,
Sorry for the long delay between posts. With Bernadette being in the hospital and other things,  I have been very busy lately.
Bernadette's condition progressed to where she was unable to swallow. With lots of coaching, not all of the time, we were able to get her to swallow getting food and water in her stomach. Now that she has her feeding tube, she won't even try to swallow.
She was admitted to the hospital and had a feeding tube inserted into her stomach. First they had to get her blood and other vitals restored before doing the surgery or procedure as they called it.  She was in the hospital 6 days. Inserting the feeding tube is relatively a simple procedure. Under General anesthesia they run the  device down the esophagus to the stomach. They then puncture a hole in the stomach for the tube.   Food is blended to a liquid and placed in the tube. It works very well. We have a plastic binder that goes around her body that covers the tube when not in use.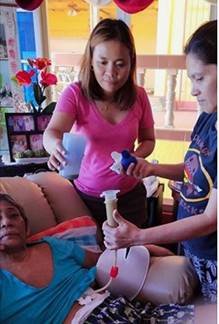 Violet DuBois passed away
Obituary posted by Vickie Metcalfe ('70):  Bottineau, ND
https://prod1.meaningfulfunerals.net/obituary/violet-dubois?fh_id=14585
Dear Friends of Dunseith and Gary,
I wish to extend  sympathy to the 'Emil' DuBois family on the passing of their family Matriarch, Violet.
I considered  Violet as a friend, and  I  enjoyed  whenever we had  an opportunity to  visit.
I also  carry fond memories of her younger children who  were former students of mine.
Violet was a kind, smiling, thoughtful interesting lady.
She put her family and God above all!
Sincerely,
Vickie Leona Metcalfe
Dale's Jumbo Burger
Reply from Larry Hackman ('66): Dunseith, ND
Gary
I can't believe that it took that Hiatt kid three years to finally satisfy his cravings for a (Dales Jumbo Burger) after seeing that picture below his posting.  Talk about a delayed reaction.  I wonder how that works for him at a auction?  He must have been letting his taste buds suffer for awhile before he decided to tackle a jumbo.  Rod, I bet them buds were surprised and great full as hell to finally be satisfied.
Gary to tell you the truth after seeing Rod's picture  of that jumbo I wanted to jump in the truck and head up north for a jumbo, but it has been so damn cold here (just like the sixties) that a person hates to go outside and when you do, you have to grab a shovel to help you get to where you are going.  You don't know what you are missing, or maybe you do remember?   I didn't see any snow or cold or milk cows or hay or a path to the barn on them farm pictures you displayed.
But, yes Gary I did eat a whole jumbo, the last time I ordered one.  However, I have not ordered fries with a jumbo for several years.  I been trying to cut back on the carburetors.  Everything has went to injectors!
That quarter jumbo sure do look good.  Thanks Rod!
Thank You Gary for all that you do for us, and we are praying for your wife.
Larry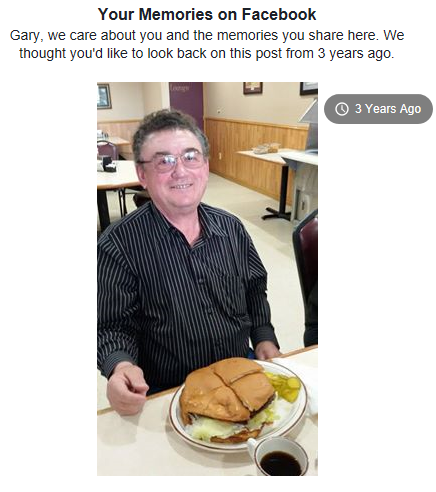 ==============================================
Blog (770) posted on April 11, 2010
Bryan Schimetz (77) suffering with MS:
Posted on our Website:
From: David Schimetz Phone: 
Message: I would like to start a prayer chain for Bryan Schimetz. He is in Triumph Mandan Hospital. Bryan has suffered with MS for over 30 years and is now in the last stages of the disease and he will leave us soon. He is surrounded by family members and he is in no pain. Please keep him in you prayers. Thank-you all from the Louis Schimetz Family
David, Since putting these class lists together, I have known that Bryan is suffering with MS. I talked to him, by phone, several years ago when he was in the Good Samaritan center in Bottineau. From the sound of his voice with that conversation, I could tell he was suffering. I am so sad to hear of his continued deteriorating condition. He's coped well with all his suffering with this disease for so many years. Our thoughts and prayers are with Bryan. We know it's hard on the entire family as well. Our prayers are with you guys as well. Gary
Question from Bonnie Awalt Houle (56): Becker, MN
Dear Gary,
I heard there were some early additions to this blog that were sent around before the reunion that ballooned this blog. They said those early additions had individual pictures of students. Do you still have those blogs? Could you possibly send those around again?
Thank you for all you do, and God Bless.
Bonnie Awalt Houle
Bonnie, I assume you are talking about those messages posted prior to the 2007 reunion? We, the class of 65, generated a whole lot of email traffic for about 6 months leading into that reunion. For quite sometime we were almost live, at a given time, each day. As messages came into me I'd immediately forward them to the class and they'd reply instantaneously. The cycle continued, often times for several hours, each day. I saved each and everyone of those 2,000 plus messages only to loose them when my hard drive got reformatted a few months back. I didn't realize I didn't have them backed up. What a loss. Do any of you from the class of 65 or auxiliary folks that were included with those message, by chance, have copies of any of those messages?
Needless to say, the ice had been well broken long before our reunion in 2007. This was our first ever class reunion too. Most of us agreed that we were not that close of a class in our HS days and that comradery becomes increasingly more important as we get older. As we get older, relationships tend take precedence above all else. It's too bad we wait until our more senior years to realize all this.
Gary
From: Gary Houle (63) and Roberta: Champlin, MN
Hi Gary-You have done a fabulous job with the Richard Family genealogy graph which you posted in blog #761. It really helps to see how everyone is related. One small correction. Under Gary's grandma Bernadette Dostaler, there is a Leo listed under Ted Dostaler. Leo was Bernadette's husband, not a son of Ted. Ted was never married. Keep up the good work. We enjoy your daily blog.
Roberta Houle
Roberta, Thank you so much for this correction. I have updated my master copy of that graph with this correction. I have also attached a copy of this PowerPoint graph of the Richard Family. Gary
Pete & Ruth Larshus Peterson:
Folks, I just ran across this photo that I did not realize I had with the recent passing and many good memories of Ruth. I believe Neola sent this picture to me quite sometime ago. Ruth was a well remembered teacher throughout the hills, Dunseith and Bottineau. She was also a first cousin to Art Rude.