Fran Trambley
Message from her Daughter Shari Bazemore:  
Hi Gary,
I was doing some research online  and came across your blog –  you had questions regarding Frances Trambley ?  She is my mom. Let me know what info you are looking for.
Thanks!
Shari Bazemore
Earl Milbrath, a Bottineau Friend, Passed away
Posted by Neola Kofoid Garbe:  Minot, ND
Neola,
This message hit me like a lead balloon. I guess people don't live forever. I had no idea that Earl was ill or having health problems? Maybe he wasn't?
When I was a kid, My dad used to work for Ed, Earl's dad, both in the spring and in the fall harvest. They lived 4 miles west and 3 or 4 miles south of Bottineau. We'd drop him off at Ed and Tillie's on Sunday nights and pick him up on Saturday nights after work.  Earl and Pearl lived there too. Dad remained good friends with all of them his entire life. Both at my folks 50th anniversary and at Dad's 80th birthday celebration, at the Senior center, Ed told me lots of stories about Dad. All good. With the association of my dad, I knew both Ed and Earl pretty well. Earl more so in later years with my trips back to the area. In 2013 Earl gave me a tour of his farmstead and all of his farmland and that whole general area. Very impressive. We topped the tour off with a late dinner at the bakery.
I will for sure miss seeing Earl, all over town, with my trips back to Bottineau.
Earl was a Bottineau guy, but I'm going to post this on the Dunseith blog as well.
Gary
Earl Milbrath, age 90 of Bottineau, died Monday, May 27, 2019 at his home.  His funeral will be held on Friday, May 31, 2019 at 2:00 pm at the Grace Lutheran Brethren Church in Bottineau.  Visitation will be Thursday from 4:00 pm until 9:00 pm at the Nero Funeral Home in Bottineau.
==============================================
Blog (780) posted on April 21, 2010
Folks,
I didn't have an internet signal yesterday morning, so I was unable to post a blog. It was our bowling day too. Following bowling, we were invited out for dinner with several of our friends, as guests, at a local members only club. We didn't get home until nearly midnight. We attended an all you could eat Prime Rib buffet. I have never eaten better Prime Rib. It was so moist and tender.
Gary
Dick/Brenda Johnson & Ron Hett (Highway 43 Band)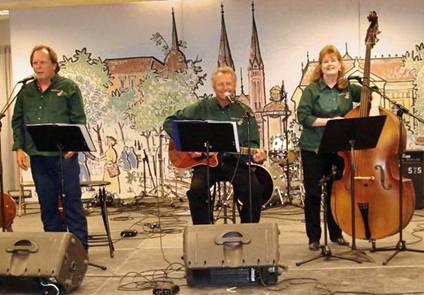 Message from Floyd Dion (45): Dunseith, ND
Gary
Hwy 43 played at the Dunseith Sr. Center today, with people from Bottineau, residents from the Dunseith Nursing Home and local people . Dick, Brenda & Ron did a wonderful job with their instuments, If anyone likes REAL country music you will be able to hear them play May,22
nd at the Bingo Barn during the reunion. Dick is a wonderful singer.
Time is going fast, only a month until the reunion.
Floyd
Floyd, I have one of their CD's. They're great!! As you said, Dick is a wonderful singer. I can not wait to hear them in person.
The reunion is getting close, one month from today. We'll be leaving two weeks from this coming Tuesday. We'll be spending a few days in the Seattle/Bremerton area before going to ND. We'll be arriving in Minot at 4:00 PM on Sunday, May 16th. From there we'll be getting a rental car and heading for Bottineau. We'll be staying with my brother Darrel (Bud) & Debby. Gary
Reunion attendance list:
The folks listed below were added to my list with an update from Verena yesterday. These folks were not listed with day before yesterday's posting.
For name tags, please verify that everything is correct. Please get back to me with any corrections. 
| | | | |
| --- | --- | --- | --- |
| Diane | Larson Sjol | Minot, ND | 1970 |
| Jim | Evans | Dunseith, ND | 1963 |
| Cheri | Metcalfe Evans | Dunseith, ND | 1974 |
| George | Gottbreht | Dunseith, ND | 1961 |
| Rose | Gottbreht | Dunseith, ND | 1961 Spouse |
| Linda | Gunville | Dunseith, ND | 1979 |
| Bernadette | Peltier | Dunseith, ND | 1970 |
| Carol | Peltier Breland | Belcourt, ND | 1975 |
| Sam | Breland | Belcourt, ND | 1975 Spouse |
| Elaine | Peltier | Dunseith, ND | 1974 |
| Fern | Peltier | Dunseith, ND | 1977 |
| | | | |
| --- | --- | --- | --- |
| Don | Lamoureux | East Bethel, MN | 1975 |
| Elizabeth | Lamoureux | East Bethel, MN | 1975 Spouse |
Pictures from the Achieves:
Folks,
These are pictures from Jared and Geraldine (Gee) Steele's wedding. They were married, here in Cebu, on July 28, 2008 in beautiful ceremony in the presents of about 200 friends and relatives.
Following their wedding, It took 9 months or so for Gee's Visa to be processed, enabling her to go to the USA. Jared came back here last May for her to accompany him back to Bottineau. Those were nine long months for both of them waiting for the Visa process. The average processing time is one year, so they beat the average.
By now, for those of you in the area, you have probably met Gee at the Bottineau Wal-Mart. She started working there, as a cashier, shortly after arriving in Bottineau. Gee has a bachelors degree for teaching too. I'm not sure if she has plans in pursuing her teaching career in the states or not.
Bernadette has promised to take Gee some dried fish with our trip back next month. I'm pretty sure there is not much demand for died fish in Bottineau. Without rice and dried fish these Filipino/Filipina's have withdrawals.
Jared is originally from the Bismarck area. He works for Terry Moe (72) at "T'S Yamaha" in Bottineau.
Gary
Cebu, Philippines – July 28, 2008
Jared & Geraldine (Gee) Steele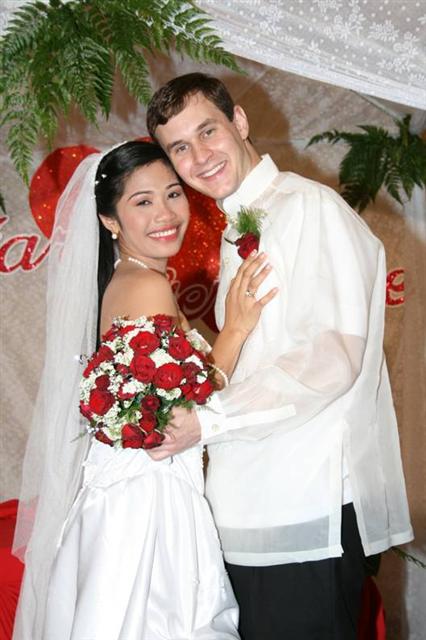 Cebu, Philippines – July 28, 2008
Gary Stokes, Jared & Geraldine (Gee) Steele, Bernadette Stokes

Back: Roberta Hagen Striker (75)
Front: Kim Hiatt Hermann (77)