Folks,
Sorry again for the long pause between postings. Not enough hours in the day.
Bernadette has recovered markedly well after having been in a coma state of being for 20 days. Her speech is much improved too. She still pretty much needs 100% assistance for everything. Once we get her on her feet she can walk very short distances with assistance. Most days she has forgotten yesterday and much of the current day. Some days are better than others. She knows the moment and all of us though. She strongly requested to have her feeding tube removed. She want's no live support. For the past 6 weeks she has refused all her meds too. Two weeks ago we had her feeding tube remove. She's well aware that if the time comes that she can't swallow or is unconscious she won't have food or water. That is her wish. We have been taking her out most days. Today she went with me to the Chung Hua Hospital to get some paperwork. She requested a whopper, so following our hospital visit, we went to Burger King. Tata and Mirasol are always along too, to get her in and out of the car, assist with her eating, bathroom, etc. It takes two. She can be a handful.
Gary
Happy 69th Anniversary to Floyd and Luella Halvorson Dion
Posting by Vickie Metcalfe ('70):  Bottineau, ND
June 2, 2019,
Dear Gary and Friends of Dunseith School Alumni,
Today, I  made a road trip  to  Dunseith and Little Prairie to remove memorial wreathes. I  stopped and ate  lunch (Truckers Special) at  Dale's Cafe.  Dales has a new  indoor look. However,  the wait staff and cooks continue to be wonderfully courteous, pleasant and efficient.
After lunch I was treated with a  delightful chat with Floyd and Luella Dion. It seems I have known them all my life.  My parents held them both in high regard.
Floyd once lived  a couple miles south of the Seim and the Birkland farms. Or, a mile North of the Metcalfe's of Rabbit City Lake. I believe, Floyd  also attended the Seim (Oakes) School along with thePeterson, Carlson, Seim, Olson and Birkland children.
As a child, youth and adult, I always felt  they always knew me by their kindly greeting. Floyd  calling me Vickie, Luella called me Vickie Sue,  and their  son, Dennis was the only classmate, I  allowed  to call me "Wickie".
Floyd and Luella remain the same kind, wonderful pair they have always been. They will celebrate their 69th wedding anniversary on June 7, 2019.
Floyd and Luella Dion,
"You are  true role models of committed relationship!
I wish you, a most  Blessed Happy Anniversary.
Sincerely and most fondly,
Vickie Leona Metcalfe
Vickie: I ditto everything you said about Floyd and Luella. Such a lovely friendly couple too.
Gary
Priscilla Lamb Anklam Passed away (6/9/2019)
Posted by Vickie Metcalfe ('70):  Bottineau, ND
Gary and Dunseith Alumni Friends,
Maternal aunt Priscilla  ( Lamb) Anklam passed away last evening/early   this a.m. at Rug by Hospital  Long Term Care.. Priscilla had a long history of comfort to our family. She was there  at our home in Marysville, that awful January night ,   Uncle Archie Metcalfe was killed. She was  a source of comfort for our  Dad  and mom whenever anyone   took ill. Dad would say to mom , "Call Priscilla.": The last few years have been quite  difficult for Priscilla  after the   passing of her husband, Charles' six Junes  ago. Vickie L Metcalfe 6/10/19
Peddlers and  Dad & Secret Laboratory
Posted by Vickie Metcalfe ('70) Bottineau, ND
https://www.bbc.com/news/video_and_audio/headlines/48504670/inside-britain-s-top-secret-research-laboratory
Morning of June 4, 2019,
Gary and Friends of Dunseith,
Reading of this article I continue to  find hope in the people who value life  and continue diligently working in places like this laboratory!
But, I  hate peddlers!
I just walked Buie in his stroller.
It rained last evening leaving everything fresh although at 9:00 am, it  felt  soon be humid. Walking west a  nice little  refreshing breeze came up.
However  in front of my house the breeze was dashed.
A carload of people with Colorado plates in the shade parked. Immediately, I was way laid,  a clean cut, suited  man jumped out of the drivers side, with pamphlets.
After a greeting exchange about dogs, he told me he/they had a dog, a  home in CO  and  another in ND, He  started to ask questions  showing me a printed pamphlet  "What do you think about  the  future of this country?  He asking, " Will it be: 1. getting worse,  2. same or  3. better……"
I quickly replied , "I believe ……… all will be  better.  I believe there are many good people in our country."
He  praised about need for optimistic and …… tried to lead conversation  into  doubts  and  Bible.
I  politely and calmly, stated,  " I know  what I  believe." Then,  followed  quickly with a  red herring comment  about his  CO  plates.
I said, "I think ND should have the  same  rules as MT.  Everyone is required to put on  MT plates after 30 days of residency. I am going  in now.  Goodbye".   Without another comment or look, I pushed Buie's stroller into the garage.
Thiughts   of my  dad, "Whenever peddlers come about_____
Dad had a strong work ethic. He didn't tolerate anyone disturbing his work, his strong faith, belief in right and wrong. Peddlars would quickly retreat, (while, I  as a little girl felt  the warm  heat flush of embarrassment)
But today,   I  give thanks  for  a strong  father's vision. Dad never waivered in  his strong faith, belief, fond regard of friends, sense of humor, and love of  family all the  while at  the time, he struggled with diabetes, heart problems,and he and our mothers dimming losses of sight."
To brighten my day I read BBC and I am  reassured  by knowing.  I will  choose to have  good day. Wishing you and yours all that is  good in your world.
Vickie Metcalfe
Metigoshe Lutheran Lakeside Chapel 1969
Posting by Doreen Larson Moran (BHS '61):  Spokane, WA
I went to church at Metigoshe today to take in the remembrance of the dedication of the A-Frame chapel 50 years ago. The flyer, attached,  was included in the bulletin and the front was one of the older pix of the 'new' chapel.
Joel & Sonja Hernes were there and were recognized at the 1st service – I talked with them a bit after and went to the 10::30 service. LuAnn Soland had retrieved a reel to reel movie of that era of building; it was shown on screen which was fun to see but would be more fun in a small room with no lights. I couldn't quite pick out familiar people.
I sat in a 'family row' next to Nate Olson with all of Luther's there.
Nice to see familiar faces of Metigoshe… Allen Rude was there, there's a memorial service at Salem cemetery for Virgil tomorrow. Also was greeted by Art Rude. Lloyd Larshus might have been the only 'old-timer'
there – he's probably the only one left from that era! Also was remembering today would be dad's birthday, 104 years.
Metigoshe Lutheran Pastor Joel Hernes and his wife Sonya
Posted by Doreen Larson Moran (BHS '61):  Spokane, WA
Pastor Joel Hernes and his wife Sonya  came spring of 1963 right after Pastor Grudt.  He was the pastor who married Bob and I Sept 7, 1963.
When we celebrated our 50th anniversary on the 7th of Sep in 2013, both of them were at our party at the LMCC.  It was a very fun time.  I have seen him through the years usually at Hostfest.  He came to visit Mom when she was in Trinity Hospital in 2005. I believe he told Bob in 2013 that he was in beginning stages of Parkinson's.  In the picture both of them look so pale.  I wonder if the camera needed adjustment. 

I think they must have been at the Sunday service celebrating the 50 year since the A Frame was used for the summertime worship services.
Doreen
Pastor Joel Hernes and his wife Sonya
at Sons of Norway Norwegian Retreat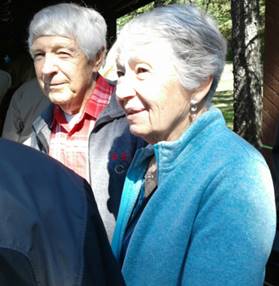 ==============================================
Blog (781) posted on April 22, 2010
Highway 43 CD request:
Request from Ele Dietrich Slyter (69): Dunseith, ND
I hope that Dick and his band will have some CD's for sale at the reunion…I think a lot of people would like to have one.

ele

Ele, I know a lot of folks are hoping Dick will have some CD's available at the reunion too.

 

Dick is very careful not to mention his CD's with our Blog. He prefers not to have this sight turn into a marketing sight.

 

Dick, with Ele's request and others, we are certainly hoping you will have some of your CD's available at the reunion? Gary
Esther Murray Fleming (65) will be attending the reunion: Flint, MI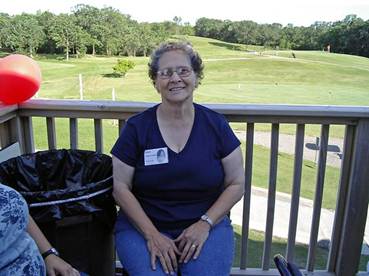 Reply from Susan Fassett Martin (65): Spearfish SD
I am ready to go. Will be staying at the Super 8 in Bottineau. Please add Esther Murray Fleming to the list of attendees. I will pick her up at the Minot airport on my way up.
 Folks, I replied with a separate message to the class of 65 with Esther's attending. Esther has only been back to Dunseith several times since graduating in 1965. She was able to attend our 2007 reunion with her husband. At that time she had not been back to Dunseith since about 1968. We are so glad that she will be attending our reunion next month as well.
Ann Gottbreht Flaata:
Request from Connie (Roger) Zorn Landsverk: Bottineau, ND
Hi Gary, fun looking @ the Dunseith alumni,
My friend Ann (Gottbreht) Flaata is married to Harlan & Joyce Flaata,s son Mark. Ann went to school in Dunseith & would like to receive the Dunseith alumni & sign up for the school reunion (DHS) this is her email address Ann Flatta@utma.com Connie (Zorn) Landsverk
Thank you Connie for including Ann.
 Ann, I believe Francie Gottbreht Dutra (63) and Mary Ann Gottbreht Brennan (58) are you aunts. What class year were you with when you attended Dunseith? Your husband Mark's mother, Joyce Flaata, is also signed up for attending the reunion. Will Mark be joining you as well? Please let us know so we can add him to our list of those attending. Thanks, Gary
Pictures/Articles:
From Neola Kofoid Garbe: Bottineau & Minot, ND.
Folks, Neola sent this picture to me for Identification. I am 98% sure that this is Lester and Marion Johnson. Since the Johnson's have been in our conversations in the recent past and with this being such a great photo, I want to post it.
Lester and Marian lived on the James Johnson home place located 1 1/2 miles west and a 1/2 north of the Ackworth Cemetery. Their home was on the north side of Bergan Lake. Their children Attended Dunseith for a number of years before transferring to Bottineau. Loren is their oldest. I'm not sure if he graduated from Dunseith or Bottineau?
Lester and Marian have lived in Bottineau for a number of years now. They live on Main street one block south of the Senior Center.
I would like to congradulate Lester and Marian on their 60th Anniversary. Gary
Lester and Marion Johnson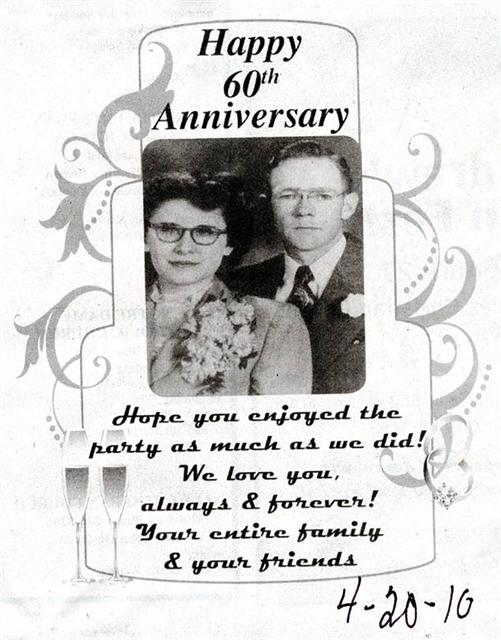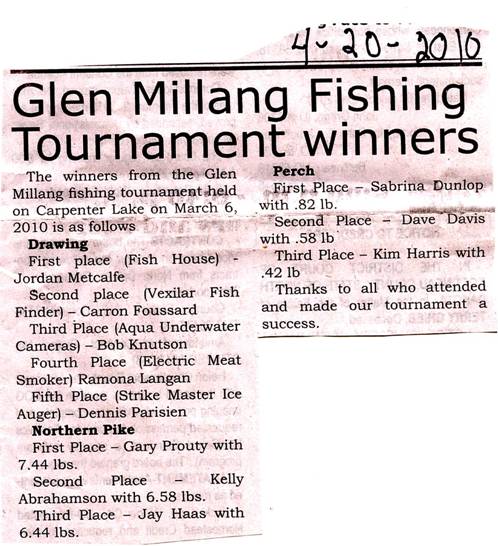 Danny Schimetz is a grandson of Stella's. I'm not sure which one of her children he belongs to though? Colette (Reid Deceased) Pigeon Schimetz, is Danny by chance your son?