Eleanor Rose (Metcalfe) Nerpel Passed away (Kathy & Ken's Mother)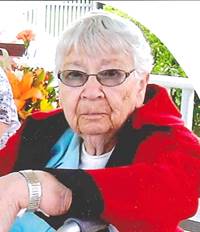 Eleanor Rose (Metcalfe) Nerpel was the first child born to William and Mary (DeMontigny) Metcalfe on August 5, 1924 in Dunseith, North Dakota.

She died at the age of 94 years on Monday, July 8, 2019 at the Rolette Community Care Center in Rolette, North Dakota.

Eleanor Rose (Metcalfe) Nerpel was the first child born to William and Mary (DeMontigny) Metcalfe on August 5, 1924 in Dunseith, North Dakota.  She died at the age of 94 years on Monday, July 8, 2019 at the Rolette Community Care Center in Rolette, North Dakota.

Eleanor went through her first two grades of school at Wildrose School and finished her schooling at Weatheralt School, completing her education and receiving her eighth-grade diploma.  Eleanor worked as a Nanny for a few years and then worked at the Gambles Store in Dunseith for six years, where she met her future husband, Clifford Henry Nerpel.  Clifford worked at the Red Owl store in Dunseith, living with an older sister, Hannah and her husband, Lucien Bedard.  He worked for Lucien and Hannah in their grocery store after school and on Saturdays while attending school.  Eleanor and Clifford traveled west and worked at the Commercial Shipyard in Portland, Oregon, during the War, working on PC boats.  On March 30, 1944, Clifford Henry and Eleanor Rose were married in Vancouver, Washington.  They continued working at the shipyard for a short period and then returned to North Dakota and Clifford returned to work at the grocery store.  The couple lived for a short period on the Archie Metcalfe farm and then bought the Harry McDermott farm west of Kelvin Store in 1949, where they raised cattle, horses and other farm animals.  They used War Bonds that they had bought at the Commercial Shipyards to purchase their cattle.  Eleanor worked at the San Haven north of Dunseith for 13 years and then was employed by the Dunseith School District until retiring in 1993 at the age of 69.

Eleanor is survived by her children, Katherine Jean LaCroix of Rolette and Kenneth Arthur (Sherry) Nerpel of Chanhassen, Minnesota; 6 grandchildren; 9 great grandchildren; brothers, William (Bernice) Metcalfe and Larry (Lise) Metcalfe; nieces, nephews; other relatives and friends.  She was preceded in death by her husband; a granddaughter, Maria LaCroix; siblings, Robert William Metcalfe, John Alvin Metcalfe, Lloyd Earl Metcalfe, Lorraine Somers, Bertha House and Alice Hafsahl; and her parents.
Gary and Alumni and Friends of Dunseith School,
            Today 7/13/19, at  Rugby Anderson Funeral Home,  Pastor Jim Odden of Valle, Overly and Peace Lutheran  led the funeral service of Eleanor Rose (Metcalfe) Nerpel.
 (Eleanor was the eldest of the many Metcalfe First cousins.)
            The congregants were led in Song by Pastor Jim.
            "I was there to hear your borning cry,  I 'll be there when you are old. I rejoiced the day you were    baptized, to see your life unfold"_
            This was followed time of sharing  of remembrances offered by several people.
            Rose Ann (Metcalfe)Gottbreht and Cheri (Metcalfe) Evans sang beautifully a Capella  duet of favored song requested by Eleanor  for  them to sing at her funeral".
            After the service Eleanor's daughter, Kathy  and her children, Eric, Gina, and Gabriel hosted coffee and assortment delicious bars at the Cottage Café.
            Respectful Sympathy to Eleanor's, children Ken and Kathy,  her grandchildren, and great grandchildren .
 She was always a  quiet unassuming wonderful  lady.
            Rest in Peace Dear Cousin, 
Sincerely,
Vickie Leona Metcalfe
Gary's Comments:
We extend our condolences to Ken ('65) and Kathy('64) with the passing of their mother. We know it's hard and you will miss her.
Kathy was with the class of '64 and Ken was with my/our class of '65.
Ken: you and I have some fond, or maybe some not so fond, memories of going through Army Basic Training together in the summer of 1968 at Fort Lewis, WA. We were both drafted. I have forgotten if we were 3rd or 4th rank in formations, but you were always to my right. That I  will never forget. Basic was no picnic. They for sure made men out of boys. They were preparing us for war with training that enhanced our character and outlook on life for a life too.
==============================================
Blog (785) posted on April 26, 2010
Call Centers:
The other day a friend of ours from the states called his credit card company to let them know he is living in the PI. The gal at the call center taking the call said she lives in and was taking his call from right here in Cebu. When calling for technical support one never knows what part of the world you are calling. Gary
Important reminder – Dunseith Alumni Reunion
For those of you that attended Dunseith schools, planning on attending the reunion, Verena needs your Registration payment by the end of the month (4 more days) enabling you to get a Tee Shirt. Those attending that do not have their Registration payment to Verena by April 30th will not be getting a Tee Shirt.
You can mail your $5.00 registration fee and $10.00 if you want the catered Roast beef dinner ($15.00 Total per person) to Verena at the following address
Verena Gillis
PO Box, 785
Dunseith, ND 58329
John Boguslawski (68) Memories:
From Dick Johnson (68): Dunseith, ND
Gary and Friends,
When Trish said she could just see John Bogus standing there, I know what she means. We did so many things together that the memories stay clear. He certainly did have a quiet sense of humor and sly smile. I often wonder what he would be doing now if he was still with us. He had finished college and worked for Bobcat in Bismarck for a while and then had taken a job with a tool and die manufacturer in the Minneapolis area. That type of work was right up his alley as he was always designing some mechanical device of some kind. He had married a very nice gal named Christy and things were going good when he lost his life in the river drowning accident. That was in the spring of 1981. It really doesn't seem possible that it's nearly 30 years ago. I guess our good memories of our old pal John will have to fill the void. The upcoming reunion will be a good place to reconnect and reminisce with old friends and classmates before time thins our ranks even more. There is an old saying—-'Time waits for no man'—it seems to be more true by the day. Thanks Gary!
Dick
Previously posted by Dick Johnson in message 500 (Class of 68 folks)
Those in the pictures: John Bogus with the multi colored shirt, Rich Campbell with the block of wood, Greg Grimme with the hat on, and Tim Hill with the ' I think we made it ' look!
Note: Dick was taking the picture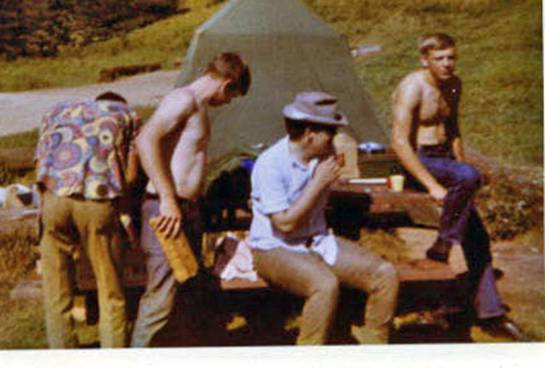 Reply/Picture from Trish Larson Wild (73): FORT COLLINS, CO
Hi Gary,
I'm sorry to say that there was just not enough time for me to make the ride to Dunseith next month. I'm still working full time in the Loveland Emergency Room through May, and hyper focused on fundraising and preparing for my exodus in the fall. I'm sorry to miss all the fun I'm sure you'll be having, but rest assured, I'll be reading your blog and looking for photos!
Things are coming together very well for my ride to Argentina. I will be putting a website up sometime in mid to late May which I hope will make it fun and easy for people to follow along and communicate with me on my ride. My old desk top computer broke down a few weeks ago, but one of my sponsors has promised to deliver a new laptop by the end of April. Once that is acquired, I will be up and running full steam on the internet. Meanwhile, I'm making occasional entries on my blogsite, listed below. People can now sign up as charter "followers" and receive notification when new entries are posted.
The plan is still to head south from Colorado on 10/10/10. In the meantime, I'm planning to increase my riding time gradually, cutting back at work and riding more each month until finally I am full time in the saddle (living in the Roosevelt and Rocky Mountain National Forests) by August, or September at the latest.
Thanks for your interest in this epic adventure! All are welcome to join me on my ride electronically. I will also be taking reservations along the way for friends who would like to join me in person, as I will have an extra horse for that purpose. I expect to be riding through some spectacular scenery, including the Inca Trail in the mountains of Peru….
I've included a photo I took this morning in my back yard as I was leaving for work. These are my friendly geldings, Magic and Midnight. I call them the Prince and the Pirate, based on their personalities! As you can see, we still have snow on the mountain. Spring is on the way however, and I expect there will be many sunny days ahead this summer!
All kinds of fun stuff coming together. Sorry I won't be able to join you in North Dakota, but I really enjoy our connection, and hope to hear from some of you as time goes by.
Your Friend in Adventure,
Trish Wild
The Equine Nomad
www.trishwild.blogspot.com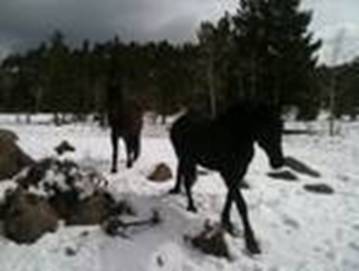 Hi Gary,
Here's another photos of me with Magic, after a 25 mile ride over the mountains into Fort Collins last week.
Trish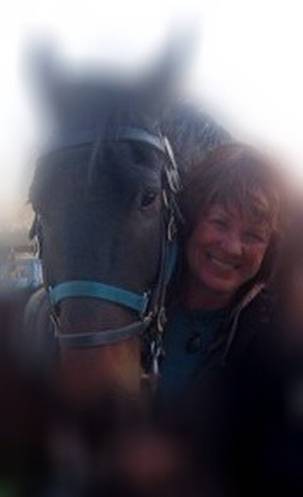 Folks, These are some pictures from the achieves:
2007 Class of 65 reunion
L to R: Bernadette Stokes in Back, Margaret Metcalfe Leonard, Bill Grimme, Cecile Berube Reynolds & Phyllis McKay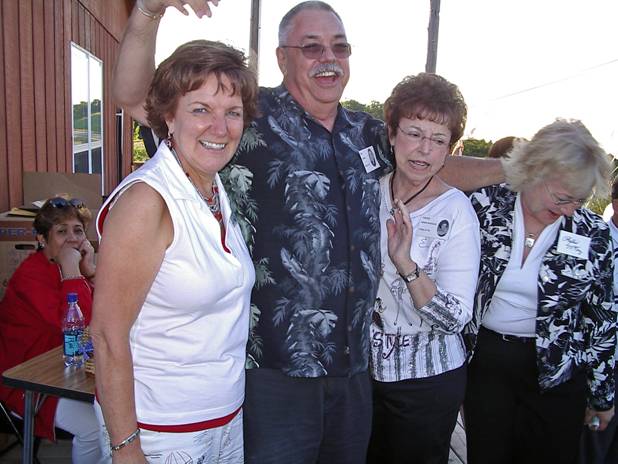 December 1973
Rene & John Bedard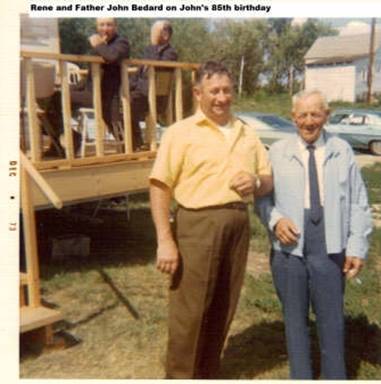 Agnes Berg & Dick Johnson (68)