Don Corzine (Carol Pritchard '67 Husband) Passed 
Don Corzine, February 10, 1947-February 2, 2020

Don Corzine, 72, passed away February 2, 2020 in Denver City. Memorial services will be held at First Baptist Church in Denver City on Saturday, February 8 at 10:00 a.m.
Donald Lewis Corzine was born February 10, 1947 in Haskell, Texas to J.F (Jeff) and Mabel Randolph Corzine. He graduated from Seagraves High School and served in the U.S. Air Force. He married Carol Pritchard in 1969. He served as a reserve deputy for the Terry County Sheriff's Dept., then in 1983 became a deputy for the Yoakum County Sheriff's Dept. before serving four terms as Yoakum County Sheriff from 2001-2016.
He is preceded in death by a daughter, Jana Atkins; his parents; an infant brother, Ronald Raymond Corzine; and a sister, Dolly Belknap. He is survived by his wife, Carol; a daughter, Judy Faught and husband Shane, of Brownfield; a son, Derek Corzine and wife Ydien, of Amarillo; and two grandchildren, Breck Lindsey and husband Treg, of Marysville, California and Conner Faught, of Brownwood.
Gary's comments
We extend our condolences to Carol and all of her family with the passing of her husband Don. I heard a lot of good things about Don too. I know he was a well-respected guy.
The Pritchard's lived one mile south of us in the Ackworth community of the Turtle Mountains 16 miles NW of Dunseith, ND.
FROZEN FINGERS FESTIVAL
Posted by Neola Kofoid Garbe: neola@min.midco.net Minot, ND
Gary,
This is the poster for Frozen Fingers Festival in Minot.  Dick and Brenda perform at this festival every year\
Neola
Note: Please attachment.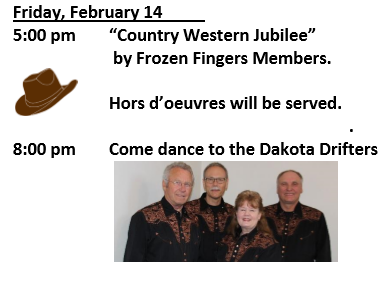 Deerheart Lodge
Pictures and Posting from Kari Keyes: Minot, ND
Note: Kari Keyes discovered us on our Dunseith Alumni Website. This is her reply.
Hi Gary…my name is Kari Keyes.I was going through an old album of my grandmother Bella Benthagen and found some pictures she took at "Dearhart Lodge" in 1951 while on a site seeing trip with her brother who was from Souris ND. There were just two pictures, but they peeked my curiosity.  What a neat place! My mother couldn't recall ever hearing of this mystery place. They were taken along with a picture of the sanitarium of San Haven. I posted them in a FB page called Minoter's asking if anyone knew of this place. Low & behold I had a response correcting the spelling to Deerheart Lodge in Rolette county.  So, after digging around in Google I found your Dunseith blog site and the entry about the history of the lodge. What a forgotten treasure.  One of the comments requested for anyone who had pictures to post them. I would be glad to share these with you.
Kari Keyes Reply to Gary
Hi Gary
I live in Minot, however I grew up in Westhope ND and we moved to Minot when I was in 3rd grade. My grandmother was married to Art O Benthagen and they owned the grocery store in Westhope way back in the day, and then after that closed my grandfather was the city auditor for some time. My Grandmother was originally a Fairweather and her family had established a homestead in Souris- all farmers. Her full name is Isabelle Fairweather and the brother that was on the drive with her that day was Edward Fairweather, she had another brother named Bill. My mother Lonnie had a second cousin & his name was Floyd Fairweather- you may be more familiar with his name as he was a professor here at Minot State and quite the artist.
We have had a fun time going over the pictures and getting to know the history of Deerheart Lodge. I understand there isn't much left of the "resort" from what Face Book folks have said, but we still plan on heading up that way this summer to trace the steps of her family that day.
If you are on FaceBook I can tag you on the post in the Minoters Group page- you may find their comments about the post interesting and one other lady found a picture of a family member leaning on wall at Deerheart Lodge.
My regards,
Kari Keyes