Joann (Smith) Fuchs (DHS '65) Obituary
Posted by Neola Kofoid Garbe:  Minot, ND Joann (Smith) Fuchs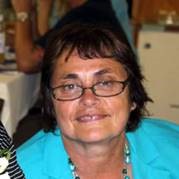 Joann Fuchs, age 72 of Bottineau, died Thursday, February 27, 2020 at a Minot nursing home.  Her memorial service will be held on Thursday, March 5, 2020 at 2:00 pm at the Grace Lutheran Brethren Church in Bottineau.
Ella Joann Fuchs, a daughter of William Jay and Eva (Vannewkirk) Smith, was born on March 13, 1947 in Bottineau.  She attended country school and Dunseith High School before graduating from Bottineau High School in 1965.  On October 14, 1967, she married  Leroy Fuchs at the Methodist Church in Bottineau.  They lived in Kramer until moving to Bottineau in 1991.  Through the years, she worked at the Bottineau Courant, the Kramer School, Dakota College at Bottineau, Bonnie's and Flora's Daycare and then Liebold Dentistry until she retired.
Joann was a member of Grace Lutheran Brethren Church in Bottineau where she was active in the ladies' groups and the children's ministry.  She enjoyed walking, her birthday club and her children and grandchildren's sporting events.
She is survived by her husband, Leroy of Minot, 2 daughters, Debbi (Vinnie) Lovelace of Minot and Patti Jo (Nate) Hagerott of Minot; grandchildren, Alyssa (Mitch) Thompson of Bottineau, Kaitlyn Sivertson of Minot, Lexi Lovelace of Minot, Madison (Dylan) Hagerott of Stanley, ND and Ezra, Finli and Ian Hagerott of Minot; great grandchildren, Addison and Emily Thompson of Bottineau and Bryker Nyhusmoen of Stanley, ND; sisters, June Smith of Las Vegas, Erma (Morris) Berg of Lynden, WA, Joyce Helgeson of Bottineau and Janice (Donald) Fuchs of Albuquerque, NM; brother-in-law, James (Donna) Fuchs of Devils Lake; and numerous nieces and nephews.
In addition to her parents, she was preceded in death by 2 brothers, Elden and Jerry Smith and sister, Jennie Smith.
In lieu of flowers, memorials are preferred to an organization of your choosing or to Dakota College At Bottineau, Nursing Program.
Joann was well cared for in her final days with Alzheimer's by nurses. Nursing and caring for people always held a special place in her heart.
Arrangements were with Nero Funeral Home in Bottineau.  Friends may sign the online register book at www.nerofuneralhome.net.

Gary Stokes' Comments
Joann was in our DHS class of '65. She attended her first two years of HS in Dunseith before transferring to Bottineau. Very recently I asked my sister-in-law, Debby Stokes, if she had heard the latest with Joann's condition, because I had not heard anything about her for a long time.
 I was saddened to hear of Joann's Passing. I knew she was battling Alzheimer's. She stuck in there a long time battling this disease. After having contracted this disease, she attended several of our School gatherings, reunions, etc.
 For a number of years, the Smith Family lived west of Salem Church, Just off of highway #43. During those years, Joann and her siblings attended Church and Sunday School at Salem. Joann also attended Confirmation, with me, at Nordland church. My dad and I would stop and pick her up every Saturday.
 The Smith family children attended Dunseith after they moved to Foot hills in the early 60's
 We extend our Condolences to all of Joann's family with her passing.  
Obituary Posted by Neola Kofoid Garbe: Minot, ND Donna Wenstad | 1958 – 2020
 Donna Wenstad
July 01, 1958 – February 28, 2020
Donna Wenstad, age 61 of Dunseith, died Friday, February 28, 2020 at her home in Dunseith.
Donna Wenstad was a daughter of Oscar and Elberta (Andersen) Wenstad.  She was from a family of 7 siblings, Arlan, Donald, Connie, Debbie, Pamela and Curtis.  She attended school in Dunseith and after graduation, she entered the US Army.  She served as an MP at Fort Hood, TX before receiving her honorable discharge on July 7, 1977.  She returned to North Dakota and worked as a police officer for Rolette County.  She later returned to Texas and worked at a nuclear plant in Palacios, TX.  As her health failed, she moved to Arizona.  She later returned to North Dakota.  As her health failed, she lived with her friend Sandra Belgarde in Dunseith. Thank you, Sandra, for your care, and to your family.
 Donna had a fun-loving spirit.  She will be remembered for her love of animals and looking out for their welfare.  She was loved and will be missed.
 Arrangements were with Nero Funeral Home in Bottineau.  Friends may sign the online register book at www.nerofuneralhome.net.
Condolences to the Oscar and Elberta Wenstad Family
From Vickie Metcalfe (70):  Bottineau, ND
March 6,2020
Gary , Dunseith Alumni friends,  and  Oscar and Elberta Wenstad Family,
I offer sincere sympathy on the passing of Donna.
I remember classes with Donna s older sisters;  Connie class of 1969 and Bobbi,
A.K.A.  Barbara was one of the class of 1970.
Sincerely,
Vickie L. Metcalfe
Condolences to the Oscar and Elberta Wenstad Family
From Lynn Halvorson Otto (75):  Boonton, NJ
My sincere condolences to Donna Wenstad's family.  She and I rode the bus from elementary school through high school together and swam in the Willow creek every summer!  Be at peace now and God rest your soul.
Lynn Halvorson Otto
Gilbert "Shawn" LaVallie (DHS '88) Obituary
Posted by Vickie Metcalfe (70):  Bottineau, ND
March 5,2020
Gary and Friends of Dunseith Alumni,
I wish to extend sympathy to the family of Shawn Lavallie.
I worked with his wonderful mother,  Beverly (Azure) Lavallie  at Dunseith Elementary School .
( I also recall Many   Lavallie uncles were proud Veterans).
Sincerely,
Vickie L. Metcalfe
Gilbert "Shawn" LaVallie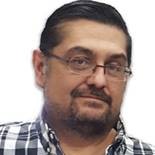 July 12, 1970 – March 05, 2020
It is with heavy hearts that we share the news of the passing of Gilbert "Shawn" LaVallie, loving son, brother, father, and uncle. Shawn entered eternal life on March 5, 2020, at the age of 49.
Shawn was born July 12,1970, in Belcourt, to Gilbert and Beverly (Azure) LaVallie. He was raised in Dunseith and attended school in Dunseith graduating in 1988. He attended college at NDSU-Bottineau and then entered the workforce.
Shawn enjoyed spending time with his family, especially his children who were his pride and joy. He was a very private man with a quick wit; was a font of random facts; and was a loyal and fierce protector of his family. His death has left a huge hole in our small family that will never be filled. Until we meet again, Shawn.
He is survived by his mother, Beverly LaVallie, of Dunseith; his children, Dawn LaVallie of Rolette, Shawn LaVallie of Minot, and Shanice and Landon LaVallie of Dunseith; a step-daughter, Aleana Peltier of Dunseith; his sister, Lori (Brad) Foss of Washburn; his brother, Corey (Julie) LaVallie of Belcourt; nieces, Kristen Foss of Bismarck and Jillian LaVallie of Belcourt; and nephews, Corey John and Connor LaVallie of Belcourt.
He was preceded in death by his father, Gilbert LaVallie, Sr., and his grandparents, John and Cecelia LaVallie and Frank and Agnes Azure.
Funeral services will be held on Tuesday, March 10, 2020 at 10:00 AM at St Anthony's Catholic Church of rural Dunseith. Father Jim Mulligan presiding. Burial will be in the church cemetery.
Elick Funeral Home, Rolla, ND.
https://prod12.meaningfulfunerals.net/obituary/gilbert-shawn-lavallie?fh_id=14585
==============================================
Blog (86) posted on Jun 13, 2010
Folks, I am kind of rushed today with our friends from Bremerton visiting. I will post more reunion pictures tomorrow. Gary
Touching story – PI donations for the needy:
Folks, I try to keep the postings in the daily blogs to a minimum for the Dunseith PI donations given for the PI needy. This one is an exception though. I have a page listed in our Dunseith Alumni Web sight for the PI needy. Last month when we were back in Dunseith a very generous Dunseith couple gave us a donation to be used however we saw fit for the PI needy. I am sharing with you my reply to this couple for how we used their money. We raised $480 with the raffle we had at the reunion for the PI needy. Bernadette has that money ear marked for the elderly in need. Gary
Hello (Dunseith couple),
 When we got home, we were informed that the wife of the Hayag family that lives across the street from our garage had miscarried at 7 months. This would have been child number seven. This is the same family we have chosen for Brenda Hoffman's donations. She miscarried the same morning we got back. We arrived late on Wednesday the 9th. She miscarried at home, but with complications had to be hospitalized for a D & C. In this country no medical attention is rendered until the funds are available. She is/was placed on a bed in the back of the hospital with no treatment until the funds are available. If funds do not become available and she gets infection, in all likely hood, she'd died right there in the hospital with no medical attention. This happens everyday in this country. He husband canvassed the area soliciting for funds with virtually no success. Because of who we are and all the solicitations we get hit up for, we are normally the last resort. Even at that, we can not possibly help all. We have to draw the line. When her husband came to us last night he said he needed 5,000 peso's to cover the D & C and all hospital expenses. That's about $108.00 with the current exchange rate of P46.3 to the dollar. With that all said and done, we decided to use your hundred dollar donation to cover her medical expenses. We siphoned a little from the other donations to cover their remaining $8.00. He walked out of our office last night with P5,000, in hand, headed for the hospital. Thanks to you folks, Mrs. Hayag is getting the medical attention needed. We will keep you posted. We were also told that her tubes have to be tied too, so she will not be having anymore babies.
 We see and hear of these situations very often. We have learned to say no without feeling guilty. We will do our part, but we realize there is no way in the world that we can help all and these folks realize that.
 Thank you (Dunseith couple),
 Gary
Alice and Harvey Hoffman are celebrating their 65th wedding anniversary today.Posting from Brenda Hoffman (68): Greenville, SC
Wedding Photo June 14, 1945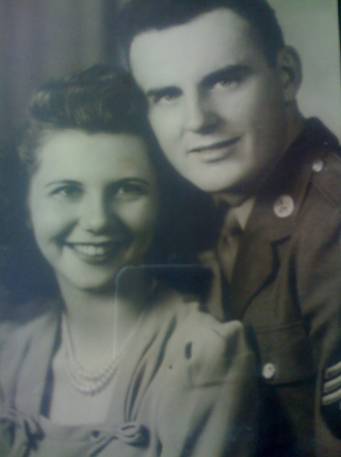 They met on a blind date in Bismarck in December 1944 and were married the following June 14, 1945. The day they met Alice was a clerical employee at the State Capital in Bismarck and Sargent Harvey Hoffman was on leave from the army. Following Harvey's release from the army in September 1945, they lived in Bismarck, moved briefly to McClusky, ND (Harvey was from McClusky and Alice from Denhoff), returned to Bismarck and then on to Lodi, California.
It was in California that doctors discovered both Alice and Brenda (born in 1950) had tuberculosis. The California doctors strongly suggested Alice and Brenda return to ND for treatment (each state provided free treatment for residents – Alice and Harvey were considered residents of ND). Unfortunately, San Haven, the North Dakota Tuberculosis Sanatorium, was filled to capacity. The San Haven Superintendent, Dr. George Loeb, promised both Alice and Brenda beds if they could return to San Haven by a specific date – just a few days away. Harvey hired a driver and Alice, Brenda, Dale (born in 1946) and the hired driver, drove night and day from California (including over the mountains in winter) to North Dakota to meet that deadline. Brenda and Alice were admitted on March 4, 1950 (Alice's bed was the fifth in a room designed for four patients).
Brenda was released in 1952 and Alice in 1953. During their hospitalization, Harvey worked in the hospital kitchens and Dale lived with his grandparents in McClusky. Dale joined the family when Alice was released in 1953. Their first home as a family at San Haven was in the Children's Building.
Other families living in the building at that time included the Jay Vanorney, Charlene and Sharon Pearson, Carol Jasper, John and Alan Boguslowski and Jeff Olson families. Most of the families shared one of the two central bathrooms on each floor and the one telephone in the hallway. The Children's Building was also the school bus stop. San Haven school children were bused by Herc Nicholas (father of Jennie and step-father of Ellen G) to and from school in Dunseith including a trip home for lunch.
Cindy, Alice and Harvey's third child, was born in 1959 after they had moved to the cottage next to the hospital.
Harvey took over the San Haven bakery in the mid-1950s and Alice started her work life babysitting Chuck and Mona Johnson's boys (Brian, Craig and Kevin), moved to Occupational Therapy with Barbara Schaalt (sp?) and then accepted her position of more than 20 years, Executive Housekeeper. Alice and Harvey retired from San Haven in the early 1980s, wintered in Truth or Consequences, NM for years and maintained a summer home in Rugby where they now live. Alice is 84 and Harvey will be 87 in October. Both are healthy, active and continue to enjoy their retirement
April 2008:
Alice & Harvey Hoffman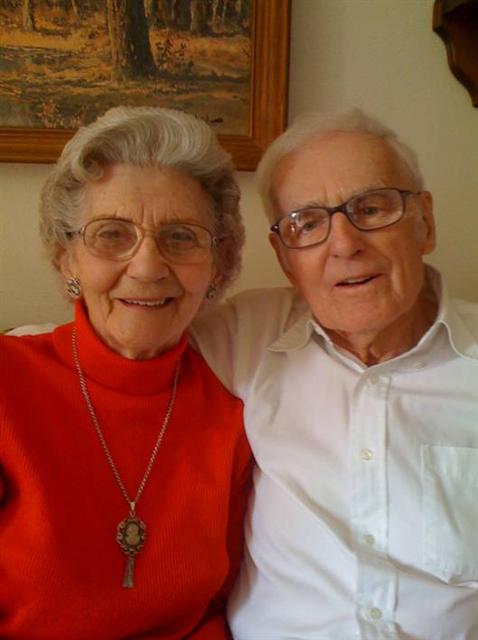 Phyllis McKay (65):
Folks, we called Phyllis and she was able to join us at the at the "Old Country Buffet" in Federal Way, last Sunday the 6th, when we had our grandkids with us for dinner. She lives in Auburn, just a short distance away. Phyllis was in ND the day of our reunion too. Her Granddaughter, who lives in the Fargo area, graduated the same day as our reunion, so she was unable to attend. She would have dearly loved to have attended, but she could not be two places at the same time. These are several pictures we took with Phyllis. Phyllis is a 4th grade teacher and loves kids. Gary
Phyllis McKay & Gary Stokes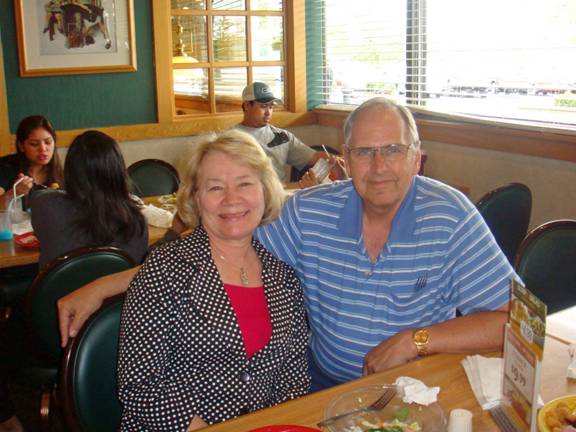 Phyllis McKay and Bernadette Stokes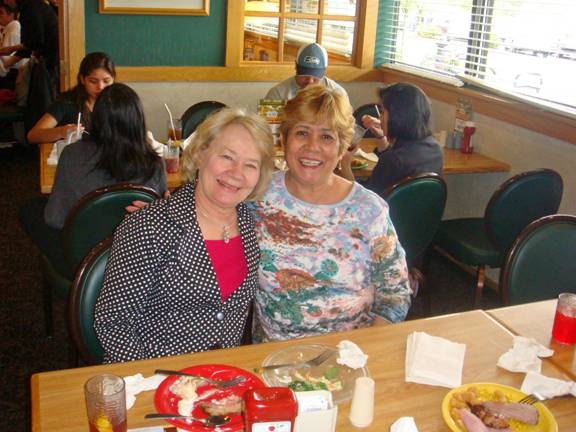 Phyllis McKay with our two Grandkids, Tyler 12 & Neveah 5.