Wally Garbe (Neola's Husband) Passed away
Posted by Neola Kofoid Garbe:  Minot, ND
Wallace 'Wally' G. (George) Garbe
June 20, 1931 – March 17, 2020
Wallace "Wally" G. Garbe, 88, Minot, formerly of Kramer, ND, died Tuesday, March 17, 2020 in a Minot hospital. 
Wally was born June 20, 1931 at Bottineau, North Dakota, the son of Walter and Lillie (Thiel) Garbe.  He was raised and educated at Kramer and graduated from Kramer High School in 1949.   He attended Jamestown College for a year and then Minot State College, where he received a degree in Secondary Education.
Wally continued to assist with the operation of the family farm near Kramer and entered into active duty service with the U.S. Army in 1956.  He honorably served his country until 1958 when he was discharged and returned to North Dakota.  Wally taught in Kramer before he entered the military and in Bottineau after he was discharged.  He moved to Minot in 1960, where he became employed with First National Bank.
Wally was united in marriage to Neola Kofoid on November 26, 1969 in Minot.   They made their home in Minot, where he continued working at the bank as a loan officer until 1978.    He worked for a time at Northern Trophy and Engraving until retiring in 1996.  Wally moved to Edgewood Vista in May of 2018. He, along with his family, really appreciated the love and care he received from the staff there.
Wally was a longtime member of St. Mark's Lutheran Church, Minot, where he had served as an usher.  He was also a member of the Minot American Legion, Minot Gun Club, Minot Jaycees and Magic City Drift Busters Snowmobile Club. Throughout the years, he had enjoyed bowling, wood working, clock making, dancing, fishing, camping, hunting and trapping. 
He is survived by: his wife, Neola, Minot; sister, Linda (Allen) Bjornson, Minot; brothers-in-law, Maynard Kuebler (Inez Nathan), Minot & Jim Kofoid, Bottineau; nieces, Kristi (Jeb) Fredriksen, Denise (Ray) Kofoid Corbo & Michelle (Scott) Byrd; nephews, Shane (Tara) Bjornson & Oliver Kofoid; great nephews and nieces, Riley Bjornson, Vinson (Christina) Corbo, Alyssa Corbo, Alexis Corbo; Trevor and Maya Byrd; great great nephew, Malachi Corbo; godson, Ronald Gust.
Wally was preceded in death by his parents; a sister, Shirley Kuebler; father-in-law and mother-in-law, John and Emma Brudwick Kofoid. 
Service: Following the guidelines prescribed by Governor Burgum, there will be a Private Family Service by invitation in Thomas Family Funeral Home, Minot on Monday, March 23, 2020 at 1:00 p.m.   ** A live stream of the service will be broadcast at (mtmsales.net/live)
A Public Visitation will be held on Sunday, March 22, 2020 from 4:00-6:00 p.m. in Thomas Family Funeral Home, Minot.
Interment: Rosehill Memorial Park, Minot.
In lieu of flowers or plants, memorials are preferred to St Mark's
Gary's Comments:
Folks: Those of you following this blog will for sure know Neola. The past 12 years she has contributed a vast amount of material for this blog from Papers and pictures she has saved over the years. She has been the backbone for its success. She has had many surprise interesting postings. It has been unreal. All these blogs are saved in our Dunseith Alumni Website too. Dunseith.net. Thank you, Neola.
We extend our condolences to you too Neola for the loss of Wally. He was a good man and will be dearly missed. Some of our readers had him for a teacher when he taught in Bottineau too in the mid 50's.  
Condolences from Cheryl Kester Gaugler ('69): North Brunswick, NJ
I'd like to offer condolences to all the families who have lost loved ones. 
 Connie, I'm so sorry you lost your sister. Just wanted to say how nice it was to see you at our 50th year class reunion last summer and catch up on the years. 
 Cheryl (Kester) Gaugler 
Posting from Sharron Gottbreht Shen ('59): Watertown, ND
Thank you, Gary. It was amazing for me to see so many familiar faces; the Hoffman couple and the McKay gal from Auburn, WA. Seems to me that Lowell Lenard has a sister in Auburn? World not the same without Lowell.
Again, you're amazing !
Sharron Gottbreht Shen
Social Distancing
Posted by Vickie Metcalf ('70):  Bottineau, ND
3/22/2020
I napped this afternoon with   the local
Bottineau Radio station   tuned in and on.
Sunny 101.9 prides it self on being on line with folks the world over who can tune in.
Sunny 101.9 – KBTO – FM 101.9 – Bottineau, ND – Listen Online
The disc jockey/radio people keep the country music flowing.
They make upbeat comments. Today lots of Goldie oldies
At 4:00 pm.
North Dakota Gov Burgum will address the state as he has been doing each day. Most of the people in Bottineau area listen also.
Governor Burgum has been a reassuring strong voice of reason and information who also says
North Dakotans are folks North Dakota Work Ethic .
They go to work don't complain
do what needs to be done….no matter whether or how they feel).
After he sums up He   usually says  the People of North Dakota need to know …..Be North Dakota Smart!
Until Later,  V
1/20/2020
Posting from Lee Stickland ('64):  Dickinson, ND
Note: I missed posting this before. It's been sitting in my box.  Sorry Lee
Good morning from LEE S in Dickinson.  I noticed that Karen Loeb is in an EVERGREEN facility, as am I here in the Queen City of the
Banana-Belt of ND at -12 degrees F and a wind chill of -24 degrees this am.
My Dad, Robert lived here for some years in the early part of the 2000s.  I got to know the staff quite well and some of those kind folks are
yet working.  One lady who works in dietary is over 87 but she asked me 'not to tell '.
I will have been here 4 years on 3-22-20 and have the perfect room with the only tree with leaves, others have needles, on the property, right outside my window on second floor.  It is over 20' tall so exceeds the top of my window.  I can hear the birds sing in the morning and the evening during the summertime.  During the winter, I can observe 11-22 birds try to orderly exchange places on a bird seed bell that is hung
about 5 feet above the ground, on a shepherd's hook, right below and left of my sight.  I can see into town from my vantage point.
The administrator was the social worker when Dad moved in.
One of the nurses whom I had the pleasure of working with at Dickinson Nursing Center for 10.5 years, became the administrator @ EVERGREEN after I moved to Milwaukee.  She, Janet, was loved and respected by all for her kind but firm way of leadership.  Sadly, she succumbed to cancer in the early 2000s.
I am fine, getting better, I got off a bunch of opioids, COLD-TURKEY, they affected my heart rate and it dropped to 33 beats a minutes; not
1/2 enough for a guy my size.  Thankfully, when I went to the ER, the DR was a man I have known since he was 4 years old and lived in
Rock Lake.  He and my brother Dean began college in Grand Forks together.
Dean told Sheldon that he thought Sheldon should become a physician and he did.  Sheldon has been an ER Dr at Dickinson for over 34 years, now.  Each time I go in for something, he KINDLY asks me if I am ready to get rid of the pills that accumulated over the years;  from
when I broke my back at age 12 with recurring major dis-comforts ( even tho I played 5 years of football at Dunseith, beginning in 8th grade at 192 #s);
when Earl Hiatt was killed in the accident north of Rugby and I incurred 7 fractures to the jaw with resulting severe smarting and sometimes locking that does happen, but thankfully,contrary to what the DRs told my parents after I had lain in the bed, inert for 10 days, "Lee will never walk or talk again", I do.
Add to that 5 surgeries to the right foot to correct a tight Achilles tendon that caused excess downward pressure on the ball of my foot.
I had diabetes for some time but was able to get rid of it by changing my diet and beginning to exercise, however; I developed neuropathy,
which is lack of good circulation and thus feeling to the lower part of the legs.  Thus, I was able to walk on rocks, anything during the summer, barefoot, not knowing that I was creating a hole in the bottom of my foot that was as round as a $.50 cent piece and would require 8 skin grafts to fill.
The Achilles needed to lengthened so three (3) insertions were made to puncture the tendon.
One of those punctures would not heal as I contracted MRSA, the flesh-eating disease in that wound while in the OR (operating room); this necessitated a second, later surgery to go in and cleanse the area and restitch and hope for the best, which thankfully did result.  I COULD HAVE LOST MY FOOT> it is not uncommon for those who are diabetic or even post-diabetic to lose lower limbs, due to decreased circulation and the disease.
I have led a MARVELOUS, WONDERFUL life.  I continue to write and to nominate folks for deserved recognition for their service(s) to
our pioneers who live in the care facilities.  I hope to hand-deliver one of those distinct efforts on the 21st when I got Bismarck to visit
the PAIN CENTER where I will be learning how to deal with and manage any pain/levels I have WITHOUT (/s) debilitate narcotics that
build up in your body over time and may end your valuable life, like it nearly did mine on November 5, 2019.
See Y'all @ the next Turn-Around.  Lee
A resource for parents/grandparents
Posted by Vickie Metcalf ('70):  Bottineau, ND
https://www.bbc.com/news/uk-england-hampshire-51997381
https://nursedottybooks.com/dave-the-dog-is-worried-about-coronavirus-2/
March 22, 2020
Gary and Dunseith Alumni friends,
As you know,
Among other interests, among my top 10 loves!
I love dogs all sorts and sizes
I love children, they are so wise and wonderful!
and, I love good books! they got to encourage hope!)
This picture book looks to be a good resource.
I am also sharing this site with Parents and Grandparents of my great nieces and nephews.
As an elementary counselor I often share books with various K-6 classrooms and individual children.
WHY?
Because after all these years my students current and former, are all my kids.
I found this today on one of my favorite sites… BBC.
I believe the author gives permission to download.
Hope each of you and yours is in a safe  place and  doing well .
KEEP THE FAITH.
Vickie L. Metcalfe.
Posted by Neola Kofoid Garbe: Minot, ND
Janice Peach
November 24, 1950 – March 16, 2020
Janice Peach, age 69 of Belcourt, Born November 24, 1950, entered the gates of heaven March 16, 2020.  Janice was born in Belcourt to Carl and June St. Claire. She attended school at Belcourt and graduated from the Turtle Mountain Community College. She was united in marriage to George Davis and together they had three daughters; Georgianna Davis, Angela (Steve) Davis, Sheree (Cody) Delong.
Janice worked at the San Haven as a caretaker then moved on to work in Education for the remainder of her career. She worked as a classroom aide at TMCHS for 5 years; then moved on to be a teacher at the North Dunseith Headstart for 15 years. While working there, she met Francis Peach and they were united in marriage on June 11, 1994. Shortly after, they moved to Mandan where Janice went on to be a supervisor/teacher for the Standing Rock Headstart for another 15 years.
Janice's favorite hobbies include spending time with family), baking cakes, playing cards, playing bingo (especially at the Lonesome Dove), traveling, planning events like birthdays and graduations. Last but not least, her most favorite, singing karaoke (her karaoke friends called her "Big Jan"). She will be greatly loved and missed by her family and friends.
Janice is survived by her husband Francis Peach. Her mother June St. Claire. Brothers: Ervin St. Claire of Arizona, Carl John St. Claire of Colorado, William "Billy" (Janice) St. Claire of Parshall. Sisters: Stella (Ron) Strickland, Claudette Pochant, Cheryl Adams, all of Belcourt. Her brother-in-law Kelly (Jessica) Peach of Belcourt, Sisters-in-law Diane Peach, Betty (Ronnie) Poitra, Sharon Gustafson, Debbie Indvik all of Belcourt. Her children: Georgianna Davis of Belcourt, Angela Davis of Mandan, Sheree Delong of New Orleans. Grandchildren: Dylan Belgarde of Bismarck, Amber (Reese) Belgarde of Belcourt, Jaicee Peach of Texas, Lee Laducer Jr of Belcourt, Peyton Laducer of Mandan, Chenoa Delong of Mandan, Cheyenne Delong of Washington. Great-grandchildren: Kash Belgarde, Kingston, Khloe, Navaeh, and Blair Vaulters, Adonis Davis. Numerous nieces and nephews, great nieces and nephews, and she was the "Fairy Godmother" of numerous special godchildren that she loved very much.
Janice is proceeded in death by her father Carl St. Claire. Brothers: David St. Claire, Willard St. Claire, and Clayton St. Claire Sr. Sisters: Carmelita Renault and Carol Levin. Mother and Father-in-law Norbert and Georgia Peach; Brother-in-law Jim Peach, Sister-in-law Robin (Josh) Langan. Grandsons: Andrew Delong and her "baby" Justice (Spanky) Davis.
Arrangements were with Nero Funeral Home in Bottineau.  We will live stream her funeral at https://youtu.be/8KChzOPHbMc
==============================================
Blog (88) posted on Jun 16, 2010
Jim & Judy Olson (Former Teachers) finely located:
From Curt & Ann Rotto (Pastor): Fergus Falls, MN
Someone requested information on a former teacher, Jim Olson. We do correspond with Jim and Judy at Christmas time. Jim and Judy Olson, 311 Crescent Dr., Sheridan, Wyoming 82801; 307.672.2565. Thanks for the blog!
Curt and Ann Rotto
Thank you Curt & Ann, Early on when I first started putting class lists together and locating former teachers and folks, several folks were asking about Jim and Judy. At the time we exhausted all our leads unable to locate them. That was before you guys were onboard. I believe that was about the time I was putting the 67 class list together. I think LeaRae Parrill Espe is one of the folks that I was working with trying to locate Jim & Judy?
 I just got off the phone with Jim. He is very interested with what we are doing and has given me permission to post his email address and their contact info listed above. I have also added them to our daily distribution.
 Mr. Lykins, I believe Mr. Olson was your replacement? He started teaching in DHS in the fall of 1965, I believe as the head of the business department.?

Congratulations to Harvey and Alice Hoffman:
From Dick Johnson (68): Dunseith, ND
Gary and Friends,
Congratulations to Harvey and Alice Hoffman on their 65 wedding
anniversary! While they were touring the museum, I had a chance to talk
with them and reminisce about the old days spent snowmobiling here with
my folks. They are both as sharp as a tack! Alice and Brenda were
looking at dates in the San Haven register of patients and I was amazed
how Alice and Harvey knew the exact dates when Alice and Brenda were
hospitalized and released. They flipped to the page and instantly
pointed to their names and the corresponding dates etc. Harvey and I got
to the subject or old cars (imagine that) and he gave me the
information, in detail, of Dale's and Brenda's cars that he found for
them while they were in high school. He remembered every little detail
that I remembered about those vehicles—did I say sharp as a tack?!!
Congratulations, Harvey and Alice! Thanks Gary!
Dick
Reply from Mel Kuhn (70):  St. John, ND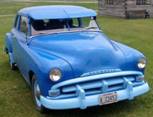 Gary,
For Allen Richards. The old Plymouth is a 52. I replaced the front part of the frame with the frame from a 90 Dodge Dakota and dropped a 318 in it. Also the Dodge rear end. I pretty well dethroned it also. I've got the interior to finish yet but I got sidelined by my next project. Which is a 31 3 window Plymouth Coupe.
Mel Kuhn
Reply from Phyllis McKay (65): Auburn, WA.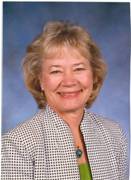 Gary and Bernadette,
Thank you for the pictures. I had a good time seeing you two again. I also enjoyed meeting your grand kids. They both are delightful, kind to each other, and they certainly livened up our dinner. That is one of the most wonderful things about children, they make you so happy to be around them. I bet Tyler will enjoy the laptop and Nevaeh will love her doll. It is awfully hard to be so far away from grandkids. For one thing, they seem to grow up so fast when you only get to see them once in awhile.
I have been enjoying all the pictures of the reunion. I was sad I wasn't there to see everyone. But the notes and pictures help me feel like I am still in the loop.
Thanks again,
Phyllis
Phyllis, I know this was meant as a personal message, but I want to post it so folks and you too, know you are very much still in the loop. You will really be in the loop, as a group leader, once we get started planning our next cruise scheduled for Presidents day week in 2012. Gary
Correction:
From Florence Pladson Sime (62): Dunseith, ND
Gary that picture of the two women in the beauty shop is named wrong. That is Esther Murray and Susan Fasset not Connie Halvorson. Florence
Thank you Florence, This was another careless error on my part. I was with both Susan and Connie a lot last month, so I should be able to tell them apart. Gary
 PS – Folks, when you see these errors don't be afraid to bring them to my attention. My feelings are absolutly not heart in doing so.

Esther Murray Fleming (65) & Susan Fassett Martin (65):
Repost of this article
Folks, this article and picture was folded over when I sent this picture several days ago. I did not realize there was an article attached as well. In all fairness to everyone mentioned, I am reposting to include the whole article.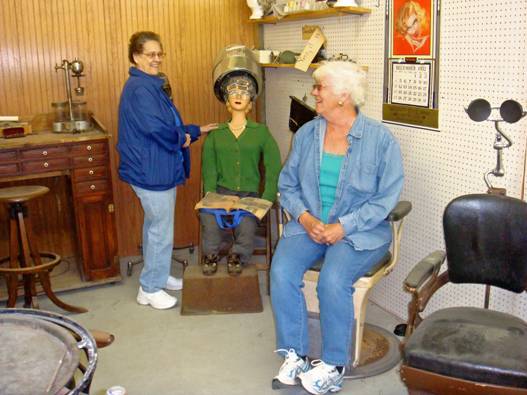 Repost of this article
Folks, this article and picture was folded over when I sent this picture several days ago. I did not realize there was an article attached as well. In all fairness to everyone mentioned, I am reposting to include the whole article.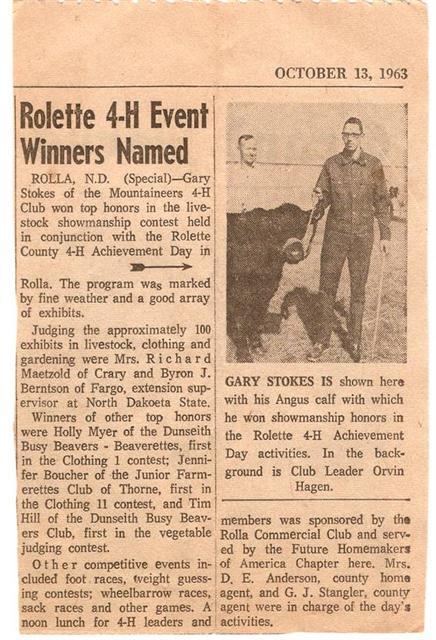 Willie & Maxine Hiatt family:
Folks, this post card was included with a bunch of pictures we just discovered in a suit case from my grandmother, Julia Stokes. She pasted away in the early 70's. She lived Alvarado, MN. Willie and Maxine moved to Bottineau in 1955 when Barbara started high school. Norris Knutson bought their farm. Harvey graduated from Bottineau in 1961, so this must have been the Christmas of 1960. Willie/Maxine and their children Barbara, Harvey & LD all attended Ackworth. Doug had not yet started school when they moved to Bottineau.
Maxine celebrated her 90th birthday this month. Her children had a nice celebration for her that was held at the Bottineau Senior Center. We were there and were able to attend. It was a wonderful event and I saw so many folks that I had not seen for years. Maxine looks great and seems to be doing quite well. I had not seen LD for years. It was so nice seeing him again. Gary