Bill Hosmer's Tribute: Face Book Link.
Posted by Gary Stokes.
Bill Hosmer, Retired Colonel USAF
1. Thunderbird Left wing Pilot (1961-63)
2. Lead Fighter pilot with 240 missions over North Vietnam
3. 1953 West point Grad
4. West point class mate and friend of Philippine President Fidel V. Ramos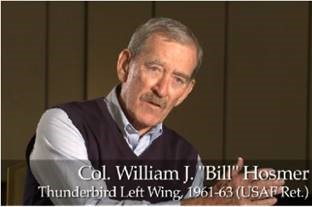 Face Book Link
https://www.facebook.com/photo.php?fbid=10222739975476757&set=a.1951201228466&type=3&theater
Elizabeth "Betty" Lamoureux Malone Badgett. (DHS '49) passed away
Face book posting from her daughter Kathy Leeks Dean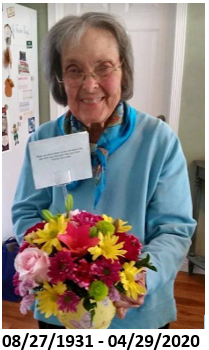 As most of you have heard our mom passed away early this morning.
Elizabeth "Betty" Lamoureux Malone Badgett. 08/27/1931 – 04/29/2020
Mom was a truly exceptional human, and my siblings and I were so very blessed to have her as our mom. As the oldest. I had the great fortune to have 69 years with her. She would probably say this was fair since she often mentioned, when we talked about our childhood, that she worried about me being "neglected" when my brother Tom came along 15 months later! Family was everything to our mom, she had close relationships with all five of her kids, their spouses, and each of her eight grandchildren. Her seven great grandchildren also had the opportunity to develop special bonds with her. And although they are still quite young, she was able to impart her special wisdom and family values to them in the time they had together.
Although mom was born in North Dakota, and spent her early years there, Southern California was her lifelong home and where her heart was. The tragedy of her mother's passing when she was fourteen would alter the course of her life. Her dad, a successful small-town business owner, felt he wasn't able to provide a proper home for mom and her brother by himself. As luck would have it several of his sisters and sisters in law (he was one of 13 children) had gone to California to work in the defense industry in WW II, and it was decided Betty and Jay would make a new home out west with his sister, Aunt Alice. They arrived in Los Angeles in its' Golden Age, 1945, and that young teenage girl from a small North Dakota town never looked back.
She met the love of her life, Tom "T.J. Malone", in high school. They married young, had four kids in fairly rapid succession, but, alas, he broke her heart and the marriage did not survive. True to her loving and generous nature, she continued to welcome and include dad (and his wives) in our lives and family activities, until his untimely passing in 1994. She was kind and forgiving to every person she ever encountered, and this model for living is one of the legacies she has passed on to us. We often commented that were only 2 people ( who will remain unnamed!) that she ever uttered an unkind word about.
We are so grateful that she was able to pass away exactly where she wanted to be, in the home she lived in for the past 55 years. Special thanks to our sister Traci, mom's caregiver over the past several years, and for her selfless devotion to our mom, and her changing needs, as she aged. It was a tall order, but Traci, being her mom's daughter, was up to the task.
Our hearts are broken, but we are grateful for the life that mom lived. It wasn't always easy, in fact there was tragedy, hardship, and heartbreak in addition to the joy. But as mom said to me on occasion, it was a perfect life.
Music is a Thread
Posting from Vickie Metcalfe ('70):  Bottineau, ND
Gary and Friends of Dunseith Alumni,
One of my passion's in learning while attending Dunseith School which followed through life was History.
All of us have ancestors who lived and persevered through trials of World War, Epidemics, the Depression era and etc.
I am keenly curious about their resilience. What are mindsets and passions that helped and or motivated them to overcome and survive?
I think, MUSIC is evident as a  strong thread.  
htps://www.bbc.com/news/av/uk-52174772/the-queen-s-coronavirus-address-we-will-meet-again
"The Queen has promised the nation that better days are ahead, during a special address on Sunday.
In a rare speech, she acknowledged the grief and financial hardships Britons are facing during the coronavirus pandemic
Echoing the words of the Vera Lynn wartime song, she said that "we will meet again"  05 Apr 2020 BBC
We'll meet again Don't know where Don't know when But I know we'll meet again some sunny day Keep smiling through Just like you always do 'Till the blue skies drive the dark clouds far away So, will you please say hello To the folks that I know Tell them I won't be long They'll be happy to know That as you saw me go I was singing this song
Until Later,we  will meet again.
Vickie L. Metcalfe
Wednesday, April 29, 2020
Corona Virus: We are not all in the same boat
Posting from Neola Kofoid Garbe: Minot, ND
 I copied/pasted this from Facebook.  Neola
 Don't know who wrote it, but it's spots on.
Perspective:
WE ARE NOT IN THE SAME BOAT … I heard that we are all in the same boat, but it's not like that. We are in the same storm, but not in the same boat. Your ship could be shipwrecked and mine might not be. Or vice versa.
For some, quarantine is optimal. A moment of reflection, of re-connection, easy in flip flops, with a cocktail or coffee. For others, this is a desperate financial & family crisis.
Some who live alone are facing endless loneliness. While for others it is peace, rest & time with their mother, father, sons & daughters.
With the $600 weekly increase in unemployment, some are bringing in more money to their households than they were when they were working. Others are working more hours for less money due to pay cuts or loss in sales.
Some families of 4 just received $3400 from the stimulus while other families of 4 saw $0.
Some were concerned about getting a certain candy for Easter while others were concerned if there would be enough bread, milk and eggs for the weekend.
Some want to go back to work because they don't qualify for unemployment and are running out of money. Others want to kill those who break the quarantine.
Some are home spending 2-3 hours/day helping their child with online schooling while others are spending 2-3 hours/day to educate their children on top of a 10-12-hour workday.
Some have experienced the near death of the virus; some have already lost someone from it and some are not sure if their loved ones are going to make it. Others don't believe this is a big deal.
Some have faith in God and expect miracles during this 2020. Others say the worst is yet to come.
So, friends, we are not in the same boat. We are going through a time when our perceptions and needs are completely different.
Each of us will emerge, in our own way, from this storm. It is very important to see beyond what is seen at first glance. Not just looking, actually seeing.
We are all on different ships during this storm experiencing a very different journey.
Realize that and be kind.
Unknown author