Stokes Neighbor kids in Cebu, Philippines
Posting by Gary Stokes
These are a few of the Kids, 10 years old and under, that live within 10 Meters of our house. There are a few missing too, not in this picture.  They are all very well-mannered polite kids too.
Our house is directly behind this picture.
Bernadette's, sister Berlinda's (deceased) Husband, his four brothers and one sister all of whom live within 10 meters of our house. These are the Grandkids of Bernadette's Brother-in-law and his Siblings.
The occasion was a treat of Powdered milk that each of the kids are holding from Bernadette's niece, Novie Congson. For these kids, that's a big treat. Their main diet is lots of rice with a little fish and boiled tree leaves for a vegetable.
These kids have never experienced Santa Clause. He has never come to their house.  Their play ground is the small area between the houses where this picture was taken.
The children of the siblings of Bernadette's Brother-in-law, all of whom live right here, never left home. They are all living here with their wives/partners and their families. These are their kids pictured below. They just added rooms on top of their houses to accommodate. Four generations (three surviving) all living together right here. I am sure many of the kids in this picture will continue to live their lives right here too.
Needless to say, we don't let these kids have the run of our place, however I allow them to play in our garage parking area. It's a pretty big space for them to play in.
Directly behind our house is a small 300' Square foot house with a family of 12. There are 9 kids, with one grand kid and the parents. That's wall to wall bodies when they go to bed. They've only got about 150' SF of yard space too. They are happy though mainly because they don't know any other life.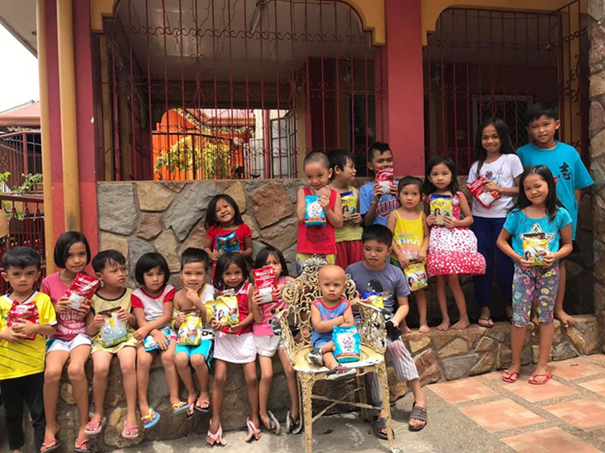 Lorraine (Christianson) Cote (DHS '47)
Obituary posted by Neola Kofoid Garbe:  Minot, ND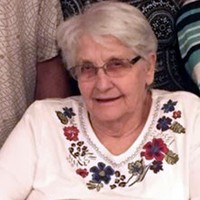 Funeral services for Lorraine Cote, age 92 of Bottineau,  were held on Friday, May 1, 2020 at 2:00 pm at the Oak Creek Cemetery.  Officiating at the service was Father Michael Hickin.  Casket bearers were all of Lorraine's grandchildren.  Burial was at the Oak Creek Cemetery in Bottineau.
Lorraine Cote, a daughter of Anton and Tomina (Momb) Christianson, was born on December 20,1927.  She was raised in Rolette County and graduated from Dunseith High School.  On May 26, 1948, she married Rene Cote at Willow City.  They made their home on the Cote family farm before later moving to Dunseith.  In 1963, they moved to a farm east of Bottineau and in 1978 they moved into Bottineau.  Lorraine worked at St. Andrew's Hospital and the Dakota College at Bottineau.  Rene passed away on January 12, 2002.  Lorraine moved to Moorhead in 2014.
She was a member of the St. Mark's Catholic Church in Bottineau where she was a member of the Altar Society.  She enjoyed quilting, baking, playing cards and spending time with her family.
Lorraine passed away on Thursday, April 23, 2020 at a Fargo nursing home.
She is survived by her 10 children, Linda Dodge of Moorhead, MN, Allen (Pam) Cote of Gladstone, ND, Terry (Becky) Cote of Fargo, Brian (Diane) Cote of Fargo, Sandy Miller of Moorhead, MN, Tom (Diane) Cote of Bottineau, Lynnette (Tim) Ostgarden of Moorhead, Sherri (Mark) Indvik of Bottineau, Jeff (Barb) Cote of Castleton, ND and Kevin (Sue) Cote of Harwood, ND; 22 grandchildren and great-grandchildren.
In addition to her husband and parents, she was preceded in death by 3 brothers, Kenneth, Lendal and Wallace Christianson and one grandson, Ryan Palmer.
Arrangements were with Nero Funeral Home in Bottineau.  Friends may sign the online register book at www.nerofuneralhome.net.

B-4 1963 – Highway #3 was redone
Posting from Vickie Metcalfe ('70):  Bottineau, ND
Sunday, May 3, 2020
Gary and Dunseith Alumni friends,
I was thinking this morning, of that long drive on #3,
It was two laned, narrow, up and down or around hills, lakes sloughs and curves.
I recall several Y intersections on #3.
The unpaved Jackrabbit was the same.  Remember Yellow Corners?  Highway off #5 East to Rolette was another dusty unpaved road
Highways have come along way.
As the vehicles which travel them too.  Front wheel drive, Four-wheel drive, all season tires, and head boldt heater ( invented by a North Dakotan).
Heartened by of all those engineering feats. I remember a child's fear.
Mrs. Conroy our 4th grade class teacher discussed an article we read in Weekly Reader. It had pictures of people in iron lungs. She shared about scientist Jonas Salk who pioneered the polio vaccine. Of late. I read more about that endeavor.
"When asked who owned the patent on his vaccine against poliovirus, its inventor Jonas Salk famously responded:  "The people, I would say.  There is no patent. Could you patent the sun?" The Salk Vaccine is used worldwide to this day."
I pray for the minds and hands of scientist inventors like Jonas Salk who are seeking ways to end Covid-19.
Until later,
Vickie Metcalfe