Arlan Hagen ('75) Passed away.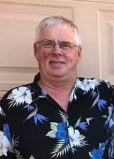 Folks,
Art Hagen messaged me last night letting me know that his brother Arlan Hagen passed away yesterday. He was not sure of the details of his passing. Art was still in Arizona. He is on his way to Bottineau now.
Arlan I believe Graduated from Bottineau in 1975. He was with the DHS class of '75 for many of his school years. Being with the class of '75 I believe he would have been 63 this year. Very young for a sudden death passing.
The Hagen's were our close Ackworth neighbors. We did a lot of things together in our growing up days. Our dads were raised in the Ackworth community too. Our friendship goes back many years.
We extend our condolences to his immediate family and siblings, Susan, Karen, Art, Ellen and Henry. Arlan was a well-respected good person. He will be missed.
Gary
Retired
Message from Cheryl Larson Dakin ('71):  Bedford, TX
Hi everyone
I haven't written in a while…I finally retired on Dec. 31, 2019. George and I left for California to visit family and stopped in Arizona on the way back. We were gone for 3 weeks, home a week and then I made a trip to Disneyworld with my son and his family for a week. Diane and Scott came to stay a few days on their way home to ND from Florida, and I seriously considered going back with them for a couple weeks when things ramped up with the virus so I decided not to. It was probably the right decision because within days we were on lockdown. I was trying to figure out what my new normal was going to be when this pandemic hit and we have all been confined to home for this last 8 or 9 weeks or so. So I started cleaning closets and going through some of the paperwork and things I brought back from my Dad's house after we sold it. Anyway, I am in the process of putting together some sort of memory book of family history and consolidating things into one good size box that I can pass on to my kids and the grands when I am no longer around, and share with my sisters.
So my question is this: does anyone have any memories or stories of my parents, Norman and Verdellis Richard Larson or my grandparents, Fred and Johanna Boucher Richard or any of us that they would like to share? Please feel free to email me at cheryl.dakin@yahoo.com or message me on Facebook, or even share on this blog if it would be permitted.
I thank you in advance and wish everyone well and safe. Texas is finally opening up, although I don't feel the need to rush right out and go shopping. I could use a good mani / pedi though. How is everyone else faring?
Cheryl Larson Dakin
1957 Flu  and 1952 Vacine for Polio
Posted by Vickie Metcalfe ('70):  Bottineau, ND
I really like BBC as being very informative,   the video clips are not too long. https://www.bbc.com/news/av/stories-52582124/the-1957-flu-that-killed-one-million-people
Gary's comment
I remember that 1957 Asian flu very well. I too, like so many others contracted that flu. Our folks had gone to Washington State to Visit our Grandparents. It was winter. They took the train out and drove a 1953 Kaiser back that our grandparents had given them. Our younger brother Darrel who was 5 years old at the time went with them. Allen stayed with the Lagerquist's and I stayed with the Albert Hiatt Family. I contracted that flu when I was staying with the Albert Hiatt Family. Albert, Alice, Arnie and Dennis all had it too, but luckily a few days apart. It was wicked. I was really sick.  
Reply from Larry Liere ('55):  Devils Lake ND.
Hi Gary
Thank you for the link on all the totals by countries for covid-19.  It was an eye opener for me to see that they had the numbers for 203 countries.
LARRY
Pastor Hayes
Reply from John Tangen (Pladson Cousin):  Zellwood FL.
Hi Gary (& Vickie)
Thanks for including the write-up about Pastor Hayes.  While he was chaplain at Good Samaritan Home where my mother resided for three plus years, I observed how he served the residents there so faithfully, brightening their days with his cheeriness and humor.  My mother always appreciated his ministry, and I enjoyed getting to know him somewhat also.  Wishing the best for you all in this trying time.
John=