Condolences to the Murl Hill Family
From Larry and Halvorson ('72):  Bismarck, ND
Our deepest sympathies to the Murl Hill family! May Gods peace give you comfort at the loss of your dear mother!
Larry and Gail (Halvorson) Schuler
Condolences to the Murl Hill Family
From Larrett ('71) and Yola Peterson:  Crosby, ND
Our Condolences to the family ! Rest her in Peace
Sunday lunch at Dales.
Thank you from Don & Colleen Conroy ('58):  Rosemount, MN
I would like to thank George for making It possible for us to dine together, while practicing social distancing. The food and service were just great.
He also made sure the hookups, in the RV park were turned on, so Colleen and I could stay there.
We had a great time and look forward to next year.
Don
Floyd Richard Obituary
Allen Richard ('65):  Grand Rapids, MI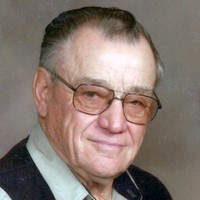 Floyd Richard
Floyd Peter Richard of Rolette, N.D., died peacefully in his home on Friday, May 29, 2020, at the glorious age of 91.  A private family funeral will be held on Monday, June 1, 2020 at 3:00 pm at the Sacred Heart Catholic Church in Rolette.  His funeral will be live streamed at https://youtu.be/kJt_0aqsYSw.
Floyd was born January 4, 1929, in the Rolette Hospital to George and Anna (Boucher) Richard. Growing up through the Great Depression and Dust Bowl, Floyd was always enthralled with his parent's farming operation, recounting numerous stories about bringing lunch to the field as a young boy, then threshing and hauling bundles as a teenager.
Floyd's formal education ceased at 8th grade as he struck out on his own at age 14, yet his thirst for knowledge – particularly about agriculture – never stopped. As a young man, he farmed with his brother Art and made ends meet by installing heating systems for a local contractor. A 1952 scholarship to a "Short Course in Agriculture" at North Dakota State University (NDSU) in Fargo, N.D., solidified his decision to farm. He went on to farm for 66 years in Rolette, Pierce and Bottineau Counties, retiring from the profession at age 85. He saw the evolution of agriculture from literal horse-power, to today's precision ag, survived droughts, floods, depressed farm markets and the farming crisis of the 1980's. Floyd epitomized Paul Harvey's writing "So God Made a Farmer." He rejoiced in seeing a field of ripe wheat or a newborn Polled Hereford calf.
 On June 10, 1954, Floyd married Carmen Leonard of Fonda, N.D., at Sacred Heart Catholic Church in Thorne, N.D. The couple made their home 10 miles southwest of Rolette, where they raised six children, each of whom share their dad's love of agriculture.
 Throughout his farming career, Floyd was recognized by numerous groups and organizations, being named a North Dakota Seedstock Producer of the Year by the ND Beef Cattle Improvement Association (NDBCIA), an Honorary State and Chapter Farmer from the FFA, an Outstanding Conservationist by the Rolette County Soil Conservation District and Rolette County Agriculturist of the Year by the Rolette County NDSU Extension Service. He was a charter member of the National Cattlemen's Association, president of the North Dakota Polled Hereford Association, a 26-year member of the North Dakota Stockmen's Association, and a member of the NDBCIA. He was proud to have exported Polled Hereford cattle to Chile in the late 1960's.  
His opinions were as strong as his Catholic faith, which he lived out in quiet action, as a member of the Knights of Columbus and active participant in the men's Cursillo. He served 18 years on the Rolette Hospital Board of Directors. 
Floyd could strike up a conversation with anyone and had the uncanny ability to make others laugh. He enjoyed a good joke, a strong handshake, playing cards, and dancing to the music of a live band. When he wasn't farming, he absolutely relished a heated political debate among family or friends – particularly if the subject was. . . farming. He had more common sense than many with advanced education and could calculate numbers in his head faster than they could be punched into a calculator – routinely pricing the cost of the girls' shopping trips in bushels of wheat.
Floyd is survived by his loving family, wife of 65 years Carmen, his children: daughter Cheryl (Keith) Anderson of Walcott, N.D.; sons Daniel (Mary) Richard, Curt (Cindy) Richard, Craig Richard and Mark (Lanette) Richard all of Rolette, N.D.; and daughter Sheyna (Aaron) Strommen of Fort Rice, N.D.; 10 grandchildren Brady Anderson, David (Kari) Anderson and Ryan Anderson, Chelsey (Eric) Rongen, Kacie (Lacey) Richard, Riley Richard, Megan Richard, and Cassidy, Cooper and Clint Strommen; and 4 great grandchildren Ridley and Ryker Rongen, Sadie Richard and Hayden Richard. He is also survived by a sister Stella Schimetz of Dunseith and brother Donald (Marlys) Richard of Bottineau.
He was preceded in death by his parents, sister Irene Lagasse and brothers Ernest, Arthur and Gene Richard.
In lieu of flowers, the family requests