Posted by Neola Kofoid Garbe: Bottineau & Minot, ND
Veronica Azure
(August 31, 1925 – February 2, 2012)
Send Flowers
Send Sympathy Card
Guest Book
|
Sign Guest Book
VERONICA AZURE
Veronica Azure, age 86 of Dunseith, died Thursday, February 2, 2012 in a Belcourt hospital. Funeral services will be held on Wednesday, February 8, 2012 at 10:00 A.M. in the St. Michael's Catholic Church in Dunseith. Burial will be at the St. Ann's Cemetery in Belcourt in the Spring. A wake will be held on Tuesday beginning at 4:00 P.M. with a prayer service at 8:00 P.M. in the Church.
Veronica Azure, a daughter of Lewis and Gladys (DeCoteau) Wilke, was born on August 31, 1925 at Belcourt. In 1947 she was married to Peter Azure at Belcourt. This marriage later ended.
She is survived by a daughter, Nora Kohuth of Ft. Collins, CO; sons, Lowell Azure of Jamestown, Clarence Azure of Dunseith and Leland Azure of Ocala, CA; 9 grandchildren and one great grandchild; one brother, Pat Wilke of Belcourt.
Art Hagen's ('72) "Welcome to Cebu" party
Several of Rose's very close friends and ours too, Lorna and Evelyn, arranged for a suprise "Welcome to Cebu" party for Art Hagen last night. They pulled if off well. Art had no idea about all this until they open the door. He said " When Rose asked me to put on a nicer shirt than the one I had on, I should have realized something was up". Many of our mutual friends attended. Art had only arrived in Cebu 15 hours before this party, so he was feeling a little Jet Lag. It was an enjoyable evening with many of our friends having the opportuntiy to meet Art, the guy they have been hearing about for sometime now. Bernadette and I stopped by Rose's house to see them earlier in the afternoon before the party.
I want to share this FB posting from Lorna to Art with you. Lorna is a very close friend of Rose's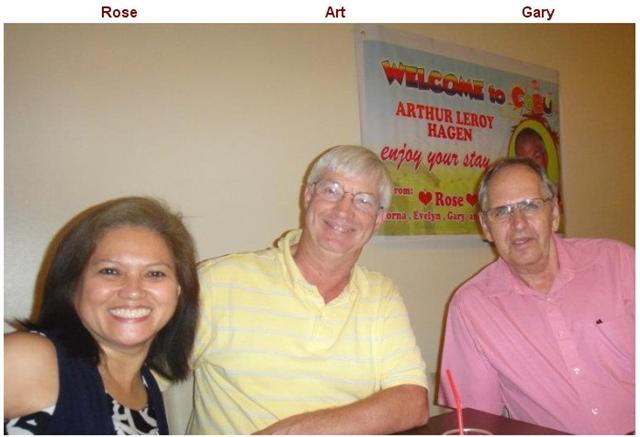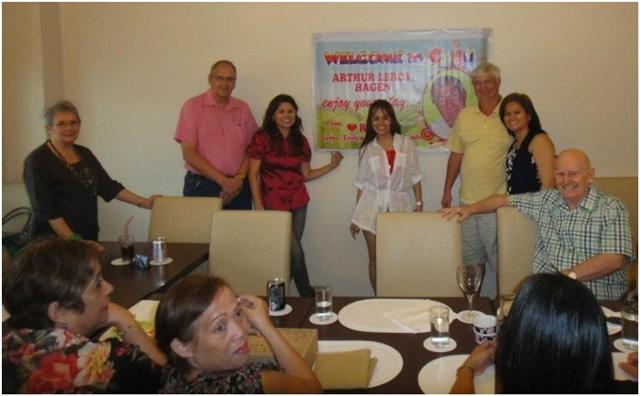 In Rose's house: Bernadette, Gary, Rose & Art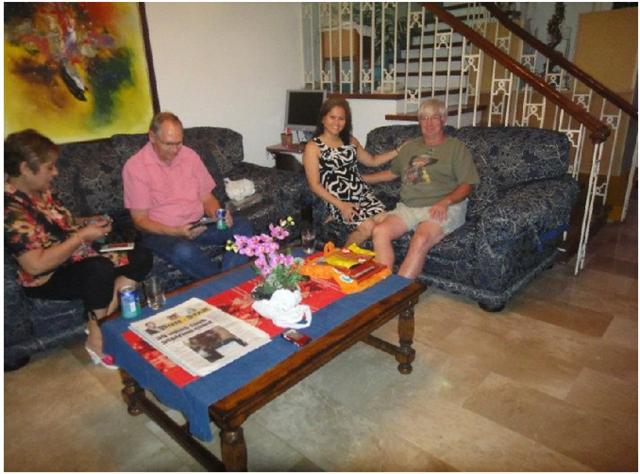 1955 Turtle Mountain Lutheran Chruches (Vinje, Salem, Nordland & Manger) Ladies Aid picture.
Posted by Neola Kofoid Garbe: Bottineau & Minot, ND.
This is a picture of the "Ladies' Aid" groups from the four Turtle Mt. churches: Vinje, Salem, Nordland and Manger. A group of us worked together to obtain the information included in
this email. The identification of these ladies/gentleman is listed below the pictures. Additions/corrections
welcome. This is the list as of February 2, 2012.
If you would like to have me send these pictures to you, minus the numbers, please contact me:
neolag@min.midco.net
Info I just received states the following ladies are still living: # 4, Margaret Roland, still lives in her home in the hills; # 20, Myrtle Olson, lives at Oak Manor; #28, Rena Roland, is a Good Samaritan (Bottineau) resident; # 36, Orlene and Lloyd Larshus, live at Oak Manor, #27 Arelene Duame, lives in Hallandale Beach, FL.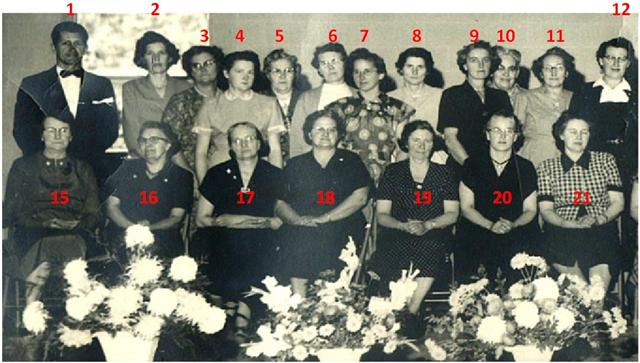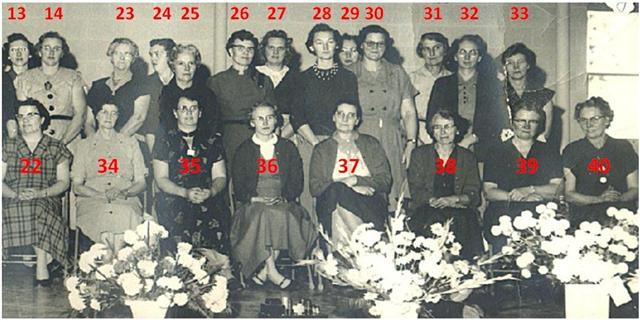 1955 Bottineau Co-op Creamery picture.
Note: The pages referenced in this list are in the 1984 Bottineau Centennial (The People of
V – Vinje, S- Salem, N – Nordland, M – Manger
1. Rev Earle M Duame: served from 1955 to 1958

all four churches
2. Luella Kirkeby: Mrs Harold Hansen – N P. 354
3. Lucille Berg: Mrs. Martin Rude P.201
4. Margaret Bergsnov: Mrs. Leonard "Slim" Roland N P. 363 –

Currently living east of Lake Metigoshe
5.

Alma Pederson: Mrs. Albert Berg

V P.
6. Judith Torgerson: Mrs. Gilbert Thompson P. 365
7. Adeline Pladson: Mrs Johnnie Olson S? P. 198
8. Gina Persson: Mrs Rueben Wall M P. P. 111
9. Ann Walborg: Mrs William Bill Johnson N P. 356
10. Alida Hoffas: Mrs Albert Larson S P. 196
11 Elida Svingen: Mrs Peder Pederson M P. (son, Oliver- 362)
12 Gladys Hagen: Mrs Hilmer Persson V
13 Fern Putzke: Mrs Oliver Pederson M P.362
14. Gladys Bjornseth: Mrs Albert Rude S P. 200
15. Anna Bakken : Mrs Andrew Christenson N P. 351
16. Clarissa Torgerson: Mrs Carl Guttormson N P. 352
17. Amanda Torgerson: Mrs Charlie Hagen V P. 192
18. Adeline Ihla: Mrs Alfred Monson M P. 360
19. Nora Guttormson: Mrs Knute Hagen N P. 353
20. Myrtle Smith: Mrs Henry Olson N P. 361 –

Currently living in the Oak Manor apartments in Bottineau
21. Edna Peterson: Mrs Ledolph Larson N P. 358
22 Zelma Hall: Mrs Harold Brandvold M 350
23. Minnie Crandall: Mrs Arthur A Larson M P. 578
25. Sylvia Lockhart : Mrs Oscar Bergan S
26. Thelma Torgerson: Mrs Selmer Emerson N P. 352
27. Arlene

Duame: Mrs. Duame, Pastor's wife –

Currently living in Hallandale Beach, FL.
28. Rena Larshus: Mrs Ernie Roland N P. 363 –

Currently living at the Good Samaritan Home in Bottineau
29. Evelyn Larson: Mrs Henry Rude V P. 200
30. Viola Bjornseth: Mrs Alfred Rude S P. 200
31. Bertha Peterson: Mrs Milan Kittleson P. 516
32.

Grace Carlson: Mrs. Gilbert

Nickelson S? P. 598
33 Aasne Aasness: Mrs. Lewis Kittleson Not in book
34. Mabel Guttormson: Mrs Hans Kittleson N P. 357
35. Elaine Woodward: Mrs Bob Stokes S Not in book
36. Orlene Flaata: Mrs Lloyd Larshus VP. 81
37. Hilda Wall: Mrs James Jacobson M P. 355
38. Clara Abrahamson: Mrs. Andrew Flaata V? P. 78
39. Anna Dunderland: Mrs Hjalmer Monson M not in book
40. Agnes Engh: Mrs Lawrence Soland M
 

Reply to picture from Pastor Earle( #1) and Arlene (#27) Duame's son, Stephan

What a joy to hear from you. I'm Stephen, Arlene and Earle's son. My dad passed away in 1996. I have many fond memories of our time in the Turtle Mountains and with the people there. I was best friends with Jerry Larson and returned for many years. Those four church's I can never forget. We would love to have the picture, thank you.

 

954-456-4527 – Stephen home

954-458-0614 – Arlene home

 

 

Gary's reply to Stephan

Hello Stephen,

Thank you so much for this reply. I have included a message with the Ladies Aid picture that Neola Kofoid Garbe sent out to her Bottineau list of friends and many others. You mother, # 27, Arlene Duame, makes 5 folks still living that are in this picture. We will include you with any further correspondance of this picture and also of the 4 churches that we may have.

I was born in 1947, so I would have been 8 to 11 when your dad was our pastor. I do remember him well, but I don't remember much about your family. After I left ND at the age of 19 I kind of lost touch with most of my Confirmation class. Until several months before Jerry Larson's passing, we had not seen or spoken to one another since about 1965. I had lost my copy of my confirmation picture, so I contacted all of my Confirmation class trying to locate a copy. Betty Hanson finely found hers. With these contacts, I had a really nice chat with Jerry.

 

Take care and keep in touch,

 

Gary

 

 

Stephan's Reply

Hi Everyone,

Thank you Neola for preparing these pictures, I'm sure it must have been quite a project. Thanks Gary for sending them to me. Also, thanks again Shirley for 'finding' me a few years ago. The pictures make my memories much more tangible. I formatted them in MS Word and printed them for my mother. It was her 88th birthday on Feb 2nd.

My years in the Turtle Mountains were my 'Tom Sawyer' years. From the parsonage on Lake Metigoshe we explored the world. There are so many good memories. And the four churches and all the time spent there. We only lived there four years (as I remember), but I returned every summer (for the full summer) to work on Jerry's farm. I even went to one year of college at the School of Forestry in Bottineau. Through my 'church' years and through the years growing up with Jerry I met many wonderful people. We started and played on a softball team called the Metigoshe Mets. Some of us 'guys' even took a small motor home to the 1967 World's Fair Expo 67 in Montreal, Canada.

They were formative years for me, thanks again everyone.

Shalom,

Stephen