Folks, I've played with this for awhile getting the file size's down and in the process keeping the dimension size's of the pictures large enough to be easily viewed. I never like to send out group messages with large file sizes. This should be manageable for most everyone.
Message Neola Kofoid Garbe (Gary's Cousin):
I just watched the movie of Vance Bailey's life. WOW!! Someone is talented. I didn't know Vance, but I thoroughly enjoyed the movie. The more I read about Vance, though, the more I feel like I "know/knew" him.
Message from Geri Metcalfe with picture (Metcalfe's & Lagerquist's):
Gary,
I enjoyed Karen Woodford's reply re: Bobby Lagerquist and her Lagerquist relatives. Hope this picture comes thru OK–I treasure this picture as this group of kids spent alot of time at my parents, Jim and Ella Metcalfe's farm.
My sis, Patti is only about two on this picture, so I'm thinking it was taken in about 1950, the year my sis, Lola, was born.
The Strong's lived with us for a time when their home burned about the time we were moving to the farm from Seattle, where Helen and I were born. My parents lived in Seattle for seven years. They moved back before Margaret was born in 1946. Yes, Hilda and Leroy had Bobby L. living with them and I remember Inga and George visiting at our farm as well.
We're getting ready to leave for AZ, so if I don't get time to send this to Karen, she will get it from you.
Thanks much, Gary, for all you do–I'll keep in touch in Mesa.
Hope the New Year is kind to all of us,
Left to right: Bobby Lagerquist, Ronnie Strong, Jerry Strong, cousin Larry Metcalfe, my brother, Gary Metcalfe, Gordy Strong, me in front of Gordy and my sis, Helen in front of me; the three kids in the front are my sis, Margaret (in front of Jerry Strong), her little friend, Timmy Strong and my sis, Patti .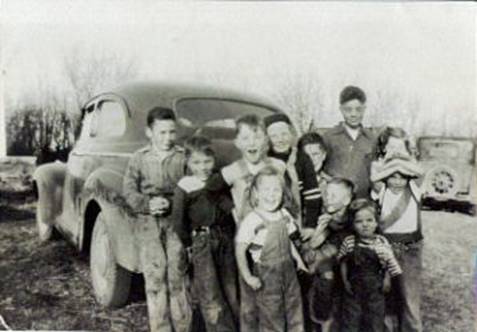 Jerry and Toni (Morinville) Gredesky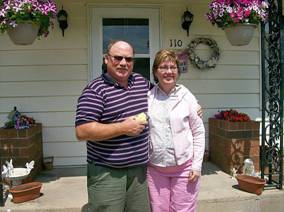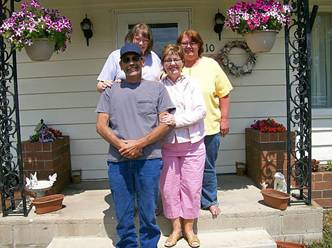 Message & picture from Neola Kofoid Garbe. Neola's father, John Kofoid, owned the Corner Garage in the 50's & 60's (John Kofoid & Bob Stokes (my dad) were 1st cousins)
I think Joe Boguslawski also worked in the "office" for a short time after Ernest. I'm not sure about this. You/your classmates were still quite young in 1953.
Ernest was a neat fellow. I really enjoyed him.
Picture: Ernest Tennancour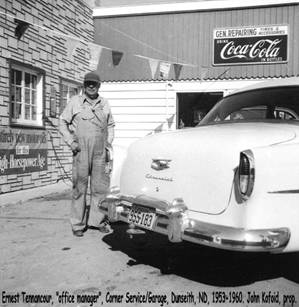 Question and picture from Tim Martinson (69)
Hi Gary, I want to know if anybody remembers
Ray Wilson (PIcture & article previously sent) or Deerheart Lodge? Take Care, Tim
Wedding At DeerHeart Lodge near Dunseith