No Blogs the past two day.
For the record I did not get blogs posted the last two days. With Bernadette's regressed condition, I have had to spend more time with her. If she doesn't recover more from this last spell, I will have to hire more help. Evenings from about 6:00 PM until I go to bed seem to be the worst. Once I go to bed she settles down for the night.
.
.
.
.
Josie Fugere – Reply to Kay Hosmer
From Pamela Fugere Schmidt  ('73): Mandan, ND
Kay Hosmer,
I saw your name and instantly thought of my Grandmother, Josie Fugere.  Do you remember when she babysat for you and would bring me along?  It was at your house that I first learned what "tv dinners" were.  It seemed absolutely amazing to pop them in the oven and have a whole meal come out!
Pamela (Fugere) Schmidt
.
.
Request from Florence Hiatt Dahl ('50):   Anchorage, AK
Just returned to Alaska from North Dakota–visiting my two remaining sisters–Dorothy and Eleanor (Stubby).  great time……………Just talked with Darrell Korman .  Darrell was born and raised just west of Bottineau..  graduated from high school, moved to Alaska, grauated from the university in Fairbanks with a degree in engineering—and then ended up traveling all over the world…and now lives inKerryville, Tx.   told him about you and about your "blog.".  Soo-oo could he be added?   It's dekorman@reaga….
Darrell, I am very sure that many of our readers know you. What year did you graduate from BHS?
.
Gary Metcalfe ('57) Zip Lining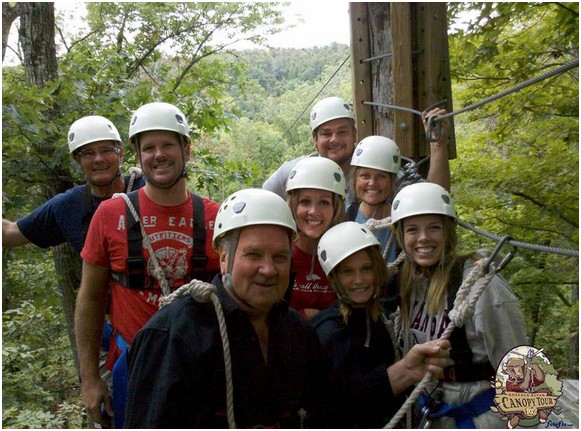 .
.
Highway 43 to perform at the Hostfest
Reply from Dick Johnson ('68): Dunseith, ND
Wednesday, October 2, 2013  3:30 pm
thru  Saturday, October 5, 2013
Gary and Friends,
Thanks to Neola for promoting our Hostfest performances!  For
those who going to be attending,  we play each day at 3:30 on the Skien
Mezzanine which is up the main stairway in the middle of the entrance
foyer.  It's where we played a couple years ago for those who remember
that.  Gordy Lindquist also performs there daily.  We were asked to do
two shows on Wednesday.  Our regular time and one to fill in for the
twin sons of Ricky Nelson who will be accepting induction into the Hall
of Fame at that time.  That  performance we will be doing on the stage
in Oslo Hall at 7 PM.  It's always nice to see familiar faces in the
crowd so if you attend,  please stop by and see us after the show.
Thanks Gary!
.
Hwy 43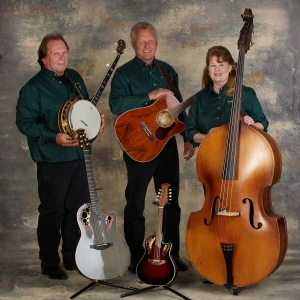 Wednesday, October 2, 2013  3:30 pm
thru  Saturday, October 5, 2013
This trio is from the Turtle Mountains located in north central North Dakota, just a couple of miles from the Canadian border. They perform all types of music from country and bluegrass to rock-n-roll. Their songs range from the Civil War era to current renditions including some songs written by Ron.
Ron Hett and Dick and Brenda Johnson have been performing at events throughout the area since 2007. They have performed at various events such as the Norsk Høstfest, school reunions, community celebrations, fundraisers and Frozen Fingers Festivals.
Ron Hett is a retired counselor and enjoys traveling with his wife, Barb. Dick and Brenda farm near the International Peace Garden. Dick sells hay commercially and Brenda works for the North Dakota Forest Service.
Ron Hett sings harmony, plays lead guitar, mandolin, harmonica and banjo. Dick sings lead vocals and plays guitar while his wife Brenda plays the standup bass.
Larson/Johnson Connection
Doreen, Many of our readers knew/know many members of both the Larson and Johnson families that you are making reference too. Many are related too. Gary
Hi Gary – Clara Larson Johnson was the first born of Nels & Augusta
(Sivertson) m. 1896.    Clara was over 100 when she died in late 1996 ?
(according to a note in my  People of Bottineau County  1984).    Albert was
born 1903 – married Alida Hoffas in 1925.
Clara married Victor Johnson January 8, 1916.  Their son Don lives near Post
Falls or Rathdrum ID.   We send emails back and forth.   He had a place
across the river from us here in Pend Oreille Co until he had some crucial
issues with cancer treatments.   He fought and won the cancer.
I was trying to find the history for Ruth Johnson Peterson – but I need to
stop and get some things done before we head to Post Falls to spend this
evening and then tomorrow with a friend who will have surgery on his back in
the morning.    I know Ruth's two daughters Marjo and Norma were born when
she was married to Johnson.   (he would have been Victor's brother, I
believe).     Ruth told me once that he was a very mean man.  So when we
lived in Homen township she and mom became very good friends.    When Ruth
and Pete moved into Oak Manor apartments she and Mom picked up and continued
their long lasting friendship.  They would both celebrate their birthdays
together in mid August.  Mom moved to Oak Manor early February 1996 right
after Dad died.    She lived there until late 2005 when she moved to St
Andrews Long Term Care until she died Jan 15, 2008.
I just looked at Bill and Ann  (Walborg) Johnson.   His siblings are:
Arthur, Ella, Victor, Raymond, Reuben, Nina, Thelma, Vivian & Aldora.
No wonder we could not keep people straight back then.   It was just enough
to keep track of our current peers, I guess.
I can't tell you how often and how much I enjoy going to my People of
Bottineau County -1984.   Carolyn Larson Brandt Cobb and I spent several
hours in March catching up on some of our Larson background/heritage.   That
helped me to get the children of Nels Larson straight in my mind.   Several
names were the same – as in the men married women who had the same name as a
sister.   Elda, Bernice to name two.   Gotta go.   Doreen