Reply to Kenny Nerpel – Basketball games in Rugby
From Dennis Dubois ('63):  Minneapolis, MN
In reply to Kenny"s story on Rugby, class of 1963. The story is accurate, Paul Presthus was the star player. Rugby won the class "A" state championship in 1962. I remember that game very well. Paul was an all-American that year, the only junior on the squad. The next year, 1963, the year I graduated, Williston won the Class "A", led by the now famous, Phil Jackson, of NBA coaching fame. Paul Presthus went on to the U of Minnesota, where he captained the basketball team for 2 years and also played baseball for the Gophers. He was in financial services for many years in the Minneapolis area and was the president of the alumni club for many years. I had the chance to play against Paul several times in this area when he would play with a celebrity team made of Vikings and other professionals. I read a story in a magazine that chose the all time top 5 Basketball players, ever, in North Dakota and two of the five, Paul Presthus and Phil Jackson, both having graduated in 1963, were named to it. So, the year I graduated was a banner year for great North Dakota Basketball. Thanks for the memories.
.
.
Reply to Kenny Nerpel – Basketball games in Rugby
From Bob Lykins (Teacher):  Hutto, TX
Kenny,  I remember going with Gene Hepper and Bob Jury to a basketball game in Rugby where they played Williston.  I'm not sure but I think it was SY 62-63. Hep was the head BB coach for Dunseith and Bob was his assistant and coached the B Team.  I held their coats.  Rugby had a kid by the name of Paul Presthus who went on to play at the University of Minnesota and later, if I remember correctly, in the NBA for Philadelphia.  Williston had a skinny young kid by the name of Phil Jackson.  I guess every basketball fan knows where he ended up.  It was one of the best basketball games I have ever seen.  It was a classic match up between two talented big men.  As I recall, Rugby won with the Senior Presthus having the edge on the younger Jackson.  Great years, great teams, great memories.
.
.
Norma Manning (Ruth Larshus Peterson's daughter):
 Princeton, Il
Just a couple of corrections. Mom( Ruth Larshus ) married Norman Johnson July of 1938. Norman was a son to Victor & Clara Johnson. Clara was a Larson. Out of this marriage came 3 children Ralph, Marjo and Norma. Norman was one of the older child of 10. His sister Leota and brother Don are the only 2 living. Leota is 93 ( I believe ) and Don is 74 the both live out west. Don usually comes back for the hostfest.
Mom & Pete were married in Dec of 1957. They lived on the farm until 1998 when the moved to Oak Manor in Sept. Pete's health was failing and they moved to long term at the hospital in Jan of 2008. This a couple of wks after they celebrated 50th Annv. The lived there 2 months when Pete passed away. Mom moved to Upham w/LaVerne & I. She lived w/us for 10months, then moved to Good Sam, until she passed away in Feb of 2012. 
Gary, just want to thank you for your blog. Look forward to it everyday. Sorry about the health issues y'all are going thru. Prayers coming your way.

.
.
Cebu, Philippines: Several pictures from Rose Hohl's 50th Birthday party last night
It was a wonderful party. There were about 80 folks that attended.
It was a beautiful setting in the covered recreational area of her condo complex. The entertainment, the food with bottomless beverages and the camaraderie were superb.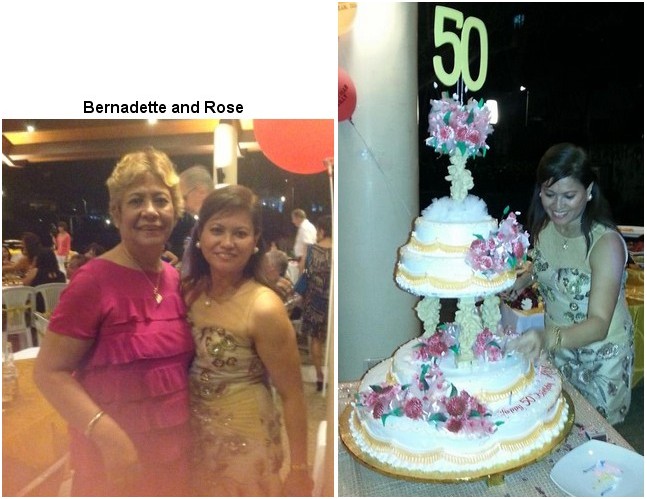 .
Our good friend Ian serenading Rose with a flower.
.
Marco Polo Plaza towers in the back ground.
Condos on the top floor in the left tower are selling for $700,000.
The hotel is the right tower.
.
Posted by Larry Hackman ('66):  Bismarck, ND
This morning on the Interstate, I looked over to my left and there was a Woman In a brand new Cadillac Doing 65 mph With her Face up next to her Rear view mirror Putting on her eyeliner.
I looked away For a couple seconds… to continue shaving And when I looked back she was Halfway over in my lane,  Still working on that makeup.
Now as a man, I don't scare easily.  But she scared me so much; I had to put on my seat belt and I dropped My electric shaver, Which knocked The donut Out of my other hand.
In all The confusion of trying To straighten out the car Using my knees against The steering wheel, It knocked My Cell Phone Away from my ear Which fell Into the coffee  Between my legs!
Splashed, And burned Big Jim and the Twins, Ruined the damn phone, Soaked my trousers, And disconnected an Important call.
Damn women drivers!