For the record, I did not get a blog posted yesterday.
.
.
Bernadette has take a turn for the worse. Last night after we got back home from lunch/dinner with our Cebu Expat group of friends her motor skills became more affected. She needed help to walk and was unable to open the bathroom door. When she put her hand on the door knob she couldn't get her brain to tell her hand to turn the knob. She slept pretty well during the night getting up twice to use the bathroom. Both times she needed assistance getting out of bed and walking to the bathroom room located in our bedroom. This afternoon things really got worse. For a period of time she became almost non responsive. She is a bit more responsive now, but is unfazed by what is going on around her. We now have her in diapers too. I will be bringing more help in tomorrow. I knew this day was coming, but one is never prepared. This is the worst she has ever been. Not sure how much she will recover this time around.
.
.
Happy Birthday Darrel Abrahamson (DHS '68): St. John, ND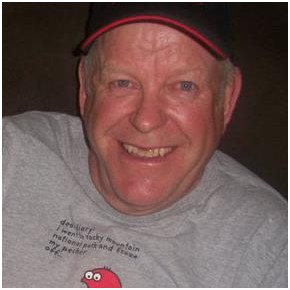 .
.
Posted by Neola Kofoid Garge:  Bottineau & Minot, ND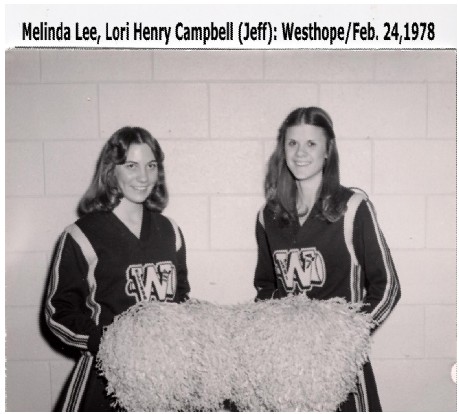 .
.
1954/55 Dunseith Girls Basketball Team
Posting from Bonnie Awalt Houle ('56):  Becker, MN
    I would like to tell Kenny Nerpel (65) that the Jamestown Coach was not the first to try to play a game by stalling through-out the game.
    The Dunseith Girls Basketball Team of 1954 or 55 had a good team. We were in the Basketball Tournament held at the Bottineau School of Forestry.  We won our first game but as luck would have it, we came up against the Power House Newburg team that had been "State Champions" two years in a row.
    Virgil Vanorny our coach decided that we would stall through-out the game.  If we held the ball they couldn't score.  If they tried to take the ball hopefully they would foul us allowing us to score.
    It was a disaster, when ever Newburg got the ball they scored.  Whenever Dunseith got the ball, everyone booed.  Needless to say by half-time we were extremely frustrated.  Newbury were again the North Dakota State Champions.  They beat us soundly.  Can't remember all the team members, this is a picture of the year before.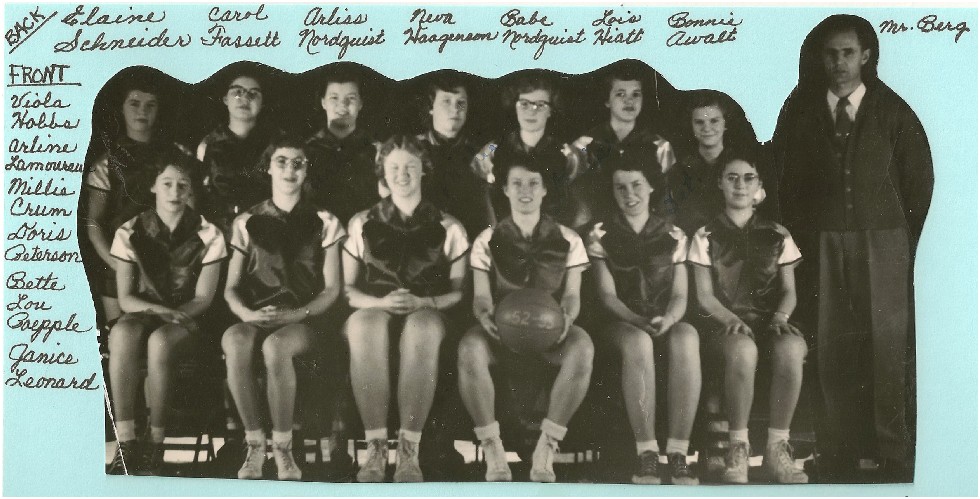 .
.
1962 Rugby HS boys champs honored
Posting from Susan Fassett ('65):
 Spearfish, SD
I found this article on the basketball game in Rugby with Paul Presthus and Phil Jackson.  Thought the guys might be interested.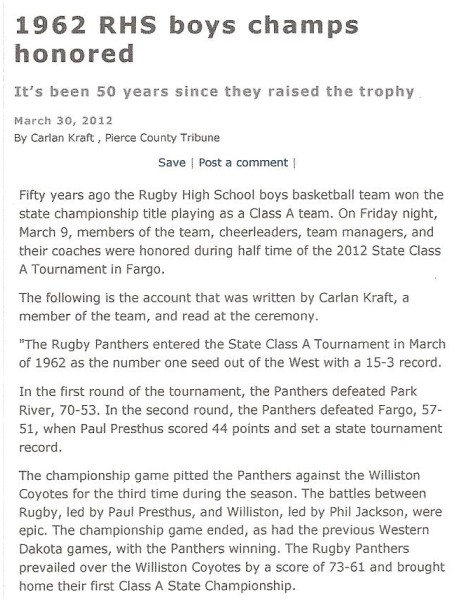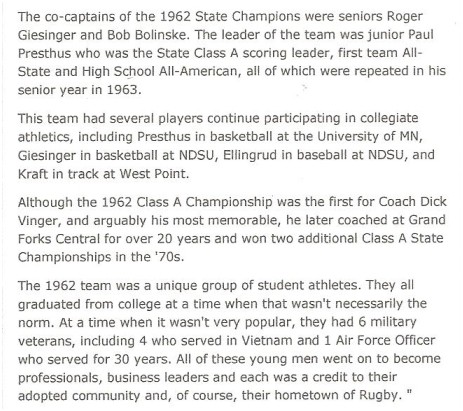 .
.
Cebu Expat Dinner/Lunch at Borussia's in Sogod, Cebu.
These are several pictures from our Dinner/Lunch yesterday.
Dave Sandness and his wife Esther have lived here in Cebu for over 10 years. Dave was born and raised in LaMoure, ND and is a cousin of Richard Sandness who worked at Bottineau First National for many years. Dave is a psychologist. He was the school psychologist for the Central Kitsap school district near Bremerton, WA for a number of years. Our paths never crossed until we met here in Cebu. When I was in the Good Samaritan Home in Bottineau this past July I noticed Ruth Sandness' name on her door, so I stopped in to say hello. We had a good chat and she remembers Dave well. If someone could show her this picture of Dave and me, I am sure she would be delighted. I never knew Ruth, but she knew and remembered my dad well.