For the record I did not get a blog posted yesterday.
.
.
.
.
Reply from Neola Kofoid Garbe:
 Bottineau & Minot, ND
I'm so glad Carol and Ivy were able to identify the "unknown family" picture.  IF I ever locate the original picture, is anyone interested in having it mailed to them?
I'm wondering if the school Linda Gardner is talking about was nicknamed "The Medrud School".  My aunt, Alvina Johnson Brudwick (Milen), taught there and stayed with Oscar and Lydia, too; my uncle, Gerald Brudwick, was one of her students (My aunt, Alvina Brudwick, and I visited school one afternoon at that time.  Years later, Alvina/Milen/family lived on "The Medrud Place" and Alvina once again taught at the school.
Norma Manning answered your question below.
.
.
Reply from Norma Manning:  Princeton, IL.
Yes, Linda & Floyd are right. I went there all first 8 yrs. so did my brother & sister. It was also called Medrud school. G-Ma  & G-Pa did house the teachers. So many good memories.
Norma

.
.
Alice Hiatt Dalbec's passing
Message from Brent Dalbec:  
Good evening, My name is Brent Dalbec and I'm one of Alice Hiatt Dalbec's grandsons.  I came across your website by accident and had found my grandmothers picture and information on here.  The original post I found was from April of 2009.  I wanted to give some updated information on my grandmother.
She passed away on May 27th, 2013 at the age of 97.  She is survived by 12 grandchildren, 29 great grand children and 15 great-great grandchildren.  She is greatly missed as our matriarch and grandmother.
Thank you so much Brent for keeping us posted.
Gene Dalbec, whom I believe is your Uncle or your father, posted the following message on June 2nd.
Posted with message 1802 on June 2, 2013
Posted by Gene Dalbec:  White City, OR.
Alice Hiatt Dalbec of White City passed away May 27, 2013 at the age of 97

.
She was born March 2, 1916 in Dunseith, North Dakota at home in the Turtle Mountains to parents Henry and Charlotte Hiatt.  She was the third of eight children.  She had two brothers and five sisters. 
Alice married Stanley Seymour Dalbec on December 10, 1938 in Bottineau, North Dakota, who preceded her in death on May 9, 1992.  They have a daughter and three sons.  Alice and Stanley moved to Medford in the summer of 1951 and have made the Rogue Valley their home ever since. She had lived with her daughter Marvel for the past nine years until her passing.
Alice was the matriarch of the family and kept five generations of family going strong.  Her favorite things to do were to crochet, bake and spend her time with family surrounded by her many grandchildren which she loved very much.  She made sure everyone of her fifty five grandchildren had a crocheted blanket to remember her by.  She was very happy playing cards and games with her family.  She taught her children and grandchildren the art of making lefsa for the holiday meal and this became a tradition that will be followed for many years to come. 
Alice is survived by her daughter Marvel of White City, Son Gene Sr of White City, son Ronald and wife Mary, Medford.  She is also survived by her 12 grandchildren, 29 great grandchildren and 14 great great grandchildren and one more due in September. 
Alice joins her husband Stanley in the heavens with two brothers; Harold and Amos, five sisters; Marie, Gladys, Lilly, Betty and Beatrice, and one son; Keith.
A memorial service will be held at Memory Gardens on Arnold Lane in Medford, Oregon on June 7th, 2013 at 2:00 pm.
.
.
Posted By Neola Kofoid Garbe:  Bottineau & Minot, ND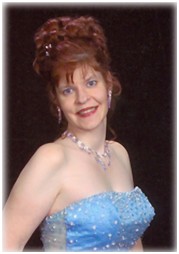 July 15, 1967 – October 6, 2013
Resided in Bismarck, ND
Janna Charrier Ronsberg, 46, Bismarck, died October 6, 2013.
Services will be held at 3:00 pm Friday, October 11, at McCabe United Methodist Church, Bismarck, with Rev. Darrel Aleson officiating.
Burial will be at 1:00 pm Saturday, October 12, at Calvary Cemetery, Langdon.
Visitation will be held from 1:00 pm – 3:00 pm Friday at McCabe United Methodist Church.
Janna Ruth Charrier was born July 15, 1967, in Grafton, ND, the daughter of Richard and Ruth (Rand) Charrier. She attended and graduated from Bottineau High School in 1985. Janna then went to UND and received her undergraduate degree in 1996; she then began her
graduate program at NDSU in emergency management.Janna married Don Ronsberg on December 30, 2005, in Fargo. She began working in Bismarck with the North Dakota Department of Emergency Management in 2004. In 2008, she went to work for the North Dakota Department of Health Emergency Preparedness Division.
Janna was active in Girl Scouts throughout high school, earning the Gold Award. She was also active in the International Order of Rainbow for Girls. In 1986 Janna was initiated into Lois Chapter #108 Dunseith, Order of the Eastern Star. Janna also spent several years as an on-air disc jockey in Grand Forks with the radio name of Sheena Collins. She spent several years as a mobile disc jockey under Vector Entertainment, which she co-owned.
Janna is survived by her husband, Don Ronsberg, Bismarck; stepmother, Roberta Coleman Charrier, Park River, ND; stepchildren, Jason, Crystal, Rose, Lissy, and Luke; sister, Angie (Mike) Oleskiw of Yorkton, Sask.; step-siblings, Amy Noble of Mountain House, CA, Samantha (Scott Slaven) Coleman of Virginia Beach, VA, Justin (Christina) Coleman of Winchester, VA; sisters-in-law, Leann (Pat) Wilkie, Minot, and Joely Charrier, Bismarck; brother-in-law, John (Lisa) Ronsberg, Bismarck; her aunts, uncles, nieces, nephews, and cousins.
She was preceded in death by her father, Richard L. Charrier; mother, Ruth Charrier (Rand); brother, Scott Charrier; grandfather, Louis F. Charrier; grandmother, Louise C. Charrier (Schefter); step-grandmother, Therese (Marcotte Benoit) Charrier; grandfather, Charles C. Rand; grandmother, Ruth L. Rand (Vavrina); and aunt, Kathleen Basiago (Charrier).
.
.
Lunch at the Stokes house Yesterday and today with some of Bernadette's family
.
Note: Novie and Mirasol both work for us full time, so they were at both days luncheons.
.
L to R: Novie (niece), Joy (widowed sister-in-law), Cherry (Half Sister), Babe (widowed sister-in-law),
Berlinda (sister),
Bernadette, Lisa (half sister) and Mirasol (niece)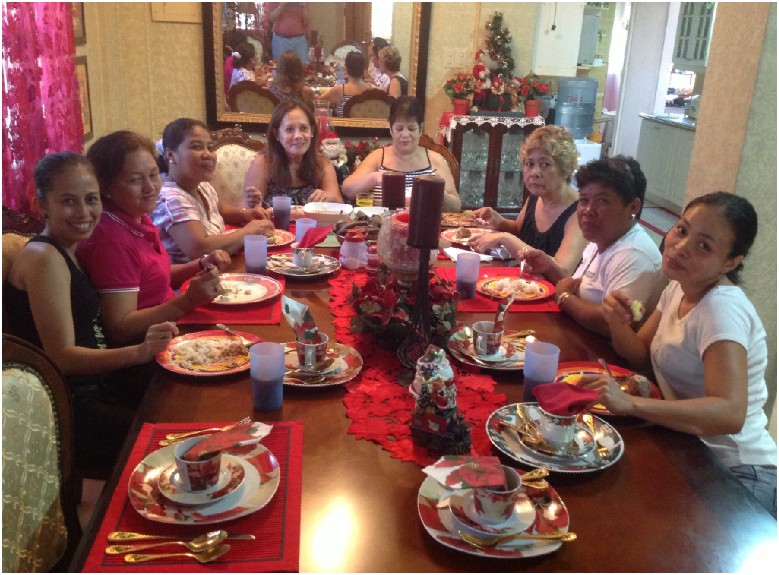 .
Bernadette's Sister, Sister-in-law, Nieces and Nephew with their children.
Note: Joseph, the guy sitting in the back to the right is Bernadette's Brother's (deceased) son. He is married to Mirasol, our helper, leaning against the post. They have 4 children, the boy he is holding, the two boys front left and the first girl right front. The 2nd girl right front and the boy beside her are Novie's two oldest kids. They all live in our apartments on our compound, so they are very near. Having Novie and Mirasol living so near and working for us makes it very nice. They are so dedicated to their jobs and us too. Novie and Mirasol get along so well together too. They are both college grads with 4 year degrees. Jobs are hard to find in this country.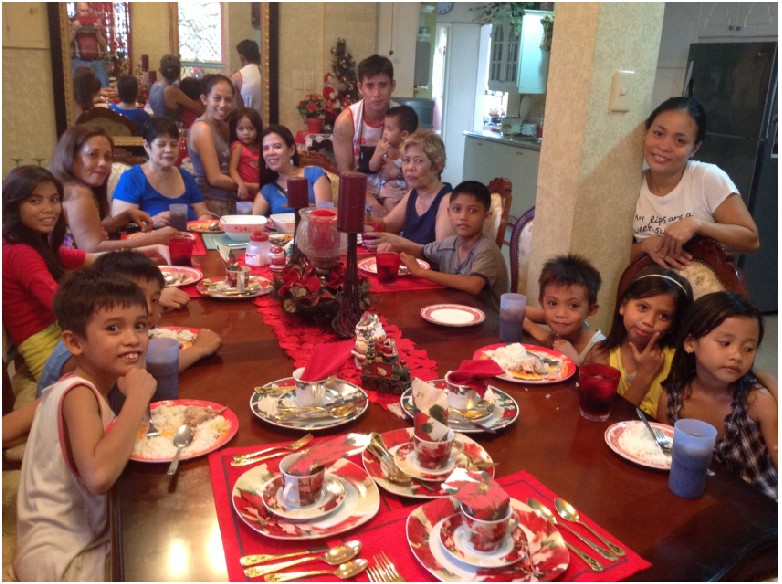 .
.
Joke of the day posted by Rosemary Smith:  Lake Metigoshe, ND
All arrivals in heaven have to go through a bureaucratic examination to determine whether admission will be granted. One room has a clerk who inputs computerized records of what each applicant did on his or her last day of life.
The first applicant of the day explains that his last day was not a good one. "I came home early and found my wife lying naked in bed. She claimed she had just gotten out of the shower. Well, her hair was dry and I checked the shower and it was completely dry too. I knew she was into some hanky-panky and I began to look for her lover. I went onto the balcony of our 9th floor apartment and found the SOB clinging to the rail by his finger tips. I was so angry that I began bashing his fingers with a flower pot. He let go and fell, but his fall was broken by some awnings and bushes. On seeing he was still alive I found super human strength to drag our antique cedar chest to the balcony and throw it over. It hit the man and killed him. At this point the stress got to me and I suffered a massive heart attack and died."
The clerk thanked him and sent him on to the next office.
The second applicant said that his last day was his worst. "I was on the roof of an apartment building working on the AC equipment. I stumbled over my tools and toppled off the building. I managed to grab onto the balcony rail of a 9th floor apartment but some idiot came rushing out on the balcony and bashed my hands with a flower pot. I fell but hit some awnings and bushes and survived, but as I looked up I saw a huge chest falling toward me. I tried to crawl out of the way but failed and was hit and killed by the chest."
The clerk couldn't help but chuckle as he directs the man to the next room.
He is still giggling when his third customer of the day enters. He apologizes and says "I doubt that your last day was as interesting as the fellow in here just before you."
"I don't know" replies the man, "picture this, I'm buck naked hiding in this cedar chest….."