No Blog the past two days
For the record I did not get a blog posted the past two days.
.
.
                       Happy Birthday Dale Evans:  Algona, WA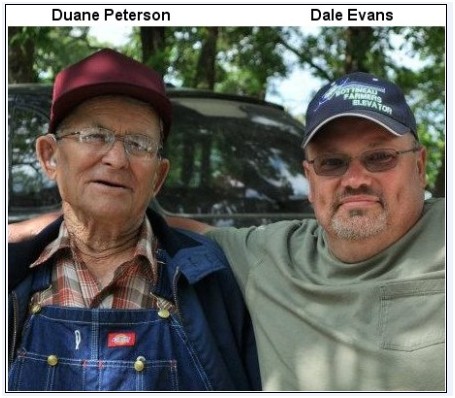 .
.
Happy Birthday to Lee Stickland
From Dennis Dubois ('63):  Minneapolis, MN
A great happy birthday to Lee Stickland. Your name conjures up so many happy memories. I hope you have a good day.
.
.
Reply from Lee Stickland ('64):
Dickinson, ND
Gary , my email address will show on this send but I will list it , also.
Thought I might slip through the BD note net but thanks.  My son's Mom's BD is
also October 20 but in 1948 not 1946 as is mine. Dean and Doc and Eric and his wife, Kim
each gave me a call.  Last year Dean and Doc came to Dickinson to be with for a few days
during the days of my BD; best BD present—EVER.  
The city judge who has been practicing law here for as long as I have been here,  was also
born on October 20, 1946.  When I first came to be the adm at the DNC, Bob was the guardian 
for some bachelor farmers that needed to come to live at the home.  I met him then and have personally benefited from his services over the years. He also assisted our residents
 by serving as an attorney ab libitum to ensure correct procedures  were followed in legal matters that he could help with.
I am certain that Bernadette is receiving the best and most willing care.
That is the email address have on file for you. Not sure where I got that other one from.
.
.
Obituaries posted by Neola Kofoid Garbe:  Bottineau & Minot, ND
.
I have always known of Lillian, but never really knew her. I did not realize that she was a sister to Willard Lasher. Their mother was a Thompson, sister to Ida Thompson Pritchard and Ella Pladson's father.  Lillian was a first cousin to Robert Pritchard, Corbin Pritchard, Winifred Pritchard Eurich, Ella (Eldon) Pladson and Esther Tangen.
.
Lillian Beyer
(Died October 21, 2013)
Send FlowersSend Sympathy Card
Guest Book | Sign Guest Book
Lillian Beyer, age 101 of Bottineau, died Monday at a Bottineau hospital. Funeral will be held on Friday at 2:00 pm at the Nero Funeral Home in Bottineau. Visitation will be Thursday from 10:00 am until 9:00 pm with a prayer service at 7:00 pm all at the Nero Funeral Home in Bottineau. Burial will be at the Oak Creek Cemetery in Bottineau.
Lillian Beyer, a daughter of Ben and Melvina (Thompson) Lasher, was born on June 26, 1912 at Courtenay, ND. At a young age, she moved with her family to a farm in the Turtle Mountains near Bottineau. She attended Ackworth Country School. On January 29, 1930, she married Milton Beyer at Bottineau. They made their home on a farm south of Bottineau. They moved off the farm and into Bottineau in 1964. Lillian worked in the kitchen at Bottineau High School. She later worked for a time at St. Andrew's Hospital before returning to the high school. Milton passed away on June 21, 1997.
Lillian was a member of the First Baptist Church in Bottineau where she served as president of the social committee. She was also a member of the Amity Township Homemakers Club. She enjoyed cooking, baking, knitting, sewing, crocheting and serving coffee to her guests. She was a loving mother and grandmother.
She is survived by her daughter, Norma and her husband, Chuck Amsbaugh of Bottineau; son, Howard Beyer and his wife Dorothy of Bottineau; son-in-law, Harley Larson of Mohall; 10 grandchildren; numerous great grandchildren and great-great grandchildren; sister, Beulah Hogland of St. Paul, MN; sister-in-law, Ruby Lasher of Bottineau and numerous nieces and nephews.
In addition to her husband and parents, she was preceded in death by a daughter, Marlene Larson; 4 brothers and 1 sister.
Arrangements were with Nero Funeral Home in Bottineau. Friends may sign the online register book at www.nerofuneralhome.net.
In lieu of flowers, the family requests the memorials be giving to the organization of the donors choosing.
.
.
Note: Rena Larshus Roland was a first cousin to Art Rude.
(April 30, 1923 – October 22, 2013)
Send Flowers
Send Sympathy Card
Sign Guest Book
| | |
| --- | --- |
| | Rena Roland, age 90 of Bottineau, died on Tuesday, October 22, 2013 at a Bottineau nursing home. Funeral services will be held on Monday, October 28, 2013 at 2:00 P.M. at the Metigoshe Lutheran Church of Bottineau. Burial will be in the Manger Cemetery of rural Bottineau. Visitation will be Sunday beginning at 1:00 P.M. until 9:00 P.M. in the Nero Funeral Home in Bottineau. |
.
.
            Bernadette Stokes at the Marco Polo this past Monday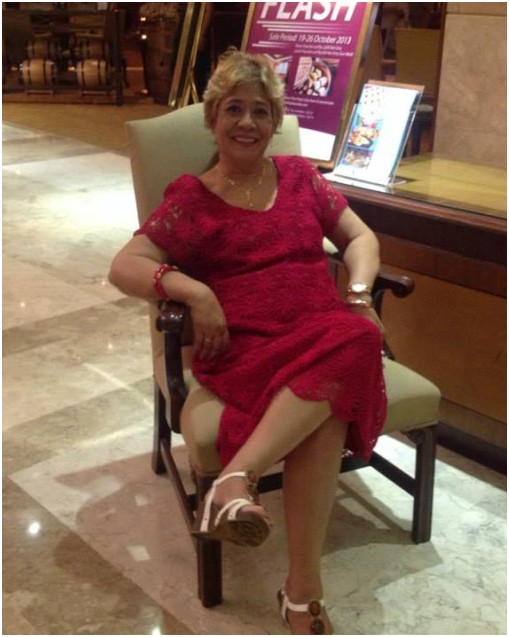 .
   Bernadette with her two Nieces and our good friend Michael
      Novie, Bernadette, Michael & Mirasol at the Marco Polo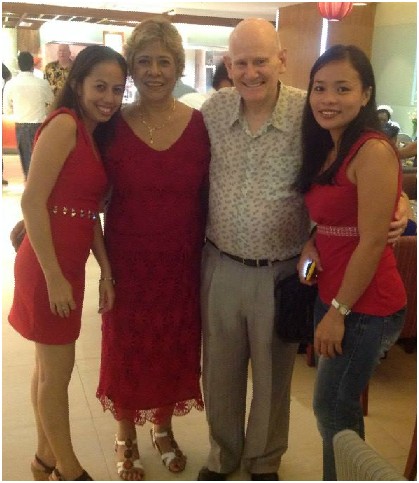 .
.
Joke of the day
Posted by Don Maleterre ('72):  Siouxfalls, SD
Two couples were playing poker one evening.  Jim went to the kitchen to get some refreshments, Lee's wife, Sue, followed and asked, 'Do you see anything that you like in there?' Surprised by her boldness, Jim admitted that, he did. Sue said, 'Well, you can have it but it will cost you $250.' Jim confirms that he is very interested. Sue told him that since her husband Lee played golf Friday afternoons and Jim didn't, Jim should be at her house around 2 p.m. Friday afternoon. When Friday rolled around, Jim showed up at Lee's house at 2 pm sharp and after paying Sue the agreed sum they went to the bedroom, and she gave him a great time.  Jim quickly dressed and left. As usual, Lee came home from golf at 6 p.m. and upon arriving, asked his wife: 'Did Jim come by the house this afternoon?' With a lump in her throat Sue answered, 'Why yes, he did stop by for a few minutes this afternoon.' Her heart nearly skipped a beat when her husband asked, 'Did he give you $250? Sue, using her best poker face, replied, 'Well, yes, in fact he did.' Lee, with a satisfied look on his face, continued, 'Good.
  He came by the golf club this morning and borrowed $250 from me.  He promised he'd stop by this afternoon and pay it back.' Now THAT, my friends, is how poker should be played…