Request for Peterson/Evans family pictures
From Dale Evans:  Algona, WA
Hi Gary – Thank you so much for your efforts & energy to maintain this blog, my mother Mary (Peterson) Artzer really enjoys reading it

Would you happen to have any old photo's of my mother or the Peterson family? or perhaps of my father – Martin Evans?
,
,
Reply from Vickie Metcalfe ('70):  Bottineau, ND
Readers of this blog often  dialogue about  the same event. 
But, the  individual stories differ. 
Each of us  brings memories based on  our own unique  perceptions and feelings,
Oft  times I write into this blog and  hit  "send".
Then wish I didn't  write or hit send.
I  am  gratified  when I receive a  personal e-mail  from 
As Dick stated  each persons memory belongs to them.
Please continue sharing, don't be "skunked"?.
.
.
Reply from Dennis Dubois ('63):  Minneapolis, MN
Kenny Nerpel, I'm so sorry that I got the color for your sister's hair wrong, or did I get the wrong Kathy Nerpel? Did you folks live in town, real close to the high school, in 1963? I remember you from that basketball team. I think I've got something really mixed up here. I saw Kathy at the 2007 reunion. Was there another Kathy Nerpel out there? Help me out. I liked you comment bout Don Prouty's temper. He has told me that an incident in Rolette caused him to re-think his coaching career, he never coached again, after Dunseith. I had gotten kicked out of the game for, my temper tantrum with the ref. Don was seated on the stage, where the visiting teams sat, and when the ref ran by, he has told me, he kicked out at him. He says if he would have hit him, he would of really hurt him. He said he went home that night and told Bernie, his wife, "I don't think I'm cut out to be a coach". That was the last year he ever coached. Kenney, I'm so glad that you brought this up. Oh, was your sister older than you, as this Kathy that I knew would have been.
.
.
Posted by Neola Kofoid Garbe: Bottineau & Minot, ND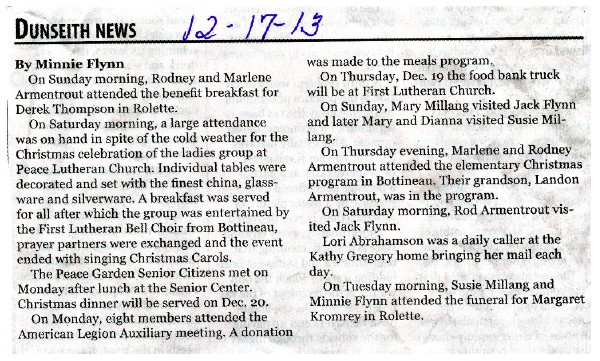 .
.
Posted by Neola Kofoid Garbe:  Bottineau & Minot, ND
.
.
Dec 20, 1957:
Elvis Presley is drafted
| | | | | | |
| --- | --- | --- | --- | --- | --- |
| | | | | | On this day in 1957, while spending the Christmas holidays at Graceland, his newly purchased Tennessee mansion, rock-and-roll star Elvis Presley receives his draft notice for the United States Army. |
With a suggestive style–one writer called him "Elvis the Pelvis"–a hit movie, Love Me Tender, and a string of gold records including "Heartbreak Hotel," "Blue Suede Shoes," "Hound Dog" and "Don't Be Cruel," Presley had become a national icon, and the world's first bona fide rock-and-roll star, by the end of 1956. As the Beatles' John Lennon once famously remarked: "Before Elvis, there was nothing." The following year, at the peak of his career, Presley received his draft notice for a two-year stint in the army. Fans sent tens of thousands of letters to the army asking for him to be spared, but Elvis would have none of it. He received one deferment–during which he finished working on his movie King Creole–before being sworn in as an army private in Memphis on March 24, 1958.
After six months of basic training–including an emergency leave to see his beloved mother, Gladys, before she died in August 1958–Presley sailed to Europe on the USS General Randall. For the next 18 months, he served in Company D, 32nd Tank Battalion, 3rd Armor Corps in Friedberg, Germany, where he attained the rank of sergeant. For the rest of his service, he shared an off-base residence with his father, grandmother and some Memphis friends. After working during the day, Presley returned home at night to host frequent parties and impromptu jam sessions. At one of these, an army buddy of Presley's introduced him to 14-year-old Priscilla Beaulieu, whom Elvis would marry some years later. Meanwhile, Presley's manager, Colonel Tom Parker, continued to release singles recorded before his departure, keeping the money rolling in and his most famous client fresh in the public's mind. Widely praised for not seeking to avoid the draft or serve domestically, Presley was seen as a model for all young Americans. After he got his polio shot from an army doctor on national TV, vaccine rates among the American population shot from 2 percent to 85 percent by the time of his discharge on March 2, 1960.
.
.
Face book Capture from Iris Wolvert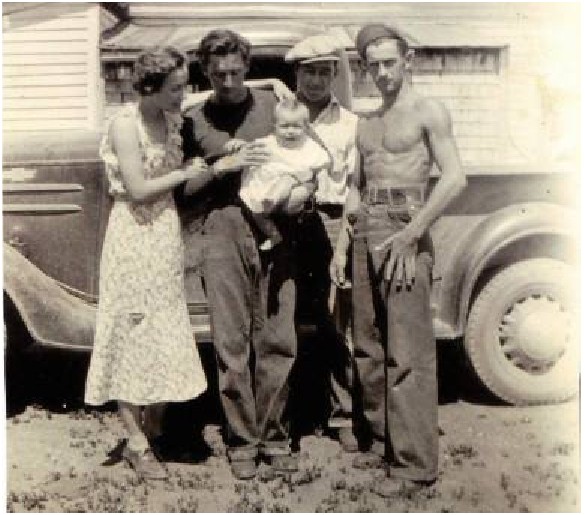 .
.
Blog posted on January 19, 2008
Folks,
For general info, these messages are going to folks around the globe. We have Dunseith folks living in Korea, Germany, Switzerland, Canada, Mexico, United States & Philippines. That's all I can think of at the moment. Please let me know if I've missed a country that some of you may be living in. Within seconds after I hit the send button, you all receive the same message. The power of email.
Gary
.
.
Bob Hosmer's (56) reply to Gary Stokes (65) with his address correction for the DHS 56 class list:
.
.
Hi Gary,
Here's a correction for the Hosmers:
We now live at: 18606 52nd W. #222
Lynnwood, WA 98037
425-673*6254
I'm enjoying the Dunseith memories and good to hear from people who I either knew or knew their families. The picture of my Uncle Bob with Jack Flynn, brought back memories of those days. That picture was taken in uncle Bob's back yard–I remember the tree in the back ground and the lawn chairs they were sitting in. Bob Hosmer
.
.
Larry Hackman's (64) Reply to Gary Stokes (65) with Gary's former reply to Kenny Nerpel (65):
Gary
Ahhh Pie, What would we do without it? Funny you should bring this up at this time. My wife just had taken a cherry pie out of the oven when I opened this message. Dessert tonight will be warm cherry pie, alamode, For you novice pie eaters alamode means with ice cream, and there is nothing better then fresh straight from the oven, warm cherry pie with ice cold, sweet vanilla, ice cream. Your mouth watering yet?
Guess what? Now she, just made and put into the oven a double thick apple pie. Wow, talk about torture. I wasn't going to respond to this pie message Gary. But, I thought, hell, he can take it. I'm going to respond and make him suffer. After all I have to wait for them to cool and this will help pass the time. What can I say Gary. A happy pie hole, means happiness.
Who cares about that little bump in cholesterol.
Sure beats the hell out of balute, lutefisk or sauerkraut. I hope these arn't fighting words. People that eat some of these foods tend to be bullheaded. I don't know why? I love sauerkraut, myself, but thinking of these foods and burned toast with onions, sure takes the zest out of the pie story.
I added this last paragraph for you dieters.
A pie eater,
larry
.
.
Gary Stokes' comments to Kenny Nerpel:
Kenny, You'll have to admit, we had some really fine pie. Those home baked pies they had at the Senior Center were so delicious, right Larry Hackman? I just couldn't resist having a piece or two every time I passed by the area. I'll have to admit, those pies were probably my comfort food. It must be my scananavioun blood. I am fond of most anything sweet. In my growing up days we ate a lot of sugar sandwiches. Brown sugar was the frosting on the cake. I remember my dad liking burned toast and onion sandwiches too. Gary