Reply from Diane Larson Sjol ('70):  Lake Metigoshe & Minot, ND
Thank you so much for the birthday wishes.  Gary, you do such an awesome job on this site.  I had a great day.  I can't believe how old I am!  Haha. 
.
.
Old Richard Family Pictures for Identification
Posted by Roberta (Gary '63) Houle:  CHAMPLIN, MN 
Hi Gary–
I finally have the pictures so I can send them to you.  Don't know whether I said previously that I only am fairly sure of the names for 2-3 of the people.  I'm guessing they are confirmation &/or first communion pictures.  I'm also sure many of them, if not all, are the RICHARD family, since they were with Lillian (Dostaler) Houle's things.  Lillian's mother was Bernadette RICHARD.

Here is a list of the siblings of Bernadette from oldest to youngest:  I hope they stay in columns.

FEMALES: Bernadette (Richard) Dostaler      b. 1891
Anna (Richard) Bergeron               b. 1900
Leah (Richard) Bergeron               b. 1912

MALES:    George                  b. 1894
Omer                      b. 1896
Fred(or Alfred)      b. 1898
"Joe"                       b. 1902
Albert                      b. 1904
Pete                        b. 1906
Leo                          b. 1914

I will tell you who I think they are and you can decide whether to put this info on the website with the picture before you get any responses.

Thank you and all the bloggers for your help.

Roberta Houle, wife of Gary Houle (63)  
.
.
Think this is Bernadette.  Note photographic studio name.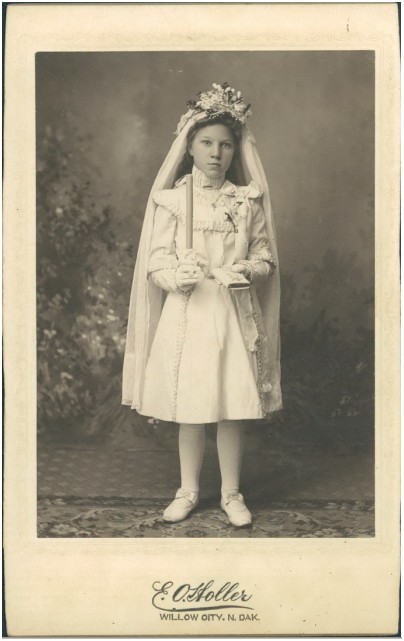 .
           Think this is Anna.  Same photographic studio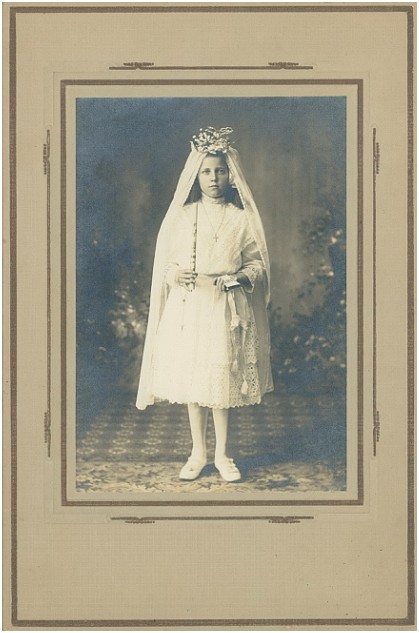 .
                         Probably a first communion?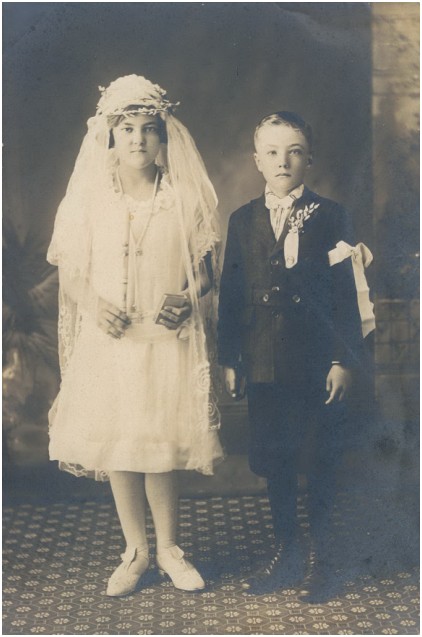 .
                                           Post Card
        Many years ago that was how pictures were made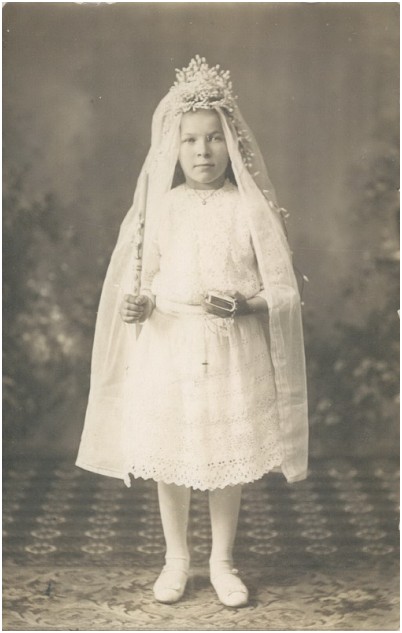 .
.
message from Vickie Metcalfe ('70):  Bottineau, ND
Gary and friends, 
I hope every one had a great 2013 is thinking of New Year resolutions, these last few days of 2013.  
I think I have made mine.
I am recalling, how well fed I was while on my last holiday to Scotland.
My first breakfast choice in the Shetlands, Orkneys and Highland Isles was always the full Scot's breakfast, which is so much like a the "farmers breakfasts" we ate long ago on the farm.
"Okay,the  traditional  Scots breakfast is so much more!"  It consists of toast with homemade soft fruit jam, tea, grilled tomato and mushrooms, beans, egg, black pudding, bacon, ham and sausage. (the eggs are from free range chickens; the yolks were quite orange, and the bread a heavy grained) The black pudding? I can take or leave.
I enjoy the variety on my plate and  was most reluctant to try other highly favored Scots breakfasts. i.e. porridge, kippers or salmon.
However, while at our lodging on Fionophort, the Isle of Mull, I finally sucumbed to curiosity. And I discovered,
Scots take porridge making  a serious endeavor.
Our hostess said, "You need to order porridge the night before, as it takes time to prepare. "hmm.My thought, "I  microwave Quaker oatmeal every morning, how could porridge be so special?"
The next morning as  I ate the creamy porridge. I realized it was different.
Later that, afternoon while in Tobermoray I purchased my first "spurtle".
Coming home to ND, I decided to take oatmeal i.e. porridge making to the next level.
I went on line and found out  simple facts.
"Stir porridge clockwise; stirring anti-clockwise is liable to stir up the devil
         Always eat porridge standing up because "a staunin sack fills the fu'est" (a standing sack fills the fullest)
Source: A Bowl of Porridge, Guthrie Hutton"
            I looked at my spurtle and thought of my dear Uncle, Bill Metcalfe who told me his secret to a long life was oatmeal every morning. Well I am sorta there.
         Confession, I still use the Quaker Oatmeal and the microwave.   The spurtle is in amongst my other utensils waiting to be used.   I still  unsure of which end is which. 
 My 2014 new year resolution, which end of the spurtle do I  use?  I don't want to stir up the ……!   
Until later,Vickie
.
.
From Wayne ('61) & Rosemary Smith:  Lake Metigoshe, ND
TAPS…as you have never heard it played before…
This was beautiful…

The Silence

A few years ago, a friend visited the Netherlands American Cemetery and Memorial in the village of Margraten, about six miles from Maastricht. There lie buried 8,301 American soldiers killed in the battles to liberate Holland in the fall and winter of 1944-5. Sgt. Bill Dukeman, 101st Airborne Division, 506th Parachute Infantry Regiment, Second Battalion, Company C (of "Band of Brothers fame) is buried there. He was killed in the battle of "The Crossroads" in northern Holland.

The Dutch hold an annual memorial concert every September at the above cemetery to remember and honor the Americans who died to free them in Operation Market Garden and subsequent efforts to eject the German army from Holland. Sgt. Dukeman, like many other fallen GIs, was "adopted" by a Dutch family. Dukeman's family in the States was contacted and hosted in Holland, and his grave site decorated each year by his Dutch "family." They keep his portrait in their home, displayed in a place of honor. Fathers pass this obligation down to their sons in Holland. This version of the original "taps" music is played by a 13 year old Dutch girl named Melissa Venema. The conductor of the orchestra is Andre Rieu from Holland .

Many of you may never have heard taps played in its entirety . The original version of Taps was called Last Post, and was written by Daniel Butterfield in 1801. It was rather lengthy and formal, as you will hear in this clip, so in 1862 it was shortened to 24 notes and re-named Taps.

Melissa Venema is playing it on a trumpet whereby the original was played on a bugle.

Watch at this site, and go full screen.
.
.
==========================================================================
.
Blog posted on January 25, 2008
Memories from Mona Dionne Johnson (48):  
Hi:  I wonder if anyone receiving these news emails remembers when in
1947, we all (except two who didn't know about it) in High School,
probably around 80 students, went on strike and didn't attend school
that day, in the hopes that we could convince the School Board at that
time to retain a teacher for the following year that we all thought very
highly of.  Needless to say, we were not successful !  The teacher was "
Russell P. Lund".   We, who attended the "2000 reunion" classes of
'47,48 last saw him then.
He lives in Fargo area.  That was quite an experience.  Wonder if that
was the first and only strike at Dunseith High ?
Mona Johnson
.
.
Posted by Gary Stokes:
Note: Russell was born in 1919. 
STEVEN P & RUSSELL P LUND
2921 34th Ave S, Apt 142
Fargo, ND 58104-5144
(701) 293-6192
.
.
Memories from Ele Dietrich (69): 
I, like everyone else, have truly enjoyed reading all the memories and can not thank you enough for what you have done for us Gary.  You are truly a wonderful person and we are blessed to have you in our lives.
After reading Deb M. memories of the Governor's Choir in 1969, I felt that I just have to add this tickle of memory:  Mr. Johnson (who would ever have called him anything else) probably had the highest impact of any teacher in Dunseith when I was in school.  Through him we all learned to appreciate music.  We also learned to give from our hearts when we sang and I think that has stayed with all of us to this very day.  I personally can not thank him enough for that gift.  I will always remember though that he absolutely dispised Buck Owens and the nasal tone of his music.  Remember "let the sound come from the mouth not the nose"…those words will be with me always. He introduced me to so many kinds of music, music that I had never heard before and still love to this day.  Thank you Mr. Johnson.
And Deb, I too remember singing Grace in the restaurant…what an awesome moment of time.  The whole place stopped and listened, almost as if time stood still.
Thank you again Gary and all who have shared their memories with us.
Ele (Dietrich) Slyter    '69 rules !!!
.
.
Elwood & Eleanor Fauske:
Folks,
I had a wonderful visit with Elwood and Eleanor (Hiatt) Fauske today. Going on 66 years of marriage, they are going strong. They live just east of the Bottineau Fair Grounds.  Russell, their son, recently had some ligament surgery on his left arm.  Russell & Glenda live on the Fauske farm, formally the John Hiatt farm up in the Ackworth community.  Elwood has been driving up to Russell's every day to do his chores while he is convalescing.  Eleanor is still active with her crafts and with the store she has partnership with, in Bottineau.
The Fauske siblings are Connie (62), Russell (64), Carrole (66), Beth (67), Arlinda (Lindy) (69) & Brian (70).  Many of you among our ranks are niece's and nephew's Elwood & Eleanor.
I told Eleanor & Elwood that some day they will become Senior Citizens.  Elwood is 5 years younger than my dad and he would have been 92 last September.
Gary Stokes