Gary,
The pictures and faces of the kids I came to know and call friend were there staring at me, and I felt good, those are the faces that I spent my formidable years with, and Helgeson also. I must say I couldn't have picked a better bunch if I would have tried.
                                                                Ron Longie
.
.
Gary,
        No apology is necessary–actually, I'm half Olson and half Johnson.  My mother was a Johnson, sister of Bennie, Norman, Hank, and Johnnie.   Also, a thank you to Art Rude–I enjoyed the music–that was what I grew up with.  When Bernice and I were very young, my Dad would take us along to the barn dances.  Those dances were like a family gathering.  There were always other kids there to talk to and play with.  And there was always good food to eat!!
                                            Shirley Warcup
.
.
I have one word to say to Art      MORE          Please share more of Ole's music–tho he is gone now he lives one thru his music and you, so please share more of it with us–thankyou
.
.
Reply from Dave Slyter (70):
APPLAUSE to Art Rude and  Ole Bursinger.   Great jobDave Slyter : )
.
.
Gary and FriendsThis picture is taken in front of the Dakota Hotel in the mid 40s. I
always thought the guy in the photo was my dad as he told me he worked
at the little gas station that was between the hotel and the hotel
cabins. Most folks should remember this little pink building that had
the eaves turned up like a gingerbread house. It sat 'crooked' to the
world, and was used later by Junior Mellmer for his plumbing business,
as I recall. Now after all these years of looking at this photo, I took
a close look and I think this is someone else. I'm thinking Darold Dion
or ??? Can anyone tell me who this is so I can write it on the picture?
Thanks Gary!
Dick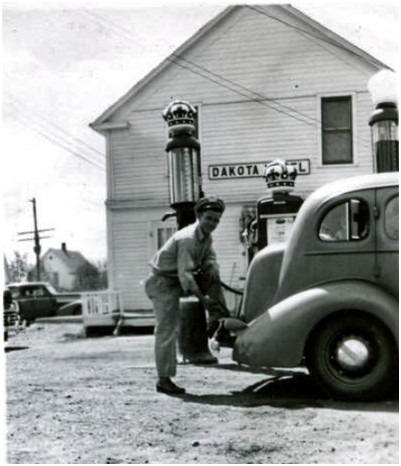 .
.
I was so happy to see the email from Art.  John and I made several trips
to participate in his Rendahl Gospel Festival and it was wonderful.  Ole
Bursinger was a cousin of my mother although when we were growing up,
didn't realize this.  I only got to know him in later years and he was a
great guy.  The following page is one from my Rendahl Scrapbook.  My
family had started an annual picnic at Rendahl on the occasion of
Grandma Goodie's 80th birthday and had so much fun there.  We would have
a huge potluck and then everyone would gather in the old church and we
would sing.  Art, Cheryl Haagenson, Agnes Solmonson, John and I, my Dad,
my sister Paula and many others all sang or played instruments, and
everyone from the oldest to the very youngest would sing along.  It was
like a big family reunion every year.  It would be great if we could
organize something like that again.  The other picture is of my dad,
sitting in the yard strumming on his guitar.  He sang to us from the
time we were small until the day he died, although in later years he had
arthritis in his fingers quite badly so couldn't strum as well as he
liked.  Paula put together a cd of the songs he liked to sing from old
tapes and sent me one a few years ago, after he passed away.  It was
awhile before I could get up the gumption to listen to it, but I did and
I do and I cry like a baby.  I like to think the Ole, Lorraine,  My dad
and others are having a good old jam session up in Heaven and someday I
plan to join them" in the circle".  We all come from a rich musical
heritage which I hope is being passed on to future generation.    God
Bless,    Susan