Reply from Vickie Metcalfe (70): 
Gary,
 As a kid, I never visited with your dad he was from the Ackworth community, But moving back to Bottineau afforded me the opportunity visit your dad when walking my dog/s.  My sister Cyndy was also his neighbor.
Your dad continued his patriotism here in Bottineau, as I believe he became a member of the American Legion here.
The Bottineau American Legion & VFW have the reputation for being one of 2 communities in the USA to have a flag holder (with the name of each  deceased Bottineau) American veteran engraved (burned into the wood)
In recent years, the VFW & American Legion, with the assistance of Ottertail Power, the REA power,  and Bottineau Community volunteers, early a.m. as the sun is coming up in the east, each & every  Memorial day, place an American Flag in each of those holders.
I  believe this commemorates those deceased  Bottineau  veterans ( I think from the Spanish American War through the Gulf Wars).  It's quite a  glorious site.. all the red white and blue flags waving  on the main streets, here on  on Memorial Day!
In later afternoon, as the sun is setting in the west, if you pass through Bottineau you will see …Old soldiers…  like..one very familiar to Dunseith folks,… Lloyd Awalt riding in the back of pick up trucks …..and volunteers taking down those flags.
If you watch closely you will notice, they do this job ever so reverently! Most of those "Old Soldiers" veterans don't go out of the community to vacation over Memorial Day.  They are so staunch and steadfast in their belief to never forget their fallen comrades.
Yep,  your dad was one of those OLD SOLDIERS.  Whenever I walked my dogs in the early mornings I could always count on Bob sitting on his steps on Main street. He'd always greet the dogs with a pat and me with a cheerful smile.  I got so I began to  time manage my walks, so that I could get a little story from him.  He was quite fond of telling the story about the bullet that hit his helmet and it went round and round….
As ever, Vickie Metcalfe
.
Note: As Vickie mentioned, Lloyd Awalt has been very instrumental with being one of the folks that has made all this happen with the 'Memorial Day' flag displays in Bottineau. He is a very active member of both the American Legion and the VFW. Lloyd is a Dunseith boy.  Some of you folks, I know, play golf with him in Dunseith.  A lot of his siblings are on this distribution list as well.  Does anyone know if Lloyd has email?
Yes my dad told that story many times about the bullet going round and round in his helmet.
Gary
Hi Gary,
This is a question for Lola Metcalfe….I am wondering about Bing and Ole Evans, were they twins…how were they related to Ole Evans who was married to Cecilia Gottbreht Evans……parents of Myron, Bill, Joe and Rodney.  Cecilia Gottbreht was my Grandfather's sister.
Bing Evans was involved in building our house on the corner….our fireplace was the first he ever built….think the story goes that my Dad came home from the Garden Tap, didn't like the new fireplace and knocked it down and the next day when Bing came, Dad and Bing decided that yes, Bing could build a fireplace!!!!!!   It was a very nice fireplace!.
Hope everyone is enjoying spring and looking forward to an eventful summer!
I am still doing real estate appraisal and things are looking up out here in CA…..very slowly but changing a little each week.
Evie Gottbreht Pilkington
.
.
My dad also served as a radio operator during WWII and was stationed on
Espiritos Santos in the New Hebrides.  His dad served in WWI(Wilmar H
Fassett)  Also, my mother's biological dad, Russell Rennick served in
WWI in the Balloon company.  In this picture, my dad is on the far right
side on the cement.  Lots of servicemen——how many never returned
home??  If anyone is ever in SD (the Black Hills) look me up.  We can
peruse scrapbooks.   Hugs, Susan
                                                                                                                                                                        Bill Fassett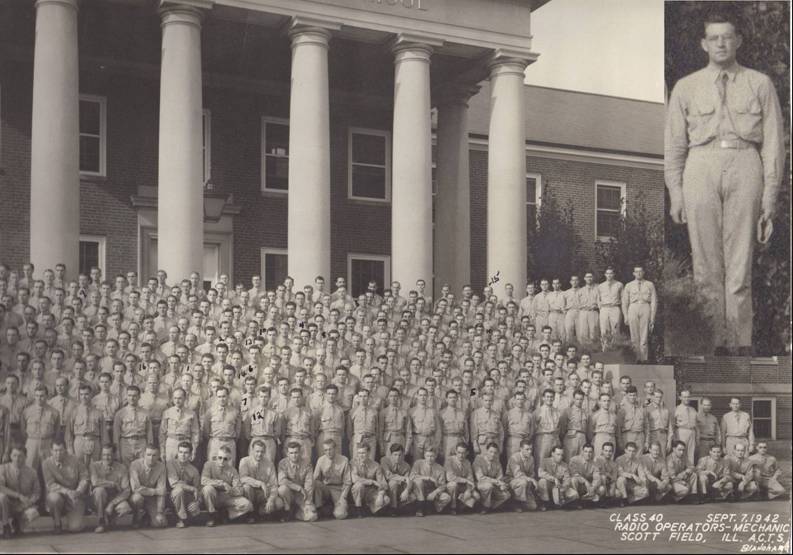 .
.
Message/Picture from Dick Johnson (68):M
Gary and Friends
I found a roll of film and some negatives while helping clean out Ike
and Agnes Berg's house. Some of the negatives had images that looked
interesting to me. Agnes was a sister to my grandfather and in her last
years I helped her with some of her business and travels, etc. Her son
had died when he was just 52 years old and she had no other children.
Her daughter in law was selling her house and was throwing out most of
this type of stuff. I had the film and the negatives developed in Minot
and found some really neat pictures of many of our family members, never
seen before. One of my mother, Bernice and Aunt Shirley, when they were
only 8 and 5 years old, and others. The one I'm sending today is of Ike
and Agnes in about 1930 or so . They were one of the three couples
married in 1929. Hosmers, Shelvers, and  Bergs–in the picture of the
triple anniversary. Anyway, I think they were a very classy couple and
looked good even by todays standards! Just thought some of you might
enjoy seeing them way back then!! Again thanks Gary!
Dick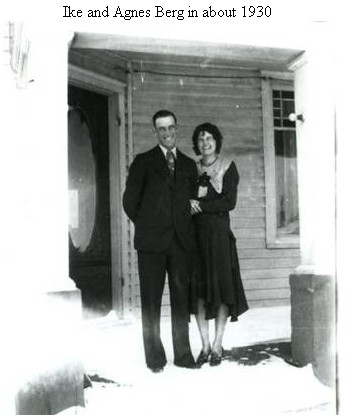 .
.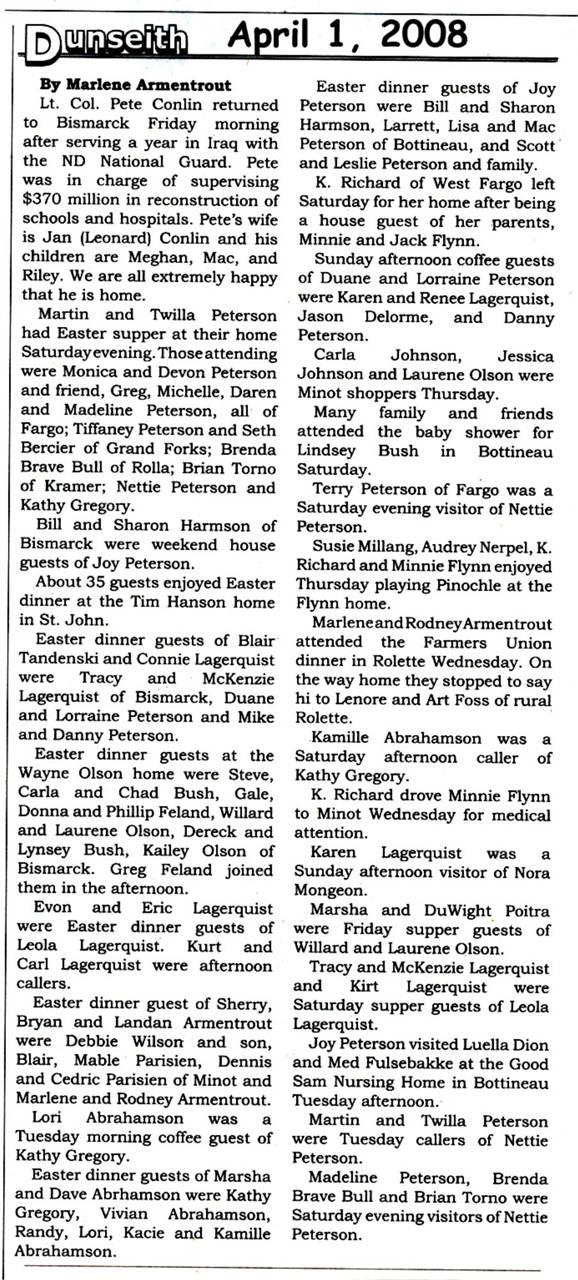 .
.
Gary this is so true,  Maybe you can pass it on to everyone.—take care, Warren '65
SCHOOL 
– 
1957 vs. 2008
Scenario:  Jack goes quail hunting before school, pulls into school parking lot with shotg un in gun rack.
1957 – Vice Principal comes over, looks at Jack's shotgun, goes to his car and gets his shotgun to show Jack.
2007 – School goes into lock down, FBI called, Jack hauled off to jail and never sees his truck or gun again. Counsellors called in for traumatized students and teachers..  
Scenario:  Johnny and Mark get into a fistfight after school.
1957 – Crowd gathers. Mark wins. Johnny and Mark shake hands and end up buddies.
2007 – Police called, SWAT team arrives, arrests Johnny and Mark. Charge them with assault, both expelled even though Johnny started it.  
Scenario:  Jeffrey won't be still in class, disrupts other students.
1957 – Jeffrey sent to office and given a good paddling by the Principal. Returns to class, sits still and does not disrupt class again.
2007 – Jeffrey given huge doses of Ritalin. Becomes a zombie. Tested for ADD. School gets extra money from state because Jeffrey has a disability.  
Scenario:  Billy breaks a window in his neighbour's car and his Dad gives him a whipping with his belt.
1957 – Billy is more careful next time, grows up normal, goes to college, and becomes a successful businessman.
2007 – Billy's dad is arrested for child abuse.  Billy removed to foster care and joins a gang.  State psychologist tells Bi lly's sister that she remembers being abused herself and their dad goes to prison.  Billy's mom has affair with psychologist.  
Scenario:  Mark gets a headache and takes some aspirin to school.
1957 – Mark shares aspirin with Principal out on the smoking dock.
2007 – Police called, Mark expelled from school for drug violations. Car searched for drugs and weapons.  
  

Scenario:  Johnny takes apart leftover firecrackers from 4th of July, puts them in a model airplane pain t bottle, blows up a red ant bed.
1957 – Ants die.
2007 – BATF, Homeland Security, FBI called. Johnny charged with  domestic terrorism, FBI investigates parents, siblings removed from home, computers confiscated, Johnny's Dad goes on a terror watch list and is never allowed to fly again.
Sce nario:  Johnny falls while running during recess and scrapes his knee. He is found crying by his teacher, Mary.  Mary hugs him to comfort him.
1957 – In a short time, Johnny feels better and goes on playing.
2007 – Mary is accused of being a sexual predator and loses her job. She faces 3 years in State Prison. Johnny undergoes 5 years of therapy.
I wish this could hit every e-mail