From Bob Hosmer (56):

Hi Gary and all,
Had a chat with Mary Medrud a couple of days ago to get my information clear about providing funds for Riverside Cemetery care.  It was a good chat and she commented on the winds that are drying out the soil and asked for prayer for timely rains.  Wanted to pass this on to all of you and any of you who seriously pray.
I was remembering neil Hassen, too.  though he was years older, I remember my brother, Don, offering him a full tablespoon of ketchup (it might have been chili sauce) at what was at one time the confectionary next to Althea Theater.  Don challenged him to swallow the spoonful in one gulp.  If Neil did, Don would give him $.50 cents.  Without hesitation Neil swallowed it and licked the spoon clean without batting an eye.  Poor Don had to reluctantly hand over the 50 cents.
It's great hearing from all of you.  Since I mostly lived away from Dunseith from the time I was 15 being away at school and only home in the summer, this correspondence helps me to reconnect in ways I didn't think possible.  You are really providing a wonderful service, Gary.
Bob Hosmer
.
.
Hi Gary,
I have not seen anything from you or others on "the List" so thought I would update everyone on a fundraising benefit for Tim Hill (Class of 68).  Tim has been traveling to Mayo Clinic in Rochester for medical treatment the past couple of years.  He is on the list for both a heart and kidney transplant.  The trips and medical treatment are quite costly.
A Pancake & Sausage breakfast has been scheduled in Burlington, ND on Sunday, April 27th in the Burlington, ND Elementary School from 9:00 AM until 2:00 PM.  If unable to attend, monetary contributions can be sent to United Community Bank, Tim Hill Medical Fund, PO Box 10, Burlington, ND   58722.
I enjoy all the writings and remembrances of our Dunseith days.  Thanks for your efforts!
Rich Campbell
.
.
I'm attaching Tim's benefit poster.  Tim Hill (68) and Laurie Evans Hill (75) have three children:  Sarah Glasoe with husband Aaron and son Hayden;  Mike Hill; and Taylor Hill.  Tim is on the 1B list for receiving a transplant.  Estimated waiting time for a donor is 1 to 6 months.   He has not been able to return to work at SRT since having some procedures in Rochester.  We welcome any prayers for Tim and his family!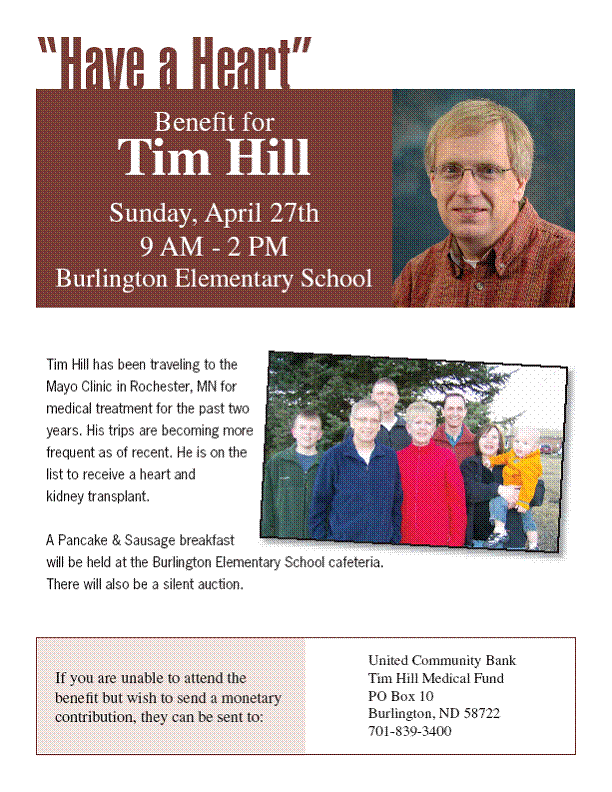 .
.
Dick,  loved the story  about the  water hose……..and  if  it  is  child abuse  then i guess i  should have been  put in jail  many years ago . When  we  lived in KY  every year  my  kids  looked  forward  to  me  starting  the  annual  water  fight . Yes  ,… me  not  the  kids   and  they  loved it  ,they  still  talk  about   them  to this  day. It  was  called  making memories  with  my  children .  Maybe  more  kids  now  days  need  more  fun in there  lives  with  simple things  like  water  fights . Bev  Azure
.
.
Kevin Hanson's Obituary provided by Neola Kofoid: 

KEVIN DIED IN AN ACCIDENT NEAR SOURIS, ND, ON APRIL 12.  NEOLA
KEVIN HANSON
April 5, 1969-April 12, 2008
DUNSEITH – Kevin Scott Hanson, 39, Dunseith, died Saturday, April 12, 2008, on arrival at a Bottineau hospital.
He was born April 5, 1969, to Jim and Sharon Hanson in Bottineau. He married Carmen Morin Jan. 18, 1989. This marriage later ended.
Survivors: daughters, Megan Hanson, Fargo, Morgan Hanson, Dunseith; one grandson; parents, Dunseith; sister, Lori Hanson, Dunseith; twin brother, Keith, and brother, Jimmy, both Dunseith.
Funeral: Friday, 2 p.m., Peace Lutheran Church, Dunseith.
Burial: Rendahl Cemetery, rural Dunseith.
Prayer service: Thursday, 7 p.m., in the church.
Visitation: Thursday, 6 to 9 p.m., and Friday, 10 a.m. until the service, in the church. (Nero Funeral Home, Bottineau)
.
.
Gary and Friends
Most of you will probably remember going  up to the Peace Garden for
school or church picnics. It was pretty much a part of life for those of
us who grew up in Dunseith. There were also the Farmers Union and  The
Old Settlers  annual picnics at the Garden. These pictures are from one
of those picnics that we attended, although I have no way of knowing
which. Nothing is written on the photos so unless someone sees something
that they recognize I won't be able to permanently identify them. It is
in about 1953 because I'm the little guy with the black shorts with
suspenders and it would appear I would be about three years old. Maybe
someone will remember being there and can tell us who some of the people
are and what the big day was all about! Thanks!!
Dick