From Mel Kuhn (70):
Gary,
I just thought I'd let you know that the Music Jamboree sponsored by the Rolette County Historical Society in St. John last night was a success. The music was great and we had a good crowd. We were especially surprised when in the crowd there appeared Kenny Nerpel and his wife. Though we begged and begged we could not convince him to honor us with a song, stating that he could neither sing nor play. Does anyone have an opinion on this? There were several other Dunseith Alumni in attendance besides myself and Dick Johnson, including Vicki & Lola Metcalfe, Wayne Smith, Lorraine Neameyer and lots of other folks from the Dunseith area. Just to name a few, Jim & Ruby Birkland, Art Rude Sr. & Pat Myers. It was 3 hours of great music from back in the day and I'm sure Dick[the old silver tongued Devil} will fill us in a little better.
Mel Kuhn [70]
.
Gary Stokes' reply to Mel:
Yes Mel, There are a whole lot of folks out there that know Kenny and Sherry's singing abilities, especially those of us from the class of 65.  Kenny and Sherry recorded 16 songs, from 1965, and provided each and everyone of us from the class of 65 with a personalized CD copy of those recordings.  They personalized each and every CD with our individual picture and with other personalized pictures on the casing and the CD itself. It was very professionally done.  Needless to say, their music and recordings were fabulous.  I listen to mine all the time.  For those of us from the class of 65, this is a keep sake and something we can all enjoy over and over.  Kenny and Sherry spent a lot of time putting all this together for us and I know that everyone truly appreciated their generosity and realized the expense and time spent putting all this together.
Kenny and I also got drafted into the Army together. We reported to Rolla together on June 13, 1968.  From there we were bussed to Fargo, put on a train and shipped to Fort Lewis, Washington.  For the next 8 weeks, Kenny and I were side by side 24 / 7.  We were in the 3rd squad of the 4th platoon.  Kenny stood to my right and most often I followed him in all our formation marches. I slept on the top bunk and Kenny on the bottom.  Basic training was no picnic.  They made men out of boys.  I remember, in Basic, thinking many times to myself,  I didn't volunteer for all this abuse.  They are not allowed to do some of the things today, that they did with us.  Army life became much better following basic.  Kenny and I both spent a year in Viet Nam too, but in different years. In Basic, by giving them an extra year, I was promised to be trained to become a Dental Tech. I took them up on that offer.  It turned out to be one of the best moves I ever made. I was already a Federal Employee, working for the Navy, when I got drafted.  I automatically had that job to go back to when I got out of the Army.  Following my 3 years of active duty, I went back to my Federal Job working for the Navy. A year or so after that, I joined an Army Reserve Dental Unit in Tacoma WA and stayed with them for 25 years.  Gary
.
.
Hi Gary,
After seeing the jumbo bun that Herman Martinson created I wanted to  tell
a story about Herman. I walked into the bakery one afternoon shopping for
my mom. I asked Herman how much are your big buns? He replied back to me
they are not for sale. Wanted to share this story with everyone. I still
can see and smell that wonderful bakery.
Rita (Parisien) Anderson 73
.
.
Hi Gary
My grandparents, Fred and Johanna Richard, had their 50th wedding anniversary party at the old city hall in Dunseith at about the end of June 1968. Apparently this was just prior to the fire in August. We had just moved back to North Dakota from Georgia a couple weeks prior to the party and were staying at the lake. Dad had just gotten back from Viet Nam and was stationed in Minot as the regular army advisor to the National Guard. We had to live at the air base but we didn't care as long as we were back in North Dakota. We were  just so excited to be back "home."  Five years prior to that, in 1963, we were living in Dunseith and I was in Mrs. Conroy's 4th grade class. Mom (Verdellis Richard Larson) had been waiting for a port call to join Dad in Germany and when it came, on a Saturday in November at noon, we found out that a car was coming to pick us up at 5 am the next morning to take us to Bismark. Mom and Aunt Lee (Hosmer) spend the day and night trying to get the household in order and pack for the 5 of us. Diane and I visited around town trying to say goodbye to our friends, relatives and teachers since we wouldn't be back to school on Monday. Except for a brief visit in 1965 when we came back from Germany, it was 5 years, in that summer of 1968, since we had been home. Anyway, I remember that so many people turned out for the party. We reconnected with the friends we had had to leave so suddenly and got reacquainted with cousins we hadn't seen in years. It was really a lot of fun. We spent a lot of time in Dunseith that summer and at Collette (Pigeon)'s farm. And the Mobil station. And Dales. Of all the places that we've been, North Dakota has always been home.
Thanks everyone for all the stories. And Gary for keeping us all connected.
Cheryl Larson Dakin '71
.
.
Hi Gary,
I have attached a picture of my dad taken shortly before he died August 29, 1961.  Dad was the creator of Dale's Jumbo Burger.  Henry at Snow White was Dad's vendor for buns at the time.  My Dad was full of big ideas…..it's one of the things we all loved about him.  Jack Hosmer often ordered the Marc's Special, named after my brother Marc and not on the regular menu, big pancakes covered with lots of butter, peanut butter and white Karo syrup, rolled up before they were served.   Dale's has produced a lot of Dunseith "comfort food" over the years.  Anyone ever had the Trucker's Breakfast, how about the stack of pancakes or those giant caramel rolls made by Charlotte Boguslawski?   In the good old days almost everything was prepared from scratch in the kitchen….very few frozen food service items in the 60's.
Greetings from California
Evie Gottbreht Pilkington  1965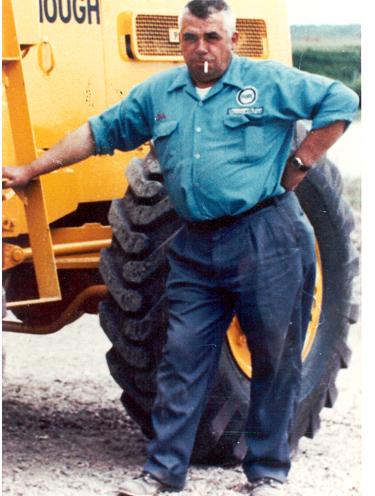 .
.
.
  Gary and Friends
Everyone has a snowmobile story and this is just one of many. In March
of 1969 we had one of the worst blizzards in many years. When it was
over, the snow depths were unbelievable!  The picture below of me on top
of the snowbank was in our yard in town, looking east toward Kalk's. Jay
Lamoureux was the mayor at the time and he called to see if I could do
some favors. I took some medicine out to Mrs. Roderick Gagnon up past
the Day School and then delivered some groceries, etc. That evening Jay
called and said that George Aitchison needed a ride to the city wells on
the San hill north of town. I took him up to the well and when he was
done I took him home. The only street opened at that time was main
street. The side streets were many feet deep. As I turned the snowmobile
up onto the snowbank off main, red lights on a Highway Patrol car came
on behind me. I thought he probably wanted me to deliver something or
get somebody some help, etc. I walked over to the car and he said, " get
in ". When I got in he said,  "  I'm giving you a ticket for riding that
snowmobile on a public highway".  I couldn't believe  this!  I  said ,
" Didn't  you  notice,   it  snowed".  He  said , "that's no excuse".
When I got home and told my dad, he called Jay to tell him about my $10
fine. Jay WENT WILD!! He called the state HP office in Bismarck and
asked what in the world these guys are thinking!! He then told me to be
uptown at 9AM the next day, which I was. I noticed his own snowmobile
was sitting on main street in front of Lamoureux Brothers garage. When
the same Highway Patrolman drove up, Jay went out and fired it up and
rode up to Hosmers store and back! The young patrolman whipped out his
ticket book and wrote up Jay for the same thing he got me for! When he
handed Jay the ticket, " the fit hit the shan".!! After Jay was done, he
turned around and called Bismarck and handed the phone to the Patrolman.
I think the commander had a short lesson in common sense, for the young
private!! We didn't have to pay any fine! The attached pictures are of
the 68-69 era when my folks did a lot of snowmobiling! Some of the
people are Bob and Donna Leonard and my mom, Bernice Johnson! Thanks Gary!
Dick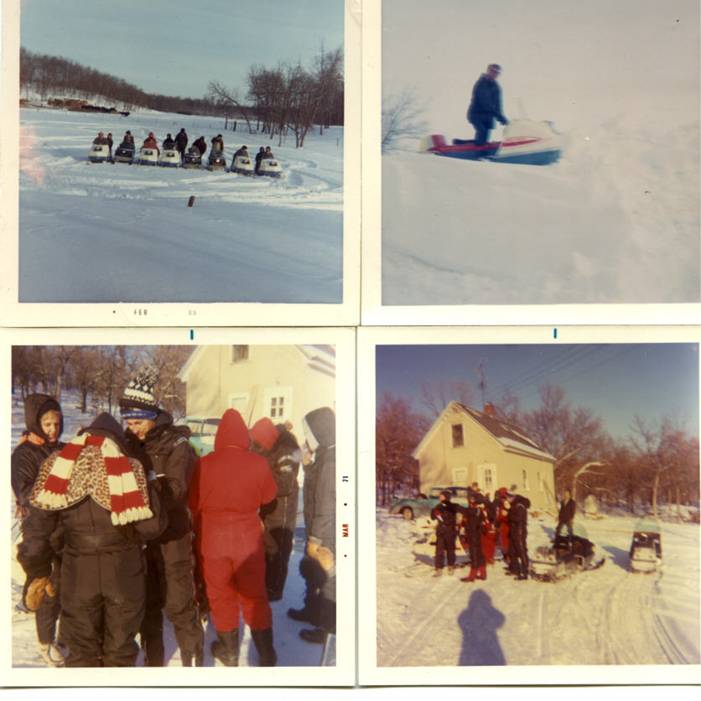 .
.
ROBERT DuBOIS, 53, Dunseith, died Saturday in a Grand Forks hospital. (Elick Funeral Home, Rolla)
Question: Is Robert related to Dennis and the other Dubois members that attended school in Duseith.  Gary